Bluetooth speaker buying guide
Get great sound at home and on-the-go
Whether you're on the go or relaxing at home, there's an easy way to make the music, movie, or game you're playing on your smartphone or tablet sound way better. Just wirelessly pair it to a Bluetooth® speaker.
Bluetooth on the go — portable parties and more
Portable Bluetooth speakers let you listen without headphones – and let your friends listen with you. But many of them offer other advantages, too. If you're looking for portable sound, consider these options, too.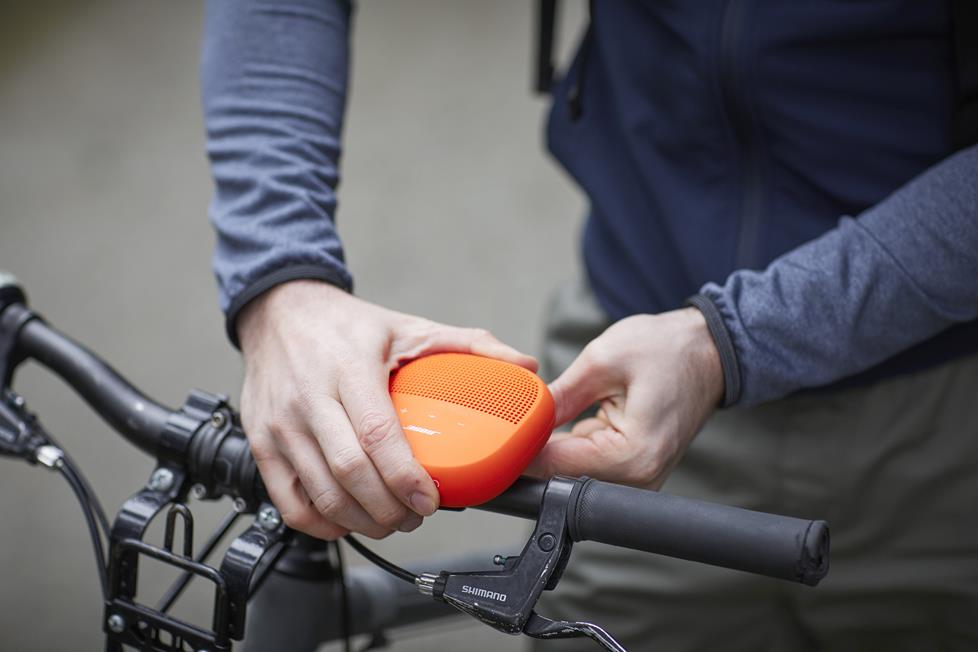 An ultra-portable, like the Bose® SoundLink® Micro Bluetooth® speaker, is easy to take just about anywhere.
Ultra-portable for travel
For traveling convenience, there's nothing like a slender, compact Bluetooth speaker that fits easily into a briefcase, backpack, or purse. And while they may be small in size, the sound they deliver can sound surprisingly big.
Shop for portable Bluetooth speakers
---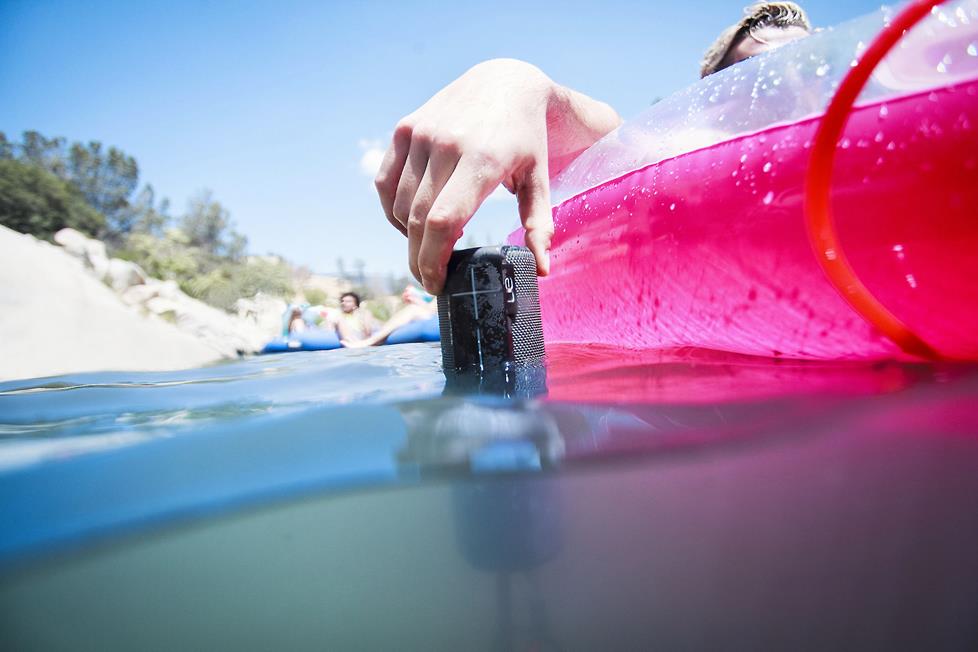 If you play near the water, a water-resistant Bluetooth speaker can be a great choice.
Weather-resistant for outdoor adventure
If you enjoy outdoor sports and activities, you might want a Bluetooth speaker that's as rugged as your lifestyle. Weather-resistant Bluetooth speakers not only stand up to rain and snow, but they're often built to be shock-resistant and dust-resistant, too. So they hold up to rough-and-tumble use and can sit in the sand at the beach.
Shop for waterproof Bluetooth speakers
---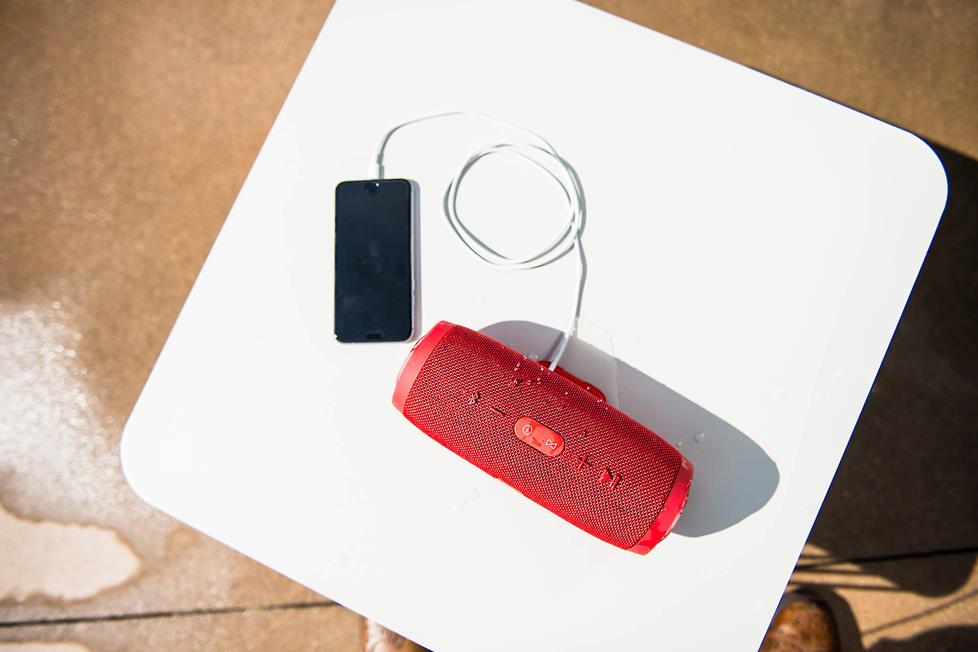 A Bluetooth speaker with a USB charging port can keep your smartphone going when you're on the go.
Extra power for your smartphone
A Bluetooth speaker with a built-in recharger can be just the thing you need for that long plane flight or overnight camping trip. These types of speakers feature a USB charging port that can provide extra power to your smartphone or tablet.
Shop for Bluetooth speakers with built-in phone chargers
---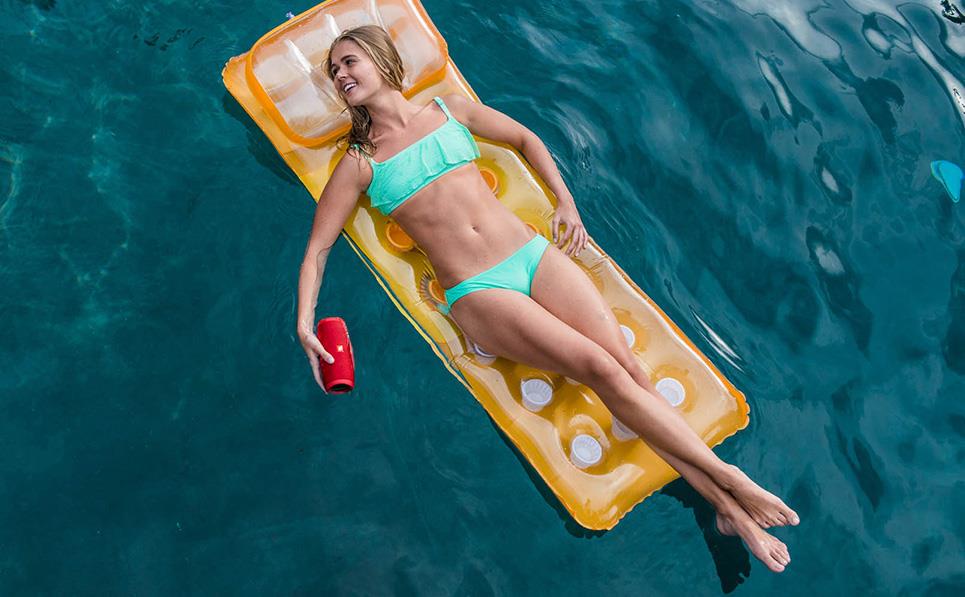 Some Bluetooth speakers can be used as a speakerphone — perfect for situations where you can't grab your phone.
Speakerphone for hands-free calls
Some Bluetooth speakers also work as speakerphones. They have built-in microphones, so you can carry on a hands-free conversation. When a call comes in on your paired smartphone, it automatically routes to the speaker, which gives you the option of accepting the call or continuing to listen to your music.
Shop for Bluetooth speakers with built-in microphones
---
Bluetooth in the home – convenience and sound quality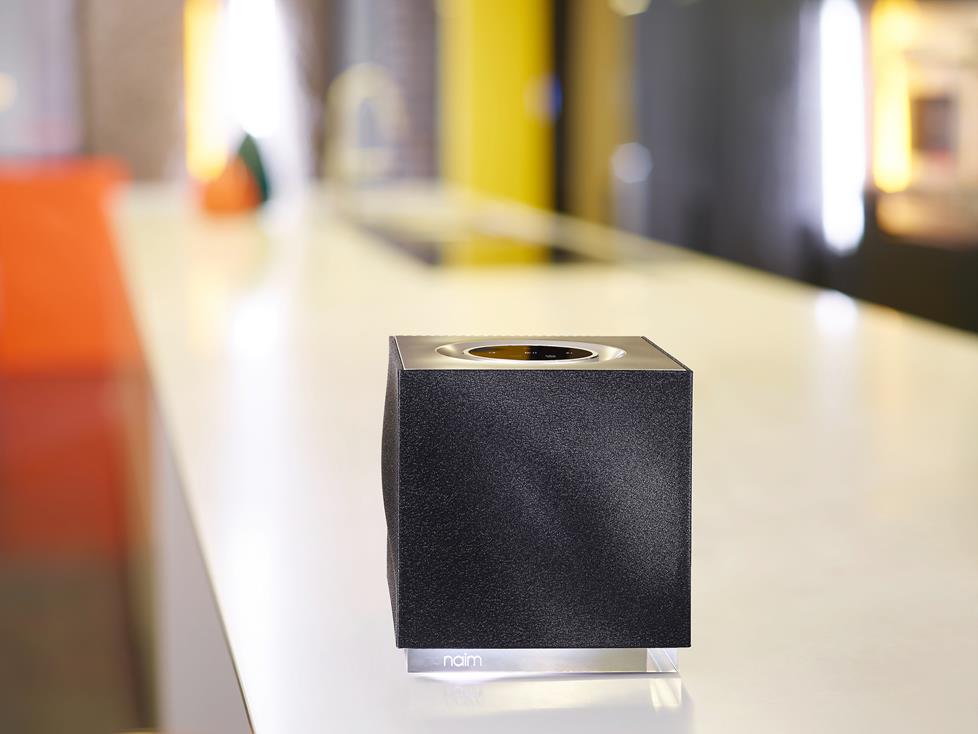 Wireless speaker systems like the Naim Mu-o Qb can make an attractive addition to a room while delivering high-quality sound.
Powered speakers make a simple sound system
There are a wide variety of compact Bluetooth powered speaker systems designed for home use. While they're not portable, many offer more spacious and detailed sound than their portable counterparts. These systems are ideal for dens, offices, dorm rooms or apartments – wherever your smartphone is your principal music source, and space is at a premium.
Shop for Bluetooth powered home speaker systems
High-performance audio for music lovers
Some Bluetooth powered speaker systems approach audiophile performance levels. Many accept apt-X® high-fidelity audio streaming, a form of Bluetooth that delivers a more detailed, less compressed signal. But all are compatible with standard Bluetooth, ensuring that whatever version your smartphone or tablet streams, you'll be able to play your music through the system.
Shop for high-fidelity Bluetooth powered speaker systems
---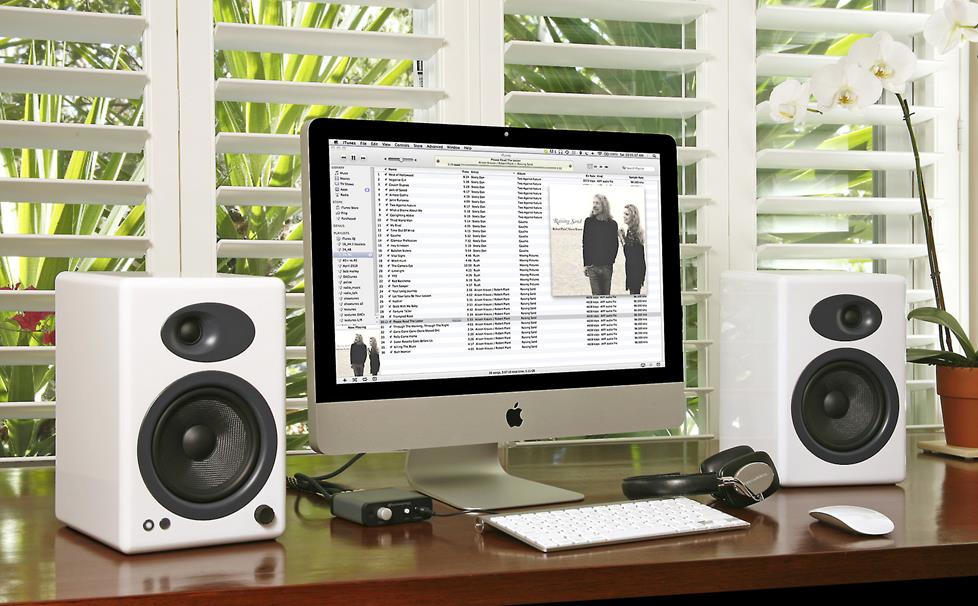 Using a pair of Bluetooth powered speakers, like the Audioengine A5+ speakers, with your computer can help reduce desktop clutter.
Wireless computer speakers
Virtually all laptops have Bluetooth capability, and there are Bluetooth stereo speaker systems designed for them. Rather than connecting to your laptop's headphone jack, these speakers connect wirelessly through Bluetooth. The advantage? You can pick up your laptop from your workstation without having to unplug your speakers.