Bose® AE2w Bluetooth® headphones
Clarity, comfort, and control
Heads up!
Welcome to this article from the Crutchfield archives. Have fun reading it, but be aware that the information may be outdated and links may be broken.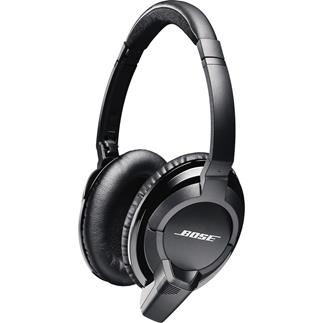 Bose® AE2w Bluetooth® headphones
You don't necessarily need a wired connection between your headphones and your smartphone or computer. The latest Bluetooth headphones let you enjoy your music cord-free. New to the category are the Bose® AE2w Bluetooth® headphones. I got to spend some time with them in the Crutchfield Labs to evaluate their features, functions, and sound quality.
Easy-to-use controls
My eye was quickly drawn to the a small black module attached to the bottom of the left earcup. This control module handles all the Bluetooth and control functions, including music playback, call answering, and volume control.
Not all headphone controls – wireless or in-line – are created equal. The buttons on the AE2w's control module are as intuitive and easy to use as any I've encountered. The large multi-function button is on the top of the control module, separating it from the volume buttons on the side. The volume buttons are angled opposite one other, so it's easy to distinguish "up" from "down" by feel.
I powered on the AE2w headphones and quickly paired them with my iPod touch® by holding down the multi-function and "Volume +" buttons simultaneously. The status indicator on the control module turned purple, and the headphones showed up in my device's Bluetooth menu. I selected them, and the status light on the headphones turned blue, indicating a successful wireless connection.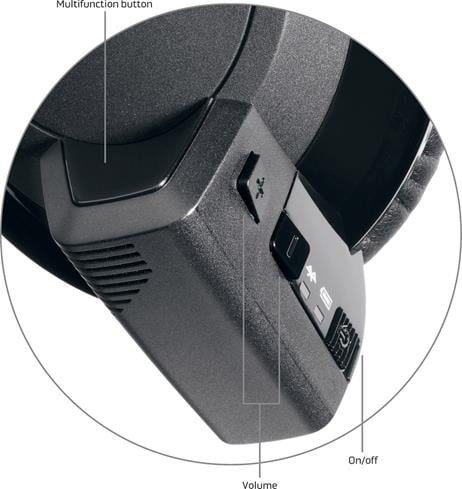 The AE2w headphone's control module features a power switch, multi-function button, volume control buttons, battery and Bluetooth status indicators, and a built-in microphone.
Comfort and freedom
After pairing them with my iPod touch, I slipped the headphones over my head. They are extremely lightweight and comfortable, with earcups that fit snugly around my ears without feeling tight. Bose consistently produces comfortable headphones, and the AE2w is no exception. I wore them for a solid hour without any adjusting, fidgeting, or urges to give my ears a breather.
As I was scrolling through songs on my iPod touch, I immediately noticed a sensation of freedom. It's not that cords are a major nuisance when listening to wired headphones. But when you remove them from the equation, there is a feeling of lightness and mobility that's very enjoyable.
This wireless freedom would be particularly welcome when the AE2w headphones are used with an iPad®. The ability to set the iPad down and walk around while still maintaining track and volume control is very enticing.
Plus, wireless connectivity would be great for watching movies and videos. It would allow more freedom to place your iPad on a nightstand or coffee table without worrying about a simple turn of the head sending it crashing to the floor. Plus, how cool would it be to get up and get a snack without missing a word of dialogue?
Sound quality: don't underestimate Bluetooth streaming
Bluetooth sound quality isn't exactly an audiophile's dream. But the AE2w headphones make the most of it. Their bass response is up-front and deep, though a bit loose in the lowest frequencies. Midrange and high-frequencies were quite evenly balanced and natural. I also found the soundstage to be rather wide.
I started out listening to streaming music from MOG. I cued up "Overgrown" by James Blake for its very deep and powerful bass. The lowest frequencies sounded slightly muddy, but I was impressed with the clarity and accuracy of the vocals.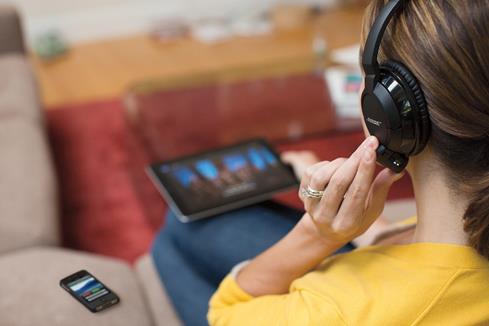 The AE2w headphones feature easy-to-use wireless controls and can pair simultaneously to a smartphone and a tablet.
I tried another bass-heavy tune – "Bowtie" by OutKast. The deep bass on this song was quite clean and the soundstage very large, giving this song plenty of bounce and depth. My expectations for Bluetooth headphones are always rather low, but the AE2w headphones were starting to exceed them.
Next, I moved to some CD-quality lossless files. I played Neil Young's solo acoustic performance of "Helpless" from Live at Massey Hall. The vocals sounded realistic and beautiful – nice vocals were becoming a trend with these headphones – even if the acoustic guitar wasn't quite as full-bodied as I've heard with other headphones.
Elton John's Honky Château leads off with "Honky Cat," a funky, piano-driven tune with lots of flashy horn lines. It sounded big and lively with the AE2w headphones, taking excellent advantage of the wide soundstage. The high-frequencies are very even – not too bright but not veiled either. And the vocals and piano showed off that natural-sounding midrange, now solidified in my mind as the key strength of these enjoyable headphones.
Connect two devices simultaneously
I do much of my music listening on my iPod touch, not my smartphone. With the AE2w headphones, I could connect both devices wirelessly at the same time. So, one second I'm enjoying wireless music on my iPod touch. Suddenly, there's a beep in my ear to indicate an incoming call. I press the multi-function button on the headphones, which pauses the music on the iPod touch while answering the call on my smartphone.
Call quality was quite good on both ends with the AE2w headphones. When I was done with the call, I pressed the multi-function button again. That ended the call on my smartphone and restarted music playback on my iPod touch. I loved how the multi-function button effectively controlled two devices at once – especially as both of them were sitting on my kitchen counter at the time, while I was in the next room.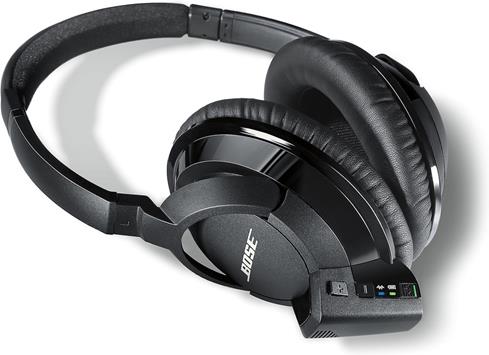 The AE2w headphones offer superior comfort, wireless control, and clean sound.
Bose® lists Bluetooth range for the AE2w headphones at 30 feet, though I was able to listen from 35 feet away with no problems. I also received transmissions through a wall, though once I got more than one wall between the headphones and my device, I experienced my first dropout.
Battery drained? Go wired.
Another welcome feature of the AE2w headphones is wired listening. Bluetooth streaming requires battery power, which is built into the control module. The rechargeable battery offers up to 7 hours of listening time and 200 hours in standby mode. To recharge, plug the included USB cable into the bottom of the control module and connect it to a computer or compatible AC charging station (not included, unfortunately).
But if you're stuck with a drained battery and no way to recharge it, you can still listen to the AE2w headphones. Just pop the control module out. It doesn't look like it comes off, but trust me: it does. When you pull it out, you'll see that it connects to the earcup with a 3.5mm miniplug. The AE2w comes with a miniplug cable that you can plug into this jack on the earcup, so you can listen with a wired connection to your music source. Obviously, this disables all Bluetooth operation and earcup controls as the module is no longer connected.
The sound quality changes rather drastically with wired listening. The Bluetooth module, in addition to its other functions, adds active EQ to incoming music. Without it, the bass isn't quite as prominent, though it does tighten up a bit. But the midrange becomes a tad boxy and the high frequencies a little thinner. I wouldn't say it was a significantly worse sound, but it's certainly different. I preferred the wireless sound, but I'd rather listen with a wired connection than be stranded with no music at all.
The bottom line
I was really impressed with the Bose® AE2w Bluetooth® headphones. I love their comfort, the easy-to-use controls, the wired option, and their natural midrange and wide soundstage. And I could definitely get used to the freedom that wireless connectivity offers. When you put it all together, the whole package is greater than the sum of its parts. After just a couple of hours with them, the AE2w headphones have become one of my favorite Bluetooth models. And with the popularity Bose enjoys, I suspect it will become a customer favorite as well.