Bose® Computer MusicMonitor® speakers
Heads up!
Welcome to this article from the Crutchfield archives. Have fun reading it, but be aware that the information may be outdated and links may be broken.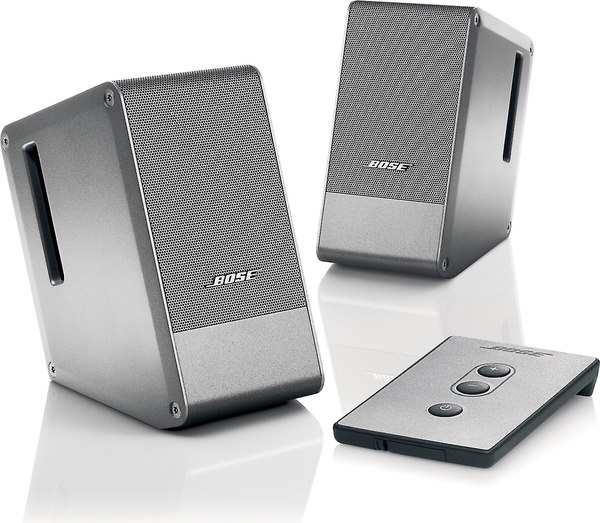 The compact Bose® MusicMonitor speakers.
I recently had the chance to try out the Bose® Computer MusicMonitor® speakers in silver.
First impressions
When I was unboxing the speakers, the first thing I noticed was that they are tiny — probably the smallest computer speakers I'd ever seen. Because of that, I expected that they'd be super light, too, and I was quite wrong. They're very sturdy and deceivingly heavy for their size. In fact, I think I've had bigger-but-lighter computer speakers in the past (spoiler: the Bose® speakers sound a whole lot better than those old, lightweight speakers). The heavy-but-small design let me know that Bose probably packed a whole lot of technology into a little space.
The rest of the unboxing process was quick because setup is so simple. I ran one cable from speaker to speaker, one cable to my source, and a power cable connected to the wall. I only used my laptop a little with these speakers, because I connected them to my iPad® (more on that later).
A real-world audition — streaming audio
As for music, I started with PANDORA® Internet radio. I'll admit that it's not the highest-quality audio out there, but it's something most people (including me) use on a regular basis and it provided a good test scenario for the average user.
I pulled up the Van Morrison station on my iPad® and sat down to listen. Even playing compressed music, these Bose speakers still sounded great. Their small size didn't hold them back in clarity, staging, or volume. And they played remarkably loud in spite of the small drivers and speaker cabinets. The horns rang out crystal-clear across my living room in the first Van Morrison song that played. The next song was a live track, and I could hear the crowd beyond the edges of the speakers, and the singers' voices in the very center of the speakers (referred to as a "good soundstage").
But where these speakers really excelled was with electronic and pop music — it came across really tight and precise. I noticed this when I switched over to my Lady Gaga station and heard new notes in songs I'd listened to previously.
Ranking the performance
The difference between the iPad's built-in speaker and this system was astounding. When shopping around for an iPod® or iPad speaker system, I'd keep the MusicMonitors in mind. They won't take up much space and they can definitely outperform some of the dedicated iPod docks and speakers I've seen come through our office.
Overall impressions
Where would I use this system if I got to keep it? Perhaps with my desktop computer, but more likely with my work laptop or my iPad.
The speakers are so small that they'd be great for a portable-but-high-quality music system. I'd travel with them because the speakers would be easy to pack in a bag or suitcase, and they'd be perfect to set up in a hotel room with my laptop or iPad. I'd even be tempted to connect them to the TV in the hotel room for better sound playback there, too.
How could the MusicMonitors be improved? One of the only things that could make these better would be a built-in battery. But then again, that'd probably make them bigger, too. And their tiny size but big sound is what makes the Bose Computer MusicMonitor® speakers cool.