Bose® QuietComfort® 20 Acoustic Noise Cancelling® headphones
Bose's famous noise-cancelling headphone technology just got a lot more portable
Bose has had great success with their well-regarded noise-cancelling headphones. Now, they've squeezed this technology into a set of in-ear headphones: the QuietComfort® 20 Acoustic Noise Cancelling® headphones. Do they meet the high standard set by the full-size QuietComfort® 15 headphones? I got a special sneak peak at them in the Crutchfield Labs to find out.
Smaller design, more features to keep you listening
Designing in-ear headphones with the same legendary noise-cancelling technology as the QuietComfort® 15 headphones presented a significant challenge: where do you put the circuitry and how do you power it?
Bose solved this problem by designing a small, lightweight control module. Slightly wider than a stick of gum and nearly as thin, it features mode and battery status lights, power switch, and houses the built-in battery. A short cable extends from one side and terminates in a miniplug to connect to your listening device. The other side sports the headphone cable, which includes a built-in remote and microphone. It allows you to take calls and control music on your smartphone.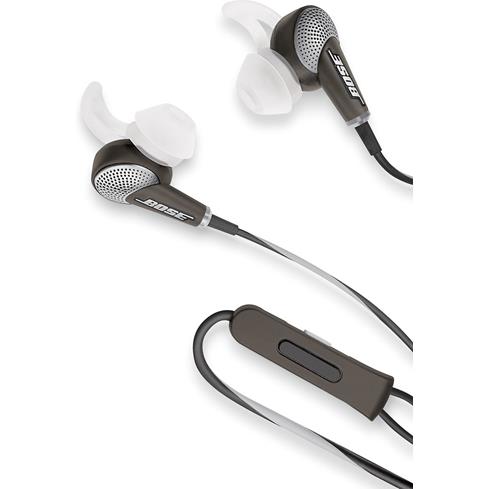 The QuietComfort® 20 headphones for Android™, Blackberry®, and Windows® smartphones have a one-button remote.
I like the central position of the remote as it's easier to grab than some that dangle just below the earpiece. And the cable is long enough for me to fit the control module in my pants pocket along with my iPod touch® while keeping the headphones comfortably in my ears.
The QC®20 headphones include a couple of cool new features not found on the QuietComfort® 15 headphones. The first is a built-in rechargeable battery, which provides up to 16 hours of listening time when fully charged. Recharge by connecting to your laptop or a compatible AC charger with the included USB cable.
More importantly, the QC®20 headphones let you listen to music even when the battery is drained. The passive listening option allows you to disengage the built-in battery and listen without noise-cancellation. This is a significant improvement over the QuietComfort® 15 headphones, which require a "AAA" battery for listening.
The second new feature is called "Aware" mode. Each of the headphone's earpieces contains two tiny noise-cancelling microphones. During regular noise-cancelling mode, all four microphones are picking up external noise to counteract with an inaudible out-of-phase tone. When you press the small Aware button on the in-line remote, two of the microphones pass external sound directly to your ears. So while you can still hear your music clearly, not all outside noise is being blocked. This is great for situations in which you want to enjoy your music but still be aware of your surroundings.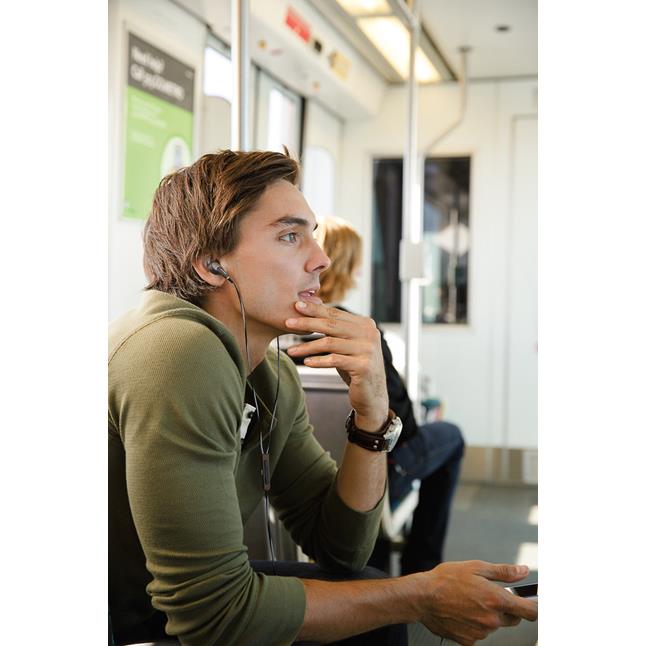 The compact in-ear design of the QC®20 headphones make it easy to take powerful noise-cancellation and great sound everywhere.
Maximum comfort and security
I typically prefer large, around-the-ear headphones to in-ear models. I find cushioned earcups far more comfortable than headphones that insert into my ear canal.
So I was relieved to discover how comfortable the QC®20 headphones were in my ears. Their soft StayHear®+ tips are cone shaped and don't extend as far into the ear canal as many in-ear headphones. Stability loops provide an extra level of security, so the earpieces didn't pop out of my ears even as I hopped up and down. These are in-ear headphones I could see myself wearing and enjoying for long periods.
Top-notch noise cancelling put to the test
Just how well do these headphones block noise? I wanted to find out, so I asked our Crutchfield Labs manager, Jordan, to set up a listening test. I went into our home listening room in the Labs, sat down, popped the QC®20 headphones in my ears, and started listening to Levon Helm's Electric Dirt with the noise cancelling turned on. I listened for a while and couldn't hear anything but the music.
After a minute or so, I switched to Aware mode. Then I heard a faint noise in the background, though it didn't drown out my music. Finally, I removed the headphones and was astonished to hear the loud hiss and hum of recorded in-flight airplane noise that Jordan was piping through two speakers not more than 5 feet from my head. I was impressed.
We tried a similar experiment with ambient office noise being played through the speakers. Again, I heard nothing until Jordan cranked it up really loud. And even then, the noise was very faint.
We tried another noise sample that was recorded in a New York City subway station. The Bose® headphones effectively blocked out all the background noise except for the screech and rumble of an approaching train. Nothing could block out that racket, and that's probably a good thing. But the QC®20 headphones proved just how well they minimize all kinds of external noise. You won't have to turn up your music to unhealthy listening levels just to hear it.How do they sound?
I sampled the QuietComfort® 20 headphones with a wide variety of musical styles. And the more I listened, the more I liked them.
The first thing I noticed about them was the bass response. It's quite deep and full, but not overly aggressive. It almost always seemed to be delivered in the proper proportions. On "Pass the Mic" by the Beastie Boys it was very bold, giving this song the low-end heft it demands. On "Extraordinary Machine" by Fiona Apple, the low-frequencies of the bass guitar and percussion were very present but didn't diminish or obscure her delicate vocals. And on "Entertainment" by Phoenix, the bass drove the tune forward with depth and precision.
I wouldn't describe the QC®20 headphone's soundstage as particularly wide. But that's not necessarily a bad thing. On my remastered version of McCoy Tyner's "Passion Dance" from The Real McCoy, the mix places Wayne Shorter's sax in the left ear and Tyner's piano mostly on the right. I love this song, but the stereo separation often leaves me feeling a little off kilter, particularly when I listen with headphones. A very wide soundstage can make this and other such tunes sound disjointed. The QC®20 headphones kept the performance more cohesive, so the song was more involving than I've heard with other setups.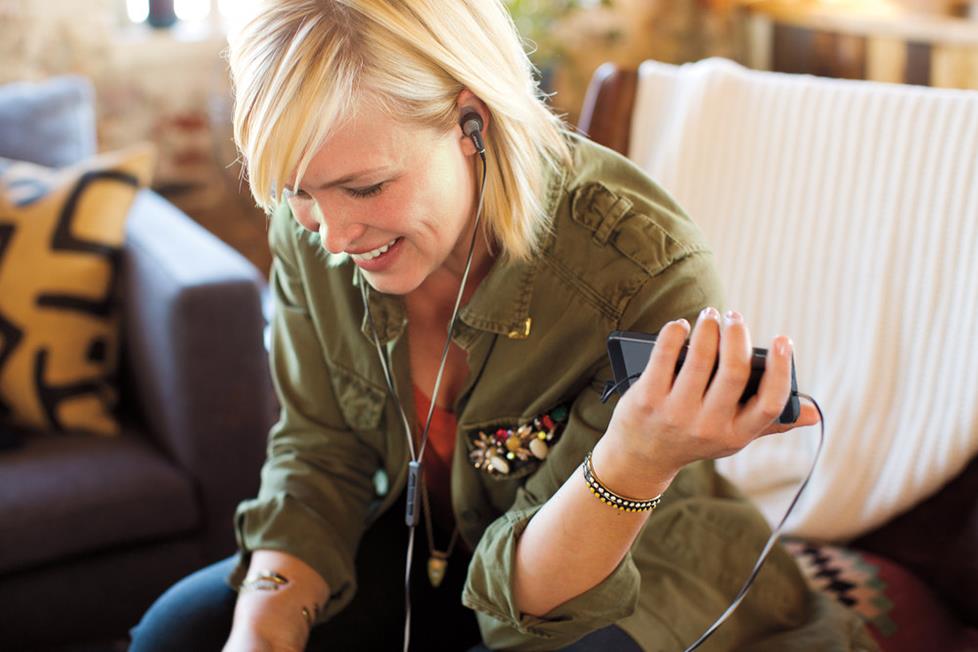 The QuietComfort® 20 headphones offer powerful noise-cancelling circuitry so you can hear your music at normal listening levels in noisy environments.
But the most impressive aspect of this headphone's sound is a direct result of its noise-cancelling prowess. We seldom listen to headphones in a perfectly quiet environment. So those little details of our music are often lost in the background of street noise, coworker chatter, airplane engine hum, or your over-stimulated children playing loud video games. The QC®20 headphones silence it all, creating a stark black background upon which your music can shine and sparkle.
As a result, the QuietComfort® 20 headphones are a particularly good choice if you listen to music with lots of open space, quiet passages, and wide dynamic range. I loved how it delivered the noir jazz of Bob Belden's "Genesis" from Black Dahlia. The brightness of the trumpet stood out boldly as swells of strings rose and fell in all their dynamic glory. Similarly, Ravel's "Alborada Del Graciose," performed by Charles Dutoit and the Montreal Symphony Orchestra, had all the necessary elements to shine. All the natural dynamics of this piece were more exciting and grandiose once the QC®20 headphones eliminated any competing noise from the outside world.
As noted above, you can listen to the QuietComfort® 20 headphones in passive mode, without any noise-cancelling function. However, the sound quality is significantly diminished, with the bass getting boomy and the high-frequencies a bit thinner. But it's better than not having them work at all. I'll take that any day over being stuck with no music at 30,000 feet for two hours.
The bottom line
Part of the beauty of music is that it has the power to take you out of your present place and transport you somewhere else. The Bose® QuietComfort® 20 headphones set the stage for this phenomenon by eliminating the outside world from the picture before you even press play. They make it that much easier to get lost in your music.
Getting the legendary noise-cancelling ability of the QuietComfort® 15 headphones into a tiny in-ear package without sacrificing sound quality is quite a coup for Bose. Given the success of that model along with the added features and compact size of this new one, I suspect the new QuietComfort® 20 headphones will be atop lots of wish lists.