Bose® SoundLink® Mini Bluetooth® speaker review
Big performance, small size
Heads up!
Welcome to this article from the Crutchfield archives. Have fun reading it, but be aware that the information may be outdated and links may be broken.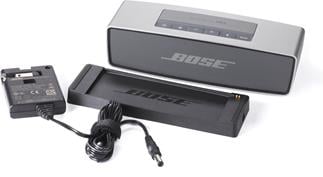 The Bose® SoundLink® Mini Bluetooth® speaker comes with a handy charging cradle for grab and go convenience.
Better sound in the palm of your hand
Crutchfield staff writer Dave Brown and I trundled a small blue and white package downstairs to the Crutchfield Labs. Minutes earlier, one of our merchandisers had given us one of of the new Bose® SoundLink® Mini Bluetooth® speakers. And now, it was time to put it to the test.
About the size of a modern bedside clock radio — you might mistake it for one at first — the SoundLink® Mini can fit in any beach bag, backpack or even a jacket pocket. It's easily gripped and carried with one hand, and its rechargeable battery can be powered either by placing the SoundLink® Mini into the included charging cradle, or by plugging the included charger directly in to a DC power port on its side.
First look
We fired it up and paired it via Bluetooth to Dave's iPod touch®. In moments, we were listening to the opening strains of LCD Soundsystem's "North American Scum" filling the room quite nicely.
I spoke first. "What do you think?"
Dave said, "Sounds big. Good. A little bassy."
I listened for a while. We switched to "Money" by Pink Floyd. "Hmm. You're right. I wonder why?" It sounded okay — but a bit covered in the mid-to-upper ranges.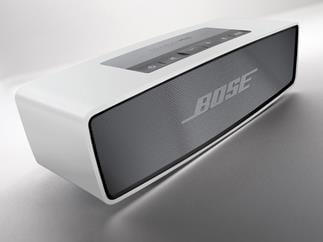 Aim the logo towards your desired listening space.
A little light reading pays off
Two minutes later, words from the manual flashed in my mind: "For optimal sound, the front of the speaker (Bose® logo on grille) should face the user."
Whoops. Time to start the listening party over again. We turned the speaker around, cranked LCD Soundsystem one more time, and our user error was apparent. The sound was much more even, with crisp highs and authoritative bass. Yes, I know it seems overkill to use the word "authoritative" with a speaker this size, but trust me, it'll shake the local vicinity. It really opened up.
I paired my iPhone® 4 and moved on to a fusion tune, "Confuse-a-Blues," by Gambale, Hamm, and Smith. The pops and pyrotechnics of Frank Gambale's guitar, peppered with the syncopated stabs of Steve Smith's drums and the fiery fluidity of Stu Hamm's bass work, all stayed defined and clear. Yes, there's not a big stereo image to be found here, but there is striking clarity and coherency – and the ability to fill a decent-sized living room with satisfying sound.
Placement is key
We learned it's best to try a few locations for best performance. Dave cranked up "Crosseyed and Painless" by the Talking Heads and we started moving the SoundLink® Mini around. After all, it's really easy to move. It turns out placement is very important, even more so than it is with conventional speakers. Place it on something resonant and that impressive bass will be magnified at the dominant resonant frequencies of its perch.
For best bass response, Bose® recommends you place the speaker about a foot away from a flat surface like a wall; however, when we placed it on the relatively dense, acoustically inert surface of a speaker stand in the middle of the room, Dave and I found we liked the overall acoustic signature as well, if not better.
But the labs provided us a one-room, controlled environment. So after Dave and I declared ourselves impressed, I decided to take it home later in the week. As it turned out, my wife didn't have to be at work 'til the afternoon on my chosen listening day, so I powered it on, placed it on top of our entertainment cabinet, and we both began listening to a few favorite tunes.
Whisked away
"How much will you be able to get this for?"
Those words came out of my wife's mouth. Those who know her would no doubt be shocked. My wife isn't passionate about A/V gear like I am, and is usually indifferent to the products I try out at home.
So I wasn't expecting my wife to snatch it up 5 minutes after I unboxed it and take it to the kitchen to see how it sounded up on the shelf in there. It's not in character for her. It's also not in character for her to say about any piece of gear, "that sounds amazing!" right off the bat — but she did. I played Corrine Bailey Rae's "Put Your Records On" and we let it jam in the kitchen. Nice.
And as she admired its slightly rounded anodized-aluminum rectangular form securely perched (a skid-proof rubber bottom sees to that) amid the cookbooks, I said, "and you can send it an Internet radio app, or Pandora® Internet radio, for when we're working in here in the evenings." That got a major approval sound.
Later, I got a chance to compare the Bluetooth mode against the "Aux" input, taking a 3.5mm minijack cord and connecting my iPhone's analog output directly to the SoundLink® Mini. As you might expect, the sound was better than what you can get from compressed standard Bluetooth, with higher-frequency items like female vocals, bowed string overtones, and cymbal decays gaining clarity and smoothness.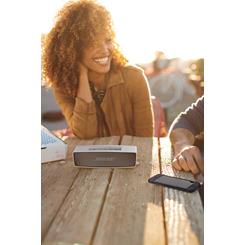 The Bose® SoundLink® Mini brings your music with you almost anywhere.
The bottom line
I can easily imagine the Bose® SoundLink® Mini Bluetooth® speaker sitting happily in its included charging cradle next to the family's keychains and wallets, waiting for the "grab-and-go" moment on the way out the door. It's ridiculously simple to operate. It requires a tiny footprint — slightly more than your average Hershey bar — and it doesn't need wires. The total playing time on a full charge varies depending on how loud you like your music, but Bose® says you can get up to 8 hours with typical use. And finally, it delivers a healthy helping of that legendary Bose® listening experience.
Sounds like a pretty easy decision that broadens the scope of what your smartphone, laptop or tablet can do for you— and one that erases any potential misgivings a partner might have about the impact of new gear. Hmm. Do I hear anniversary gift?