Bowers & Wilkins P7 headphones review
Do its fine looks translate to fine sound?
Heads up!
Welcome to this article from the Crutchfield archives. Have fun reading it, but be aware that the information may be outdated and links may be broken.
Bowers & Wilkins knows how to turn heads. The British speaker manufacturer is well-known for producing sleek, sophisticated speakers that offer impeccable sound quality. Likewise, their stylish, smooth-sounding P3 and P5 headphones have earned praise from reviewers as well as our customers. Can the new Bowers & Wilkins P7 headphones live up to this distinguished lineage? I auditioned a pair to find out.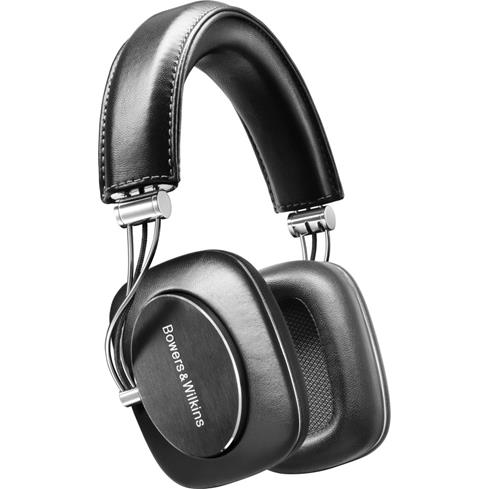 Classic construction meets modern style
Like their predecessors, the P7 headphones are meticulously crafted and drop-dead gorgeous. Their around-the-ear design makes them the largest Bowers & Wilkins headphones to date. Their size only enhances their visual appeal by drawing eyes to their premium construction. Yes, that's genuine leather on the headband and earcups. And the metallic hinges and curved connectors that extend from them to the earpieces are stainless steel.
Light gray stitching adds a touch of elegance to the headband, and the Bowers & Wilkins logo is embossed on a black aluminum plate. These headphones radiate luxury and class, practically demanding that you wear them outside the privacy of your home.
The P7 headphones ship with a remote cable installed. This three-button remote offers track and volume control with Apple® products. It can easily be swapped for the included standard cable thanks to the removable earpads. They are held in place with magnets and pull off with just a little pressure, revealing a miniplug connection in the left earcup.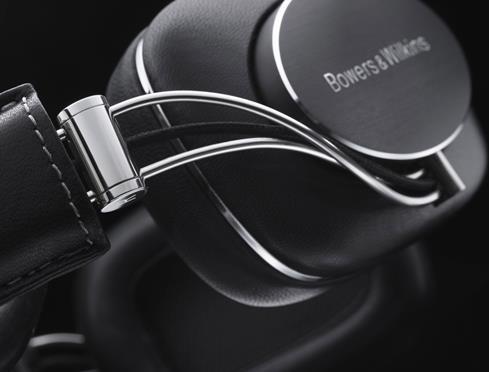 The P7's premium construction features stainless steel, genuine leather, and an aluminum logo plate on each earcup.
Around-the-ear fit
Unlike the on-ear P3 and P5, the closed-back P7 headphones fit completely around your ears. The main benefit of this design is it provides increased noise isolation. They help prevent external sound from leaking in and your music from leaking out. While these aren't "noise-canceling" headphones with active circuitry to counteract external noise, the P7s do a very good job of creating a sense of acoustic isolation so you can better hear the details of your music.
I spent a lot of time listening to the P7 in the office and found them to provide excellent noise isolation. Conversations going on around me mostly disappeared except during very quiet passages in some songs.
The P7's fit is not quite as plush as some other around-the-ear headphones I've tried. But it nevertheless enabled me to listen comfortably for long periods. They fit very securely without feeling too tight, making these great candidates for mobile listening. That's also where the noise isolation comes in handy, making these a good choice for travelers. They even fold up for storage in the quilted carrying case.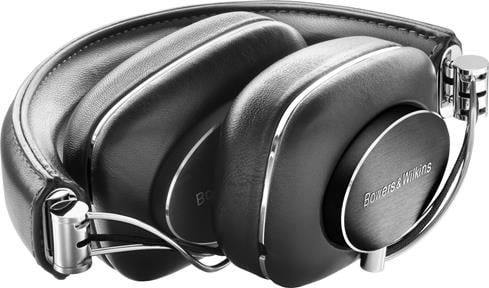 Fold the P7 headphones up for storage in the included carrying case.
How do they sound?
Often when I'm reviewing headphones, it takes me a little while to warm up to their sound. I'm used to my own headphones, and anything different requires some time for me to adjust to their tonal signature. But I liked the P7 immediately. I found their sound to be very neutral and uncolored, with particular smoothness in the high and low frequencies.
"Meet Me at the Second Line" by New Orleans mainstay Kermit Ruffins sounded energetic and well-balanced, with nice bass extension on the kick drum and punchy dynamics enlivening the horns. The P7's high frequency response artfully toes the line between airy detail and fatiguing brightness, making these headphones great for long listening sessions.
"King Harvest Has Surely Come" by The Band showed off the P7's wide soundstage. Each instrument was clearly discernible for a detailed performance that had me very engaged in the interplay between drums, bass, organ, and guitar. While revealing, these headphones do so with a light touch, so they aren't overly aggressive and are somewhat forgiving of poor recordings and low bitrate digital files.
I listened to lots of styles of music, and I found the P7 to be extremely versatile and yet consistent in their overall performance. They sounded great no matter what I threw at them. I looked long and hard for a weakness. The only thing I found was that the midrange wasn't always quite as natural-sounding as I would prefer. I noticed it here and there on certain vocals, but this was a minor issue that only occasionally revealed itself.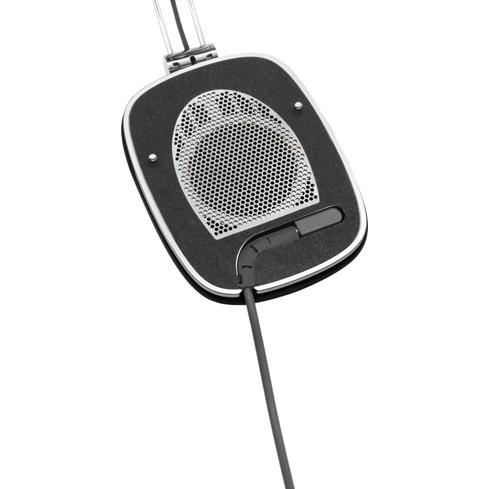 The earcups are held on magnetically, making it easy to remove them to swap cables.
If you demand heavy doses of bass from your headphones, you might find the P7 a bit lacking in low-frequency response. But for many headphones in this class, tightness and accuracy is favored over sheer power. The P7 follows that trend, delivering deep, clean lows on "No Church in the Wild" by Jay-Z and Kanye West. The bass on this recording often sounds bloated and distorted, but the P7 kept it under control, thereby making the song more listenable while preserving its relentless groove.
Better with the right amp?
As excited as I was about the P7's performance, I knew they would benefit from a quality headphone amplifier. So after listening on my iPod classic®, it was time to up the ante. I pulled out my AudioQuest DragonFly, a tiny USB headphone amp and digital-to-analog converter. I popped it into my MacBook®, opened iTunes® and plugged in the P7.
Instantly, I knew this was going to be a good pairing. The DragonFly brought out a little more bass response from the P7 while still maintaining that overall tightness. I went back to "No Church in the Wild," which now had a little more bump in it thanks to the DragonFly.
I switched from rap to Elvis Costello, whose "Accidents Will Happen" from Armed Forces featured more attack from the drums and vocals than it did without the DragonFly. Like most headphones, the P7 clearly benefit from high-quality amplification and good source material. The DragonFly elevated their performance from very good to "Wow, you've got to hear this."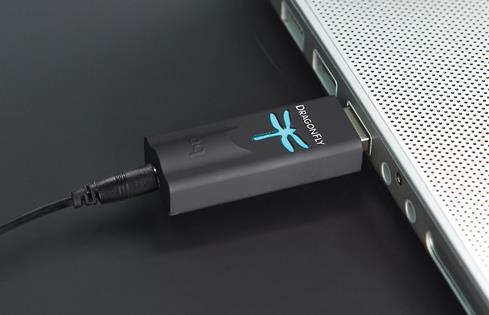 The AudioQuest DragonFly headphone amp/DAC elevates the P7's performance by improving bass response and squeezing even more detail out of recordings.
Are they worth the upgrade?
I was curious if the P7 would offer a significant sonic upgrade over its little brother, the P5. I borrowed a pair from a coworker and cued up "Ten Years Gone," one of my favorite Led Zeppelin songs. Though I've always liked the P5's balanced tone, the P7 was clearly a cut above. While the P5's sound was more concentrated in the midrange, the P7 offered dramatically more bass and treble extension for deeper low-end impact and improved detail and clarity. And the P7's larger around-the-ear design also delivered a more spacious, open sound. P5 owners looking to upgrade need not worry: the P7 will reward your investment.
The bottom line
I had high expectations for the Bowers & Wilkins P7 headphones. They did not disappoint. Their design and looks are pure luxury, with as much attention to function as fashion. Their balanced sound performs well with a wide variety of music. And though their upper and lower frequency response is notable for its control, they preserved the beauty and fun in most every track I auditioned while offering glimpses into their intricacy. These are some very cool headphones where substance never takes a backseat to style.