Bowers & Wilkins T7 wireless speaker review
Our take on B&W's first portable Bluetooth® speaker
Heads up!
Welcome to this article from the Crutchfield archives. Have fun reading it, but be aware that the information may be outdated and links may be broken.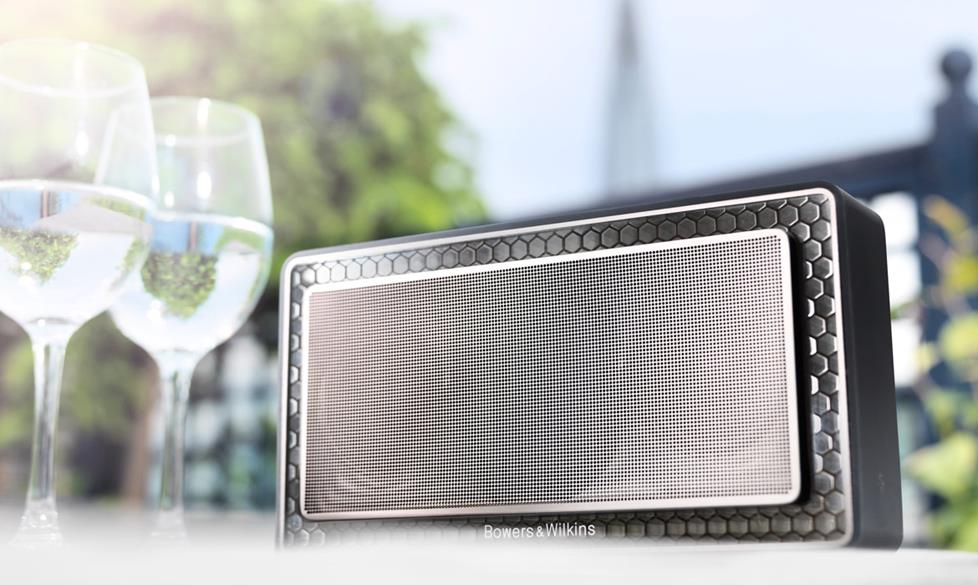 If you think the term "conversation piece" sounds too strong for a portable Bluetooth® speaker, consider the Bowers & Wilkins T7. It looks at home in a nicely decorated room, or outside on a picnic table decked out with an elaborate food spread.
About the size of a thick paperback novel, this lightweight yet rock-solid speaker is easy to pick up and take with you. Music plays wirelessly from your smartphone or tablet via Bluetooth. I took the T7 home to check it out.
A sound legacy
For those unfamiliar with Bowers & Wilkins, this prestigious British audio company has built high-quality loudspeakers for over 50 years. You can find their speakers in famous recording studios like Abbey Road Studios and Skywalker Sound. In recent years, Bowers & Wilkins has earned a stellar reputation in the world of personal and wireless audio.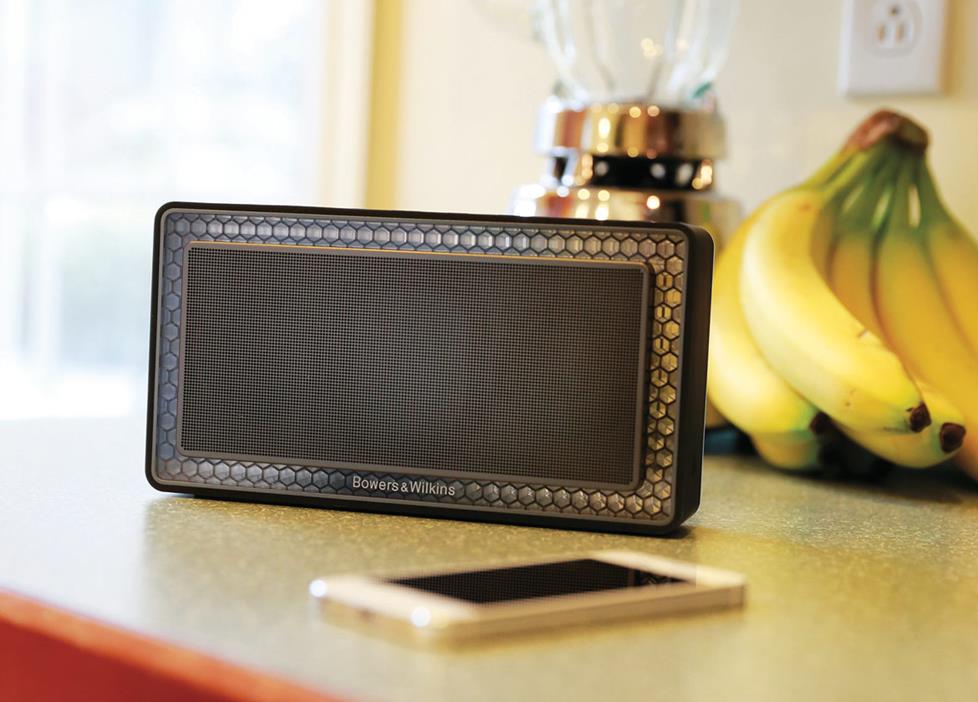 The Bowers & Wilkins T7 Bluetooth speaker plays music wirelessly from your smartphone or tablet.
A test run for the T7
The portable T7 has a built-in rechargeable battery, which offers up to 18 hours of use on a full charge. Large rubber buttons on the top panel offer controls for volume, play/pause, and Bluetooth pairing.
I charged it up with the included AC adapter in preparation for taking it along on a picnic. For something so small, the T7 plays incredibly loud. It has dual 2" drivers, along with two passive radiators for enhanced bass response. At half-volume it delivered more than enough sound while I mixed up a fruit salad in the kitchen.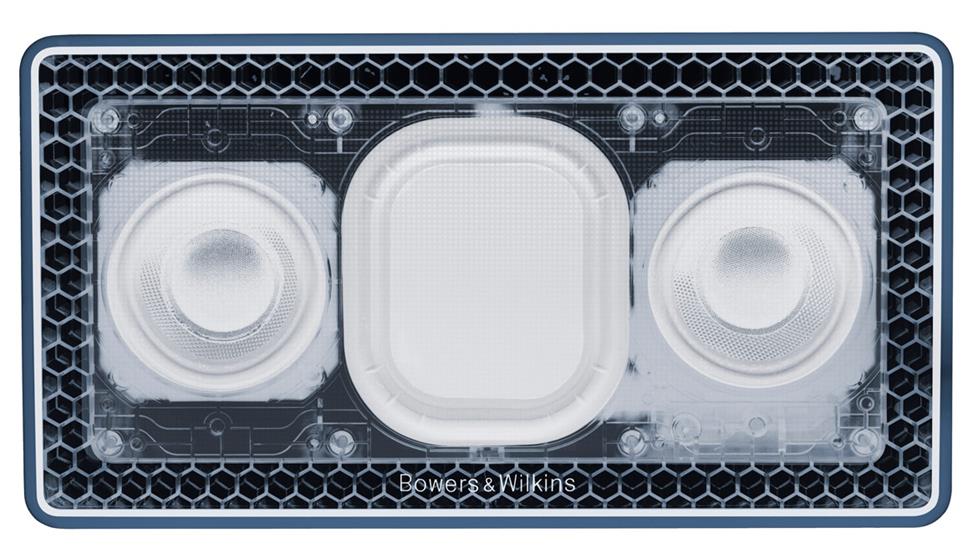 This cutaway view show the dual 2" drivers and one of the center passive bass radiators.
When we got to the park and set up our picnic spread, I paired my wife's iPhone® with the T7. The sound was quite substantial, even outside, where sound can potentially get lost. It provided more than enough volume for background music while we relaxed, ate, and talked.
Striking Micro Matrix™ design
With the sun shining in the park, I noticed that the T7 appeared to be glowing. Sunlight was peeking through the speaker's edges at different angles, like light shooting from a mirror ball. The outer edge of the speaker features a unique and attractive honeycomb frame structure.
Bowers & Wilkins calls this design "Micro Matrix." It consists of tiny interlocking panels that make up the frame of the cabinet, which is then wrapped in a solid rubber lining. Besides looking gorgeous, B&W says this Micro Matrix design cuts down on vibration and distortion. It definitely keeps the speaker from moving around. When the T7 sat on the edge of the counter, no matter how thumping the bass, it was never in danger of falling off.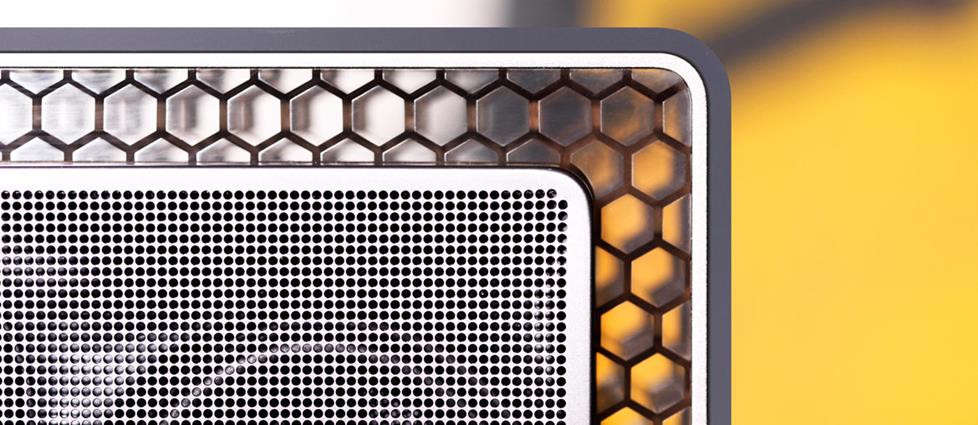 A close-up of the honeycomb-like Micro Matrix frame.
Personal listening session
After returning home from our picnic, I took the T7 down to my home office in the basement for some critical listening. I placed it against the wall and cranked up the volume. I quickly received a text from my wife upstairs, asking "What's going on down there?"
So it's definitely got some muscle. It also didn't distort at very high volumes.
From the TIDAL music streaming app on my phone, I played Sly & the Family Stone's Live at Fillmore East: October 4th and 5th, 1968. The conclusion to show number two was a "Life/Music Lover" medley with a percussive, head-bobbing groove. With the T7, it felt really fun and full of energy. Sly's voice was front and center as he sang and shouted his way through the animated call-and-response performance. Horns, harmonicas, and backup vocals all came through clear and natural.
The T7 also sounded great with studio performances, too. On Galactic's Into the Deep, "Long Live the Borgne," leads into "Right On," my favorite 1-2 punch on the album. The former's bassline was satisfying and full, and the trance-inducing organ and guitar riffs were well-placed. Guest vocalist Charm Taylor then picked up the pace and energy on "Right On." The T7 handled it all wonderfully. The bass stayed true and tight throughout while the horns dominated the chorus, lifting the whole spirit of the song. I'm not sure how long my toes were tapping before I noticed their movement.
The bottom line
The Bowers & Wilkins T7 offers a sterling combination of looks, sound, and portability. It's very well-built yet light enough to take anywhere. And its output and sound quality are impressive given its small size. You can find less expensive portable Bluetooth speakers. But the T7 is a clear step above. If you value better performance, this one's a great choice.