Bowers & Wilkins Z2 AirPlay® speaker review
More than just a dock for the iPhone® 5
Heads up!
Welcome to this article from the Crutchfield archives. Have fun reading it, but be aware that the information may be outdated and links may be broken.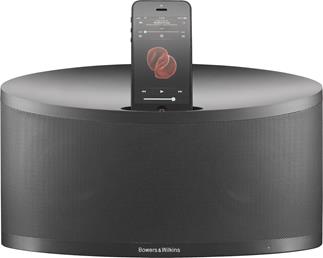 The Bowers & Wilkins Z2 features AirPlay wireless streaming as well as a Lightning connector for docking an iPhone 5.
Bowers & Wilkins has a firm foothold in the market for attractive one-box speakers with streaming music capability. They offer a line of beautifully designed AirPlay® speakers for use with Apple® portable devices as well as iTunes®. I recently took home the Z2, the most affordable speaker in this lineup, to check it out.
Docked and wireless playback
If you own an iPhone® 5, then you might make fast friends with the Z2. A Lightning™ connector on top means you can dock your iPhone 5 to charge it and play music – no wireless network required.
But you don't have to have an iPhone 5 to enjoy the Z2. That's the beauty of AirPlay — if you have a wireless home network and either an Apple portable device or iTunes on your computer, then you already have the necessary tools to enjoy wireless listening with the Z2. Click here to see the Z2's wireless listening options.
Design: nice touches in a "tweener"-sized enclosure
Not much bigger than your average toaster, the Z2 houses two 3-1/2" full-range drivers powered by dual 20-watt Class D amplifiers. The curved enclosure features a metal grille across the front and a bass port in the back. The bowl-shaped top panel hosts a recessed Lightning connector as well as touch-sensor volume controls. The included egg-shaped remote offers volume and track control for either a docked iPhone 5 or an Apple portable device streaming via AirPlay.
The Z2 can connect wirelessly to your home network, though an Ethernet port allows for wired use with a networked computer. There's also a minijack AUX input, for connecting a smartphone, iPod®, or computer via the headphone output.
I love the size of the Z2. There's a term in basketball — "tweener" — to describe players that are too big for one position but not big enough for another. It's a curse in basketball, but a blessing in the Z2's case, as it sits in the sweet spot between small portable Bluetooth speakers and the larger speaker systems like the Bowers & Wilkins A7. The Z2 can put out much more sound than those small speakers, yet it's pretty easy to unplug it, move it to another room, and plug it back in. Your most recent wireless settings will be saved, saving you from having to re-enter them.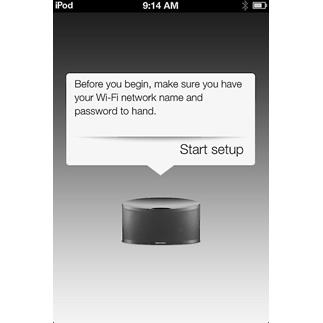 Download the free Bowers & Wilkins Control app to setup your Z2 for wireless playback using AirPlay.
Easy setup using your iPhone or computer
To configure the Z2 for wireless playback, you'll need to download the free Bowers & Wilkins Control app to your iPhone, iPad®, or iPod touch. B&W also offers a free software program for download on a Mac® or PC for iTunes users without an Apple portable device. I loaded the app on my iPod touch®, followed the simple on-screen instructions, entered my wireless network password, and was up and running in about three minutes.
Once the Z2 is connected to your network, you no longer need the Control app. It's merely for setup, but it's worth keeping on your device in case you ever change wireless networks or add another Bowers & Wilkins AirPlay speaker.
A dock that keeps the music playing
I don't own an iPhone 5, so in order to test out the Lightning dock, I brought the Z2 down to the Crutchfield Labs. While listening, I discovered a welcome feature. Unlike other iPhone speakers I've used, the dock connection doesn't automatically take precedence over AirPlay when you dock your iPhone. You have to select the dock input using the remote or the rear-panel power button.
While it may seem like an extra step, this is a useful feature. If you're listening wirelessly with AirPlay and want to charge your iPhone, you can do so without interrupting your music. Other speakers automatically pause the current track when you dock your iPhone. I love the ability to keep the music playing while I connect my phone to the Z2's Lightning dock for charging.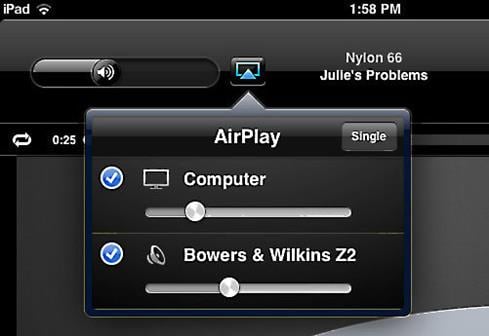 Use the free Apple Remote app to play a song on the Z2 and your computer or other AirPlay speaker simultaneously with independent volume control.
Multi-room playback with iTunes
One of the benefits of AirPlay over Bluetooth, in addition to CD-quality playback, is the ability to play the same song over multiple speakers simultaneously with iTunes. For instance, I have an old MacBook® connected to a stereo system in my basement. I set up the Z2 in my kitchen. Using the free Apple Remote app on my iPad, I was able to select any song from my iTunes library, like Robin Thicke's ubiquitous "Blurred Lines," for playback in the basement and kitchen. Presto — instant dance party in two rooms, with independent volume control over each zone with all speakers in perfect synchronization.
How does it sound?
I was impressed with the Z2's quality and quantity of sound right out of the box. Bass output was hefty without being overbearing, mids sounded quite natural, and the high-frequencies were detailed and crisp, though skewing slightly toward the bright side.
An MP3 of "Here to Stay" from the Rebirth Brass Band's 25th anniversary album had a bit of an edge to it. But the retro-soul of Sharon Jones and the Dap-Kings was the perfect antidote, sounding much smoother — perhaps a consequence of their devotion to analog recording techniques. Similarly, "Semi-Simple Variations" from the Bad Plus showed the Z2 to possess more warmth, offering lots of space for this eclectic jazz trio's drums, piano, and upright bass to intermingle.
The Z2 sounds pretty good from non-centered listening positions, but I definitely got the best results when it was directly in front of me at ear level, at least 6 feet away. And while the soundstage lacks width, the Z2 can adeptly project sound deep into a large room. Though not as agile as its big brother, the A7, it got loud enough to start punishing my ears without distorting in our 230-square foot Labs listening room. The Z2's built-in digital signal processing helps keep music sounding clean as the volume increases.
The rear-panel Flowport delivers bass response that is bold yet not boomy.
Keeping the bass nice and tight
In addition to its digital signal processing, the Z2 has another feature to keep bass response from getting loose and distorted. The Flowport™ is a rear-panel bass port with dozens of small dimples on its interior. These dimples are designed to smooth airflow through the port, which prevents the low frequencies from getting too boomy.
I noticed the Flowport's effect on "That's Who I Am" by Neko Case, a song with bass that's usually a bit bloated — I've heard it distort on smaller Bluetooth speakers. But the Z2 kept it even and smooth so it didn't overpower Case's vocals. Just make sure you don't block the Flowport by placing the Z2 with its back against a wall. I found the best placement for taut, controlled bass to be about 6 inches from the wall, with no shelving hanging above it.
Better with a little room to breathe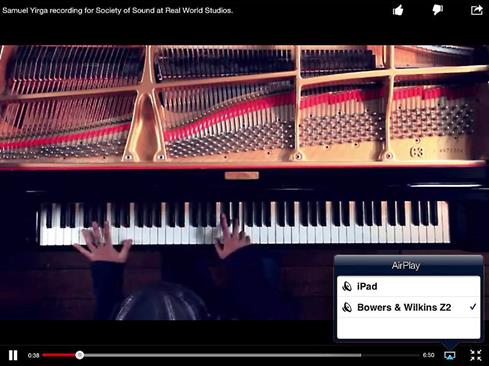 Use AirPlay to stream music from apps like YouTube on your iPad or iPhone.
The more space within a recording, the better it sounds on the Z2. Jimmy Cliff's sparse rendition of "Many Rivers to Cross" from a 2013 performance at radio station KCRW in Santa Monica, CA, featuring only an acoustic guitar behind Cliff's still-powerful voice, showed off this speaker's prowess with intimate vocal performances.
Like many compact speakers, songs featuring larger ensembles sometimes feel a bit congested. On a studio outtake of "Southbound" from the Allman Brothers' Deluxe 40th Anniversary edition of Brother and Sisters, it felt like the band was struggling to bust free of the Z2's compact enclosure and flood the room with their Southern blues.
But even when this speaker's few shortcomings revealed themselves, there was always something that caught my ear and made me smile. During one of the guitar breaks in the "Southbound," Dickie Betts sounded like he had managed to punch right through the speaker into the room. In other songs, certain instruments were able to come through more clearly than others.
This might sound disconcerting, but I found it refreshing as it always seemed to be the right instrument at the right time. On Late in the Evening from Paul Simon's 2012 Live in New York City, it was the syncopated percussion that stood out, highlighting the tune's Cuban rhythm.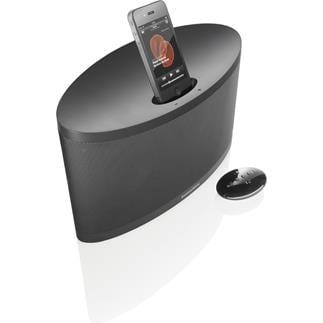 The Bottom Line
I don't have any gripes with the Z2 — though if I did, it would be the Lightning dock. No, it has nothing to do with its design or function. But rather, its presence could make people who don't own an iPhone 5 overlook this very fine speaker. AirPlay is the real story here, opening up this speaker to any Apple user — even PC owners who use iTunes. And because the Lightning connector appears to be the connector for future Apple portables, there's no reason for iPhone 4 users to look askew at the Z2. After all, you're going to be upgrading in another year or two, aren't you?
The possibilities and growing popularity of AirPlay make the Bowers & Wilkins Z2 a good building block for multi-room audio for use with iTunes. But by itself, The Z2 is an easy, cost-effective way to add music to any room (or rooms), offering excellent sound quality and hearty output while still being small enough to pick up and move from one room to another.
Options for wireless listening with the Bowers & Wilkins Z2 using AirPlay.

| Music source | Control playback and volume from... | Streams music to multiple AirPlay speakers simultaneously |
| --- | --- | --- |
| Music stored on your iPhone, iPad, or iPod touch | Your Apple device's music player or the Z2's included remote | No |
| Music and audio from apps on your Apple device, including Spotify®, Pandora®, MOG, SiriusXM, YouTube™, and others | Your Apple device (volume) and in-app controls (playback) or the Z2's included remote (doesn't offer track control with some apps) | No |
| Music stored on a computer running iTunes | Your computer (iTunes) or the Apple Remote app for your iPHone, iPad, or iPod touch | Yes (same song on all speakers) |