Cambridge Audio Stream Magic 6 V2 review
High-end sound from your network
Heads up!
Welcome to this article from the Crutchfield archives. Have fun reading it, but be aware that the information may be outdated and links may be broken.
One of the best perks of working for Crutchfield is the ability to get your hands on some excellent audio equipment. So when I had an opportunity to try the Cambridge Audio Stream Magic 6 V2 network music player at home, I jumped at it. This versatile component is a network music player that can be added to a stereo or surround system, but it's also an excellent digital-to-analog converter (DAC) and can even be configured as a digital preamplifier.

This "V2" version of the player improves on the original Stream Magic 6 by offering support for high-resolution files up to 24-bit/192kHz, as well as upgraded internal processors for faster browsing of digital music stored on external devices.
Getting connected to the system
Because of its versatility, I used the Stream Magic 6 V2 as a network player and DAC with my stereo receiver. I connected the RCA outputs to my older stereo receiver. I also connected my high-resolution portable music player, my PC, and an external hard drive to it — the Stream Magic 6 V2 has three USB inputs to accommodate all of my devices. It also includes optical and coaxial inputs and outputs, as well as XLR balanced outputs to connect to a high-end receiver, integrated amp, or power amplifier when it's used as a preamp.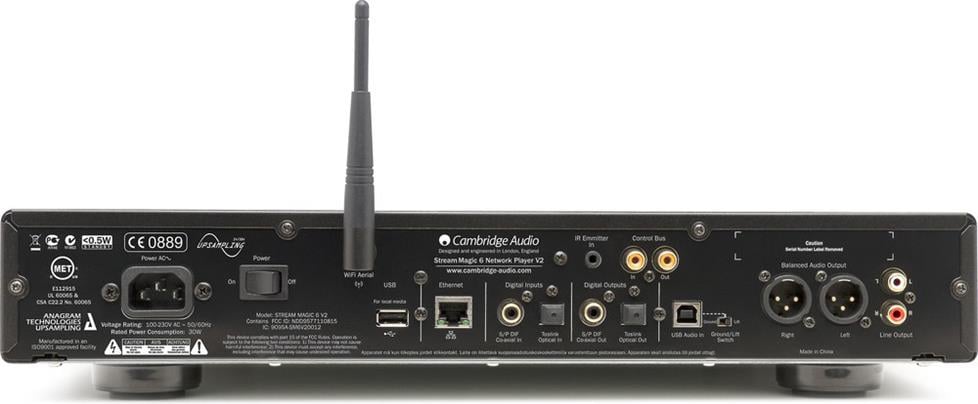 A variety of digital inputs creates flexibility to integrate the Stream Magic 6 V2 into your system.
Superb sound from online streaming
Thanks to the Stream Magic 6 V2's built-in Wi-Fi®, I was able to quickly join my home network. Using the control dial on the player, I searched for one of my favorite Internet radio stations and had it playing within seconds. The 5-line front panel display showed all station, song, and artist information, as well as the bitrate of the broadcast. The station was streaming at 128 kbps, which is equivalent to a low-resolution MP3 — hardly the pinnacle of sound quality. Yet what I heard sounded anything but lo-fi.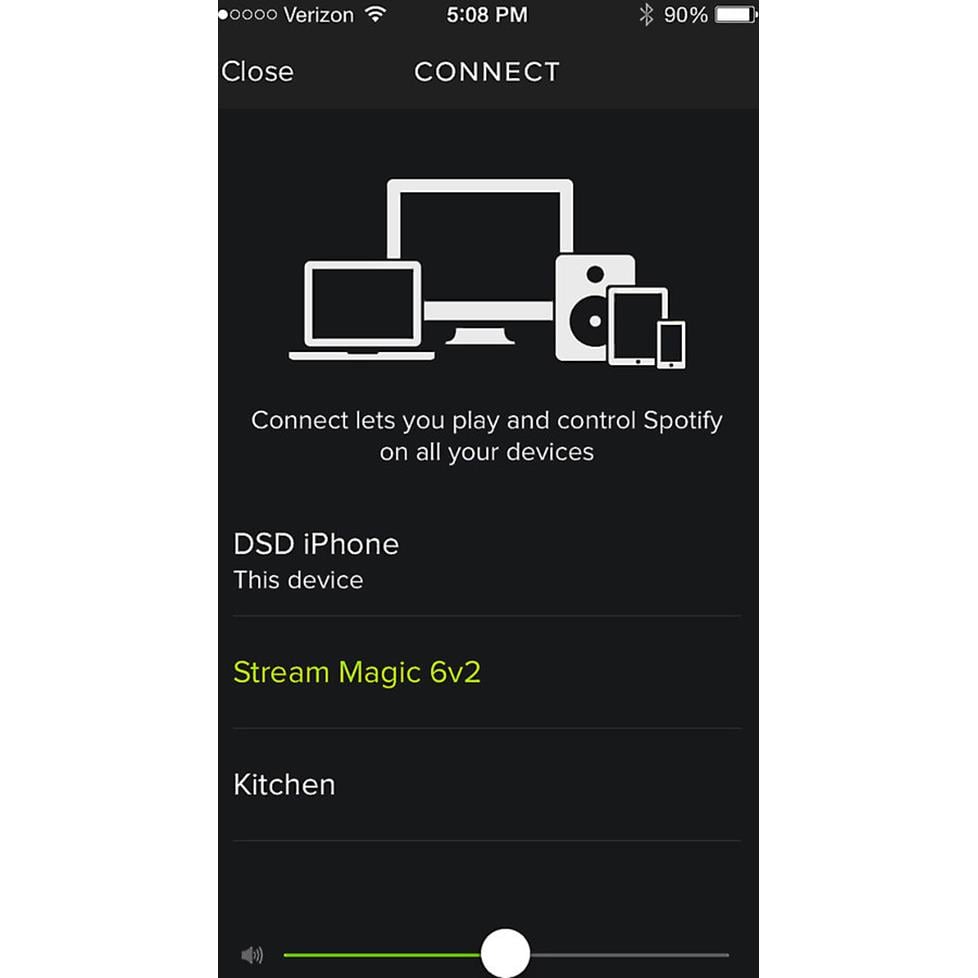 Using Spotify Connect with the Stream Magic 6 V2, all my playlists sounded crisp and clear.
The Stream Magic 6 V2 upsamples all incoming signals, which effectively eliminates "jitter" — timing errors that can lead to harsh, inaccurate sound from digital signals.
For me, the cymbals' higher frequencies offer telltale signs about music files. Heavily compressed files deliver cymbals that are "swishy." In my listening, digital music files with a lower compression (higher bitrate) have spatially well-defined cymbals that sound like, well, cymbals.
The first station had a lot of jazz and world music, and the precise upsampling from the Stream Magic 6 made sure that the cymbals, as well as all instruments, were clearly defined.
I have a premium subscription with Spotify® Internet radio, so I was excited to learn that the Stream Magic 6 V2 offers Spotify® Connect compatibility.
I opened the Spotify app on my iPhone® and queued up a song. I pressed the Connect icon on the play screen, and bingo, it quickly identified the Stream Magic 6 V2 — I was playing my favorites in seconds. Cambridge's DAC brought out the best in all of my playlists I sampled.
Computer and external hard drive heaven
The Stream Magic's asynchronous USB input enabled me to connect my PC, where I use JRiver's Media Jukebox to organize my music. Playing my stored high-res music resulted in a consistently large soundstage, offering a lot of depth I hadn't experienced from songs I'd listened to for years. It's a cliché, but it was like experiencing my music collection again for the first time.
Some DACs and network players won't play nicely with external hard drives, but knowing a bit about Cambridge from my days as a Crutchfield Advisor led me to believe this wouldn't be a problem for the Stream Magic 6 V2. And I was right.
I have a Seagate HDD for a Macbook® with some high-res music on it, so I plugged it in to a USB input. I connected my portable music player to the second USB port as well, which has a built-in memory and a micro SD card full of WAV, FLAC, and ALAC music files. The Stream Magic 6 V2 recognized both memory drives. Immediately, my entire music library was available to me. I could pick any music files, and either play them right away or add them to a queue to create a playlist.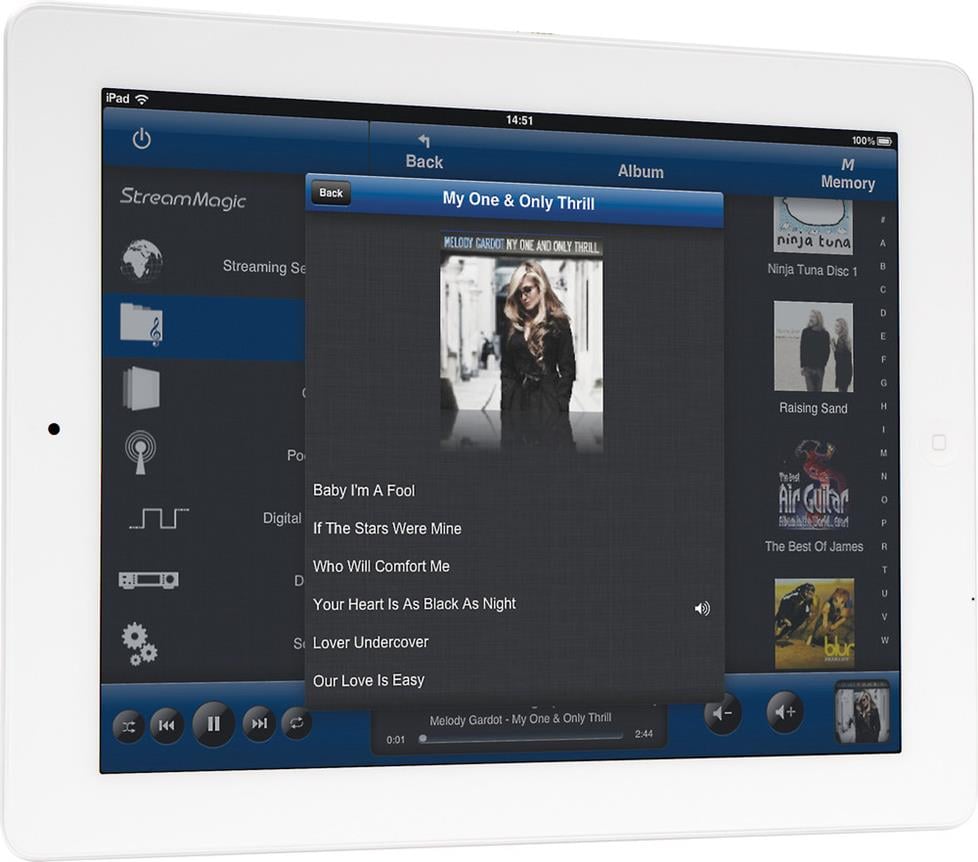 Cambridge's Stream Magic app gives you control over the Stream Magic 6 V2 and your music library (shown on iPad).
Convenient app control
Cambridge Audio's Stream Magic app works with a variety of their products, for easy wireless control with your smartphone or tablet. I loaded it on my iPhone, and it easily synced up with the player.
The app provided controls for finding Internet radio stations and music stored on my hard drives — it was easier to browse a huge library of music files with the app instead of using the front-panel controls.
The representatives from Cambridge also told us there was a substantial update coming soon for the app, which will make it even more intuitive and provide faster access to your music files.
A well-rounded, great sounding digital player
Cambridge Audio created the Stream Magic 6 V2 to be used creatively in a variety of ways. So once it's out of the box, think outside the box. You can pair it up solely with powered speakers, make it part of your component rack setup, connect it as a high-end DAC for other components, or use it as a preamp for a Cambridge Audio Azur amp as a simple, but powerful stereo system.
If you're looking for an audiophile-grade network player that can work in a variety of applications, I can recommend this Cambridge Audio network player without hesitation. If you store music in computers or hard drives, it works beautifully with them. And if you want better sound from Internet radio stations, it would be tough to beat the clarity and depth I heard from the Stream Magic 6 V2. It helped me get more out of my system, both in sound quality and music choices.