Car video buying guide
An overview of the ways to add video to your car
Whether you stream video on your phone, download it to your tablet, or still prefer DVDs, you can do it all in your car and enjoy the benefit of a bigger screen and stereo sound thanks to receivers and monitors with plentiful inputs.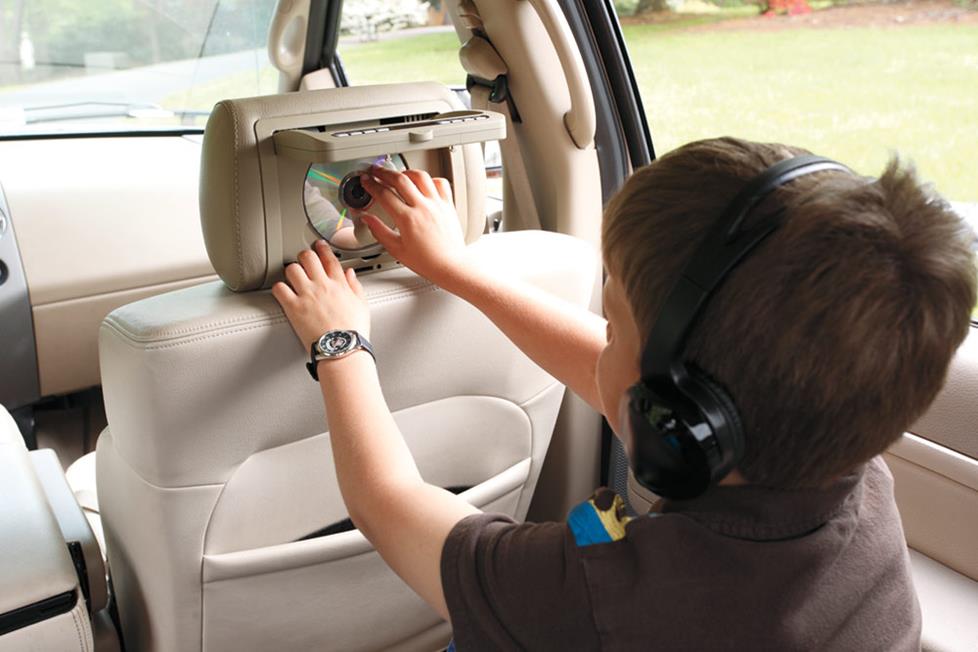 So, why would you want a video system in your car?
That's an easy one — entertainment! Those long holiday car trips go more smoothly with a backseat video system for the kids. Or if you're a professional driver and you have a lot of downtime in the car, you can watch movies in your dash when you're waiting on clients.
The beauty of car video is that there is no shortage of options, but the key to having a satisfying system is having a clear vision of what you want. Putting video in your vehicle can be a straightforward upgrade, or depending on your plans (and your vehicle), it can also be a challenging installation. For that reason it's important to know if you want front seat video, rear seat video, or both.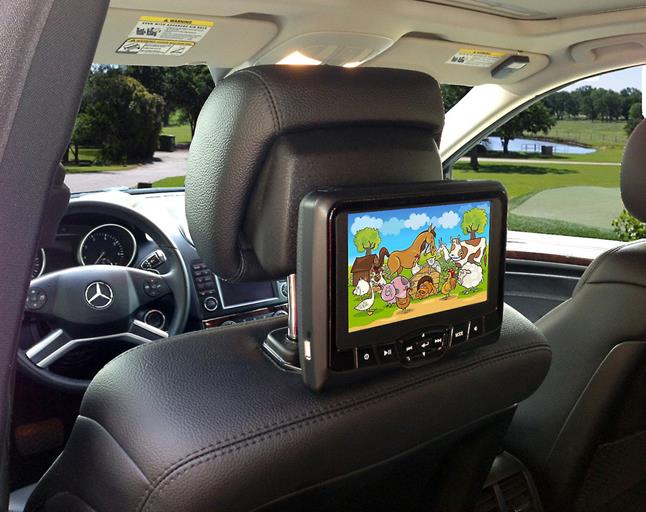 Backseat video systems can help keep your passengers entertained on trips of any length.
Car video in your dash
The easiest way to get video in your car is to install a DVD receiver in your dash. These stereos feature spacious touchscreen monitors for your video playback in addition to being your system information displays and system controllers. Some car video receivers even fit in standard dash openings and feature retractable video monitors.
Now, in order to play a DVD or stream video in your dash, you'll have to have your vehicle parked and the emergency brake engaged -- this is strictly for safety reasons. It is illegal for front-seat passengers to view video on an in-dash monitor while a vehicle is in motion. Now that we've gotten that out of the way, let's get on to the good stuff.
The receiver installs just like a standard deck does. Video receivers are generally capable of extensive system expansion, allowing you to connect extra audio or video components for operation of a rear-view camera as well as backseat seat video as a second "zone."
Receivers with dual- or multi-zone capability have audio/video outputs for separate monitors. When you engage the dual-zone feature, you can send the signal from one source, like a DVD player or video game console, to the rear monitors and their headphone transmitters; the folks in back will be able to enjoy that source. Meanwhile, the driver can still play the radio, for example, over the car's speakers. The more zones a receiver can control simultaneously, the more diverse your entertainment options get.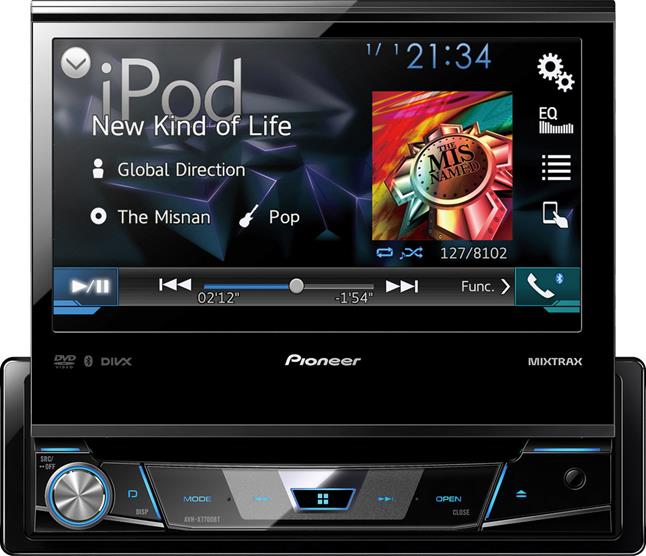 Some mobile video receivers, like this Pioneer AVH-X7700BT, fit in standard dash openings, and feature retractable LCD video monitors
Backseat video
While the driver and front seat passenger cannot watch video when the vehicle is in motion, passengers in the backseat can. And they have two ways of watching:
Headrest video monitors
Headrest monitors typically come in one of three designs — you can install screens in your factory headrests; you can secure monitors to your factory headrest posts without altering your headrests; or you can replace your factory headrests with those that have screens already installed. They look remarkably like the factory originals, even down to the fabric color and texture.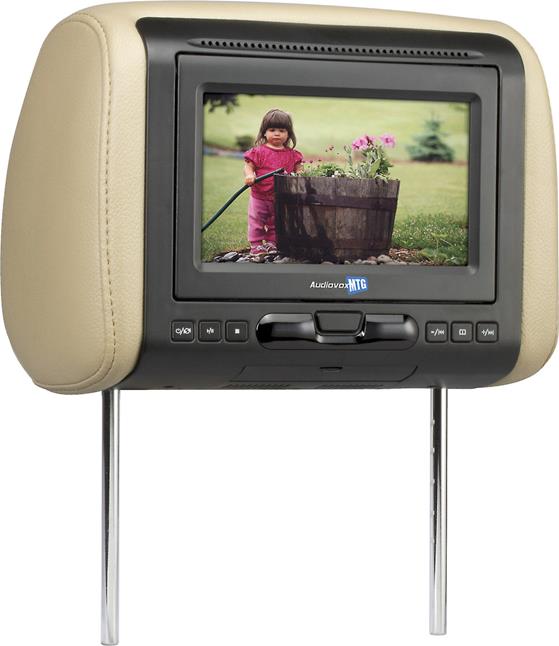 Many headrests have DVD players built in as well as a variety of video inputs, including HDMI ports for HD sources. If you have an all-in-one style headrest monitor for both seats, then two backseat passengers can watch their own content and use headphones for audio output. Because of the expansion possibilities of certain headrests, two units can often be wired to display video from one source, whether it's a dominant headrest player, the front-seat video receiver, or a component DVD player mounted in an out-of-the-way location.
You should wire your car video system with video cables specifically designed for car applications — they'll be better insulated than cables designed for use in-home, and will generally keep radiated "noise," which is always prevalent in a car environment, from sneaking into the system and degrading your video quality.
Overhead video monitors
Fold-down overhead monitors are popular in SUVs and minivans where there's plenty of space. Mounting a monitor on the ceiling makes it much easier for all your backseat passengers to see the picture. Some include built-in dome lights, in case you have to mount it over your vehicle's factory dome light. Some are also compatible with housings that have been designed for specific vehicles (that let you retain factory ceiling-mounted controls and displays).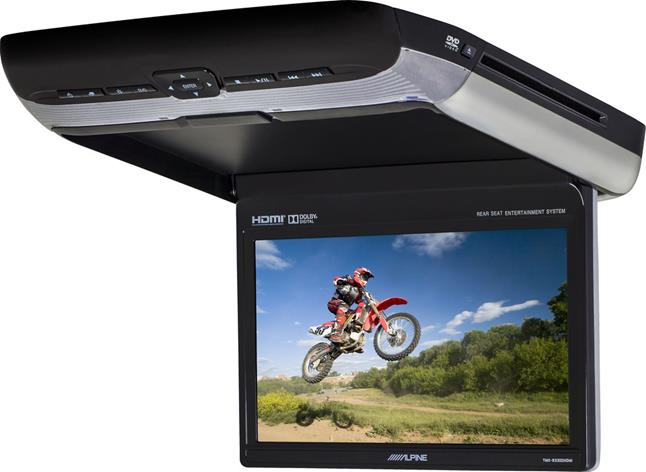 Most overhead monitors, like headrest monitors, feature DVD players built into the housings, which reduces the number of wiring connections you have to make. Many even feature built-in speakers. These all-encompassing systems eliminate the need for you to run wiring all through your vehicle; your primary concern will focus solely on installing the monitor and housing on your vehicle's ceiling.
Audio options for your car video experience
With any system, you'll have to find a way to hear the sound. If you're controlling dual- or multi-zone media from your in-dash receiver, you'll be able to channel the audio to a rear output, as we've mentioned.
Many overhead and headrest video units typically have built-in wireless FM modulators, which beam the audio signal over an unused FM frequency directly to your stereo, so that the whole car can hear the sound of your video. Wireless modulators may fall prey to occasional interference, and the range of frequencies over which they can broadcast can be a bit more limited than those of hard-wired versions. But they can solve some very tricky installation problems, by eliminating the need for you to access the back of your radio.
Arguably the best way to listen to video in the car pertains only to backseat viewers – using headphones. You'll beat the road noise (and passenger chatter) by sealing off your ears from the rest of the car and hearing the full impact of your video's sound. Plugging in with wired headphones will give you the strongest audio signal, but most overhead and headrest video units are equipped with infrared transmitters that send the audio signal wirelessly to a set of compatible headphones (which tend to be included). Wireless headphones are ideal for the car, given the distance between monitor and the passenger, and the seat belt in between. Two-channel headphones allow a viewer to switch between sources, the perfect thing when two passengers want to want to watch videos separately on their own monitors.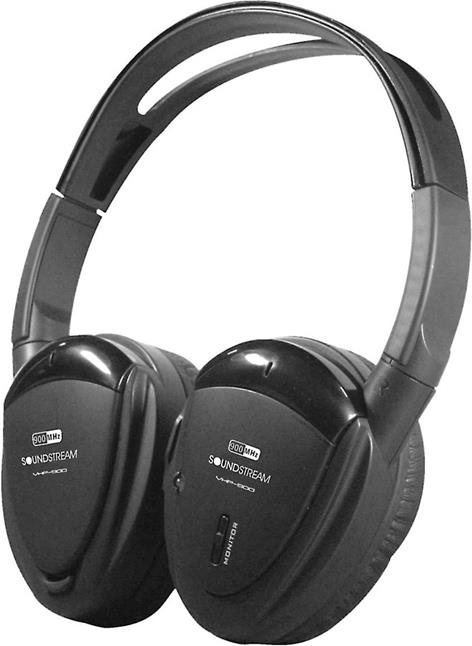 High-end car video accessories
The beauty of a comprehensive car video system is the number of entertainment options it affords you. In addition to movies and music, you can add video games and local TV reception. What you can add depends on how many audio/video inputs your system has. Some components (video games, notably) might also require items such as power inverters in order for you to operate them in your vehicle.
Adding multiple components makes multi-zone capable video systems all the more fun. For example, if you have two monitors, a game system, and a satellite radio tuner hooked up to an in-dash receiver with multi-zone capability, you can listen to SiriusXM over the car speakers, while one backseat passenger watches a DVD, and the other plays a video game. Now that's entertainment.
Adding video capability to your vehicle
Whatever you choose to do with car video, whether you install a complex, multi-component system, or simply mount a DVD player/monitor combo on a headrest, once you've entered the world of car video, you'll never want to leave.
If you have any questions or want to explore your options, conact us via phone or chat. Our advisors will be glad to help.