Using iPhone apps in the car
Heads up!
Welcome to this article from the Crutchfield archives. Have fun reading it, but be aware that the information may be outdated and links may be broken.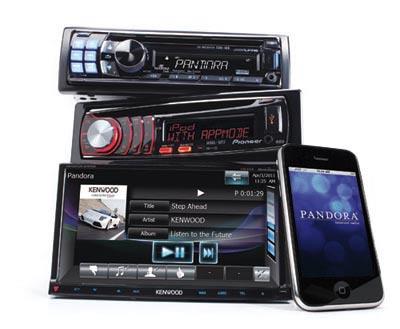 Many new receivers let you play PANDORA® from your smartphone
Few products have changed the car audio industry as completely as the iPod®. When it launched, car stereo manufacturers scrambled to build receivers that would control the iPod directly. In just a few short years, iPod control has become almost a universal feature — with the average stereo on the market these days, you can plug your iPod into its USB input and get full control. It's like you've uploaded your entire music library (or however much of it you have on your iPod) directly to your stereo. It's awesome.
And just when we thought it couldn't get any better, along came the iPhone®. As most of you know, the iPhone lets you load onto it a seemingly endless array of apps, many of which provide new avenues of entertainment and utility, like Internet radio, video services, GPS, and more. Car A/V companies have responded just as quickly by developing lines of car stereos that let you take full advantage of lots of these fantastic apps while you're driving.
In this article, we're going to take a quick look at four different types of app interactivity:
Basic App Mode in many receivers
Controllable Internet radio services, like PANDORA® Internet radio and iheartradio
Controllable interactive media services, like Aha Radio®
And a special GPS app called Motion-X GPS Drive
Basic app mode is your gateway to even more fun
Lots of new stereos offer a simple app mode so you can enjoy the sound, and sometimes even the video, from the iPhone apps you love. It's like opening a doorway basically — you still use the iPhone to select and control the app, but the sound will play through your speakers, and if you have a DVD receiver and are using a video app, the video will pop up on your in-dash screen. Granted, when you're enjoying video content, you need to be parked with the emergency brake engaged (for safety and legal reasons, DVD receiver video screens won't work unless you wire them to the emergency brake), but it's a great way to enjoy videos on YouTube™ or movies from Netflix® when you're in the car.
Internet radio offers unbeatable variety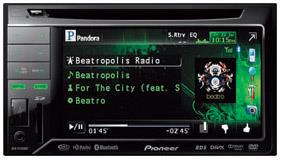 DVD receivers will usually show album art when playing PANDORA®
The majority of app-controlling receivers out there work directly with the PANDORA® Internet radio app. If you're not familiar with PANDORA®, here's how it works online — you create custom Internet radio stations by telling PANDORA® the songs and artists you like. It'll play those artists, plus find and play artists that are similar. You can make your stations as eclectic as you like, or build multiple stations along tight musical guidelines. As songs come up, you can rate them "thumbs up" or "thumbs down." This helps PANDORA® learn what you like to hear and what you don't.
Some receivers have dedicated "thumbs up" and "thumbs down" buttons for rating songs
The PANDORA® app for the iPhone lets you enjoy all this anywhere you're connected to the 3G network. Plug your iPhone into a compatible stereo, and the stereo will let you run the PANDORA® app using its controls, which is way easier — not to mention safer — than having to fiddle with your iPhone while you're behind the wheel. The perks:
You can play all the stations you've created on PANDORA®
DVD receivers with screens that control PANDORA® will usually show you album art, along with song and artist info
You can still rate songs like you do online
Some stereos will even let you create new stations so you don't have to go online to do it
Many newer JVC receivers will work with a service called iheartradio, which gives you access to over 700 different kinds of radio stations featuring music, news, and entertainment. And some select receivers out there will control the Last.fm app, which is a great way to discover new artists and music.
Aha Radio keeps you connected
Many Pioneer DVD/navigation receivers will control the Aha Radio app for the iPhone. Aha Radio is a pretty amazing up-and-coming service that lets users stay connected to many of their favorite social media sites, enjoy a wide range of entertainment, get local food and attraction recommendations, and even stay on top of traffic conditions where they are.
| | |
| --- | --- |
| Aha Radio organizes its features into channels | It'll read Facebook and Twitter updates out loud |
| "Hungry" points you to popular local eateries | It even gives you local traffic updates |
Some of our favorite Aha Radio highlightsinclude:
When your iPhone is connected and the Aha Radio app is running, you can have Twitter feeds and Facebook posts read to you over the stereo. That way, you can keep up to date without having to take your eyes off the road.
When you're looking for something to eat, you can hop onto the "Hungry" or "Coffee" stations and get local recommendations based on Yelp! user feedback.
Traffic information is pretty darn useful to have when you're out and about. Aha Radio will send you alerts for your area as they come up, and can even let you enter your own updates for other Aha Radio users to hear.
There's tons of entertainment to find on Aha Radio, including one channel we think is going to catch on like wildfire — "Caraoke," which lets you listen to other people singing in their cars. Seriously. You can even choose to follow some of these "artists." It's great fun.
MotionX-GPS Drive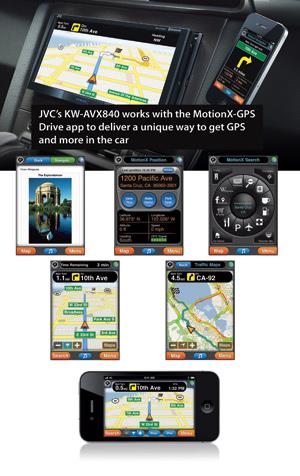 In 2011, JVC introduced an innovative way to get GPS in the car with its line of DVD receivers that work with the MotionX-GPS Drive app. Basically, it works like this: you load the app onto your iPhone, and plug it into the JVC receiver using a special JVC cable. You enter destinations, like addresses or intersections, into your iPhone, and it plots your course. As you're driving, navigation maps showing you your next maneuver appear on your receiver's screen. Meanwhile, you'll hear voice prompts over your car's speakers telling you when to turn. You can also listen to music stored on your iPhone while the system navigates.
Those are the basics. Here are the huge advantages:
Because it works over 3G and 4G cellular networks, it doesn't rely on preloaded map software — you'll know you're getting guidance from the most up-to-date mapsavailable.
You get more dynamic search results than many services. Its points of interest, like hotels and restaurants, are tied into sites like Wikipedia and Facebook. The system also factors in feedback from iPhone users, then filters it all for your location. It's good to have options, and the MotionX-GPS Drive app provides tons.
The service does real-time traffic monitoring, too, in lots of cities and towns across the country.
It's not terribly expensive. Just 99 cents will get you the app, and the service runs $19.99 a year. Not bad for the incredible amount of coverage you get.
(Note: While the MotionX-GPS Drive app is compatible with most iPhones, the ability to use it with a car stereo requires the iPhone4 or newer.)
This is only the beginning
Yes, it boggles the mind how much one little device has to offer, when paired with the right car stereo gear — seemingly endless music options for long road trips, social media updates for those times when you just can't get to your computer, and navigation and traffic when you're driving around town. It might sound cliched, but the question anymore isn't what can you do...it's what can't you do?
And with all the great receiver choices out there, if you need help deciding which one will suit you and your lifestyle best, be sure to give us a call at 888-955-6000 to talk to one of our experts.