Car stereo buying guide
Tips for choosing a new stereo for your car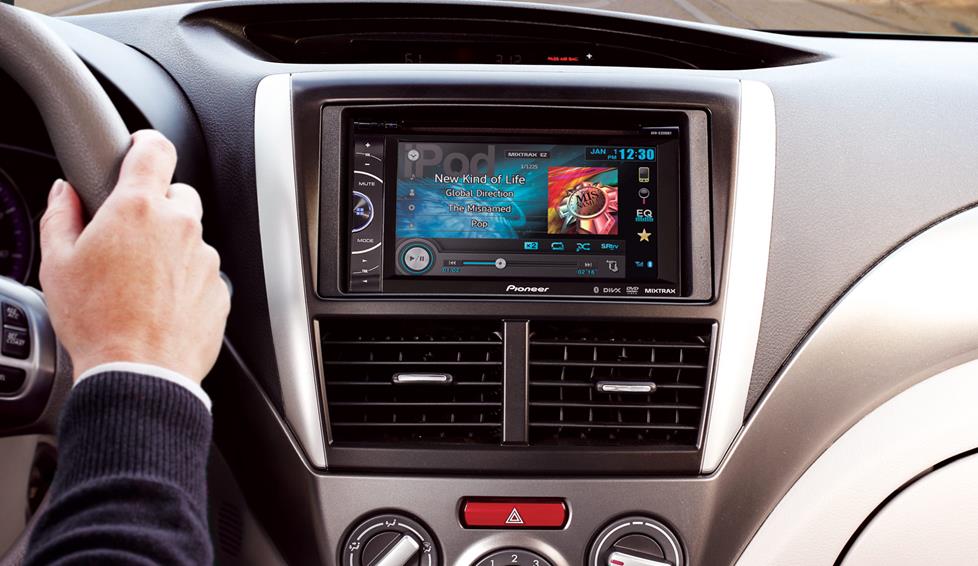 The car stereo is the centerpiece of any car audio system. They look great in the dash and are full of useful features. Also known as a radio, receiver, or head unit, today's car stereo performs a variety of complex functions so that we can better enjoy our drive time. To understand these functions, it's helpful to think of a car stereo as having three different sections:
Source — This is the part that lets us choose what we want to hear. Sources may include a standard AM/FM tuner, CD or DVD player, satellite radio, iPod® or smartphone, or a USB input.
Preamp — This is where all sound adjustments are made. The preamp section includes controls ranging from simple volume, balance, fader, source selection, and tone adjustments to sophisticated crossovers, equalizers, and time correction.
Amplifier — The amplifier section boosts the small (low-voltage) audio signal coming from the preamp section into a larger (high-voltage) audio signal that's sent out to the speakers.
Why would I want or need a new car stereo?
A new stereo will give you better sound and more playback options than the typical factory stereo.
Better sound quality
Superior built-in power and better circuit design mean that an aftermarket car stereo isn't just louder than the typical factory stereo, it also produces cleaner, richer, more-detailed sound. Enhanced tone controls in the preamp section mean that you can do a better job fine-tuning the music.
New sources for music and added functions
One of most common reasons to get a new stereo is to expand your system's music playback and other capabilities. Aftermarket stereos offer advanced capabilities, such as:
MP3/WMA/AAC playback
iPod® and iPhone® support
Support for Android™ phones
Satellite radio
DVD playback
Bluetooth® connectivity
GPS navigation
Support for Pandora® Internet radio and other app-related sources
In particular, being able to use smartphone apps in the car is a big reason to get a new stereo.
Other things to consider when purchasing a new car stereo
Getting the right listening sources is only one thing to consider. You'll also want to keep in mind some of these aspects of a new receiver.
How sophisticated do you want to get?
Advanced features on new stereos more detailed displays to make it easier to see what you're doing. You should certainly consider a touchscreen monitor. They make it much easier to control and adjust the stereo.
Better sound controls
Speaking of adjustments, precision sound controls like digital time correction and parametric equalization are available on higher-end receivers for those of you who really want to tweak the sound. But even lower-priced aftermarket stereos will offer more audio control that the typical factory radio. That's just one more way a new stereo can make your music sound better.
Cool cosmetics
Aftermarket car stereos, with their high-tech displays and cutting-edge layouts, can enhance the appearance of your car's interior. Your options include full-color animated displays, customizable color schemes, and again, touchscreen monitors which usually have selectable backgrounds and colors. If you want to heighten the listening experience, look for a stereo with lighting that flashes to the beat!
Expandability
Auxiliary inputs, USB connections, and audio/video outputs let you expand your system by connecting portable music players, rear seat video screens, external amplifiers, and powered subwoofers to your new stereo. At the very least, look for a new stereo that has either a USB input or Bluetooth capability so that you can add your favorite listening source.
Security
Features like detachable face plates and security codes help protect your investment from theft.
What kind of car stereo is right for you?
It's easy to feel overwhelmed by the sheer number and variety of models in our car stereo listing. How do you know which one is right for you? Our expert shopping guides can help. Click on the links to learn more.
It might be better to just jump right in! Tell us about your car and we'll show you all the stereos that will work with your vehicle and also tell you about what's needed to install your new stereo. If you have any questions, contact us for expert help from real people who share a passion for car audio.