USB Ports — Your Power Lifeline
Car Receivers with 1-amp USB Ports
Your car receiver's USB port not only gives you access to music stored on thumb drives and many digital music players, like iPods® and iPhones®, but it serves the dual purpose of charging your device, too. If you're on the go a lot, you may depend on your receiver to keep your device charged up and ready to go when you get out of your ride.
An increasing number of digital devices, like the aforementioned iPhone, have significantly higher power requirements for charging when compared to a simple iPod. And some people have multiple devices they want to charge on the way to work. That's why we're starting to see a number of new aftermarket car receivers with 1-amp USB ports, as compared to the old standard of 500-milliamp USB ports.
Time for a quick lesson in electricity
Amperage is a measure of the amount of electrical charge passing through a device or circuit. The higher the amperage, the more electricity. Therefore, we can expect a 1-amp port to charge a device more quickly than a port rated at 500 milliamps (that's half the current flow of 1 amp). But how much more quickly can you expect to charge your devices? It was time for a simple hands-on test.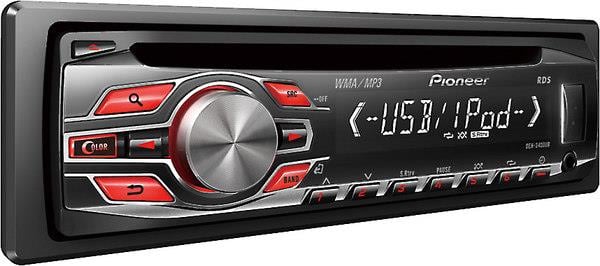 We used this Pioneer receiver as our test device.
Off to the Crutchfield Labs
The testing protocal was simple. I ran an iPhone 4 until the battery was dead (I had to watch several movies to do it — but that's the price we pay for science). Then I plugged the iPhone into a new 2012 model car receiver with a 1-amp USB port and recorded the progress of the charge until it reached 100%.
Next (several movies later) it was time to replicate the same experiment with an older reciever with a 500 milliamp port. In both cases the iPhone was connected to the reciever with a stock Apple iPod cable. Notes were kept, and then compared.
The results
Not surprisingly, the 1-amp output was faster. But I was impressed with how much faster it was. Time in the chart below is expressed in Hours:Minutes.
| | | | | |
| --- | --- | --- | --- | --- |
| | 25% charge | 50% charge | 75% charge | 100% charge |
| 1-amp port | 00:25 | 00:50 | 01:15 | 01:40 |
| 500-milliamp port | 00:48 | 01:35 | 02:23 | 03:10 |
What's it mean?
You'd expect that the 1-amp port to be twice as fast, and the test results bore this out. So if charging speed is important to you, take an extra few seconds and check the specs of the receivers you're looking at, and make sure your receiver has a 1-amp USB output.