Swimming with the Fishman
An Interview with Dave "Fishman" Rivera at Spring Break Nationals
Heads up!
Welcome to this article from the Crutchfield archives. Have fun reading it, but be aware that the information may be outdated and links may be broken.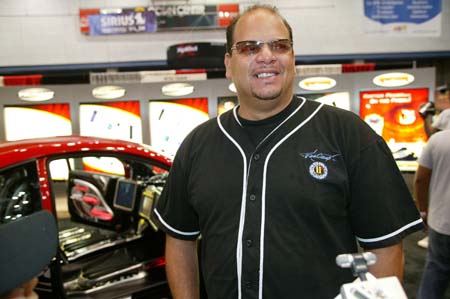 Dave "Fishman" Rivera poses in front of his latest creation, the Tsunami Bug.
For the last fourteen years, Dave "Fishman"" Rivera has been a dominating presence on the custom-car scene. A visionary fabricator with seemingly limitless talent and imagination, the Fishman leaves an indelible mark on every vehicle he designs, transforming it into something truly extraordinary.
The Tsunami-sponsored Volkswagen Beetle he designed (with his co-designer Jeremy) for this year's Consumer Electronics Show perfectly epitomizes the Fishman's remarkable transformative gift. Absolutely nothing original is left of the vehicle's interior; they removed and replaced every square inch of the inside, fabricating everything from the sub enclosures to the dash, to the seats, to the floor and door panels.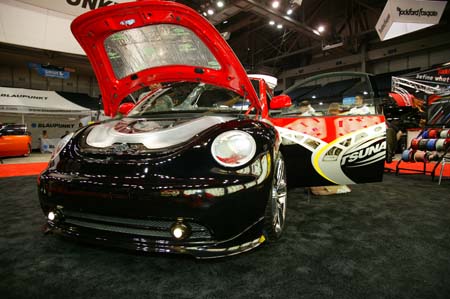 The Fishman's Bug drew abundant attention from everyone in attendance.
And when we say that the Bug is like nothing you've ever seen, we're not exaggerating. You steer the car using buttons located on both doors (two people are required for this), or with the touch-screen controls. In fact, the touch-screen controls operate every single one of the vehicle's systems.
The Bug even features live fish in the headlights (fish, not surprisingly, are a Fishman standard, and the origin of his nickname). It's simply remarkable.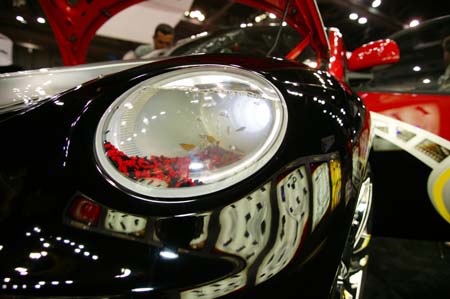 Yes, those are really live fish in the headlights.
We caught up with the Fishman for a brief chat at Spring Break Nationals. Now, you might assume that someone with his degree of superstar status might regard his time as overly precious, and want to cut conversations as short as possible, since he has better things to do.
Not so. Not in the least. The Fishman is effusive and enthusiastic, willing to bend anyone's ear about his work, the scene at large, and his joy at seeing younger generations get excited about automotive refabrication. He's generous with his time, and a joy to speak with.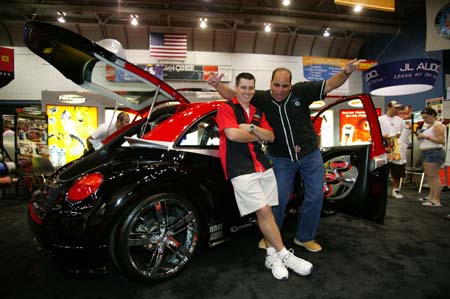 The Fishman and his co-designer Jeremy, proud of their masterpiece.
CrutchfieldAdvisor:
What do you think about the way the custom car scene's grown?
Fishman:
It's fun. I've seen it go from [holds his hands low] to [holds his hands high] what it is now.
Fourteen years after [I started out], I still love the people, the crowd, the new kids, the new generation?it's great, I love it.
CA:
Where did you get the inspiration for the design of the bug?
Fishman:
[Laughs] There's more to this car than you first see. The key was, "how do you make the Bug look cool?" We wanted to bring the outside shape of the bug into the inside. So if you notice the back of the seat: it was based on the roof of the car. The same interior wouldn't make sense anywhere else. Everything inside has all the flows of the outside.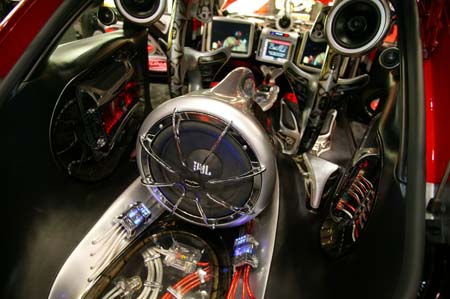 The one-of-a-kind interior of the Bug complements its rounded exterior design.
CA:
Tell us about the design process.
Fishman:
It's just many hours of Jeremy and me sitting down and saying, "what do you think about this?" Then we start doodling.
We sit there and just like, with a finger [traces the air with his finger]. And?I don't see it, and I don't see it . . . and then I say "hmm."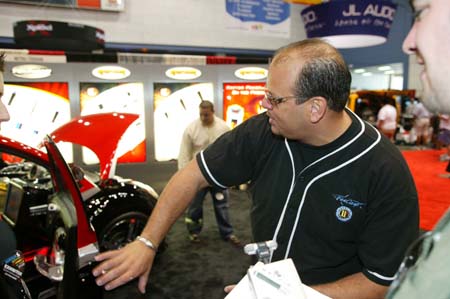 The Fishman walks us through the creative process.
It's apparent, then, that the Fishman has a natural aptitude for design, and he lets inspiration strike him, just like any artist.
CA:
How has the reaction to the Bug been on the scene?
Fishman:
Last week, the guys from Speed Channel profiled the car, then came back and wanted more. They wanted to do a whole story, because they'd never seen anything like it.
And there are some awards coming up in L.A. at the Kodak theater called the Meguiar's Awards. This is by invitation only; it's the best car show in the world, and they want this car to be up on stage at that show. A Beetle! I'm like, Wow! that's big!
"We were in Houston, Texas with Budweiser, and to have the vice president of Anheuser Busch, and the cheerleaders of the Houston Texans in the car: that's it right there. It's all about the joy of entertaining, seeing people smile, taking the industry to a whole new level.
And everybody says, "what's next?" That's the mystery. That's the fire. You want to know what's next? Come back next year, and you'll see what's next.
CA:
So do you have a new project that you're working on now?
Fishman:
We've got a new one coming out in about a month and a half. It's a Celica with wide-body modifications. That one's going to be a totally different theme from the Beetle. It'll use motorization. The Bug is my first vehicle with no motorization [laughs].
The thing is you can't beat this [the Beetle]. It'll go down in history, and always be called "The Bug." The Tsunami Bug. Five, ten years from now, people will still remember the Tsunami Bug. So you can't beat this with anything.
CA:
And the fans' reaction to the Bug?
Fishman:
There's something about this beetle. I've seen the same faces 10 times, and they tell me everytime they come, they see something different. So I love it. Love it, love it.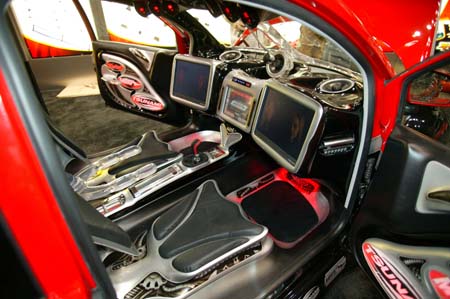 That's right, there's no steering wheel — you steer using the touch-screen controls, or the buttons on the doors.
CA:
Do you have any advice for people just getting into the scene?
Fishman:
Be nice to people. Don't think you're bigtime because you get a front [magazine] cover. That's one of the things Doug Newcomb [editor of Mobile Entertainment magazine] and I were talking about last night: we did my first article fourteen years ago, so we spent three hours just going back fourteen years. We've done seven articles and four front covers together, and I'm still the same guy, and he's still the same editor. We see people come and go, and here we are. So it's great.
Number one thing: don't burn any bridges. Just because you think you're here today, tomorrow . . . .
But when you get to have this kid right here [points to a boy of about twelve] get excited about this, and spend all day yesterday explaining to people how to steer this car — having the little kids take pictures of the Fishman.
Of course, all of his success hasn't come without sacrifice. The Fishman talked to us about what it's been like to get to where he is.
Fishman:
I just finished an interview the other day with
Mobile Entertainment
. That's my 15th front cover. And I've got about 45 magazine articles. I've done everything from small cars to golf carts, to big, motorized crazy cars, to having the baddest Beetle on the planet — it's still fun.
But it's a lot of hours, and not much vacation. I have moved to seven different states. I'm not the kind of person who moves from Florida to Georgia. I go from Boston to California, California to Seattle, Seattle to Atlanta, Atlanta up to Boston, Boston out to Oregon.
It's taken a lot of sacrifices to get to this level. People see the Fishman, but they don't know how tough it's been: a lot of sacrifices, giving up friendships, giving up money, giving up family. It's been really tough to get to this point.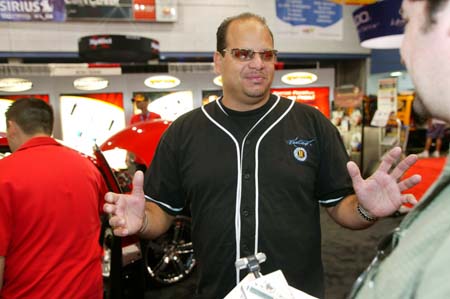 The Fishman's effusive personality is clearly one of the reasons the popularity of the custom-car scene has risen dramatically in the last few years.
He also teaches a course in fabrication every year called Fish Camp.
Fishman:
The people I teach — they all become family. I give it my all when I teach.
CA:
Has it all been worth it?
Fishman:
I love it. It's been a great ride. Ups and downs. But you know what? I can show you that the Fishman's still here, and fourteen years from now, I'm still going to be here.
And that's it. Someday it may be over, and I'll do something else, but the passion's still there. I love this stuff.
We'd like to take a moment to thank the Fishman for giving us his time, and sharing his passion and inspiration with everyone. And we look forward to seeing your next car!