Denon AH-D600 Music Maniac headphones review
Versatility meets comfort
Heads up!
Welcome to this article from the Crutchfield archives. Have fun reading it, but be aware that the information may be outdated and links may be broken.
Meet the new Denon headphones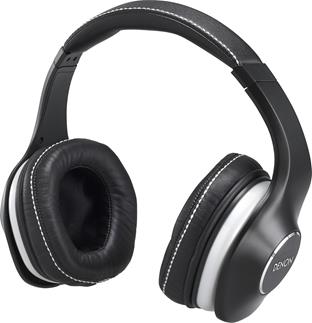 Denon isn't necessarily the first name you think of when someone mentions headphones. But with their new line of Music Maniac™ headphones for serious listeners, Denon is trying to change that perception by building on their previous success with closed-back designs. I was excited to try the new Denon AH-D600 to see how they measured up, particularly as I own a pair of their older AH-D2000s.
A Unique approach to audiophile headphones
Denon has continued with their production of closed-back headphones, eschewing the open design favored by many audiophiles. For most listeners, myself included, closed-back headphones are a better option as we typically listen in areas with a lot of background noise. I'm usually listening to music while my wife is watching TV, so I need headphones that are going to keep my music in while keeping TV noise out.
With this in mind, the AH-D600s seem more about versatility than strictly audiophile sound. After all, how many high-end headphones come with a 3-foot miniplug cable with an iPhone® remote and microphone? But don't worry--Denon also includes a high-quality oxygen-free copper cable terminating in a gold-plated ¼-inch plug. And while it's unlikely I'll ever make a call while wearing any over-the-ear headphones, the iPod® remote function and easy-to-manage cable length would make these headphones a legitimate travel companion for me.

The headphones feature an in-line remote for an iPhone, iPod, or iPad
The most comfortable headphones ever?
The most striking feature of the AH-D600 is their level of comfort. I doubt I've ever worn a more comfortable pair of headphones in any category. The memory foam ear pads are super-soft and the headband is nicely padded across the top. The earcups feel secure on my ears without the headband clamping down too hard.
Often it's the headphones that clamp down hard on your skull that keep the most external noise out. But these 'phones provide excellent noise isolation, far better than my AH-D2000s. That is the beauty of the closed-back design, as many of us can't always find a quiet setting in which to enjoy our music.
How do they sound?
Sure, these are versatile headphones, but what about sound quality? My first reaction when listening was that the AH-D600s are a significant step up from my AH-D2000s. The sound was more forward, the bass deeper and more resonant and the mids a bit beefier. I listened through an iPod touch® and iPod classic®, adding a portable headphone amp at times. These headphones were very easily driven by my iPod, yet another example of the AH-D600's versatility.
The most noticeable aspect of the AH-D600's sound signature is the prominence of the bass. It's punchy and powerful, though a bit boomy. It does color the overall presentation at times, but not necessarily in a bad way. It makes these headphones more versatile (are you sensing a pattern here?) as I found few instances in which I felt the bass was out of balance with the overall tonality. Often I'm willing to sacrifice a little bass control for more low-end impact.
At times the high frequencies can sound thin or even veiled, particularly with cymbals, which lose some of their shimmer. This was noticeable on "Footprints" by Miles Davis (nobody worked the cymbals like Tony Williams) and on the drum-pounding intro of "Wilma's Rainbow" by Helmet. I would have liked more high-end detail from these songs.
Midrange excellence
My gripes about the high end aside, I found the AH-D600s very smooth and musical. The mids are much more prominent than in my AH-D2000s. They gave Harry Belafonte's vocal on "Darlin' Cora" from the 1959 Live at Carnegie Hall recording more presence than I'm used to hearing from my old Denons. The AH-D600s were also well-suited for the warm tone of John Coltrane's tenor sax on "Blue Trane." Trane sounds positively laid back on my D2000s by comparison to the bold tone jumping out of the D600's drivers.
I found the soundstage to be large, though not as wide-open as is possible with top-class open-backed headphones. Nevertheless, I was impressed by the AH-D600's performance on Bob Marley's "Get Up, Stand Up/No More Trouble/War" from Live at the Roxy. Every instrument stood out clearly, the bass guitar of particular note. And while I've heard headphones with better separation, few could match the groove the AH-D600s produced on this track. It was difficult to resist the urge to both get up and stand up while sitting at my cubicle. Similarly, "The Sands of Iwo Jima" by the Drive-By Truckers was beautifully balanced, the natural-sounding vocals standing out among the crisply articulated guitars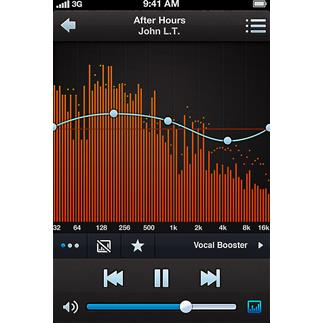 The Denon Audio app, featuring graphic EQ
The Denon Audio app
Did I mention how versatile these headphones are? Well, continuing with that theme, the AH-D600s come with a free app for iOS and Android™ devices. The Denon Audio app is essentially customizable graphic EQ for your portable device. I opened the app, all my music was there, including playlists, without a lengthy import process. When I played a song, I was immediately treated to a cool graphical representation of my music. You can slide your finger across one of 6 points on the waveform to manually adjust the EQ. It's a fun feature to play with and could prove useful for adjusting bass and treble levels with different recordings.
The bottom line
Denon has carved out a nice niche with its closed-back high-end headphones. If you want something more versatile than the standard headphones geared to audiophiles, these are a great alternative. Despite their drawbacks, I found these to be fun headphones that produced a mostly pleasing balance of strong bass, prominent mids and warm, if a bit thin, highs.
If you are an audiophile looking for uncompromised neutral sound quality, you may want to look elsewhere. But if you're looking for a musical headphone that makes up in versatility what it lacks in consistency, the Denon AH-D600 Music Maniac headphones are a strong contender.