Camera drone buying guide
How to choose the best flying camera
Ever wish you could get the bird's eye view of an outdoor adventure? You need a camera drone, my friend. Drones come in all shapes and sizes, so let's dig in and look at some options, so you can decide which drone is right for you.
Some drones are meant to be operated on land or on water, but aerial drones are most popular and common. We've divided them up into four categories: Micro drones, Mini drones, Full-sized drones, and Commercial drones.
Fun-sized micro drones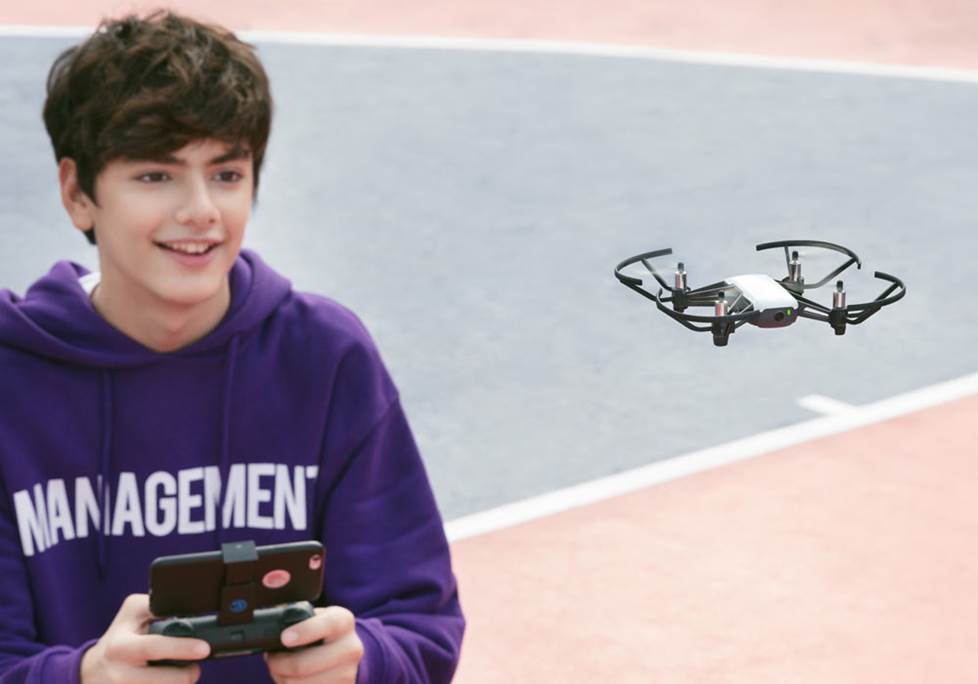 Micro drones are compact, easy to learn, and best of all, fun.
Micro drones are — as the name suggests — quite small. They can fit easily in the palm of your hand. These aircraft require very little assembly, and usually have a built-in camera that's always facing forward.
They usually fly for less than 15 minutes before the battery needs to be recharged. They are more geared toward aerial acrobatics and fun, and may be controlled by a basic handheld remote or a smartphone app.
The DJI Tello is an example of a reasonably-priced quadcopter that provides a fun, safe entry-level flying experience. It's compatible with Scratch, a simple coding system developed by MIT that lets pilots learn how to write custom programs for drones.
Mini drones mix fun with special features
Mini drones are still small, but they tend to carry high-resolution cameras and fly longer and faster than their Micro cousins.
The DJI Mavic Pro 2 is a good example of a high-end (and very popular) mini drone. It carried a gimbal-mounted 4K camera, stays aloft for up to 33 minutes, and can reach a top speed of 44 miles per hour. It can create sweeping panoramic stills, shoot time-lapse video, and track a moving subject precisely.
Mini drones also offer some pre-programmed intelligent flight modes to help users make high-quality videos, even when their hands are otherwise occupied. It's common to be able to make the drone follow you while you move, hover and track a moving object with the camera, or follow a simple pre-programmed route.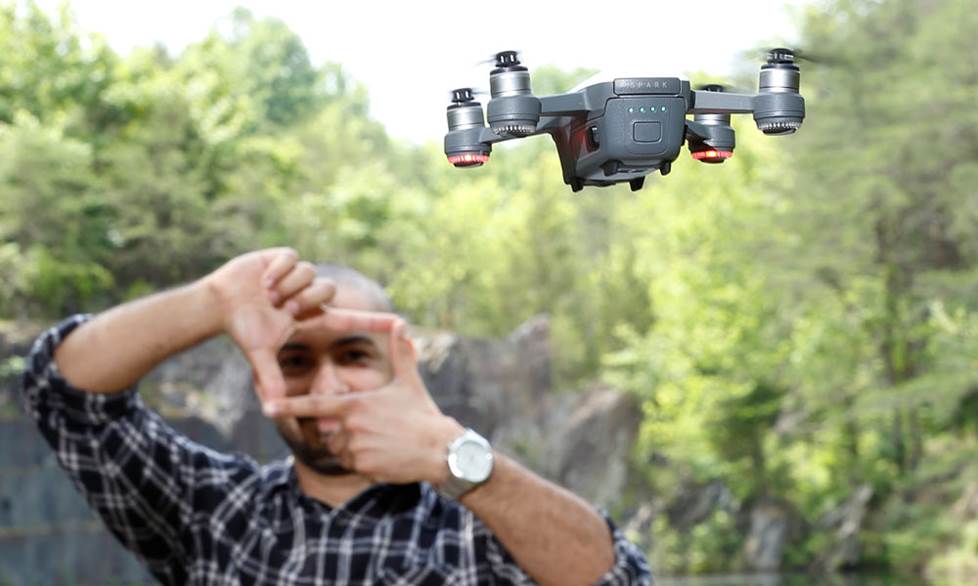 The popular DJI Spark series of drones responds to hand gestures, like this one that signals it to snap a selfie.
Remote controls become pretty sophisticated for these 'copters. Some have built-in touchscreens. Others allow you to dock your smartphone or tablet to serve as a monitor screen. Some have convenient voice and gesture-based control options.
Full-sized drones can do it all
Full-sized drones are still tons of fun, but they're also ready to work. They carry ultra HD 4K cameras on sophisticated gimbal mechanisms that allow for 360-degree coverage.
Full-sized drones may have an expanded menu of intelligent flight modes to help capture near-cinematic aerial video. Sophisticated satellite positioning and obstacle avoidance are also common features.
You can use just about any full-sized drone for business, but a number of 'copters in this category are specially designed for commercial use. Let's look at which features make them stand out from the crowd.
Customizable commercial drones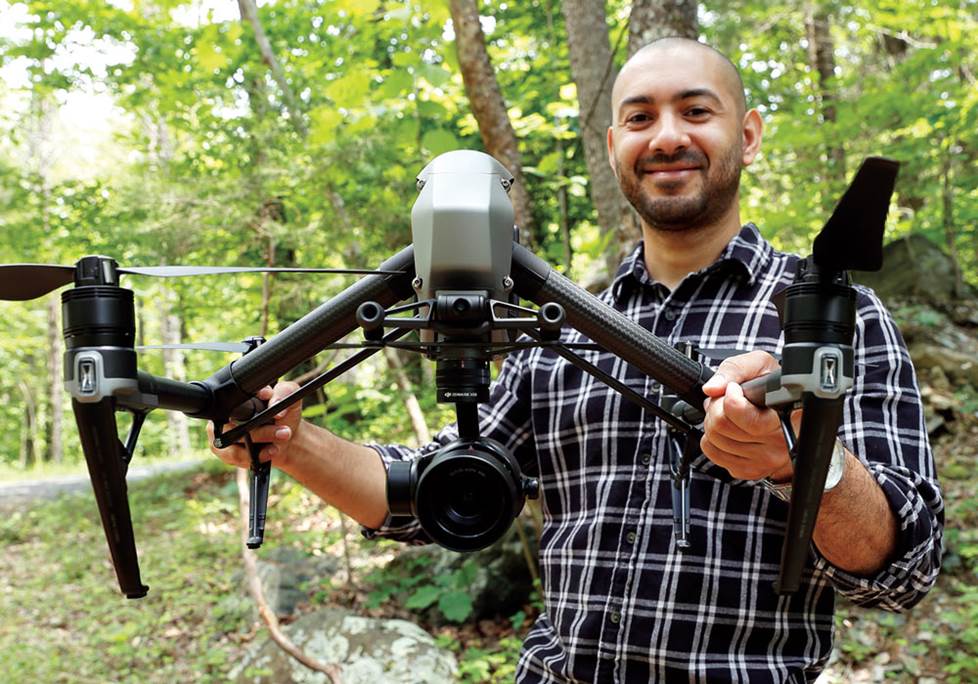 The DJI Inspire features an Ultra HD camera and pro-quality image processing software.
Commercial drones are typically highly customizable, so they can be adapted to specific tasks that may be dangerous or difficult for an earth-bound employee to attempt.
Many of these 'copters have retractable landing gear that allows the camera to rotate a full 360-degrees. Cameras in these drones have large image sensors that can film clear images in low light, capture sharp 4K resolution, produce slow-motion footage, and shoot extremely detailed still photos. An interchangeable camera lets you choose the right camera for each job.
A growing suite of industry-specific apps allow business owners to gather and analyze important information without risking employee safety.
Commercial drones are designed to fit multiple use cases, but some features may appeal to those in specific industries. For instance, the DJI Inspire 2 features a powerful CineCore 2.0 image processing system that filmmakers love. The rugged DJI Matrice 200 V2 can carry two cameras, so firefighters can pair an ultra high-resolution 4K camera with a specialized heat-sensing Zenmuse XT2 camera.
If you're an extremely tech-savvy user, the Matrice 200 V2 Combo lets you create your own control app with DJI's SDK (software development kit).
The DJI Cendence controller offers precise control and data transmission capability to match the high-end features boasted by DJI's commercial drones.
Get a great view of the action
It's fun to watch your drone soar or swim. It's even more fun to slip on a pair of virtual reality goggles and get the first-person view from the camera, so you feel like you're inside the drone. The goggles are often packaged directly with new drones.
If you prefer a large viewscreen, super-bright CrystalSky monitors give you a sharp, clear look at what your drone's camera is seeing.
Accessories help you get in the air and stay there
There are a few drone accessories you'll want to consider adding to your flying kit.
First of all, batteries. If you plan to be out for a while, take spares, and the chargers that keep them ready to go. Chargers typically plug into a standard wall socket, but many offer USB charging and accessory plugs for on-the-go charging in your vehicle.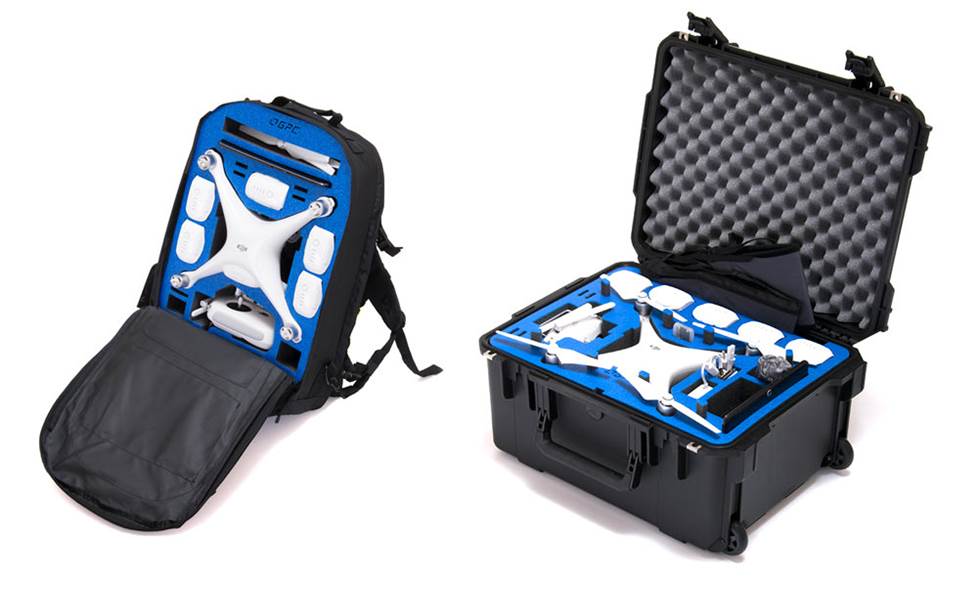 Specially-designed cases help keep your drone and accessories safe and organized during travel.
Drones with cameras are perfect for outdoor adventures, so one of the most useful accessories you can own is a good case. These range from suitcase-style carriers with customized protective internal foam compartments, to ingenious backpacks that leave your hands free to clamber and climb as you search for the perfect launch site.
Many photography drones come with a controller or offer a free control app for your mobile devices. But there are also handy pocket-sized controllers like the DJI Tello GameSir that let you travel light and still control your drone's essential functions.
You'll also find spare parts, like replacement motors and rotors, that help keep your aircraft in peak condition throughout its lifespan.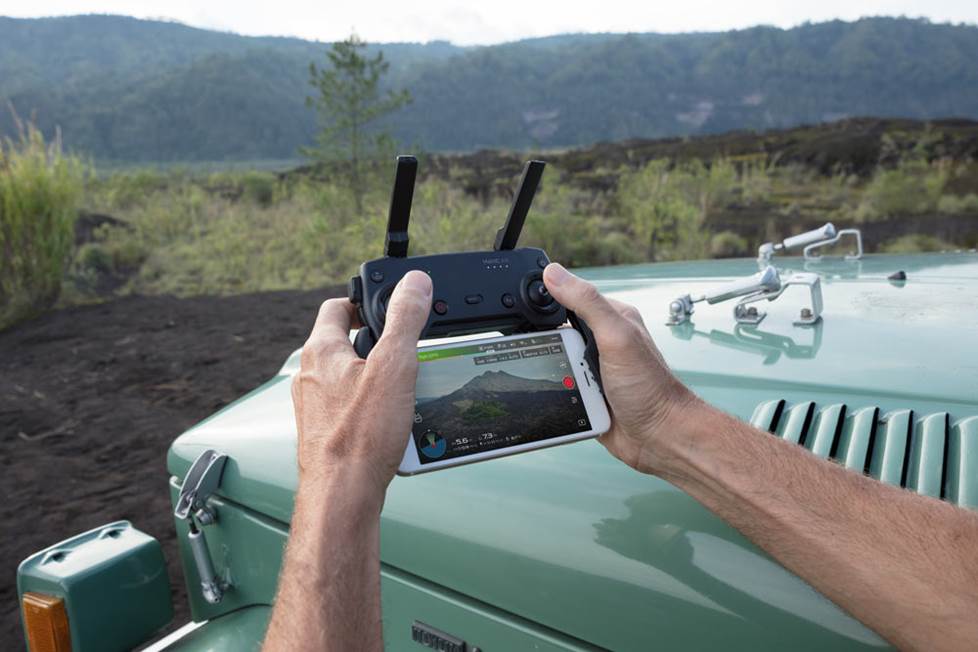 Many handheld remote controllers allow you to dock your smartphone and use it as a viewscreen.
As much as we love watching drones with cameras fly or swim, hand grips are a very popular accessory. Some advanced drones allow you to remove the full gimbal mount assembly and slide it into a hand grip, so you can get the same steady footage on the ground that you do from the sky.
Safety, laws, and regulations for drone pilots
Photography drones are not toys. Learning to fly your aircraft safely and responsibly is the most important thing you can do. The Federal Aviation Administration offers some basic safety tips for pilots.
You may not fly a camera drone near an airport, nor in a national park. It is generally accepted practice to not fly over large groups of people (such as an outdoor concert) or over a neighbor's private property. The FAA website provides the most current, accurate information on drone registration and regulation:
These rules are evolving rapidy, so it's a good idea to thoroughly familiarize yourself with current FAA regulations before you fly a drone. And safety should always be job one — drones can injure bystanders and damage property if flown in an irresponsible manner.
Get started today!
Visit our website and look at our wide selection of drones and accessories. If you need a little extra help deciding which one is best for you, contact one of our friendly, knowledgeable advisors at 1-888-955-6000 and get started today!
Last updated 12/19/2019