Cut energy costs with smart home products
Monitor your energy usage and maximize efficiency
Heads up!
Welcome to this article from the Crutchfield archives. Have fun reading it, but be aware that the information may be outdated and links may be broken.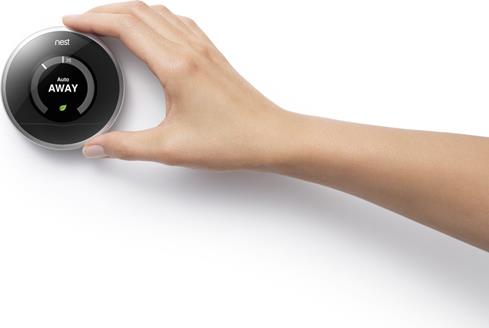 The Nest Learning Thermostat learns your schedule, so you can save energy when you're not at home.
Smart thermostats save energy while keeping you comfortable
Install a smart thermostat, and you'll find yourself waking up, leaving for work, coming home and settling in for an evening with the family without ever setting the temperature manually.
You'll notice the difference on your utility bill, too. If you walk out of the house with the heat or AC still blasting, you can check the thermostat remotely via your smartphone, tablet or computer, and turn it down to an energy-efficient level without turning around and driving back home. In fact, a Nest Learning Thermostat can even remember your preferred temperature and turn it down automatically.
Monitor your energy usage
No need to wonder how much money you're saving. You can view a report of your energy usage history using the app that comes with your home automation system. Not only can you see how much energy you're saving, but some apps allow you to compare your daily energy usage to typical peak energy consumption, when costs are higher. Armed with knowledge, you can make informed decisions about your energy budget.
Get Started:
Last updated 9/12/2019