Home theatre and whole house audio system planning guide
Why you should try Crutchfield's system design service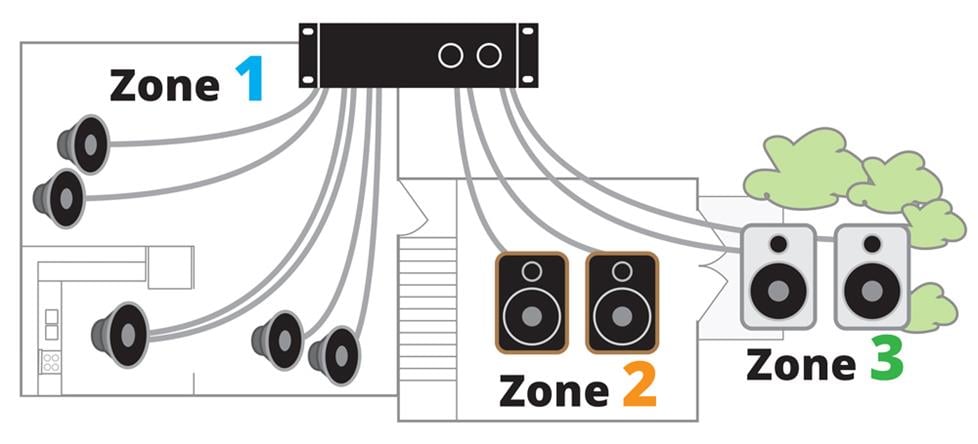 You've got a home with lots of rooms and a big yard. You want an easy-to-use multi-room and outdoor A/V system that everyone in your household can enjoy. And you don't want a lot of gear cluttering up your rooms or exposed wires hanging everywhere.
There are lots of options. So many, in fact, that deciding what to buy is daunting task. Where to begin?
Begin by getting professional help with a system plan
Say you like the idea of hiding speakers in your ceiling. Okay, so how many do you need in each room? How do you get music to them? How do you control volume and song selection? What kind of amplifiers do you need to power all those speakers? Where do you put everything?
Here's how your Crutchfield A/V design specialist can help:
Step 1 — share your info and goals
The first step is to submit a system design request. Follow that link and answer some basic questions about your home and the type of system you're thinking about. At the end of the questionnaire, you'll have the option to upload your floorplans, sketches, or room photos to give the designer an idea of how the spaces are configured.
Step 2 — receive and review your system plan
Your designer will digest your information, and may contact you to discuss the details. You'll then receive a detailed plan for your system. The plan usually includes three things:
A nice cover letter to introduce the system proposal
A room-by-room breakdown of the products you'll need
A link to a pre-filled online shopping cart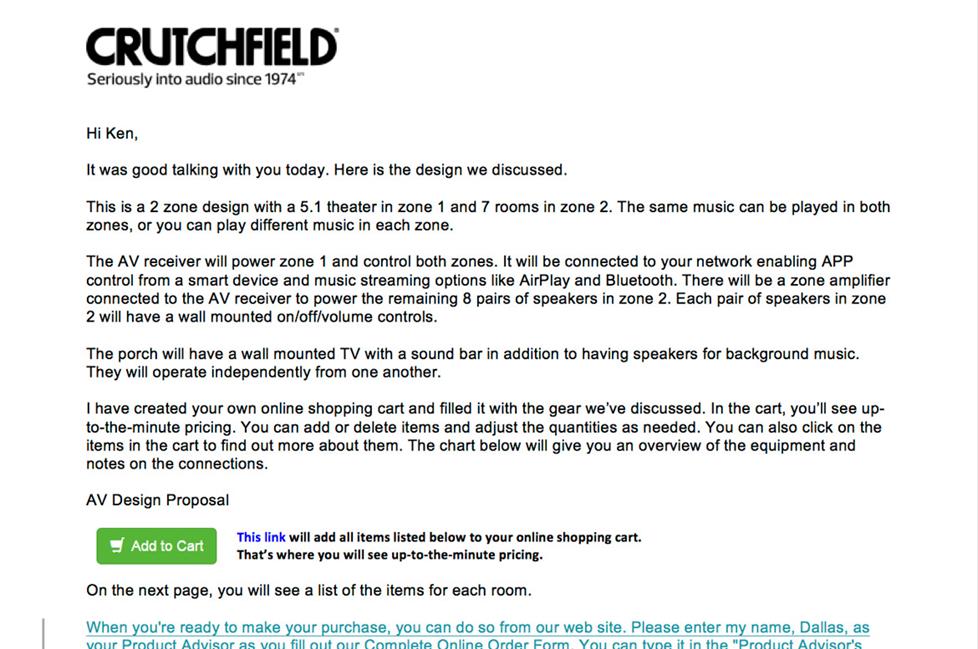 A cover letter summarizing the system plan is part 1 of your system proposal.
"I had first gone with a local firm. What a joke. Sent two 'kids' who viewed home audio as nothing but bass and surround for gaming. Wouldn't listen. Lucy was absolutely wonderful. I felt like we were sitting side-by-side looking at our floor plans and outdoor space drawings I emailed her." Dan N., San Antonio
You can add or subtract items from you cart as you wish. Feel free to consult further with your advisor before checking out. Shipping is free, too.
Step 3 — get your gear
Included with your purchase is free tech support 7 days a week. It doesn't matter whether you install the system yourself or hire someone to do it for you. You and your installer have access to your designer for additional help.
If you'd like to do some more research first, we recommend these articles :
Introduction to multi-room systems
Powering your multi-room music system
In-wall and In-ceiling Speakers: How to Choose
In-wall wiring guide
Outdoor Speakers: Choosing and Installing
Outdoor speakers system planning guide
Multi-room video with a home theater receiver
How to choose and install an outdoor TV