Home theatre receiver placement tips
What you need to know before you set up your receiver
When you're ready to set up a new home theater receiver, the first step is figuring out where to put it. It may seem like a simple point, but there are several factors to consider. After all, every component and speaker in your system will need to be connected to your receiver.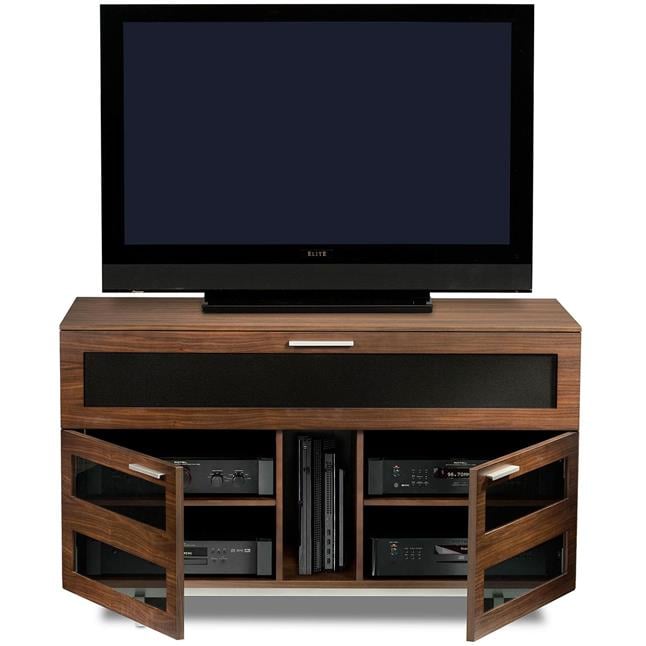 Cabinets and stands
Most people choose to place their receiver in a cabinet or stand. You may already have one for your receiver. If not, you'll want to check out our selection of A/V furniture. There are benefits to furniture designed specifically for A/V equipment, which you can read about below.
How much space do you need in your cabinet or stand?
Just because your receiver will fit into the shelf space you've allocated, doesn't mean it should go there. You need a little more room than just enough to accommodate the physical dimensions of the unit. Here's why…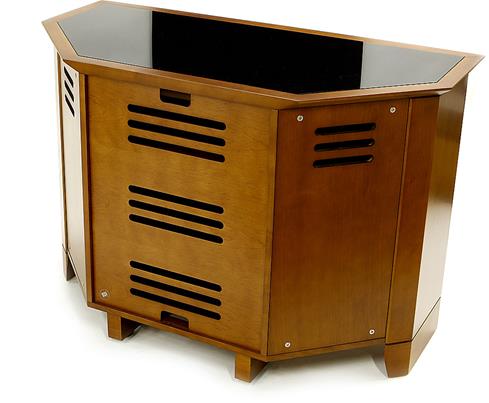 The BDI Novia 8421 cabinet's rear-panel holes allow proper ventilation while providing easy exits for cables.
Ventilation
All receivers have a vented top panel. This is to allow the heat generated by the amplifiers to dissipate, an important function for any amp to run cleanly and safely. If you cram your receiver into a tight shelf space, there's no place for this heat to go. Too much heat build-up, and your receiver can shut down.
Ideally, you should leave at least three inches of space above the top of your receiver. Furniture designed for home theater equipment will often allow for proper ventilation, with large openings on the sides or back to permit airflow.
Leave room for connections
Remember: you're going to be connecting cables to the back of your receiver. That means you'll need to leave some extra room at the back. At Crutchfield, we measure all our receivers in house, so you can be sure you're getting accurate dimensions. We even add an inch or two to our depth dimensions to allow for cable connections.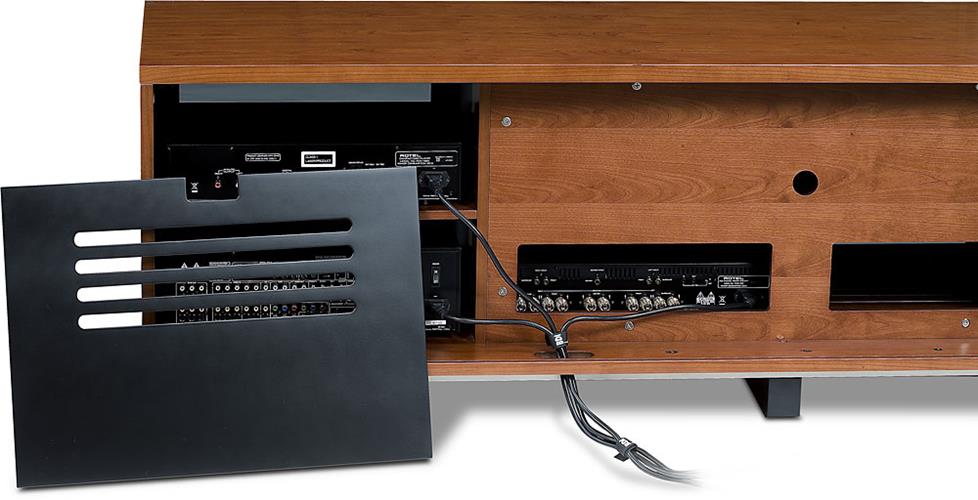 Removable back panels offer easy access for connections with cabinets like the BDI Avion 8929 Series II.
Cable routing
A home theater setup can easily lead to a tangled mess of wires behind your cabinet. This is something you'll want to avoid. Keeping cables neat and orderly not only looks better, it makes it easier to find which cable is going where when you need to troubleshoot a problem or swap out a component later on.
[Check out our selection of cable management accessories and our exclusive cable labels, which are free with the purchase of a home theater receiver.]
Look for home theater furniture with cable management features like plenty of rear-panel exit points, internal gaps and holes for running cables between components, and easy rear access for making connections.
This video provides a good overview of the features found in many A/V cabinets.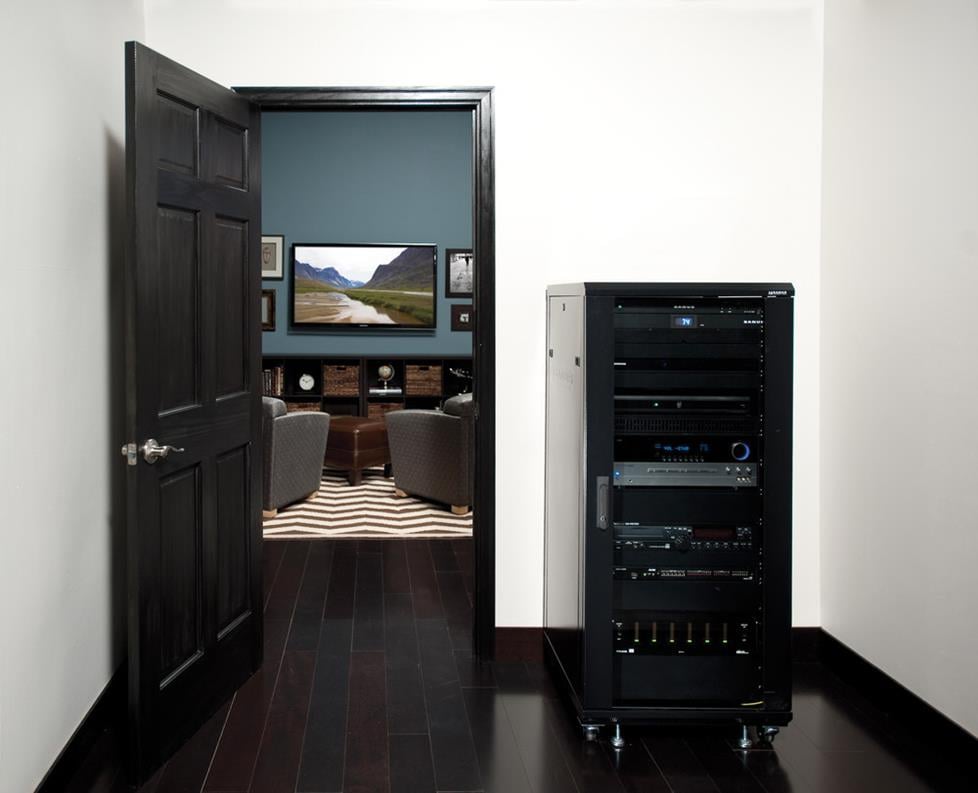 A component rack like the Sanus CFR2127 is ideal for storing lots of gear in a closet or adjoining room to keep it out of the way.
Controlling gear in hidden component racks
Most of us choose to set up our receiver and other components in a stand that also supports our TV. But what if you wall mount your TV over a fireplace? Or maybe you prefer to keep your gear out of sight and away from children. In that case, you may consider a component rack that you can place in a closet.
Putting your receiver out of sight begs the question: will my remote still work? There are two solutions to this problem. One is to use an infrared repeater system. This can extend a remote's reach to components that are hidden behind cabinet doors or in another room. These devices use a receiver and wired transmitters too pass along your remote's IR signal to your receiver and other components.
[Learn more about IR repeater systems]
Here's a diagram of an IR repeater system with components concealed in a cabinet. In this example, The IR sensor is attached to the front of the TV: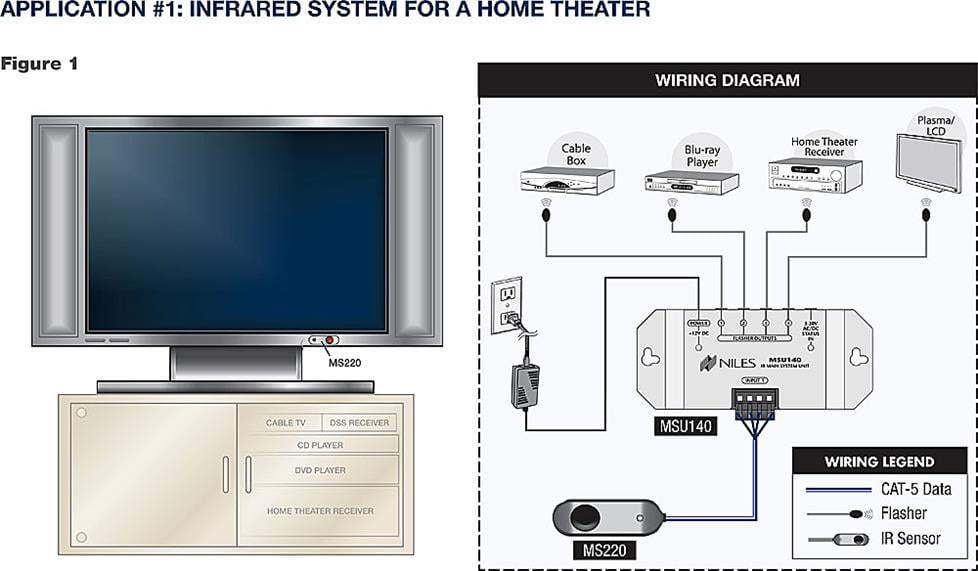 Wi-Fi® control with your smartphone or tablet
If you have a network-capable receiver, there is another solution. Most every home theater receiver with wireless or wired network connectivity also offers a free remote app. Download the app to your smartphone or tablet, and use your device to operate the receiver's main functions. Most apps are available for Apple® and Android™ devices and allow you to select sources, adjust the volume, choose listening modes, and listen to Internet radio stations.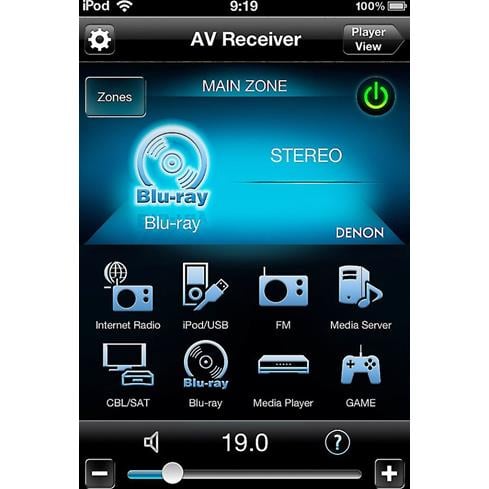 Apps like Denon Remote allow you to use your smartphone or tablet as a Wi-Fi remote with network-connected receivers.
Protect your investment
There's one final question to ask yourself before connecting all your components and speakers: "Where am I going to plug in my receiver?" There is only one right answer to this question: a power protection device. Power spikes and surges are a fact of life, so it's important to protect your investment. Remember: any component plugged directly into an outlet can put your entire system in jeopardy. You'll need the extra outlets for your TV, cable box, and other components, too.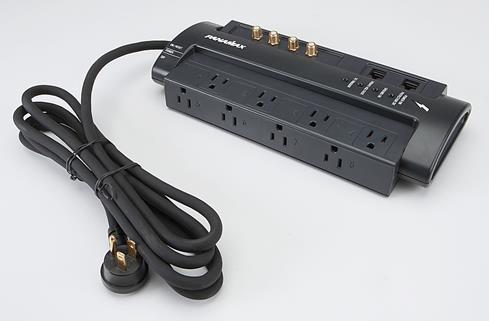 Don't even think about plugging your receiver directly into the wall. Protect your equipment from surges with a power protection device.