How to choose a drone for business
Best uses for a commercial UAV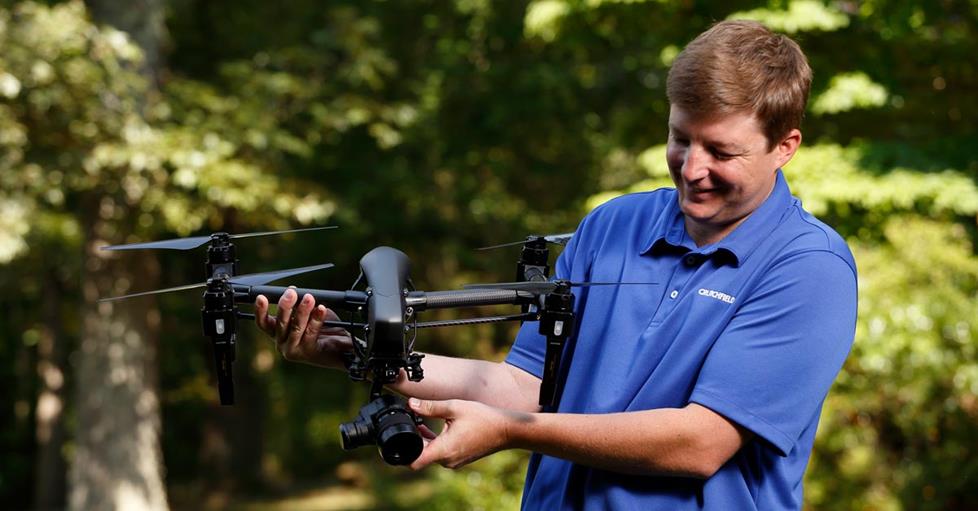 Crutchfield corporate sales advisor Christopher Hall is a certified drone pilot (14 CFR Part 107). Call him at 1.800.315.4620 for advice on drones for your business.
An Unmanned Aerial Vehicle (UAV) can be fun to fly, but there are also advanced models with special features that make them ideal for business use. For example:
weather-resistant chassis materials let you keep a schedule even on rainy days
greater payload capacity allows your drone to carry specialized equipment
expanded safety features help protect your employees and property
custom apps let you use your drone to collect and analyze the precise information you need to get the job done
"Business owners are finding an ever growing number of ways drones can be used at work," says Crutchfield corporate sales advisor Christopher Hall, a licensed — and enthusiastic — drone expert.
Let's take a look at how drones can help your business.
How are drones being used for business?
A drone is a highly maneuverable, remote-controlled camera platform. Here are a few examples of how businesses and public service agencies have integrated drones into their daily operations.
Agriculture
The hard, hands-on work of agriculture is getting a boost from drone technology. A drone's camera gives a birds-eye view of fields, which helps in planning, monitoring, spraying, and planting crops.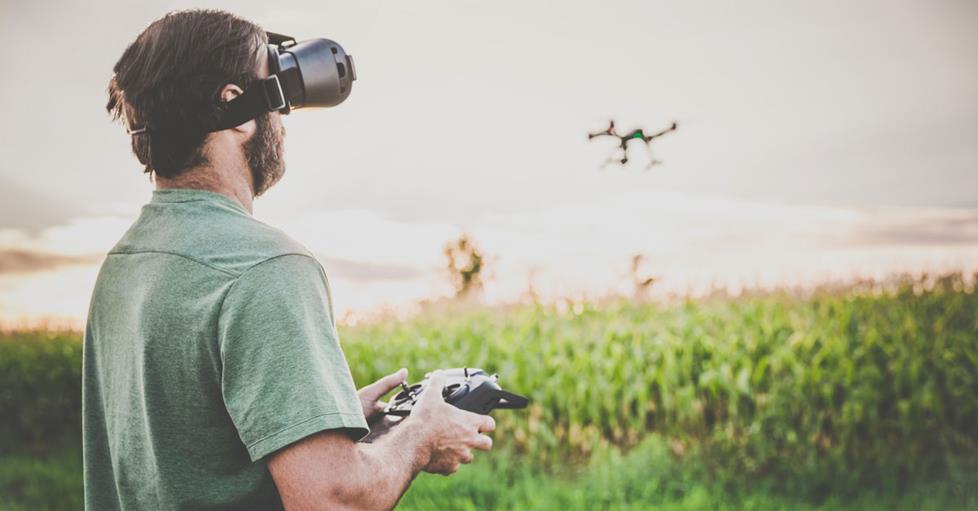 A first-person view (FPV) headset gives this drone user a birds-eye view of his crops.
Mining
This industry has found plenty of uses for high-flying drones. Aerial surveys formerly performed by a rented helicopter – at a price point of approximately $2,000 per flight – can be done by a drone.
Filmmaking and News Gathering
Drones are highly maneuverable, and can serve as a flying camera operator for difficult shots. DJI makes several drones that are specifically geared toward professional videography and photography. They have high-res cameras and software that can process and transmit large data files quickly.
Construction and Real Estate
Drones have helped minimize construction waste by simplifying mapping, modeling, and resource management.
High-res aerial photography adds a whole new dimension to marketing a property. A drone can provide high-level views of a property and room-by-room virtual house tours.
Mapping and Surveying
Land surveyors save time and keep employees safe by using drone sensor data to create topographical maps of difficult terrain.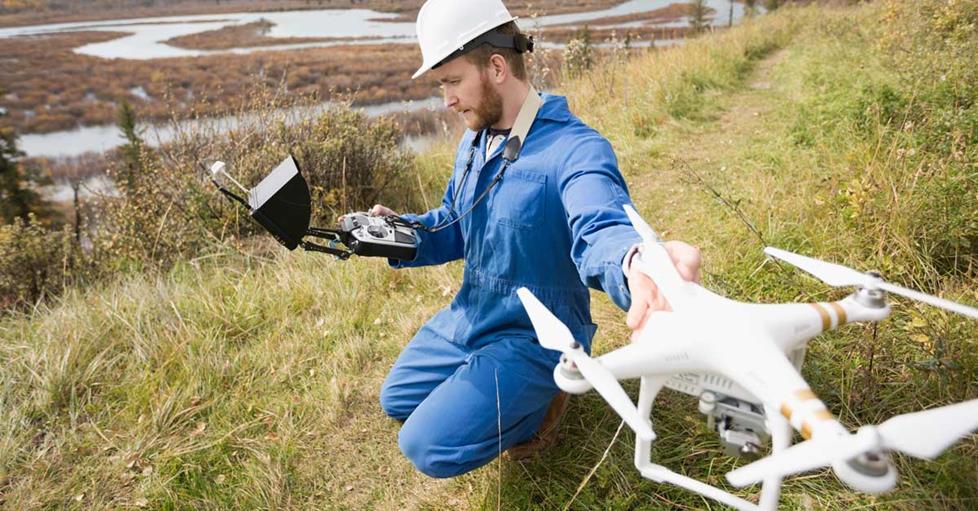 A professional-quality drone with a well-trained operator can help make land surveying and inspection easier and safer.
Public Safety
Drones are used by public safety officials at the local, state, and federal level. They help find missing persons in remote areas, safely monitor forest fires from above, and have a myriad of law enforcement uses.
Find the right drone for the job
There are some features you'll want to look for when deciding which drone is right for your business.
You may be able to find a high-end consumer model that does everything you need. But for heavy industrial use, you may need to look at a rugged, sophisticated commercial model.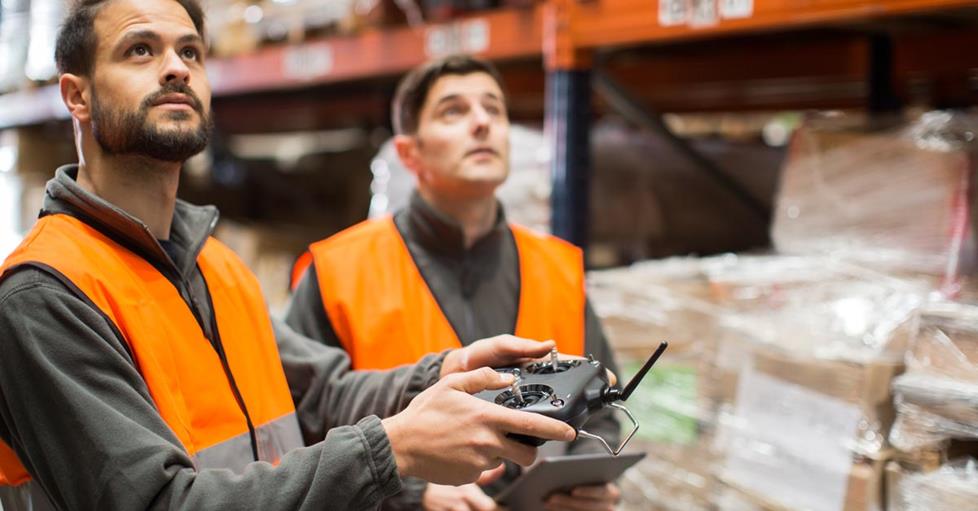 Drones can help track inventory in cavernous warehouse spaces.
A commercial-quality drone will cost a bit more. But it will pay for itself quickly, as you find ways to use the advanced features.
Whichever you choose, there are a handful of drone features that you'll want to pay close attention to while shopping.
High-res imaging
Most drones feature a 4K-capable camera, so you'll want to dig a little deeper. For instance, the DJI Inspire 2 features a CineCore 2.0 image processor with robust file transfer and storage tools. It can transfer high-res images at up to 1,000 mbps — crucial for filmmakers and news organizations. It's a no-brainer investment for anyone who needs sharp images that can be edited.
Advanced flight control options
Your drone will likely ship with just one controller, but many business uses require a separate pilot and camera operator. If you suspect you'll need dual operators, it's easy enough to pick up an additional pro-quality controller, like the DJI Cendence.
Rugged chassis
Most high-end consumer drones are built on a light, tough alloy chassis that can handle a hard day's work in mild weather conditions. Make sure you know the drone's ingress protection (IP) rating if you plan to use it in all weather.
A drone like the Matrice 200 is equipped with a weather-resistant body that's meant for heavy industrial use.
Customizable and expandable
If you want to be able to make changes on the fly, look for a model that's customizable and expandable. The Matrice 100, for instance, has hardware expansion bays built into the airframe. An accessible software development kit (SDK) lets designers create their own app upgrades.
Accessories
Drone accessories and replacement parts are very important.
Keep extra batteries and a mobile charging station on hand so you can stay in the air without long delays for battery charging. You'll also want to carry replacement propellors and motors.
"A hard carrying case is a great way to protect your investment," says Christopher.
Make sure you have plenty of storage media handy. For most drones, a handful of interchangable microSD cards will do the trick. Some pro 'copters use high-capacity hard drives you can swap out when one gets full.
Work-ready apps
Choosing a drone with the right hardware is very important, but you'll want to check the software options, too. Make sure the app you want to use is compatible with the drone you want to purchase.
General-use apps
Some basic work software can be useful in multiple applications.
An app like AirMap keeps you informed of flight restrictions and local air traffic so you can plan a safe and legal route for your drone flight.
Airnest offers a suite of useful tools for planning and analysis. The clever Verifly app lets you purchase short-term, single-use liability insurance to cover you during a job.
Commercial drone use is a growing field, and app developers are scrambling to build useful software. We expect to see plenty of new general-use apps in the future.
Customized business apps
The ability to customize a drone to fit your business needs is crucial. Industry-specific apps make it easier than ever to use drone technology for business.
For example, The EZRoof™ app from EZ3D helps building managers plan roof repairs and maintenance.
John Deere offers multiple apps to help farmers.
Dronedeploy.com has compiled an excellent resource to help navigate the custom app market.
For business owners with access to coding skills, a drone with a robust software development kit (SDK) offers the opportunity to write a custom app.
We'll help you find the right fit
Commercial drone use is a booming business, and things are changing quickly as new products come to market. We see new uses for drones crop up on a near-weekly basis. Bard College's Center for the Study of the Drone offers a weekly roundup of drone news.
Our drone expert Christopher is a certified drone operator (14 CFR Part 107), and he's ready to guide you as you search for the right drone for your business.
"I'm here as a resource to answer questions related to drone technology," says Christopher. "Crutchfield is a licensed dealer, so we work closely with manufacturers to make sure you're satisfied with your experience."
Call 1.800.315.4620, and we'll help you take to the skies and get the job done.