5 things you need to delight your new dog or cat
Smart Pet products help you care for and train your new family member
Heads up!
Welcome to this article from the Crutchfield archives. Have fun reading it, but be aware that the information may be outdated and links may be broken.
In this article: Our 5 favorite products for new pets...
...plus some recommendations for a stress-free introduction.
As a proud mom of four cats and one dog, I'm no stranger to adopting pets. In fact, I just brought home a new kitten not long ago. Even though I've introduced many pets into my household over the years, I still get nervous during those first couple of weeks.
Smart Pet products can take a lot of the stress out of that transitional time when your new family member is getting used to his or her new surroundings.
Our top picks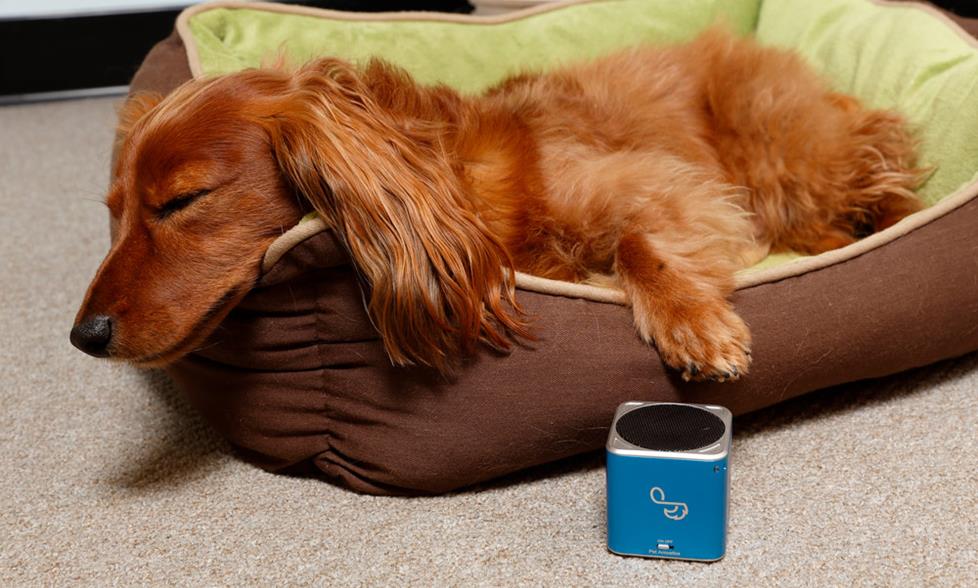 1. Pet Tunes — Soothing sounds for cats and dogs
The calming effect that music can have on animals is pretty remarkable. A lot of us here at Crutchfield have either bought or tried Pet Tunes. These little speakers come pre-loaded with relaxing music for dogs or music for cats. They're great for everything from maintaining a chill environment at home to easing the stress of car rides and veterinary visits.
Details
Bluetooth speaker comes pre-loaded with 90 minutes of original frequency-modified music
clinically proven to reduce stress and calm anxious dogs and cats
plays for up to 8 hours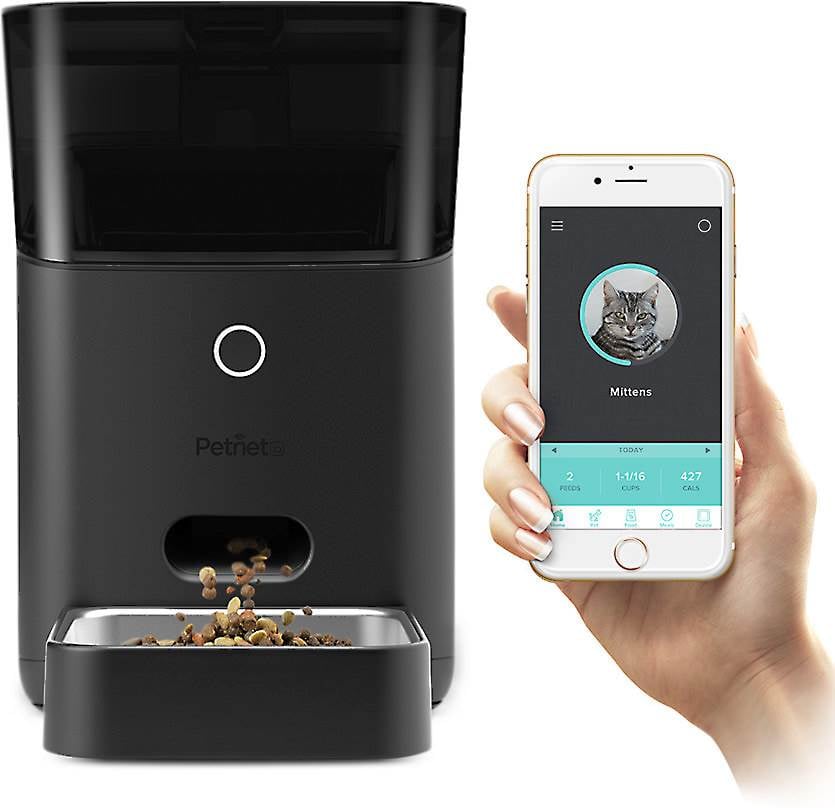 2. Petnet SmartFeeder 2.0 — Personalized feeding
The Petnet SmartFeeder 2.0 lets you use an app on your phone to schedule mealtimes for your pet. The app helps you choose the right amount of food to dispense based on your pet's age, weight, and activity levels.
The SmartFeeder 2.0 is compatible with Amazon Alexa, so you can say "Alexa, ask PetNet to feed Felix one cup of food", and the feeder does the rest. It also works with the Nest Cam, so you can make sure your pet is eating when you're away.
Details
automatically dispenses meals at pre-scheduled times
free app helps you measure and track healthy portions
food level sensor lets you know when it's time for a refill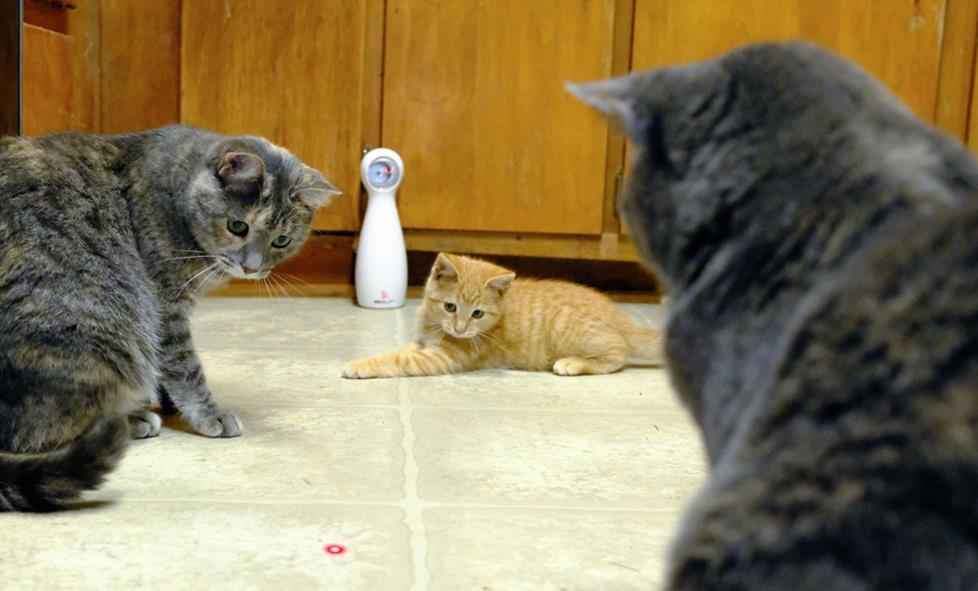 3. FroliCat Bolt laser toy — Fun feline entertainment
After I'd had my new kitten Leland for about a week, my big cats still weren't sure about him. I could tell they were intrigued by his playfulness. It seemed that toys might encourage some positive interaction between them all.
Tired of throwing little balls around and having them get lost around the house, I gave the Bolt interactive laser toy a try. In auto mode, you just turn it on and it moves the laser around for 15 minutes before shutting down on its own.
This toy really worked to break the ice between my big cats and their new little brother. It's cool to see my older cats so active and playful too. Now I turn on the Bolt when I leave the house in the morning so all the cats can start their day with a play session.
Details
auto mode moves the laser in random patterns for your cat to chase
manual mode lets you aim the laser with an adjustable mirror
automatically shuts down after 15 minutes

4. Petkit Mate pet camera — check in on your pets
A cool upgrade from the Bolt laser toy is the PetKit Mate Wi-Fi pet camera. You can use it to see what your pets are up to throughout the day, and you can also start a laser game any time you want, from anywhere you happen to be.
Our senior content manager Tara tested out the PetKit Mate, and it was a big hit with her cat Fergie. Fergie started anticipating the laser game and would hop up next to the camera every time it came on. Whenever Tara used the app on her phone to turn on the camera while she was away, Fergie's face would be right there filling up the screen.
Details
watch and interact with your pet from your smartphone or tablet
110° wide-angle lens rotates 340° so you can take in all of the action
take snapshots and record video clips
5. iFetch automatic ball launcher — for happy, active dogs
Some dogs, like our dachshund intern, Lincoln, have boundless amounts of energy. If you help them expend some of it when you're home, they'll be happier and mellower when you're away.
Playing fetch is one great way to let dogs work off some excess energy, but it can also tire your arm out pretty quickly. The iFetch automatic ball launcher keeps dogs active and happy. Most dogs can learn how to load a ball into the launcher on their own and keep the game going while you go about your business.
Details
adjustable launch distance: 10, 20, or 30 feet
dogs can learn to reload the machine by placing a ball in the intake hopper
Tips for a smooth introduction
Here are some ideas to help you settle in with your new family member.
Make sure your new pet feels comfortable and secure
Entering a new environment can be stressful for a new pet, and if you already have other pets, they can be equally stressed out by the new arrival.
Start off by introducing your new dog or cat to a quiet area of the house where they can start getting comfortable.
When I brought young Leland home, my other three cats were understandably pretty upset, so I tried keeping things calm. I brought the kitten to a quiet area, put on some relaxing music and settled down with my laptop, to keep activity levels to a minimum for a few hours.
Keep your pet on a set feeding schedule
With our busy lives, it isn't always feasible for us to be home to feed our pets at the same times each day. Automatic feeders and fountains can help maintain your pet's schedule.
Puppies and kittens need to be fed often, and in increasing amounts as they get bigger.
You'll find feeding guides on pet food bags, but consult with your veterinarian to make sure your pet is getting the right amount of food.
Keep your pet safe, indoors or out
A healthy relationship needs boundaries. If there are areas of your house or yard that are unsafe or inappropriate for your new dog or cat to visit, you'll need to train them where not to go.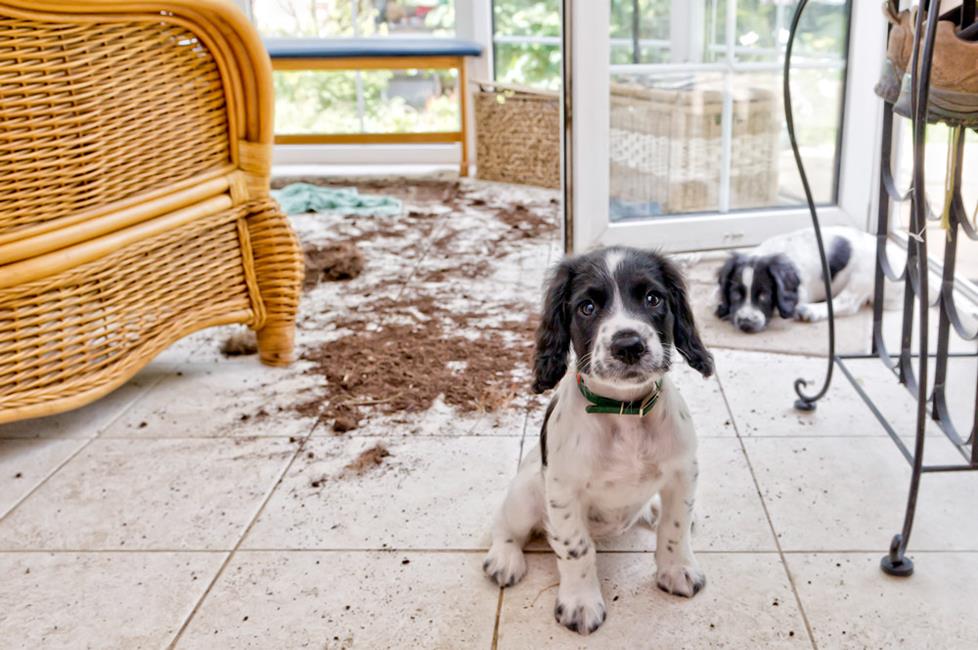 If you give a new pet the run of the house, they're likely to stir up trouble. Setting up boundaries prevents them from getting into things.
Keep new pets confined to a small area of your house at first, and let them get used to one area of your home at a time.
Indoor and outdoor pet barriers are great for keeping pets from getting into things they shouldn't.
If you want to let your dog play outside but you don't have a fenced-in yard, an electronic fence is a great way to keep him from wandering into danger.
If your new pet will spend part of the time indoors and part of the time outdoors, consider an electronic pet door so they can go in and out at will.
For tips on training a new dog with Smart Pet products, check out this article.
Most importantly, spend time together
The best way to develop an easy rapport with your new dog or cat is to spend as much quality time with them as you can. I worked from home as often as I could for the first couple of weeks I had Leland. That extra time together paid off in the form of an instant bond that gets stronger all the time.
Have questions? We're here to help!
If you're welcoming a new dog or cat into your life, we've got you covered with solutions to make the transition easier for everyone involved. Need help choosing? Check in with one of our friendly, knowledgeable, pet-loving advisors at 1-888-955-6000.