Our In-dash Navigation Roundup
We compared five different GPS car receivers
Heads up!
Welcome to this article from the Crutchfield archives. Have fun reading it, but be aware that the information may be outdated and links may be broken.
Updated 7/24/12 – Added a link to the newly released video. Finally being able to review the video footage gave us more details to share about our experience, especially in the "cons" sections. Hopefully this will help answer some of the questions from our readers.
In-dash GPS receivers are more popular than ever — and with all they offer, it's easy to understand why. But it can be tough to choose the right one with so many models available, so we decided to take a few on the road and do some side-by-side performance testing. We measured three common, everyday driving features, then "kicked the tires" on them to see what each one did well.
After you read the highlights below, check out the video. You'll be able to see each navigation system in action as we plot our destination and drive around town.
We'll get a lot of use out of this box in the future (click to enlarge)

A custom enclosure for the road

We built a custom box to hold several receivers, then hit the road to run some side-by-side tests. For each of the following measurements, we calculated an average time based upon the results of three different trials:

Time from powering up from off to full navigation functionality
Time to input and locate a local destination (e.g., "library," "post office," "shopping center")
Time for the navigator to reroute once a turn to the destination was missed on purpose
The testing process
We started from a shopping center parking lot in Charlottesville. We powered the receivers on and off three times each and measured how long they took to go from completely off to being able to access the navigation functions, including going through the warning screens where applicable. We then used each navigator's local search function to find the nearest library. Once a route was found, we started to follow the route then missed turns on purpose to see how long the navigators would take to calculate a new route to the library. From the library, we repeated the trial for the nearest post office. From there, we tried to find the original shopping center where we started. We then averaged all of the trial times.
Along the way, we also looked at more subjective features, such as screen quality, ease of use of the interface, helpful mapping features, and ability to add more functionality to what is already available.
The results
Alpine INE-S920HD
Powering up the unit: 15.9 seconds
Local destination search: 20.6 seconds
Rerouting: 6.1 seconds
Pros: Alpine's INE-S920HD had the sharpest display of the bunch — it handled the glare of the midday Virginia sun with ease. Its 6.1" screen size offered sufficient real estate for maps and other functions, and it paired with our iPhone® via Bluetooth® rapidly. For drivers who won't need traffic info, we found it a reliably accurate, easy-to-use navigator.
Cons: The lack of live traffic information was a downer. There's also no remote included with this unit, and that may be a deal breaker for some.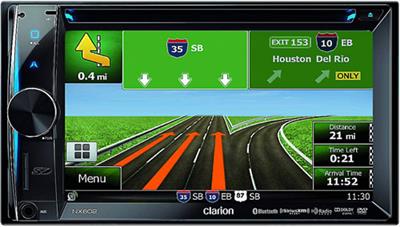 To see the NX602 in action, check out our demo video.
Clarion NX602
Powering up the unit: 15.4 seconds
Local destination search: 19.8 seconds
Rerouting: 6.5 seconds
Pros: We really liked the Clarion NX602 receiver's 6.1" interface, especially the one-touch option that showed relevant travel info, such as posted speed limit, time and distance to destination, and arrival time, without cluttering up the map screen. If you're not looking for bells and whistles, like traffic info, from your navi­gator, this is an excellent starter unit.
Cons: The NX602 doesn't have live traffic data, but the main issue I had with using the Clarion was the "NAVI/AV" button, to the left of the screen. It doesn't look like a button at all. It's counter-intuitive and not well-labeled.
JVC KW-NT500HDT
Powering up the unit: 10.0 seconds
Local destination search: 11.7 seconds
Rerouting: 7.5 seconds
Pros: The 6.1" screen on the JVC KW-NT500HDT gave us a nice picture-in-picture display at turns. It magnified the turns as we approached them while also letting us keep an eye on the overall route ahead. This receiver offers a lot of extra features, including HD Radio™ reception, traffic information, and a wealth of sound-shaping options.
Cons: The KW-NT500HDT's interface took the longest to become comfortable with. Any time you hit a spot on the map screen while it was navigating, it would automatically change your destination to that spot. This was especially annoying when trying to hit the "Select" button in the lower left corner with my big fingers and missing it by a fraction of an inch. It would sometimes change the orientation of the map, which was also difficult to rectify. When typing an address, the letters disappear as you type. This makes it difficult to search since it limits your options.
Kenwood DNX7190HD
Powering up the unit: 31.1 seconds
Local destination search: 17.9 seconds
Rerouting: 8.0 seconds
Pros: We dig Garmin's portable navigators, so the interface of the Garmin nav system in Kenwood's DNX7190HD felt intuitive right out of the box: simple and consistently on-target. Finding our way through the menus on the 7" screen was a breeze. We especially appreciated the built-in extras, like its HD Radio tuner.
Cons: Easily the worst thing about the DNX7190HD is the slow boot-up time. This might not seem like a big deal…until you're sitting in a parking lot waiting to pick your music or enter your destination.
Pioneer AVIC-Z140BH
Powering up the unit: 20.1 seconds
Local destination search: 14.7 seconds
Rerouting: 6.7 seconds
Pros: Pioneer's AVIC-Z140BH made it hard to miss turns, with a magnified intersection view on the 7" screen that appeared at each maneuver. That's a plus for drivers who leave nothing to chance, as are indicators on the screen for not only the upcoming turn, but the turn after that, too.
Cons: There was a fairly steep learning curve for the user interface. To enter a destination, you have back out of the navigator and go back to the home screen; easy enough to do, but very counter-intuitive. Like the JVC above, the AVIC-Z140BH removes letters as you're typing. The idea is to make it faster for you to type, but really it just limits your search capabilities. The Pioneer doesn't have an "Off" button: you can turn off music and navigation, but you can't power down the receiver. After the Kenwood, this unit had the next slowest boot up time.
What we learned
We found very little variance among the routes given by each navigator for each destination, but we did feel that there were varying degrees of learning curves for getting used to each receiver's navigation controls. Of course, these issues will gradually become easier for most drivers once they've spent some time with their navigators, so in the end, it's not a big deal. The Kenwood DNX7190HD, for example, felt more intuitive because we've been using Garmin portable navigators for years.
The rerouting times for all five navigators fell between 6 and 8 seconds. It seems unlikely that 2 seconds is going to make a huge difference in most driving scenarios, but it is important to note that on occasion a navigator would simply recommend making a u-turn as soon as possible rather than suggesting a new route. This is par for the course for most navigation devices and cannot necessarily be avoided or predicted.
And don't forget: you can see all of the receivers in action in our In-dash Navigation Roundup video.
If you want to explore more about in-dash GPS navigation, check out our entire selection, or visit our In-Dash Navigtation Shopping Guide.