Klipsch Home Theatre Speaker Bundle Review
You'll never say "what'd he say?" again.
Heads up!
Welcome to this article from the Crutchfield archives. Have fun reading it, but be aware that the information may be outdated and links may be broken.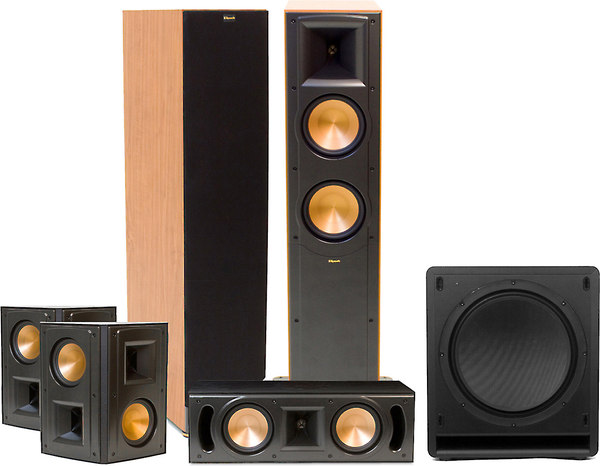 Six well-matched speakers make up the Klipsch RF-62 II home theater speaker system
When it gets real
I vividly remember my first experience with surround sound in my home. I had bought, on impulse, an inexpensive all-in-one system from the big-box store. I knew its sound "wasn't all that," but I had seen it on sale and I was hooked. I wrestled the purchase into my hatchback and later that night, poured a glass of wine and put Saving Private Ryan, which I hadn't yet seen, into the DVD carousel.
Minutes later I was visibly flinching and ducking as the sonic ordnance whizzed past my head. This was an entirely different experience with sound design, one that added real dimension to the entertainment on the screen. Even from that underpowered system, the scenes at Omaha Beach scared the hell out of me. Surround has presence.
And while my home entertainment dollars since have been more geared toward improving my stereo sources, I've been intrigued with high-end home surround ever since.
The Crutchfield Labs beckon with surround goodness
So I was happy when I got the assignment to take a trip down to our home theater testing room in the Crutchfield Labs to check out the Klipsch RF 62 II home theater speaker system. It's been a while since I've gotten to play with a system that nice. Our test system this month features the Marantz SR6006 home theater receiver and the Marantz UD7006 3D Blu-ray player, so the speakers were being fed a pretty deluxe signal by some attractive components with an unimpeachable pedigree.
There were a few sample DVDs in the home theater room. One feature, Inception, I had only seen in the theater when it came out, so I was anxious to see how the home experience would rate with the speakers in full voice. This is a movie with intricate and complex sound design, so I was very interested to see how the positional imaging was. I dragged a chair to the expected "sweet spot" in the middle of the testing room and fired up the DVD.
Hear every last word

The Klipsch RC-52 II center channel speaker brings the dialogue
Bang. Even the title menu background loop sounded detailed and clear. That, of course, is a known strength of Klipsch speakers — their well-defined high mid-range. Thanks to their horn-loaded tweeter concept, I was able to discern every syllable, even those spoken under the character's breath, as we moved into dialogue-driven scenes. I think this may be an entertainment audio system capable of banishing the sentence, "what'd he say?" from homes everywhere.
And while that crisp RC-52 II center channel was holding down the dialogue, the other five speakers — two RF-62 II towers in front, two RS-52 II two-axis surrounds in back, and the impressive SW-112 powered subwoofer —took over the job of immersing me in the sound field.
As the plot progressed towards action, I was struck by how deep and enveloping the sound field was, but there was no confusion about position. Footsteps were located exactly where they had to be, and moved convincingly with the action. A ship's foghorn in the distance was in the distance. And the sound of the wind in a mountain chasm came from everywhere, but not all at the same time — the way you'd expect it to be. I could almost hear the airstream hitting various rock features. Plus, when they were shape-shifting cities (you need to see the movie just to see this) on the screen, the subwoofer authoritatively told me to believe what I was seeing. Can't move the earth without a little sub-sonic help.
Sweet spot or sweet swath?
Well, I thought, this is great if you're sitting in the exact center of the room. But what if that's not an option? After all, your home theater will probably be a popular gathering place. So I took the opportunity to move the chair around. Front left. Middle right. Back corner.
And, while there were some differences from sitting smack in the middle of the room, I was struck by how the imaging stayed pretty darn consistent over a wide range. Clearly, the sweet spot with these speakers in our test area is bigger than with most systems I've experienced in the past.
Concert seating
I listened to some sample 5.1 surround concert videos as well during my visit to the Labs. I'm happy to confirm that my sense of broad soundstage from theatrical sources wasn't a fluke. In live concert material, you have a strong visual confirmation of location, and the Klipsch speakers complemented the visual experience perfectly. Even subtle positional differences between different components of a drum kit were realistically recreated.
What makes a great home theater setup? Clear dialogue reproduction. Accurate reconstruction of soundstage. Pleasing and non-fatiguing overall presentation. The Klipsch RF 62 II home theater speaker system punched every check box on my must-have list. One thing's for sure, though. I'm not playing Saving Private Ryan on this system anytime soon.