Klipsch® Music Centre KMC-3 Review
Clear vocals and thumping bass make it a party in a box
Heads up!
Welcome to this article from the Crutchfield archives. Have fun reading it, but be aware that the information may be outdated and links may be broken.
I sat down with the Klipsch Music Center KMC-3 the other night. I probably should have reconsidered doing this after dark, because the first time I powered it up I'm fairly sure the neighbors heard it. This is one loud portable speaker! But I'm getting ahead of myself.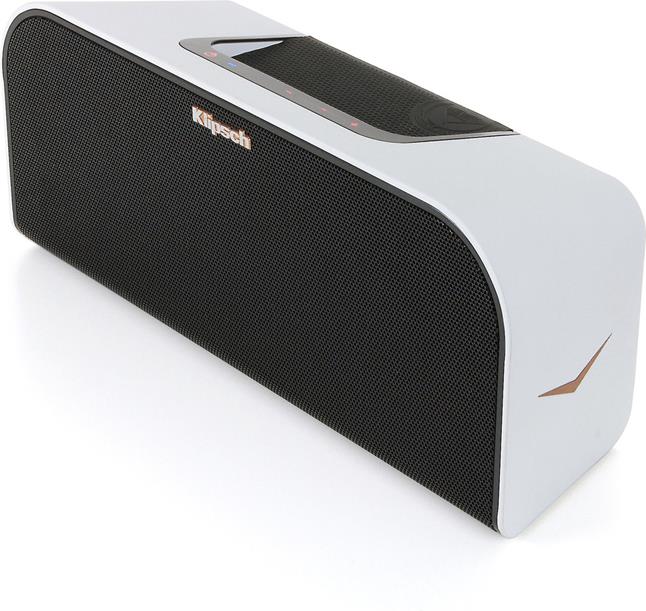 The Klipsch Music Center KMC-3's streamlined top panel incorporates a recessed handle and flush control panel.
The reveal
Upon removing this svelte speaker from its box, I was struck by its dense, but not weighty heft, and its minimalistic form. A handle is set into the top surface for easy carrying, but due to the elegant design it doesn't break up the smooth look. The controls are basic, and flush with the top surface: on/off, Bluetooth® pairing, mute and volume. And the back has a port for power, a 3.5mm stereo minijack, and a USB port, which is only for charging of devices like smartphones and tablets that use USB chargers.
Crank it up…no, wait
Once I had the KMC-3 wired for power (about 5 seconds of work), I plugged my iPhone® 4 directly to its 3.5mm stereo minijack with the provided cable and cranked the volume. And I started playing a wide-dynamic range orchestral soundtrack – "Honor," the theme to the HBO miniseries The Pacific, which starts out almost imperceptibly and builds to a longing, majestic swell of low strings, tympani, and low brass.
Ten seconds later I was diving for the volume control on the provided remote. As the orchestra joined the first French horn calls I could almost feel my dental fillings rattle, so I backed it off by almost half. Much better! But what bass! You really don't expect to feel music from a speaker this small, so it really stands out when you take this thing for a spin.
Clear and confident
The midrange and vocals, as you might expect from any speaker that invokes the Klipsch brand, cuts through in a clear and pleasing way, lending clarity and bite to vocals and fast transient attacks. And at the treble end, there's still some power left for some nice air under things like cymbals.
Wireless too
Pairing the KMC-3 to my iPhone via Bluetooth took less than a minute. While this speaker is compatible with the near-CD-quality Bluetooth aptX® codec, the iPhone does not support aptX, so all I sampled on the KMC-3 besides direct analog wired signals was standard Bluetooth. So I'm reviewing sound that can be even better.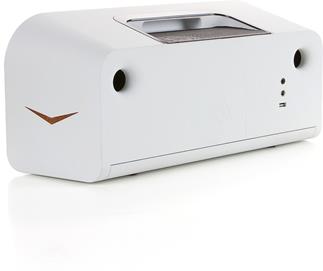 The KMC-3's dual-flare ports give it some beefy bass.
Which way to the party?
I tried everything from '80s party tunes to acoustic-driven country to synth-heavy prog-rock in short order and found myself pleased with its thumping bass and clear, confident midrange. It may be little, but the KMC-3 sure can fill a medium to large room without losing coherence. I found myself thinking this would be great at a patio or pool party, or even at the beach, if you keep it away from the water.
At high volumes (probably higher than some may be comfortable with) the bass can get a bit unfocused and floppy, but quite honestly this speaker is well-prepared for the task you'll want to put it to: keeping the party going. With playlists streaming from your fingertips, and the go-anywhere potential of an 8-"D"-cell battery compartment giving you up to 26 hours of portable operation, you'll have the "great-sounding tunes" requirement covered, and all with a speaker you can carry with one hand.