A Review of the Monster HDTV Calibration Wizard
Heads up!
Welcome to this article from the Crutchfield archives. Have fun reading it, but be aware that the information may be outdated and links may be broken.
No doubt about it, nothing beats an HDTV for delivering high-def images full of depth, detail, and stunning color. Your screen can show the action the way the director intended for you to see it. But is the picture quality always the very best it can be?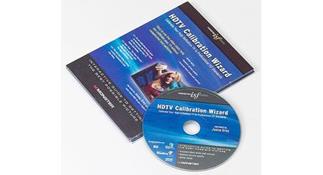 Monster's calibration disc helps you optimize your TV's picture for your room.
I recently read Steve Kindig's article about "optimizing your HDTV's picture." Turns out you can get more realistic images by calibrating your TV's picture settings. You can even use a calibration how-to guide, like the Monster HDTV Calibration Wizard DVD, to lead you through the steps. I was curious to find out what I might be missing, so I gave it a go.
Why calibrate?
TV manufacturers set initial video options (like brightness, contrast, color, and sharpness) at high levels. This makes a TV's picture "pop" under the fluorescent lighting of a retail store. But at home, where the lighting is softer, those jacked-up settings might make images look like they're behind a tinted filter.
Just as you'd calibrate your sound system to fit the layout of your room, it's a good idea to tailor your TV to your room, taking into account what the lighting is usually like when you watch TV. You might even consider switching between "daytime" and "nighttime" modes, to get the best effect each time you're in front of the set.
And did you know that if you change your TV's presets, you could even help preserve the planet? Lowering settings like brightness and contrast can reduce the amount of energy your TV uses — and reduce your electricity bill.
My setup
One cool thing about working at Crutchfield is getting to borrow great gear. To prepare for my review of the Monster DVD, I snagged an HDTV and a high-def disc player from our photography studio — both were fresh out of their boxes to be photographed for our website. I used a high-quality HDMI connector to link the Panasonic DMP-BD30 Blu-ray Disc™ player to the Panasonic TH-42PZ77U 42" 1080p plasma HDTV.
I set it all up in our testing room, but I wanted to simulate a living room atmosphere. So I turned off our harsh overhead lights, dimmed a floor lamp, and moved a chair back to create a comfortable distance from the screen — about as far away as my couch is from my TV at home. All I lacked was a bowl of popcorn.
I thought it would be good to get a baseline impression before I tried the calibration disc. We have plenty of DVDs on hand, so I grabbed a stack and started with my favorite, Planet Earth in high-definition. My first response was appreciation for the crisp, detailed picture that this Blu-ray Disc provided. Was there any room for improvement?
I switched discs and watched a few scenes from King Kong. Though this was just a standard DVD, the images were pretty sharp, thanks to the player's upconversion and the HDTV's 1080p panel. But now I was viewing people instead of nature. I noticed that the actors' skin tones seemed unnatural, almost Oompa-Loompa orange. It was time to calibrate.
Using the Monster disc
The Calibration Wizard is easy to navigate. First it outlines how TV calibration helps you achieve a picture suited to your room. Then there are five short chapters, each one focused on testing and adjusting a specific video setting. Once you've calibrated your TV, there's a music video you can watch to test your setting choices.
The disc explained that most of today's HDTVs come equipped with several different picture modes — each one a "package" of preset picture settings designed for particular viewing conditions. So you might choose "standard" mode for watching sports in the afternoon, but switch to "movie" mode to watch a DVD in the evening. It didn't surprise me to learn that our test HDTV's default was "vivid" picture mode — ideal for selling TVs in a showroom.
Picture modes vary in name and number among different TV brands and models. This HDTV offered vivid, standard, custom, and cinema modes. As I tried out each mode, I saw that each one had specific values associated with it. For example, in vivid mode, brightness and contrast defaulted to sky-high settings, but in cinema mode, they defaulted lower. However, I could also manually tweak those default settings within each mode, and this particular TV saved my preferences.
As a jumping-off point, I selected the easy-on-the-eyes cinema mode — perfect for primetime TV viewing in a low-lit living room. Cinema mode was an improvement over vivid mode, but I suspected that I could make the picture even better. My next step was to calibrate each setting within cinema mode to its optimal level.
Five key settings
Brightness is a big factor in picture quality. Ironically, changes in brightness are most easily assessed by looking at dark images on-screen. This setting should be adjusted if black images look washed-out or gray, or if side-by-side shades of black are hard to distinguish. The disc showed a man in a black suit with a black shirt underneath, to test whether the shirt seemed to blend into the suit — if so, the picture wasn't bright enough. In the next test, an "X" was placed in the frame. If it was visible, brightness was set too high. I lowered the brightness level until the "X" disappeared from the screen.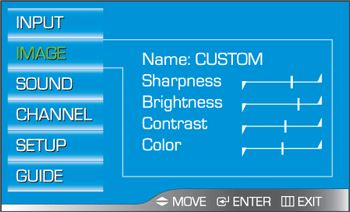 Using the Monster disc was simple — I pulled up my TV's on-screen menu, and used my remote to adjust each setting.
Next the disc helped me set the TV's contrast level, which deals with the intensity and realism of the contrast between dark and light shades. This setting should be altered if light colors seem glaring or if whites have hints of pastel color. For this test, the disc presented a man in a white shirt with white buttons. His shirt had a bit of a glow, and the white buttons weren't clear-cut, so I lowered the contrast by five points.
The color setting was trickier. The disc showed three women with different skin tones. It was my job to experiment with the setting and decide at what point the women looked most realistic. Adding to my quandary ("Does she look too tan? Does she look too pale?"), this TV had a color temperature option — I could select warm, cool, or normal. I settled on normal and then tweaked the color setting slightly.
Sharpness was the subject of the next chapter. Increasing a TV's sharpness too much can actually produce the opposite effect — images will have outline shadows that blur their edges. The disc presented a man wearing a suit with crisp lines, as well as objects with well-defined edges. I adjusted sharpness in each direction, producing fuzzy images on the low end and haloed figures on the high end, until I found the clearest version in between.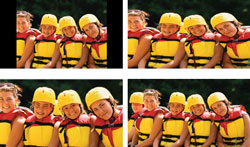 When aspect ratio is off, people can appear stretched or squeezed. Read about remedies in our article on aspect ratio.
The last setting the disc addressed was aspect ratio — that is, the shape of a TV screen or image on the screen determined by the ratio of width to height. The aspect ratio of a video sometimes differs from the aspect ratio of the TV screen on which it's being viewed. This can make images appear unnaturally short and wide.
My impressions
I must admit that initially, I thought the HDTV's picture looked fine. But when I popped Planet Earth and King Kong back into the player after calibrating the TV — boy, what a difference. The most striking change was that it felt easier to focus on the screen. I had the sense that my eyes wouldn't get tired. I realized that they might have become strained beforehand, when the picture was brighter and less genuine.
Before the calibration, tree trunks in Planet Earth appeared quite red. Afterwards, the trees were a much more natural, weathered brown. Where I had seen bright yellows on Emperor penguins, now it was obvious that those yellows should've been tan or rust-colored. And the blue sky on the screen now paralleled the blue sky outside.
I noticed the most difference with King Kong — the actors no longer looked sunburned. And I knew that the TV's black levels were spot-on, because Adrian Brody's mop of dark hair looked true-to-life, with just the right highlights. Seeing the improvements in this standard DVD was a useful reminder that accurate picture settings make a big difference, even when you're not watching high-def media.
I ended up with a beautiful picture, but that wasn't the only benefit of the calibration. Mark, a member of our Product Research Team, measured our test HDTV's power consumption before and after I calibrated the settings. Mark determined that calibrating this TV reduced its power consumption by 32%.
All in all, adjusting a TV's picture settings turned out to be a more subjective process than I expected. I found the Monster HDTV Calibration Wizard to be a particularly valuable tool, because it helped eliminate much of the guesswork involved in calibration. The disc led me through all the necessary steps to hone my settings — then let me set the picture the way I thought it looked best.