5 ways to add surround sound speakers
Including some clever ways to minimize the mess of wires
Surround sound is terrific. Untidy wires snaking from receiver to surround speakers? Not so much. Here are five tactics for a clean installation, starting with the simplest.
1. Use flat wire for your rear speakers
Flat speaker wire is designed to be tucked under a rug or concealed behind baseboards. Or use raceways (plastic wire channels) to protect the rear speaker wires. To learn more, read our article about cable management.
2. Buy a wireless speaker system
Wireless surround sound systems are simple to set up and offer a lot of flexibility. Choices range from compact front-speaker systems to full 7.1 home theater.
Sonos PLAYBAR
Our customers' most popular system for wireless surround is a package built around the Sonos PLAYBAR. It includes a Sonos Sub and two Sonos One speakers.
3. Use a wireless transmitter with existing speakers
Do you already have surround speakers and a subwoofer? Use a wireless transmitter to avoid long cable and wire runs across the room.
If your receiver has multi-channel RCA outputs, Audioengine makes it easy. Use their W3 wireless audio adapter kit to send surround information to the N22 amplifer.
Want to eliminate the subwoofer cable? Use the Martin Logan SW2-TRD to get wireless bass.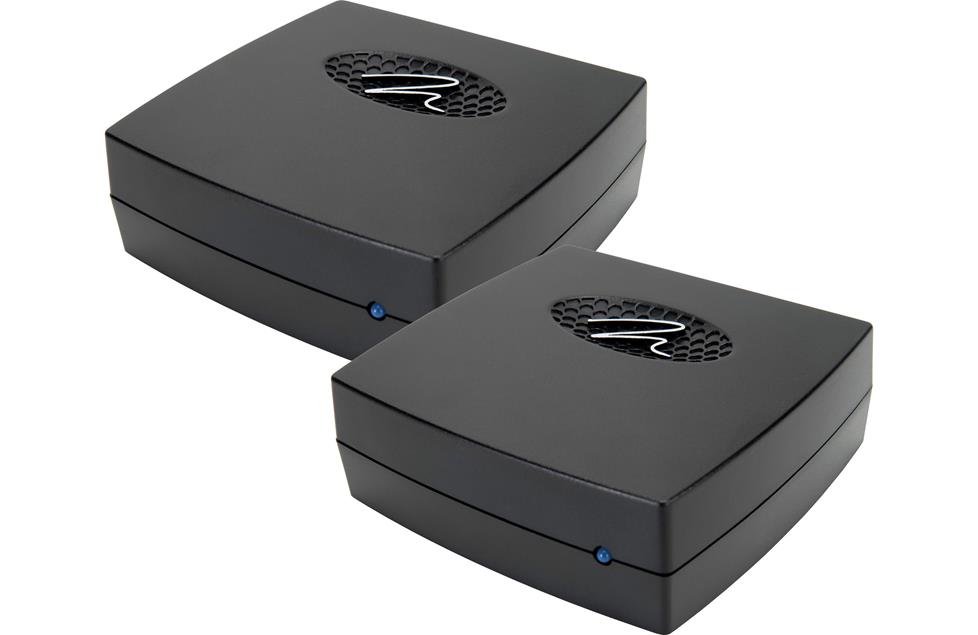 MartinLogan's SW2-TRD subwoofer adapter kit lets you add wireless connectivity to your powered sub.
4. Run the wires through your walls
Want your wires totally hidden? Run in-wall speaker cable through your walls or ceiling for a stealthy installation. Wall plates make wire connections neat and clean if you're using externally-mounted speakers. If you're using recessed speakers, the wire is completely hidden away. See our comprehensive in-wall wiring guide for more info.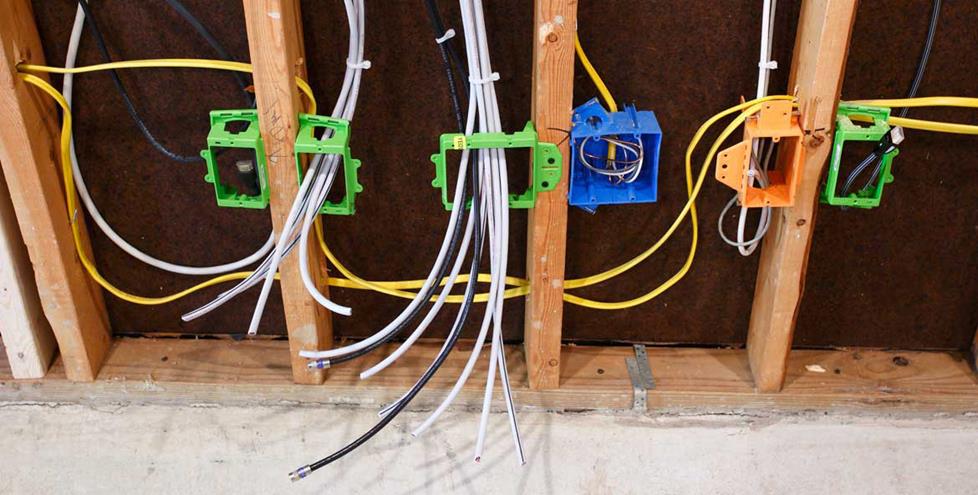 Use in-wall rated wiring for a clean, stealthy installation.
Conceal visible wires
Do you have exposed wires and cables running down walls and along baseboards? Easily conceal them with paintable wire channels. We also offer an assortment of cable ties and wraps to keep things organized. Read our A/V cable management guide for more tips on keeping your system neat and clean.
5. Use in-wall or ceiling speakers
Install in-wall or ceiling speakers and enjoy surround effects with zero footprint. Some people use these for just their surround speakers. Others install in-wall or ceiling speakers in each location of their home theater.
Recessed speakers do require more installation work. But they provide a smooth, finished look that sounds fantastic. Plus, they have paintable frames and grilles to match your décor. Read our ceiling and in-wall speaker buying guide for recommendations.

In-ceiling speakers provide powerful overhead sound effects with zero footprint.
Bonus tip: Try front speakers only
If all else fails, consider ditching surrounds all together. Powerful front speakers are great for TV, movies, and music. Here are three options:

Use a soundbar and a sub in the front of your room for great dialogue and convincing sound effects.
Let us help you get started
Want friendly, one-on-one help choosing the best gear for your new system? Our expert Advisors can help. Call or chat with us today for free, personalized advice. Free lifetime tech support is included with every Crutchfield purchase.
Last updated 2/3/2020