How to choose the best noise-canceling headphones
Block out the world and get closer to your music
n my decade-plus here at Crutchfield, noise-canceling headphones have taken a leap in quality and popularity. They've always been a slam-dunk choice for air travel, but I now recommend them for everyday use. Their sound quality has vastly improved. And they've gotten much better at blocking out the daily commotion.
So, could you use a moment of peace while you're in the sky, bus, or office? Now is a great time to buy. This guide will help you pick the right noise-canceling headphones for your situation.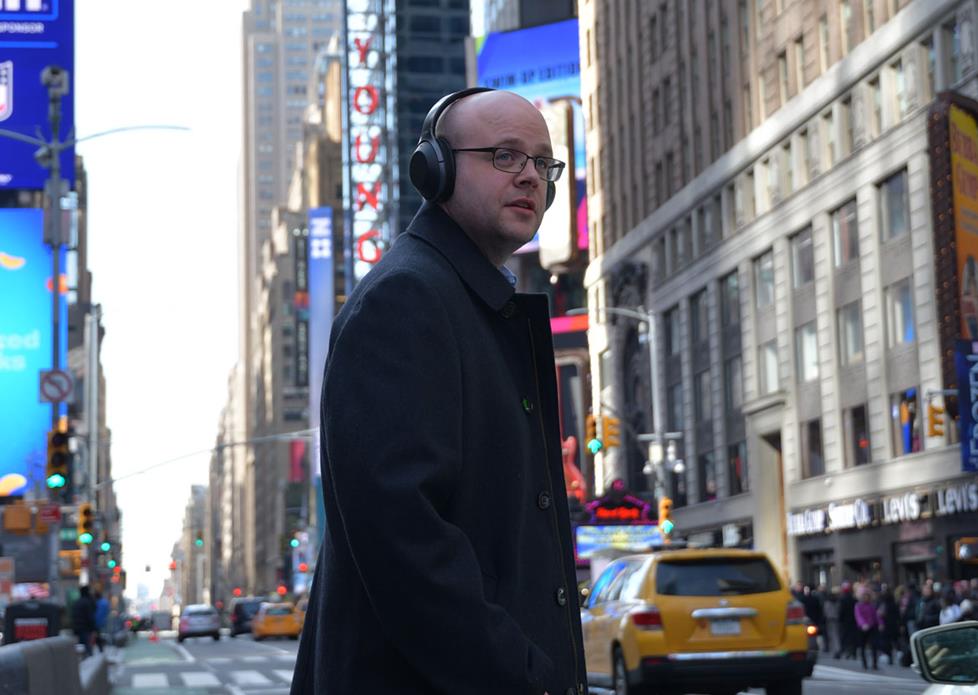 I've tested noise-canceling headphones in a lot of places, from our Virginia headquarters to the middle of Times Square. (Photo by Doug Henderson, douglasandrewhenderson.com)
How do noise-canceling headphones work?
Noise-canceling headphones don't simply seal out noise with thick ear pads or heavy-duty earcups. There is special, sophisticated technology at work.
They have built-in circuitry that counteracts exterior sound by emitting an out-of-phase sound wave. This wave effectively cancels out the incoming sound.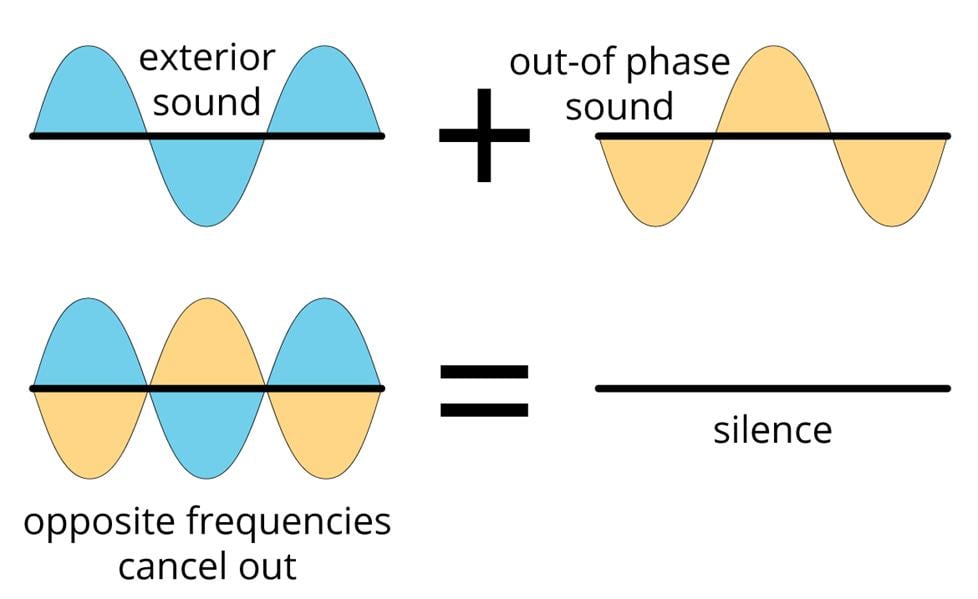 The result: music that's much clearer, even at lower volumes.
Who invented noise-canceling headphones?
Many customers associate noise-cancelling headphones with Bose. Makes sense. They pioneered and popularized the category.
According to company lore, Dr. Amar Bose sketched out the original concept back in 1978. While listening to music on a flight, he was annoyed at the amount of engine noise that leaked into his headphones. He mapped out his noise-cancelling idea on an airplane napkin.
The latest Bose model, the QuietComfort® 35 wireless II, is among our most popular products. They are super-comfortable, sound great, and block noise as effectively as any headphones we've heard.
It wasn't long ago that my recommendation would begin and end with Bose. But now there are some very formidable rivals out there — all with different strengths and features. Your choice will ultimately depend on how you plan to use them. That's where I can help.
What to look for
I usually test out headphones at Crutchfield HQ, where I work in an open-plan workspace. But I recently had a chance to try them in much noisier conditions — I traveled to New York for the CanJam NYC 2018.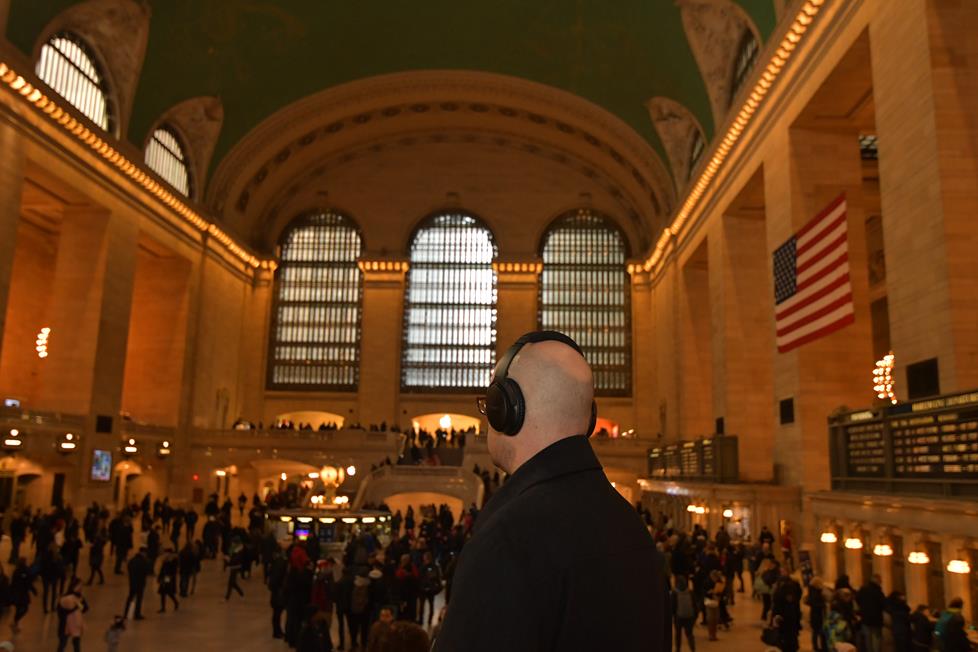 Photo by Doug Henderson, douglasandrewhenderson.com
I took along some of our top-selling models along to see what features matter most:
1. Wired vs. wireless
Our most popular noise-canceling headphones are also Bluetooth headphones — they play music wirelessly. I personally appreciated the extra freedom on my trip. It was so much easier maneuvering around the airport and the Big Apple without a wire in the way.
If you can live with a cable connected to your phone, you can save some money by choosing wired noise-canceling headphones.
2. Battery life
Wired or wireless, you must remember to recharge noise-canceling headphones. You should be aware of the listed battery life. These days, most models offer at least 25 hours of noise cancellation on a full charge.
Many models let you listen with the noise-canceling circuitry turned off. This comes in handy when the battery runs dry before you have a chance to recharge. If you're in a quiet place, you can use this "passive mode" to save your battery power for later.
3. Fit
Most models use an over-ear design to offer a plush fit and a tight seal to help keep out noise. We also recommend them for office use (lots of Crutchfield folks use them every day).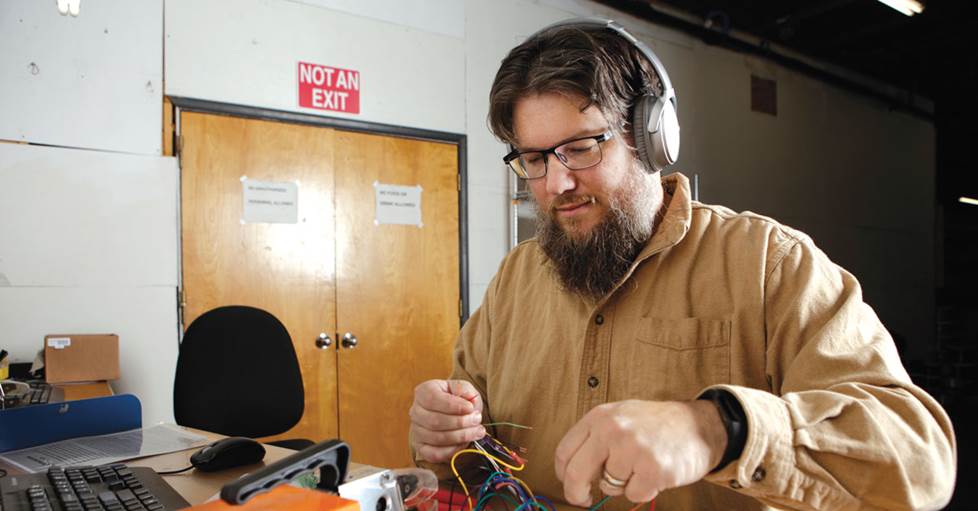 Butler, a Crutchfield inventory handler, uses noise-canceling headphones to block out warehouse distractions while he works.
If you're looking for headphones to use on a daily commute, something smaller might be more convenient. There are several earbud-style models available that offer powerful noise-cancellation without the bulk.
4. Adjustable/adaptive noise cancellation
Perhaps the coolest recent innovation in noise-canceling headphones? Their ability to tailor their performance to your surroundings. Many can adjust their noise cancellation to your environment.
Sony's WH-1000XM3 headphones take this to another level. Not only did they account for the level of external sound, but also for altitude on my flight out of Charlottesville.
As the plane left the runway and ascended above the clouds, the level of noise cancellation took off, too. While the sound of engine noise increased, the Sony headphones adjusted themselves. I was able to keep my travel playlist at the same, safe volume throughout the flight.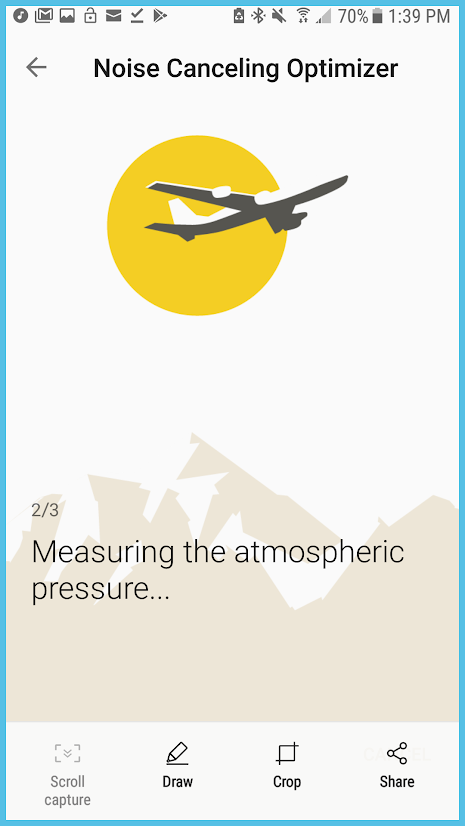 My fellow writer Emily S bought the WH-1000XM3 headphones for her brother who lives in Colorado. He appreciates the altitude setting.
5. Quick access to the "outside world"
All the headphones I tested on the sidewalks of New York City reduced the hustle and bustle of Manhattan to a murmur. But there were times I needed to be more aware of my surroundings. Some of the headphones I tried were designed with this in mind.
The Sennheiser PXC 550s (now the PXC 550 II) let me just double-tap the earcup to pick up environmental sound.
6. Voice control with the Google Assistant
I've gotten used to using voice control at home, so I appreciated the dedicated Google Assistant button on the Bose QuietComfort 35 II. Since Google picked up my flight info from my Gmail account, I was able to ask the Google Assistant questions like, "Is my flight on time?" and get real-time answers.
You can use Google Assistant to select songs, send texts, make dinner reservations, and more. You might think it seems out of place in headphones, but it quickly becomes second-nature.
Need help deciding?
Call our expert advisors at 1-888-955-6000. They can give you the scoop on headphones or any other products that we offer.