Peachtree Audio deepblue2 review
A powered Bluetooth® speaker that delivers
Heads up!
Welcome to this article from the Crutchfield archives. Have fun reading it, but be aware that the information may be outdated and links may be broken.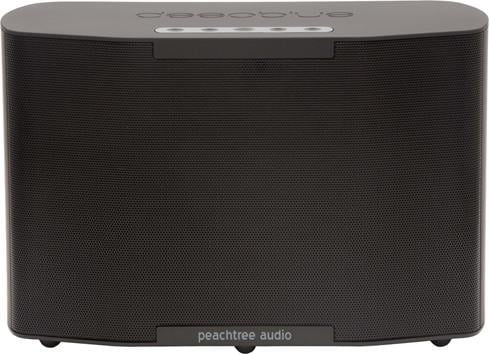 When I received the Peachtree Audio deepblue2, I could tell — just from handling the box — that this all-in-one powered speaker system was BIG. I removed the deepblue2 from the box and was faced with a sleek, black system measuring a little over 14" wide by 9-1/8" tall by 6-1/2" deep.
Big, yes — and Peachtree Audio used every inch of it to its best advantage. This 16-pound system houses two 3" midrange drivers, two 1" and a real 6-1/2" subwoofer, in a reinforced acoustically dampened cabinet. And it has a built-in 440 watt amplifier to power it all. Impressive look, impressive stats — but I wanted to know what it sounded like.
Beautiful Bluetooth
Bluetooth is a one-size-fits all wireless technology. You can stream audio via Bluetooth from virtually any app on your smartphone or tablet. It seemed like a good place to start.
In my case, I began by streaming a few of my Pandora stations from an iPhone® 5. The deepblue2 produced a nice, full sound that actually had some detail in it.
What really impressed me was the responsiveness of the bass. No matter what the source, the bass was not only clean and accurate, it was appropriate for the genre. So DMX had window-rattling bass bombs, while the Berlin Philharmonic had the rich, full low end of their cellos and contrabasses.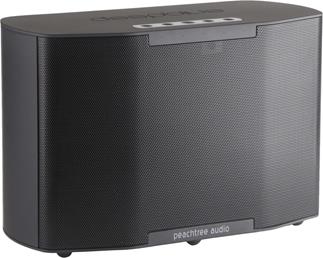 The system's remote let me choose between five levels of bass response. While it's nice to have that level of control, I personally didn't need it. The system seemed to consistently deliver the music with the appropriate amount of bass.
Volume that speaks volumes
When I lowered the volume, the sound quality didn't suffer. Details became less pronounced, of course, but the overall tonal shape of the music didn't alter. The deepblue2 uses something Peachtree Audio calls Smart Volume to automatically adjust the sound to different volume levels, minimizing distortion. At lower levels, the low end was boosted to make it more audible.
And when I went the other direction?
Smart Volume pulled back on the peak signals to keep the sound from distorting. It succeeded almost too well. My initial audition space was my home office. Before I reached the maximum volume of the deepblue2, it became uncomfortably loud for that small space.
Smart Volume worked well. The sound never became distorted — just overwhelming. I moved the deepblue2 to our larger family room, and that discomfort disappeared. At full volume the deepblue2 comfortably filled the room. And even at full volume the system continued to deliver a clean, balanced sound.
Quality sound from MP3s and beyond
I also played some stored MP3 tracks from my device (both music and spoken-word podcasts), and was pleased to hear that the quality of the sound reproduction remained high. Spoken dialogue was clear. The music betrayed its source, with the highs and lows of the compressed MP3s sounding a little closed in. The midrange was cleaner than it normally sounds when played through portable speakers. Overall I was pleased and more than a little impressed with the sound of my low-resolution audio files.
High-quality sound from high-quality sources
Of course, a high-performance system like the deepblue2 can only do so much with low-rez files. It was the higher resolution audio files I really needed to try.
Peachtree upgraded from Bluetooth to Bluetooth aptX for the deepblue2. That's significant, because aptX can stream high-resolution audio files without compressing them. My iPhone doesn't have aptX, so I borrowed a friend's Samsung Galaxy Tab 4 that does. I visited the same Pandora stations I had auditioned earlier to see if I could detect a difference. I could indeed. With Bluetooth aptX, the streaming audio sounded a little fuller, and seemed to have more presence.
Then came the real test. I temporarily transferred some WAV files over to the Tab 4 and streamed them to the deepblue2. This is what the system was made for. I heard finely detailed, realistic sound coming out of the system.
For movies, too
The deepblue2 has optical digital input, so you can use it for TV sound as well as music. I connected it to my TV and watched some recent TV shows and a movie to try it out. I heard plenty of the finer details in the soundtracks — background rumbling of traffic in a parking garage scene, rustling in the forests, the incidental sounds of keys being placed on a table, cards being shuffled — and all underneath dialogue. Although the sound separation wasn't as wide as a sound bar's, the deepblue2 still delivered a full, well-defined sound field that was far better than what my TV's built-in speakers could accomplish.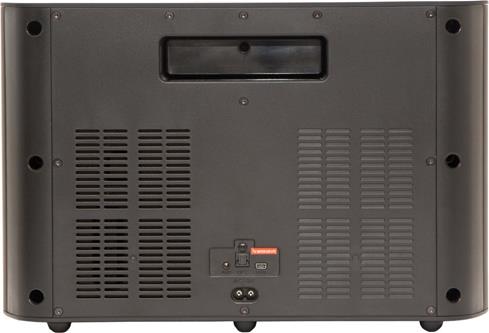 A built-in handle in the back makes it easy to move the deepblue2 from one room to another.
Built-in handle
While the deepblue2 is by no means a portable Bluetooth speaker, its built-in handle does have its uses. I can see carrying out to the deck for a summer party, or moving it temporarily to another room you're going to be spending a lot of time in.
Bottom line
From my experience, I'd say the deepblue2 delivers. It's an ideal Bluetooth speaker system for people who are serious about the sound of their music. The deepblue2 produces fine, detailed sound with enough power to play at very loud volumes, even in a large space. And it performs well as TV speaker system, too. For an apartment, large office, or vacation home, the deepblue2 may be the only sound system you'll need. For rich, detailed wireless sound in any setting, the deepblue2 may be the only sound system you'll want.