Ease your mind with a pet camera
See, talk to, and interact with your dog or cat when you're away
Heads up!
Welcome to this article from the Crutchfield archives. Have fun reading it, but be aware that the information may be outdated and links may be broken.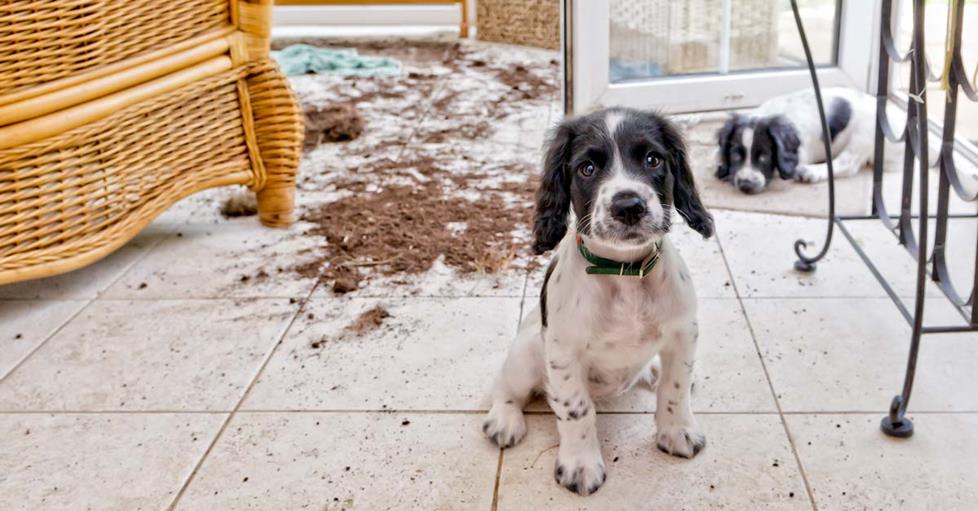 With a fully-loaded pet camera, you can stop this mess before it starts.
Our pets may occasionally be out of sight — when we're away from home — but they're rarely out of mind. As soon as I'm out the door, I immediately begin to wonder what my dog is doing. Is he barking for me to come back? Is he staring morosely at the door the whole time? Is he cranking up the stereo and throwing a party? I'd love to know.
A pet camera can help you keep tabs on your pets while you're away. You might just want a simple one-way webcam to peek in and see if Fluffy is eating her din-din. Or you may look into a deluxe model that dispenses treats and lets you talk to your pet, or play remote-controlled games with him.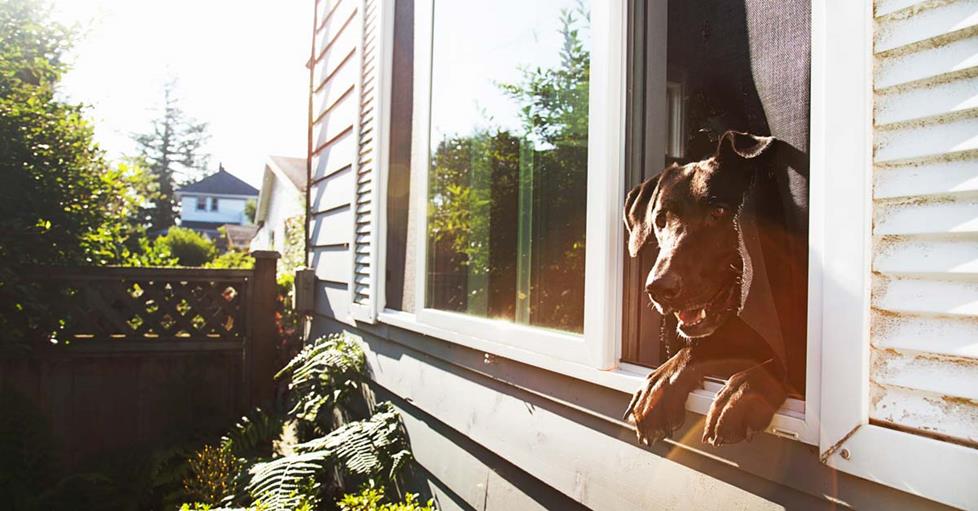 Put a stop to your dog's destructive shenanigans before he ever gets this far.
Being able to see what your pet gets up to when you're not around can help alleviate separation anxiety on both sides. When you get an idea of what your pet does when he's alone, you may be able to learn more about his needs. Then you'll both enjoy a closer, happier relationship.
Let's get an idea of what you'll be looking for in a pet cam.
Essential pet camera features
Resolution and viewing angle
One spec that varies from camera to camera is viewing angle. This tells you how wide of a shot your camera can give you. If your old basset hound just sleeps a lot, maybe a narrow shot will give you all you need. If you have a rambunctious kitten, however, you might want a wider view, so you can see him chase the ball of string from one side of the living room to the other.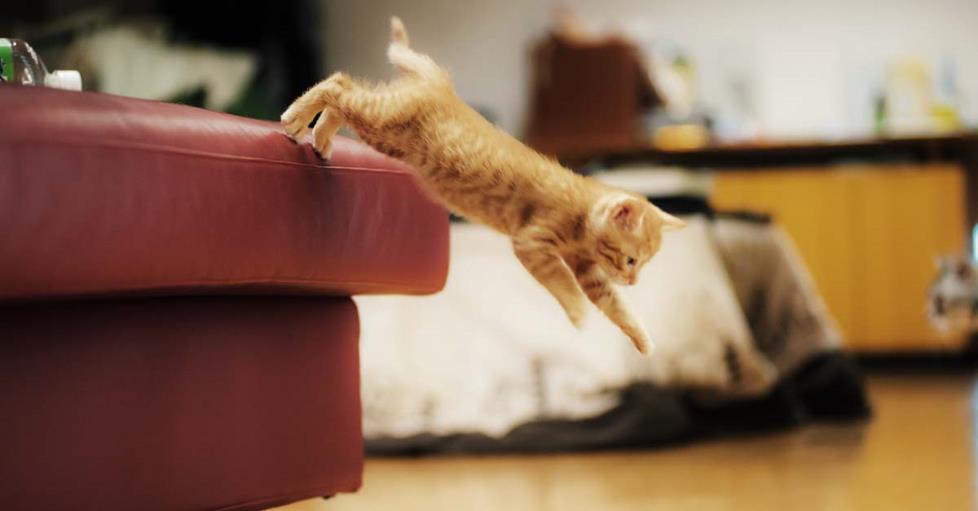 Choose a camera with a wide point of view, like the Samsung SmartCam, so you can follow your kitten's antics around the room.
Most pet cams offer high-definition video. The PetKit Mate offers 720p resolution, which is good enough to see what your pet is doing in general. If you want to see details — like how much food he's eating during each visit to the food bowl — it's worth upgrading to a "full HD", 1080p camera, like the popular Nest Cam.
You'll thank yourself for investing in higher resolution if you're taking screen shots to share with friend and family via social media – you don't want your angel to look blurry or pixelated.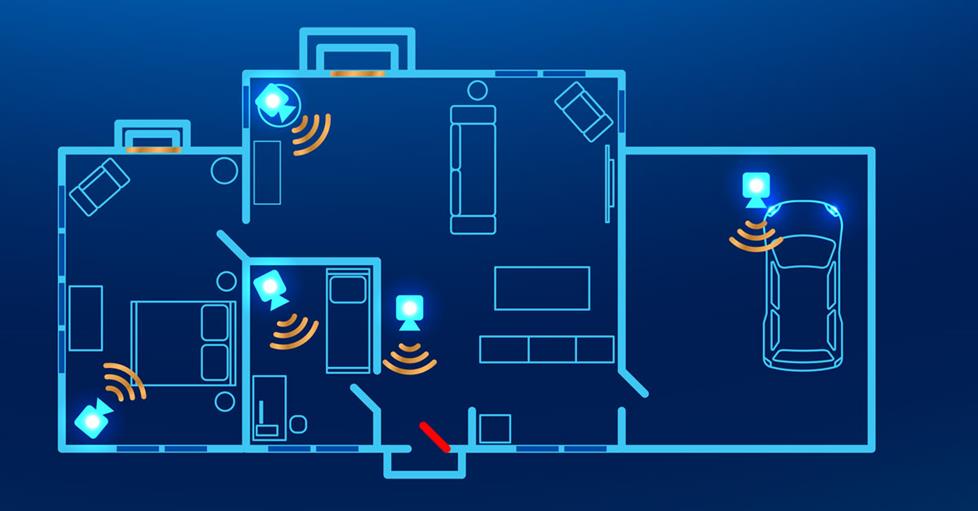 A complete home security camera system lets you keep an eye on your home and your pets.
A pet cam is great if you want to just keep an eye on one part of your home. If you want to keep a sharp eye on pets and the rest of your home, it makes sense to look into an expandable, full-coverage option like the Arlo Pro Home Security Camera System.
Two-way talk lets you speak to your pets
Watching your pets eat and sleep is (sort of) fun, but if you're like me, you're going to want to interact with them, too.
Look for a feature called two-way talk – these cameras have a microphone and speaker so you can speak into your phone and say endearing things like "how's my sugar muffin doing today?" or "Don't worry, mama's going to be home soon!" or "GET OFF THE COUCH!!!!" That ability to converse with your pet can enhance your bond even when you're stuck at your desk for another hour or two.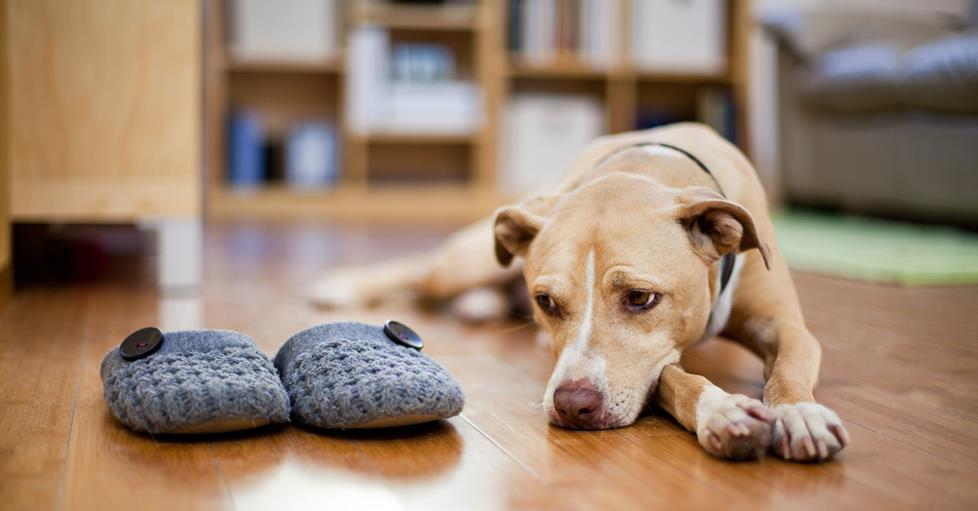 If you can see that your pup is lonely all day, you can look into solutions that will keep him happy, and away from your slippers.
Some cameras go a step farther by including a screen that can show your face to your pet while you're talking. There can even be a button your pet can press to "call" you when they're feeling lonely. It's the one meeting request you're going to be excited to take.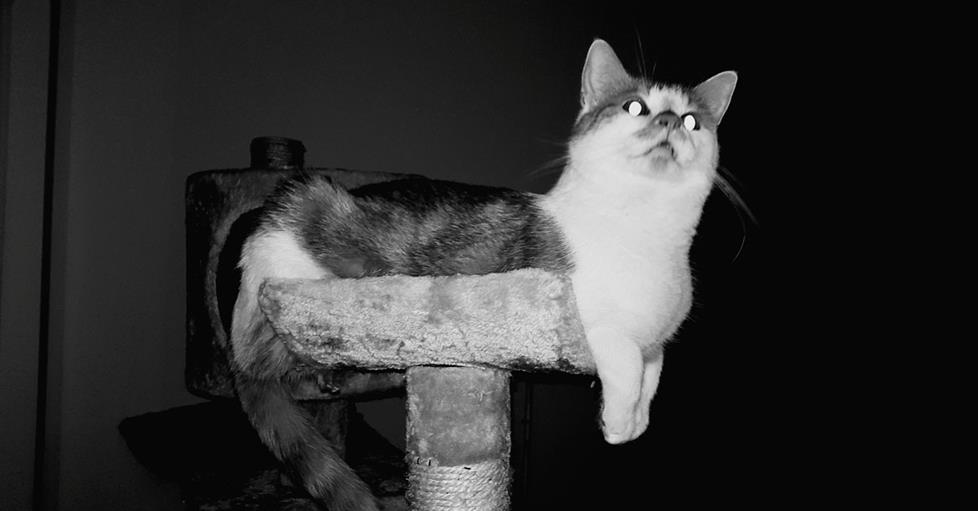 The Nest Cam switches to night vision mode automatically when a room gets dark.
See your pet in the dark with night vision
Not everyone works during daylight hours. If you know your pet will be home alone at night, look for a camera with night vision. This will let you see at least a few feet in front of the camera, even when lighting is very low. The image will likely be in black and white, but you'll be able to see what's going on at home while you burn the midnight oil.
Sound and motion alerts let you know when your pet is active
It's not like you can just sit and watch your pet all day long. You may just want to know when he or she walks into the kitchen to eat, so you can take a peek and know everything's OK. Many cameras offer sound and motion alerts, so an app on your smartphone can let you know when your pet is active or making noises that may mean she needs attention.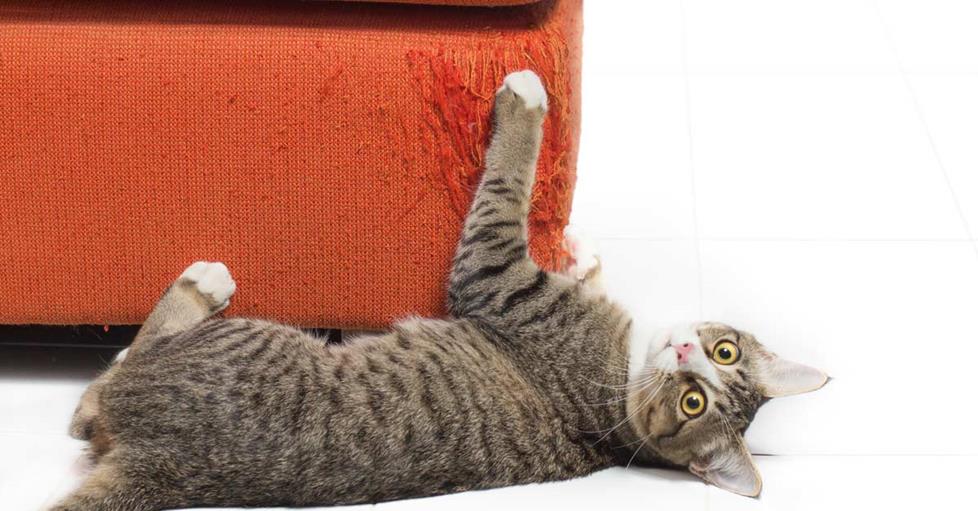 The Honeywell Lyric C2 camera has two-way talk, so you can issue a sharp verbal reprimand when you see that chair getting shredded.
Memory storage for your pet camera
Some workdays are just packed, and you might not be able to check in as often as you like. That's where stored images and video come in handy, so you can look back and get an idea what happened while you were staring at line graphs and drinking lukewarm coffee.
Three common storage options:
Internal flash memory is built-in, so you're stuck with what you have – it can't be expanded later. It can often be paired with one of these other forms of storage, however.
An SD memory card slot lets you choose the amount of storage you want, and swap in a new card when one gets full. You'll likely have to purchase the memory cards separately.
Cloud-based services store your images and video on a remote server maintained by the pet cam manufacturer, so you're not filling your local hard drive with files (additional fees may apply).
A great monitoring and control app is crucial
The app interface is crucial to your experience with a pet cam. It's the primary mode of communication and control between the camera at home, and your smartphone or tablet when you're away. In our experience, the apps are always free, and available for download on iTunes and Google Play. That means you can try it out before you invest in a product. You won't be able to do everything, but you can demo how the interface looks, and see if it's intuitive.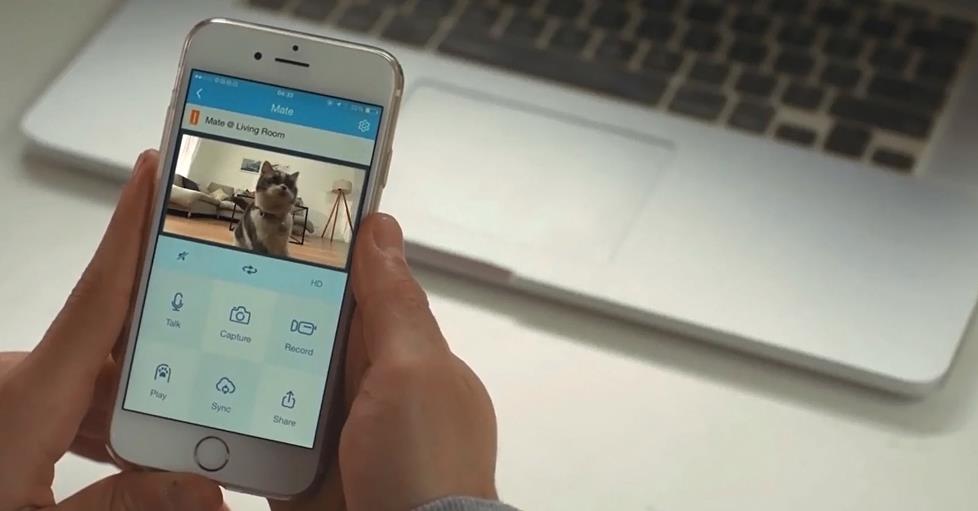 The PetKit Mate lets you check in on pets with a convenient and free smartphone app.
You can also take a sneak peek at settings menus to determine how much control you'll have once the product is in your home. This is especially important when it comes to setting up sound and motion alerts. You can also see how the product's remote control options work, and many offer a way to share images and information via social media.
Your pet camera may need Wi-Fi
In our testing, we ran into a couple of scenarios that could confuse a pet cam buyer, so we'd like to make sure you get ahead of the game. Many pet cams communicate with your phone via Wi-Fi, and several of us live in areas with little or no wireless coverage. If you're in a similar situation, look for a camera that uses Bluetooth — the range will be limited, but at least it will work!
Even if you do have strong Wi-Fi, each device you add to your network will further tax its speed and reliability. If you find that you're experiencing lag or glitching, it may be time to upgrade your router. [Read our wireless router buying guide]
Advanced pet camera features
Keep your pet in sight with Zoom, Pan, Rotate, and Tilt
Some cameras point straight ahead, which is fine if you have a convenient mounting location in a high-pet-traffic area. If your pet is unpredictable, you may want to look for a camera that can zoom in on the scene. Even better, some can pan from side to side, rotate on a central axis, or tilt up and down in response to your remote commands. Samsung's SNA-R1100 can even be set to automatically track anything that moves.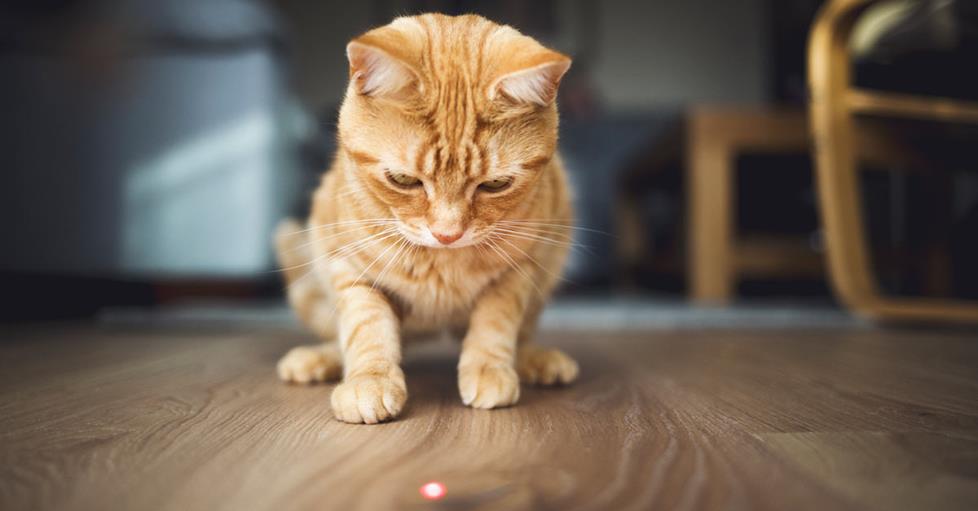 The PetKit Mate has a remote-controlled laser toy that lets you play with your pets from anywhere.
Remote-controlled games for cats and dogs
Many cameras offer a remote-controlled laser light. Cat owners know these things are addictive for our feline friends. Other pet cams give you an opportunity to interact with a veritable carnival of games and toys, so you can keep your pet entertained and active when you have a few minutes free.
One combination feeder/interactive toy tests your pet's smarts by prompting her to press light-up touchpads to get the day's meal. Beats lying around all day, right?
Let us help you build a tech-savvy pet care system
A pet camera can let you see and talk to your pet. If you want even more ways to make sure your pet is living his or her best life, look into our other Smart Pet offerings.
You'll find pet GPS and fitness trackers to make sure your pet stays close to home and gets plenty of exercise. There are automatic pet feeders and water fountains to ensure they have the right amount of fresh food and water. We also have plenty of other products to help you train your pets, calm their anxiety, and more.