Phorus PS5 wireless speaker and PR5 wireless receiver review
Playing with Play-Fi, a flexible multi-room audio solution
Heads up!
Welcome to this article from the Crutchfield archives. Have fun reading it, but be aware that the information may be outdated and links may be broken.
What if tunes followed you through your home, adding atmosphere to each room? Two new products from Phorus help turn this luxury into an easy-to-use, affordable reality. There's no wire to run, and you're not locked into a single brand of speaker.
I've been interested in setting up a multi-room system, so I gave them a try.

The Phorus PS5 powered speaker adds wireless music to any room.
Both are pretty useful on their own. The Phorus PS5 is a compact wireless powered speaker that adds music to any room.
The PR5 receiver lets you play music wirelessly on your existing stereo or home theater system. Each device offers several options for wireless music listening with your smartphone, tablet, or computer.
Play-Fi, a flexible multi-room audio solution
What really makes these Phorus devices special is a technology called DTS Play-Fi®; which allows them to communicate with each other. You may know DTS as a leader in film and home theater sound. They developed Play-Fi as a multi-room music platform, so you can stream a song to multiple rooms or the same song in every room. The music is transmitted wirelessly from your phone, tablet, or Windows® PC and works over your existing Wi-Fi® network.
Play-Fi has been adopted by several audio companies, so there are a variety of other speakers to choose from, beyond Phorus. That means you can mix and match speakers around your house, for a unique level of flexibility when shopping for a multi-room system.
Apple ® AirPlay® and Bluetooth® give you two more wireless options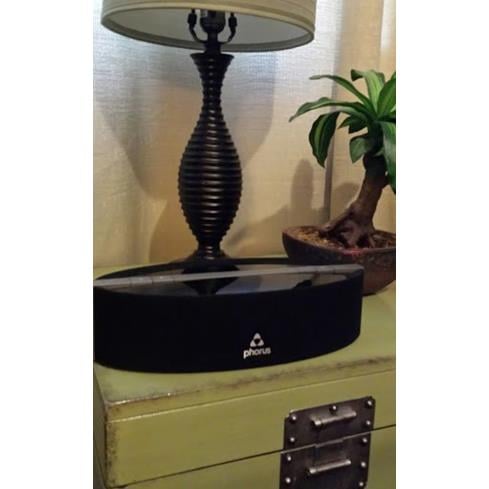 Along with Play-Fi, both Phorus products are equipped with Apple AirPlay and Bluetooth. AirPlay lets you stream from Apple devices, including an iPad, iPhone, iPod touch or a computer running iTunes. Bluetooth streams audio from any app on any phone or tablet, including You Tube audio. You'll be hard-pressed to find music on your device that you can't play one way or another with these Phorus products.
Easy setup in any room with the Phorus PS5
I wanted a quick and effortless way to play music in my bedroom, so I plugged in the oval-shaped PS5 powered speaker. It sat neatly on my wife's nightstand.
Next, I downloaded the free Phorus Play-Fi app. It guided me through the setup process, which was pretty seamless. The app recognized the PS5, I typed in my Wi-Fi password to get the speaker and phone on the same wireless network, and they quickly synced up.
This single speaker handled the complex, sometimes erratic bass line of the new D'Angelo album, Black Messiah. The album was downloaded in mp3 format and streamed using Play-Fi. Frankly, there's a lot of interesting sounds on this album, so I wasn't sure a speaker this size was up to the task. But the bass port in the back really lifted the low end. The mids, where a lot of the vocals and guitar riffs live, were pretty convincing too.
Although relatively small, the PS5 produced a full sound, more than enough for background music while getting ready in the morning.
The PR5 receiver adds wireless music to your existing audio gear.
I cranked it one evening when folding clothes and it held up well — no noticeable distortion at a reasonable volume.
Old stereo, new life, thanks to the Phorus PR5
Later, I tried the PR5 wireless receiver in my stereo system. Physically, it's roughly half the width of my Playstation 3. Its glossy black, unassuming look blended with the rest of my home theater components. Once in sync, the adapter's dual-band Wi-Fi did its job – my music didn't drop out or skip much, even as I used the same network to search the internet on my laptop.
I rarely listen to music on my good, floor-standing speakers. It's just inconvenient. Most of my music is on my phone. I've hooked up various wireless adapters, dongles, and widgets to my home theater receiver before. None of them ever sounded quite right. Because I usually connect them to the stereo RCA inputs on the front of my receiver, I was convinced these inputs for were bad, or that my old receiver was showing its age.
Wireless music never sounded so clear and detailed on my tower speakers. The Phorus PR5 is proof that Digital audio technology has improved by leaps and bounds in the last few years. Certainly the high-quality Wolfson® digital-to-analog converter (DAC) that's inside the PR5 is a major difference-maker, too. It was as if my speakers were taking their first breath in ages.
Enjoying tunes again, wirelessly
I streamed "Tusk" by Fleetwood Mac to the PR5 receiver via Play-Fi. I've listened to that song many, many times, and I figured I'd heard everything buried in there. I was wrong. The soundstage seemed larger than the speakers themselves, and there were all these new little musical parts and effects that I'd missed over the years.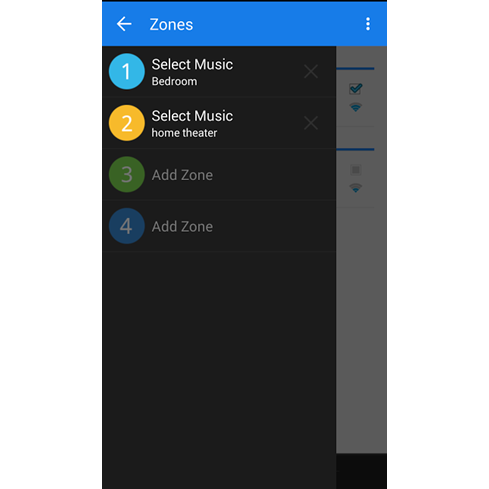 Designate "Zones" in the Play-Fi app and send different songs to each room.
Bluetooth also sounded great, though I had to turn up the volume a few notches. The PR5 uses Bluetooth with aptX® and AAC audio coding, so it retains more of the original audio signal than standard Bluetooth. I started a Spotify playlist on my phone and paced all around the room with no music drop-outs.
One shortcoming of the receiver is the included mini-to-RCA cable — it's only a little more than a foot long, and pretty flimsy. I placed the PR5 right next to my receiver and still struggled to stretch the cord to connect the two. I recommend getting a longer, higher-quality cable. You'll get the added slack and durability, plus it will help improve sound.
Testing Play-Fi's multi-room capabilities
I used both Phorus devices in tandem with Play-Fi. While the PR5 and PS5 were in different rooms, I could choose songs and send them to each device using the Play-Fi app.
This setup came in handy when I cleaned the basement. I went up and down the stairs looking for a vacuum, trash bags, and cleaning supplies. SiriusXM's Deep Tracks channel blared through the den speakers via the PR5 receiver. When I ran upstairs, the same song played on the PS5 speaker. I literally didn't miss a beat.
Just for kicks, I played two different songs upstairs and in the basement. It only took a few taps of the phone.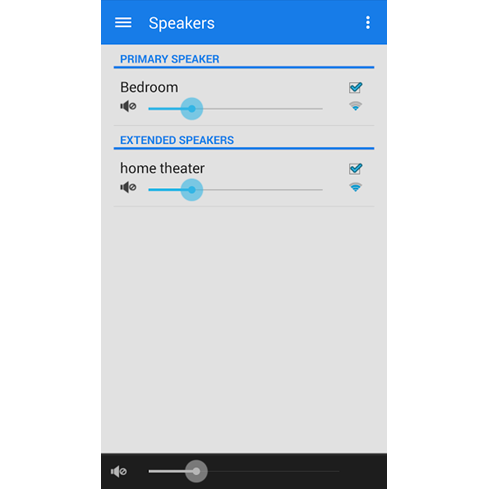 Play the same song in different rooms and control the volume of both.
When my wife got home and wanted to listen to something else upstairs, she paired up with her iPhone's Bluetooth and quickly took control of the PR5. It was convenient and easy.
Conclusion
If you're in the market for a wireless speaker or adapter, take a good, hard look at the Phorus PS5 powered speaker and PR5 wireless receiver. Instead of just Bluetooth, or just Apple AirPlay, the PS5 and PR5 do both. By themselves, they hold their own against other comparable products. The added bonus of Play-Fi makes them an even smarter choice.
With other compatible Play-Fi products out there, and more on the way, Phorus is a great place to start with wireless music now, and an eye towards a whole-home music system later.