Powered stereo speakers buying guide
Home speakers with built-in amplification
If you've used a home stereo system, you've plugged the receiver into the wall outlet and run wire from it to your speakers. With powered stereo speakers, the amplifier is built into the speaker, so you can skip the receiver entirely.
What are some benefits of powered speakers?
Perfect Power – Learning how to match your amplifier power rating to your speakers can be tricky. Powered speakers take care of all of that for you.
They blend into your room – With fewer components and cables powered speakers take up less space and can fit into your décor without messing up your feng sui.
They're easier to install and operate – It's usually a matter of a couple of cables and you're ready to start listening.
They can be less costly – If you don't need to buy the receiver, you're very likely to save money.
There are a few different kinds of powered speakers: computer speakers, powered studio monitors, wireless home speakers, and versatile powered stereo speakers.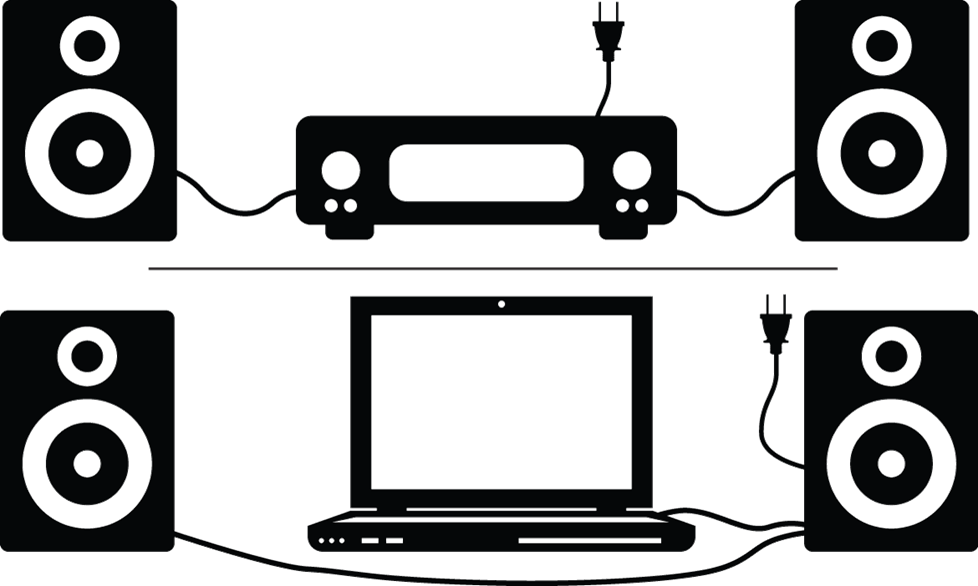 You can plug your computer or another music source directly into a set of powered speakers. It's a simple, space-saving alternative to a traditional home audio component system.
What do I need to consider when I'm choosing?
Wired or wireless system?
A wired connection is always rock solid and may sound better, but wireless is more convenient. Fortunately, it's becoming easier to find powered speakers that do both.
How loud do you want it to play?
A pair of smaller speakers may be plenty for your desktop system, but you'll want something a little larger if you're trying to fill the room. If you want the option to extend your system into other rooms, look at something like a Sonos system, or a Yamaha soundbar with MusicCast. For more information about powered multi-room speakers, read our article about wireless multi-room audio systems.
If you're headed outdoors, you'll need to make sure you have plenty of power, a larger speaker, and — most importantly — gear that is weather-resistant.
Where can I use powered speakers?
Powered speakers have many possible uses. Let's look at a few.
In the family room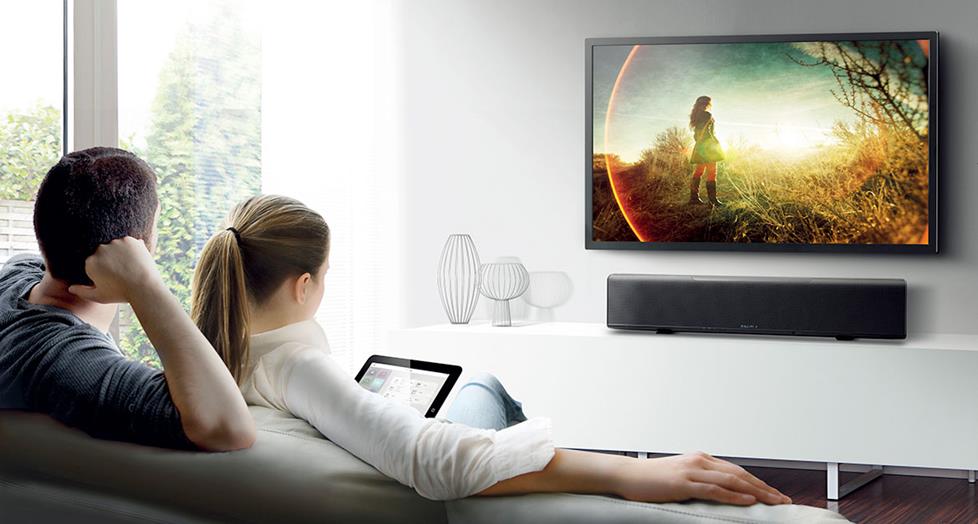 A sound bar is a powered speaker designed to enhance TV viewing. But many models are great for music listening, too.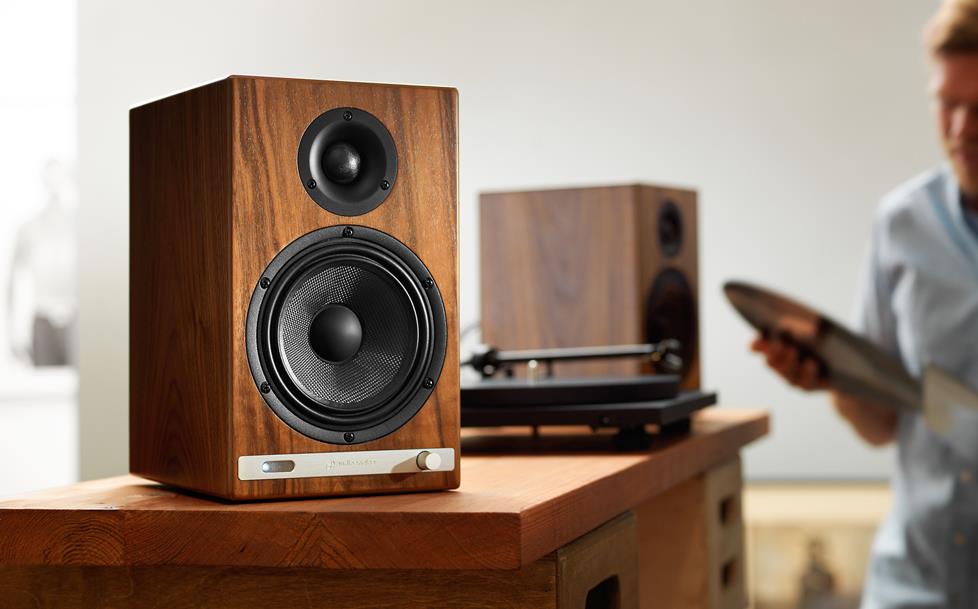 Audioengine HD6 powered bookshelf speakers can be used with just about any source — turntable, computer, or CD player. Or you can stream music via Bluetooth from your smartphone, tablet or laptop.
Music lovers looking for true stereo sound can now find serious hi-fi speakers with built-in amps, like the KEF LSX or the Audioengine HD6.
Wireless music at your desk
Some powered speakers are designed for near-field listening. That means they work best for an individual listener sitting close to the speakers. Anyone seated in the "sweet spot" gets a detailed, intimate experience that doesn't have to fill the room.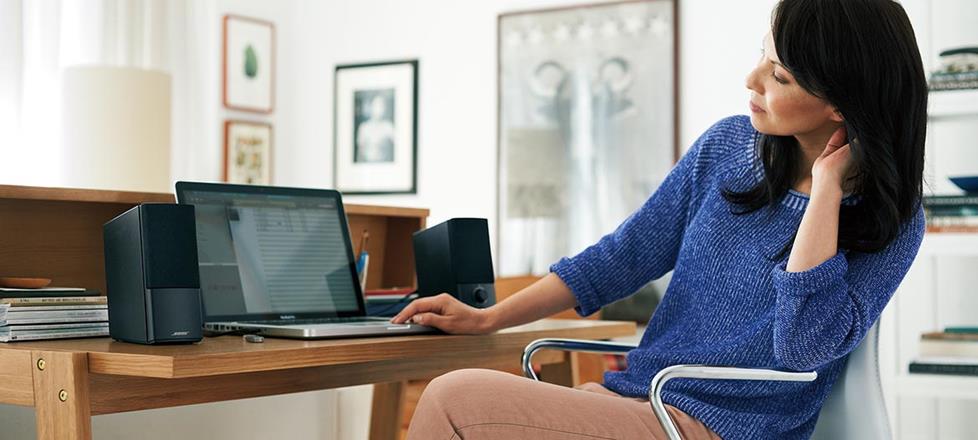 There are two categories of near-field speakers to consider: computer speakers, (like the ones show above) and powered studio monitors. Studio monitors are typically used by musicians and audio producers who need highly accurate sound.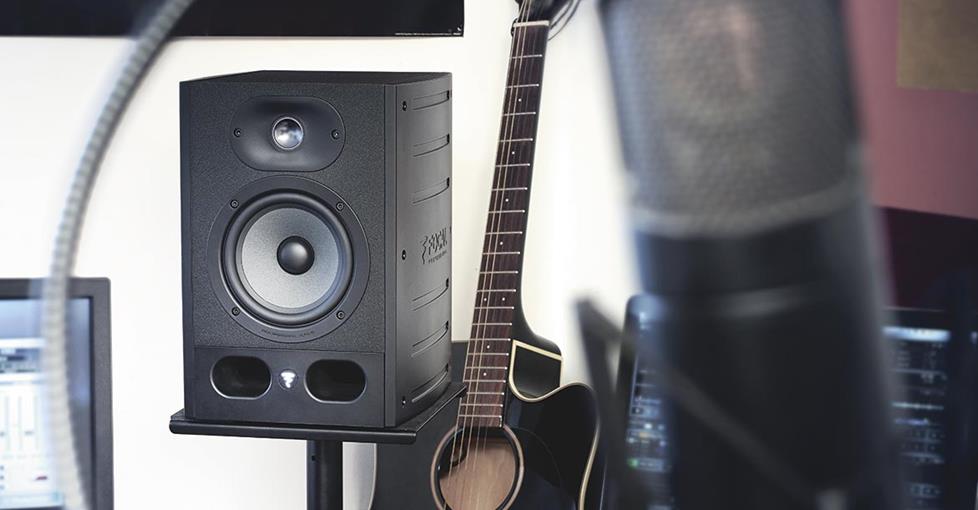 Because they come from the pro audio world, studio monitors use different types of connectors. You'll need a special cable or an adapter to connect a smartphone, tablet, or laptop (or a different one to connect a home audio component).
In a small apartment or dorm room
If you have limited space, and neighbors nearby, a small bookshelf system or stand-alone Bluetooth speaker can be ideal. A compact Bluetooth speaker like a Bose SoundLink Color can stream music at a reasonable volume, get louder if you need it to, and best of all, go with you when you're traveling.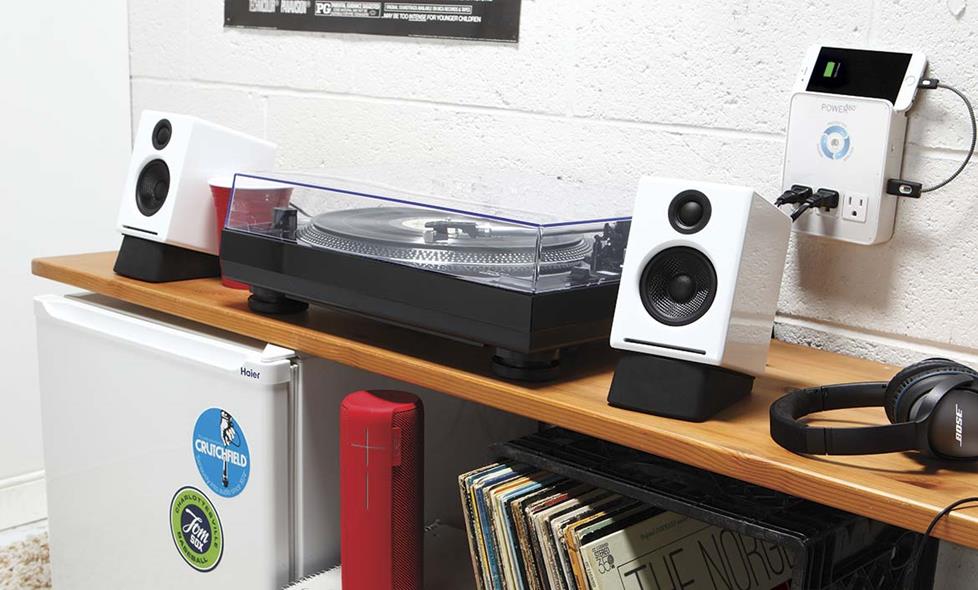 In your listening room
Choose a turntable with a built-in phono preamp, and you can plug directly into a set of powered monitors. You'll enjoy that warm vinyl sound without having to buy and connect a large system.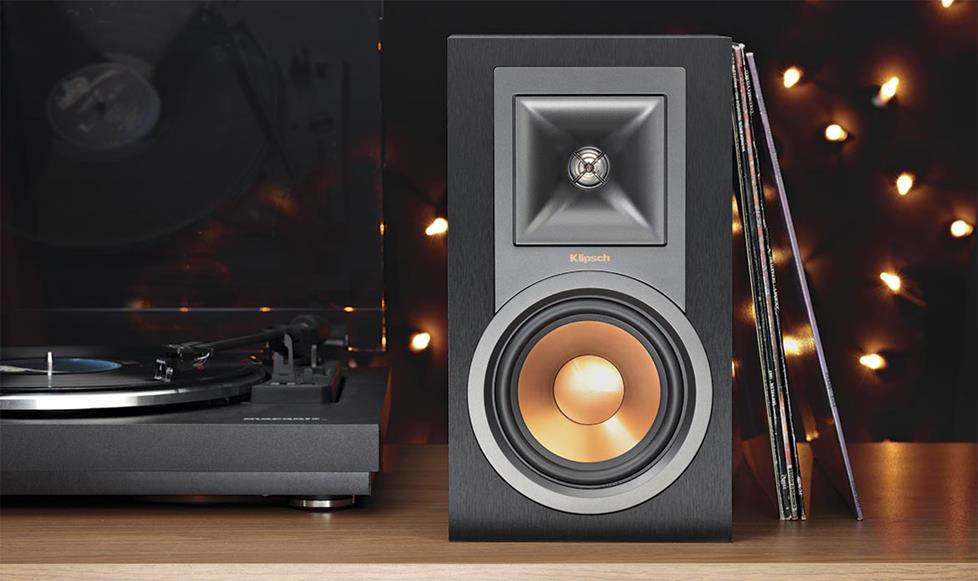 [Read more about how to enjoy your record collection: Create a super-simple record playing system]
Outdoors
BBQs, house parties, corporate picnics — any of these events becomes twice as fun with the addition of a powered speaker. You can try something reasonably-priced and easy to operate, like the Samson Expedition XP106w rechargeable portable powered speaker with Bluetooth® and wireless microphone. If you get a taste for providing event entertainment, look into building a portable live performance bundle.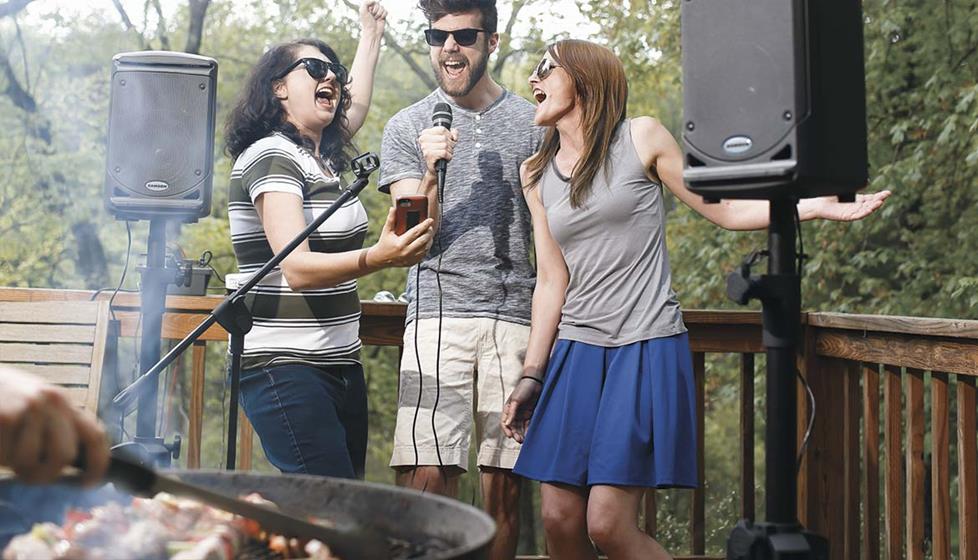 What else will I need?
Stands are important for getting the speakers at the right level to be heard properly, but they offer other advantages, too. A good set of stands can minimize vibrations that might cause your desk to rattle unpleasantly, or interfere with the smooth operation of your turntable.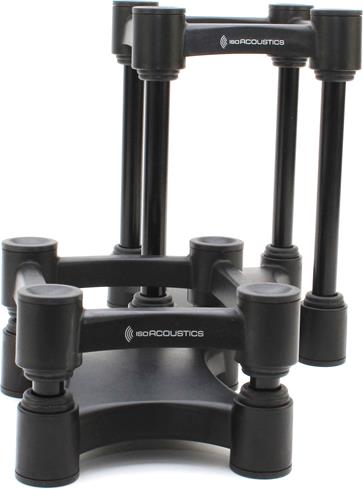 The IsoAcoustics stands eliminate the transfer of vibrations from your speakers to surrounding surfaces. And they raise your desktop speakers closer to ear level.
Need help choosing?
We know — it can be a rather bewildering array of options. Call a Crutchfield advisor at 1-800-555-7088 and let them help you choose the right powered speaker to suit your needs.