Pro camcorders buying guide
How to take your filmmaking to the next level
Heads up!
Welcome to this article from the Crutchfield archives. Have fun reading it, but be aware that the information may be outdated and links may be broken.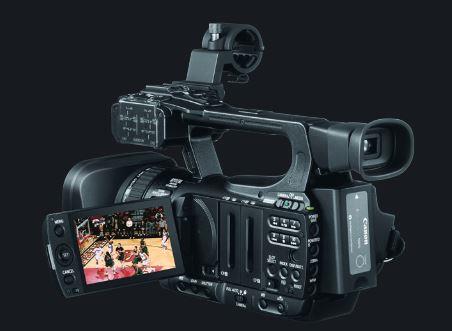 A professional video camera has all of the controls and connections you need to make high-quality videos for clients.
A digital camera with video capability or a standard HD camcorder will do the job if you just want to remember your vacation or record your baby's first steps. So why would anyone pay more for a professional grade camcorder? The key is in the word "professional." If you want to make money from your video efforts, you'll need the features a professional video camera has to offer.
Let's look at a few of the advanced features that set a professional camcorder apart from the herd.
Manual control
For amateur home video, you can always use autofocus, scene modes and other pre-sets to help get a clear image, even if you're not the next Orson Welles. For a professional shoot, you'll want to have direct manual control of each setting, so you can indulge your creativity and make the shot look exactly the way you imagined it.
Professional connectors
In a professional setting, the camera will often be connected to an outboard monitor and one or more microphones. Pro cameras are set up to make secure video connections via SDI (serial digital interface) or the next best thing, HDMI. For sound, XLR connections are the gold standard.
Recording formats
Consumer video and audio are typically compressed so that we can store a lot of files in one place. For a professional shoot, quality trumps convenience, so you'll want to make sure your camera uses a high-quality recording format.
Professional video cameras typically record in the AVCHD and MP4 formats. AVCHD is the higher-quality format that offers Blu-ray quality HD video. The more compressed MP4 format is commonly used for posting video on the web. MP4 is still fairly high quality, but it takes up less memory space on a hard drive or website. Cameras with dual memory card slots often record both codecs simultaneously.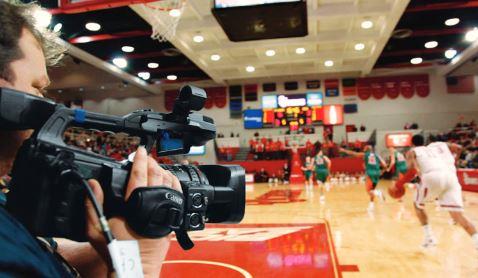 A professional camcorder can shoot HD video that's good enough for the local news.
Larger sensor
A larger image sensor allows for higher resolution and more detail. That's why professional video often looks more sharp and clear than amateur footage.
However, the sensor on a professional DSLR camera is frequently larger than the one on a pro video camera, so in some cases video experts prefer to shoot with the DSLR when possible. The larger sensor and easy access to interchangeable lenses allows a filmmaker to create a more "film-like" look on a budget. A DSLR may not handle fast panning as well as a professional video camera, and it definitely lacks the higher-end audio connections, but it's a tempting option for someone who's just getting started.
Image stabilization
Sure, you're shooting moving images, but not all movement is good. A professional camera will be able to record a steady, clear image even when the camera operator is in motion.
4k video is the next big thing
If you want to shoot video that will look spectacular on the next generation of screens, you'll need a camera that can record in ultra-high resolution. It's not a common feature yet, and editing 4K footage is daunting, but a few high-end cameras are getting ahead of the curve.
Great video needs great sound
We touched on this briefly above, but it bears repetition: professional quality video without professional quality sound is a waste of time. The ability to record high-quality audio is arguably the biggest benefit of moving up to a professional video camera. Pro camcorders typically have a serviceable built-in mic, but professional videographers use external accessory mics to capture full, rich sound.
The preferred standard for professional sound recording is the XLR or "cannon plug", which is incorporated into some high-end camcorders. This type of connector allows you to select just about any type of professional microphone, according to the needs of a specific shooting environment.
Another benefit professional video cameras tend to offer is a headphone jack. In a professional setting, it's a good idea to monitor the sound live, in the same way that you check the viewscreen to see how the video looks.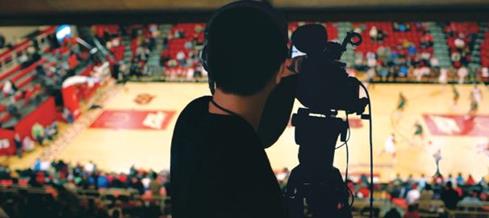 A good tripod is crucial for creating steady images with a smooth panning motion.
What else will I need?
A basic package of accessories will get you started. Then as you shoot, you'll discover what else you may need to match your shooting style. A good starter kit will include:
A sturdy tripod. This will allow you to place the camera where it needs to be, and keep the image steady. If you plan to be in the shot, you can do so while the tripod holds the camera for you. Choose a tripod with a fluid pan head so you can follow action smoothly. [Shop for tripods]
A larger monitor. The small screen built into most video cameras lets you monitor the action in a general sense. To see important details that may affect your final cut, an external monitor is necessary.
An external microphone. A shotgun mic will serve as a general-purpose option for capturing directional sound, but you'll also find clip-on lavalier microphones, wired and wireless dynamic microphones and other, specialized options. [Shop for microphones]
A Crutchfield advisor can help you compare the merits of consumer and professional video cameras, as well as DSLRs. When you're researching your options, give us a call at 1-800-555-9369 for knowledgeable guidance.