Projector screen buying guide
The right screen will help you get the best picture from your projector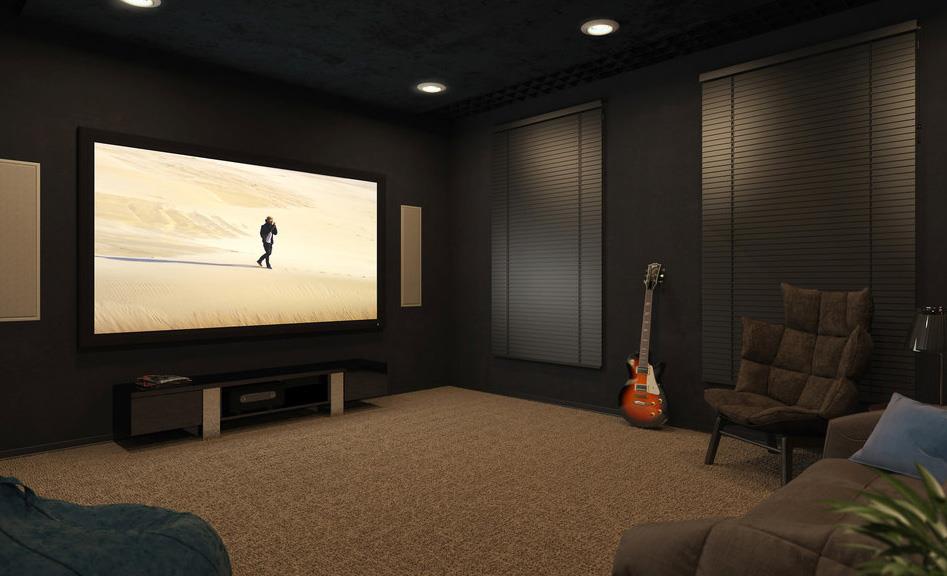 Projector systems can deliver truly life-sized entertainment, but you need to get the right screen for your projector and room.
If you care about picture quality at all, get a projection screen with your projector. You'll enjoy a much better looking picture than if you project onto a wall.
Why a screen works better than a wall
I've had a projector system in my basement media room for many years, and I love it. I use it for all my movie and concert viewing. The big, beautiful picture is mostly due to the projector, but the screen plays a major role, too.
Often, when someone gets his or her first projector, they'll skip the projection screen to save money, and simply project onto a wall instead. A good quality screen does add to the cost of a projector setup, but it improves picture quality and overall enjoyment so much that I consider a screen to be absolutely essential.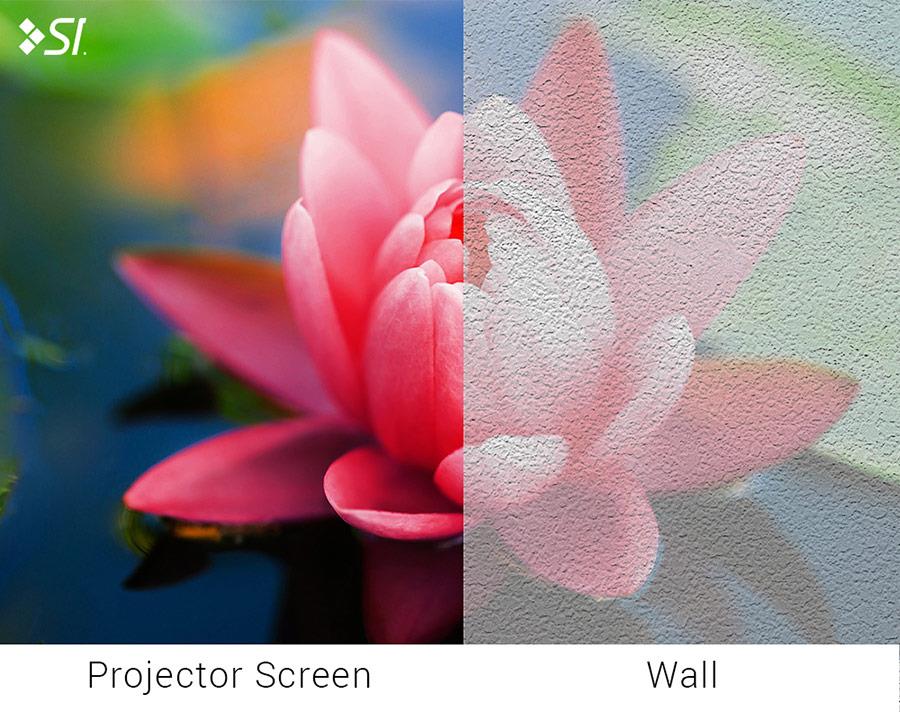 A projector screen's vinyl material and special coatings produce a smoother, more vibrant picture than projecting into a wall.
A screen ensures a smooth, crisp image
We carry a wide range of high-quality screens by Da-Lite, Elite Screens, and Screen Innovations. The screen material is vinyl, which ensures a smooth-looking picture. Special coatings are applied to the vinyl that change the way the projector's light is reflected back at viewers.
These coatings affect picture qualities like brightness, contrast, and viewing angle. Understanding a little about them can help you better match a screen to your projector and room.
Projector screens come in sizes that dwarf even large TVs. We carry screens up to 160"!
What size screen should you get?
When it comes to TVs we usually suggest going with the largest screen that will fit your space and budget. For projector screens, space is the main limiting factor. Because while there's a big price difference between a 60" TV and a 75", there isn't much difference between a 106" screen and a 120".
But I'm not suggesting that bigger is always better. Projecting too large an image may produce a picture with less than optimum brightness, or noticeable pixel structure.
The size of your screen will determine how far away you should sit for optimum viewing. For a 1080p HD projector, the general rule of thumb for viewing distance is 1-1/2 times the screen diagonal. So if your screen's diagonal measurement is 96" (8 feet), you should sit about 12 feet from the screen.
Another dependable approach is to multiply a screen's viewing height by 3. A 100" screen has a viewing height of 49". Multiply that by 3 and you get 147", which you then divide by 12, yielding at viewing distance of 12.25 feet.
If you have a 4K Ultra HD projector you can sit as close as one times the screen diagonal. That's much closer than most people are used to, but you when you sit closer you're better able to see 4K's finer picture detail and depth.
Of course, "ideal" viewing distance is very subjective. After all, in a movie theater, folks naturally spread out from the front row to the back, and everywhere in between.
We carry several sizes of each screen model, but if you don't see the exact size you need, don't worry. We now have the ability to custom order screens from Screen Innovations. For more information, give one of our advisors a call at 1-888-955-6000.
Two basic screen types: fixed-frame and retractable
There are really just two basic screen types: fixed-frame and retractable. A fixed-frame screen requires a large section of empty wall space, so it's most often found in dedicated home theaters.
Retractable screens roll up into a case when not in use. You can choose from inexpensive manual retractable screens, and fancier ones with a built-in electric motor to lower and raise the screen.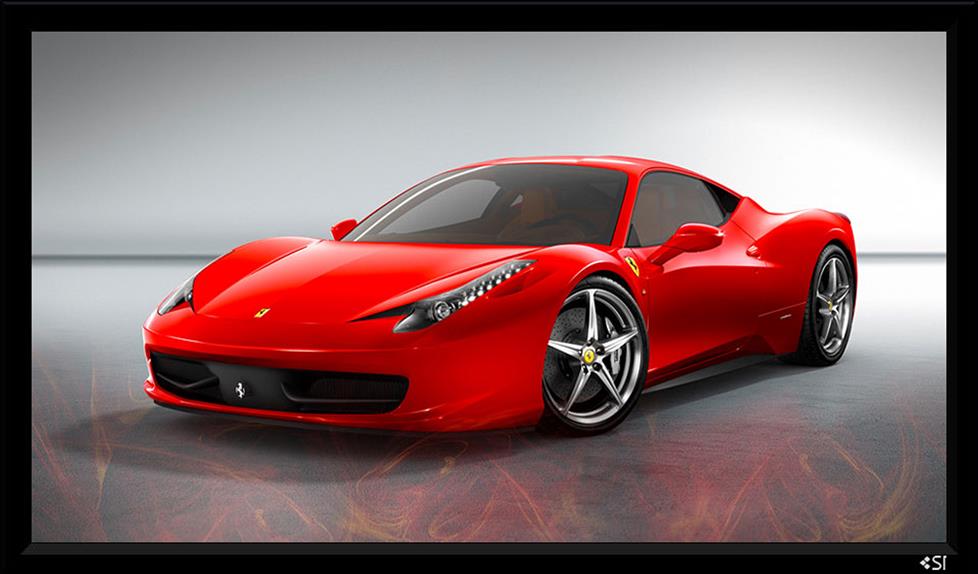 A fixed-frame screen is a great choice for a dedicated home theater. It maintains a tight, tensioned surface for a smooth image.
Fixed-frame
With a fixed-frame screen, the screen material is stretched over a metal frame. Because a fixed screen doesn't have to roll up and down, it can maintain a tight, tensioned surface for a perfectly smooth image.
Fixed-frame screens are also easier to install since you don't have to connect power to them. For a dedicated theater, a fixed screen is a great way to go. It's what I use.
Most fixed-frame screens have a thick frame covered in black velour. This border frames the screen in black, improving the perceived contrast of the image. Also, when you're setting up your projector, it's not always easy to make the image fill the screen perfectly. If a bit of the image spills over onto the frame, the black border material will absorb it.
Screen makers also offer fixed-frame screens with super-skinny frames measuring 1/2" or less. These screens provide the maximum size image for the amount of wall space required, and they also look cool, like a gigantic flat-screen TV. But with no thick black border to hide image overspill, you have to be extra precise with your projector adjustments.
Examples of these "edge-less" screens include Screen Innovations' Zero Edge, Elite Screens Thin or Aeon, and Da-Lite's Parallax Thin.
Our selection of fixed-frame screens includes models that ship pre-assembled and ready to mount to your wall, as well as unassembled screens that can be put together quickly with just a few basic hand tools.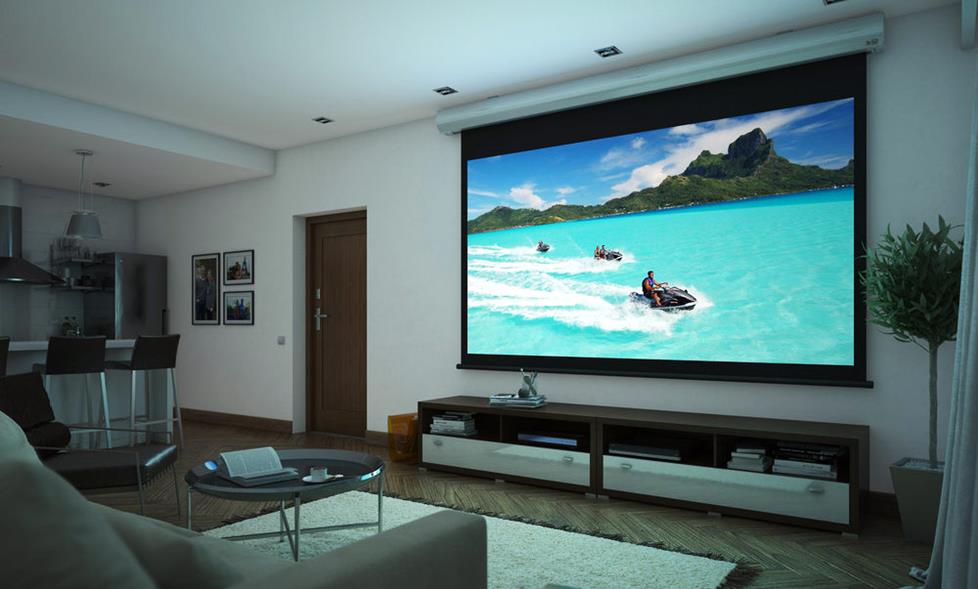 Motorized retractable screens are nearly invisible most of the time; they only come out to play when it's movie time.
Retractable — motorized
Not everyone is able or willing to devote a sizable chunk of wall space to a screen that will be blank most of the time — especially in a multi-use space like a living room or family room.
If you want a screen that's there for movie time, but out of sight the rest of the time, the most elegant option is a motorized retractable screen.
The screen rolls up into a long metal case you mount to a wall or ceiling. The case houses a powerful built-in electric motor that can raise or lower the screen silently at the touch of a button.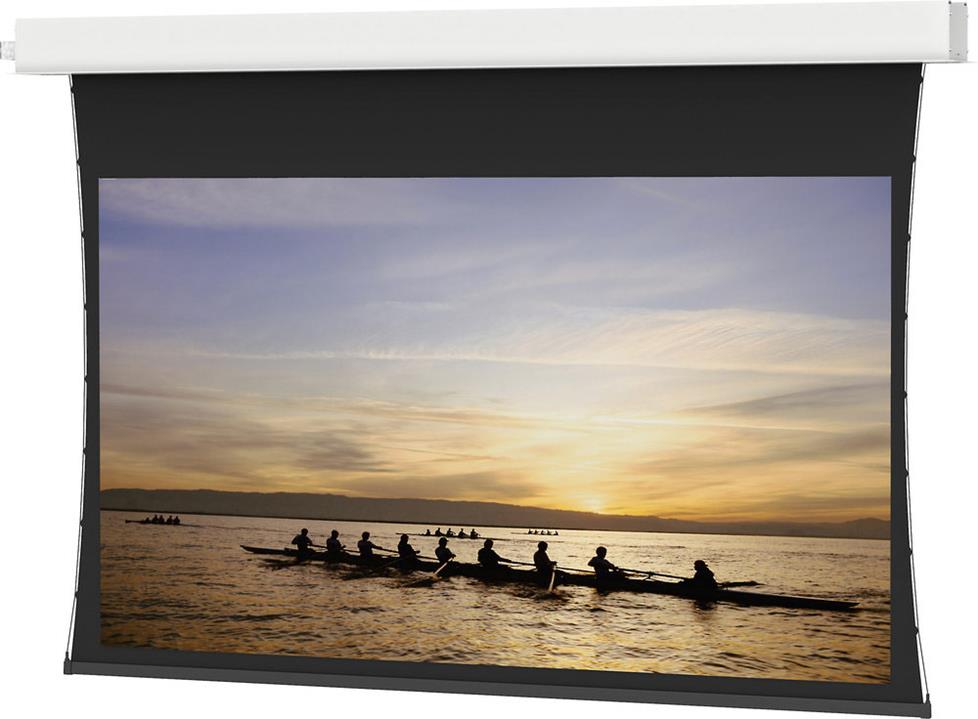 If you're looking at motorized screens, and picture quality is a top priority, consider a "tab-tensioned" model. These screens use a cable-and-tab system to exert constant horizontal and vertical tension on the screen surface, for a smoother picture.
Most motorized screens are classified as "non-tensioned" — the screen surface hangs freely from the case. Non-tensioned screen surfaces can experience minor ripples, waviness or imperfections.
"Tab-tensioned" screens, on the other hand, employ a cable-and-tab system to exert constant tension, ensuring a flatter, more uniform screen surface. Tab-tensioned screens are the highest performing type of retractable screen, coming closest to the image quality of a good fixed-frame screen.
Installing a motorized screen is a little more involved than for a fixed-frame screen because you have to supply power for the electric motor. Also, most motorized screens feature a trigger input so that the screen will automatically lower when you turn on your projector. That requires a low-voltage connection between the projector and screen.
Most people use their projectors for watching movies or sports, not for routine daytime viewing. So, a setup that's becoming popular is to have a wall-mounted flat-screen TV to watch during the day, and a motorized screen that lowers down in front of the TV for watching movies at night.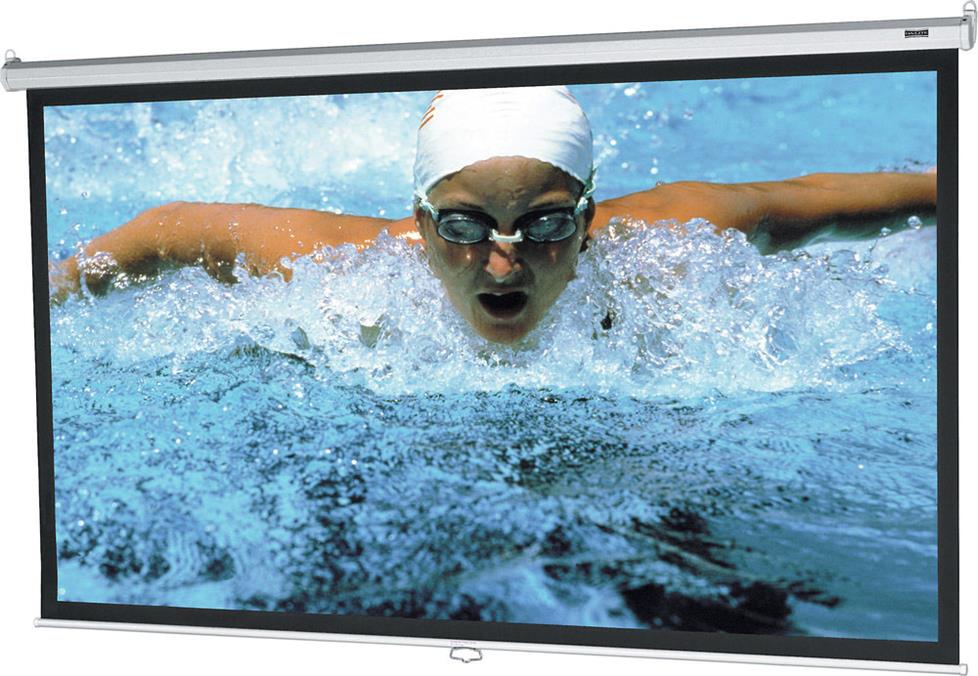 Manual pull-down screens are mostly used in schools and offices, but they can work in a budget home theater, too.
Retractable — manual
The cheapest and easiest-to-install projector screen option is the manual pull-down screen. A spring-and-roller mechanism inside the case rolls and unrolls the screen when you tug on it, much like an ordinary window shade.
Manual screens are mostly used in schools or offices, but they can be a good choice for a home theater if you're on a tight budget. The screen material and coatings don't match the quality of motorized screens, but your image will look much smoother than projecting onto a wall.
Choosing the right screen material
Once you've decided on the type and size screen for your theater, your next consideration should be which screen material. It's important because the material is where you can choose something that will work especially well with your projector and/or room. The screen material aspects we'll focus on are gain, color, and texture.
What is screen gain?
The amount of your projector's light that is reflected back at viewers is referred to as "gain." Higher gain means more reflected light and a brighter picture. Different screen coatings applied to the base vinyl screen material are how different gain values are achieved. Higher gain can help provide a brighter image with very large screens, or in rooms with significant ambient light.

Screen gain not only affects picture brightness, but also the viewing angle. Moving left to right in the illustration above, as gain increases, viewing angle decreases because higher-gain screens reflect the light back in a narrower, more focused band.
But of course, there's more to the story. As screen gain increases, the optimum viewing angle decreases. With high-gain screens, it becomes more important that viewers sit more directly in front of the screen rather than off to the sides.
Higher-gain screens can also suffer from negative effects like "hot-spotting," where part of the screen looks noticeably brighter. High-gain screens may also reproduce color and contrast less accurately than lower-gain screens.
Which screen color should I choose?
The color of your screen fabric mainly affects the contrast of the projected image.
White screens are the industry standard due to their brightness, while gray screens are better at handling darker tones.
Gray screens, also referred to as "high contrast" screens, were popular several years ago when projectors had poorer contrast capabilities than today's home theater projectors.
Gray screens also tend to be better than white screens at controlling the effect of ambient light, as gray screens reflect less light overall. However, gray screens require more powerful projectors to compensate for their darker whites and light colors.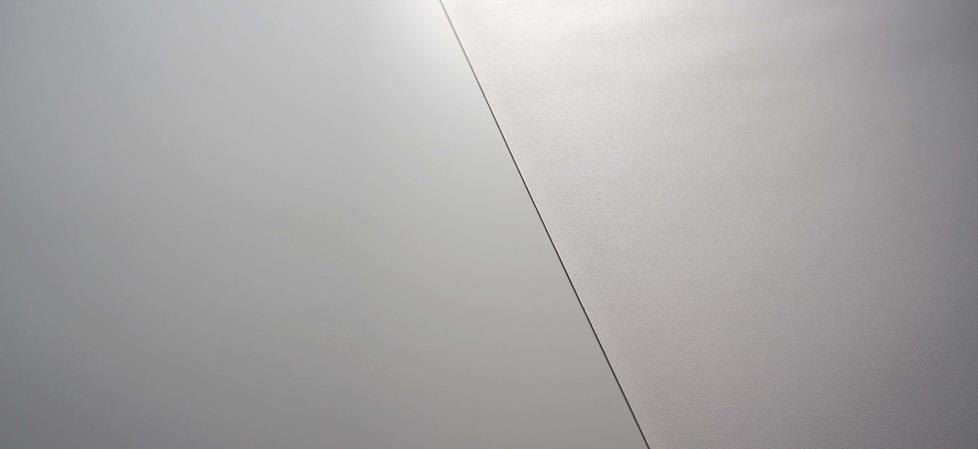 Screen Innovations' Micro Texture surface, left, is 9X finer than typical screens and makes an excellent choice for 4K video.
Screen texture: Important if you're considering 4K
Even the cheapest manual pull-down screen we sell has a screen texture that's smooth enough to provide excellent picture quality with high-definition video up to 1080p. But the smaller pixels of true 4K projectors and "enhanced for 4K" models require a screen material with a finer "grit" to show all the detail and depth. Screen Innovations' Micro Texture surface is 9X finer than typical materials and is an excellent choice for 4K video.
Screens for special applications
So far we've been talking about conventional projector screens. But we also carry screens designed to overcome specific challenges presented by some rooms.
Screens for rooms with lots of light
Projectors used to mainly be found in dedicated home theaters or "man caves." But in recent years, we've seen more and more folks putting projectors in living rooms and family rooms where movie-watching happens with at least some lights on.
Room light — whether from actual lights or coming in through windows — washes out the color and contrast in projected images, leaving them pale and lifeless.
Choosing a brighter projector, or a higher-gain screen can help, but screen makers have developed another very effective solution: ALR (Ambient Light Rejecting) screens. These use special layers and coatings that reject ambient room light and respond just to the light coming from the projector. These screens deliver vibrant images even with significant amounts of room light.
Screen Innovations has been a leader in this area. Their Slate® screens reject 65% of ambient light, while their flagship Black Diamond® screens reject 85% — compared to 10% light rejection for conventional screens.
Ambient light rejecting screens open up lots of possibilities for enjoying the big-screen projector experience in rooms that simply wouldn't work with a conventional screen. Check out the video below to see how light-rejecting screens work in a typical living room.
Screens that let you hide your speakers
Have you ever wondered where the front speakers are in a movie theater? They're behind the screen. Take a close look at a theater screen sometime and you'll see a pattern of tiny holes called perforations or "perfs."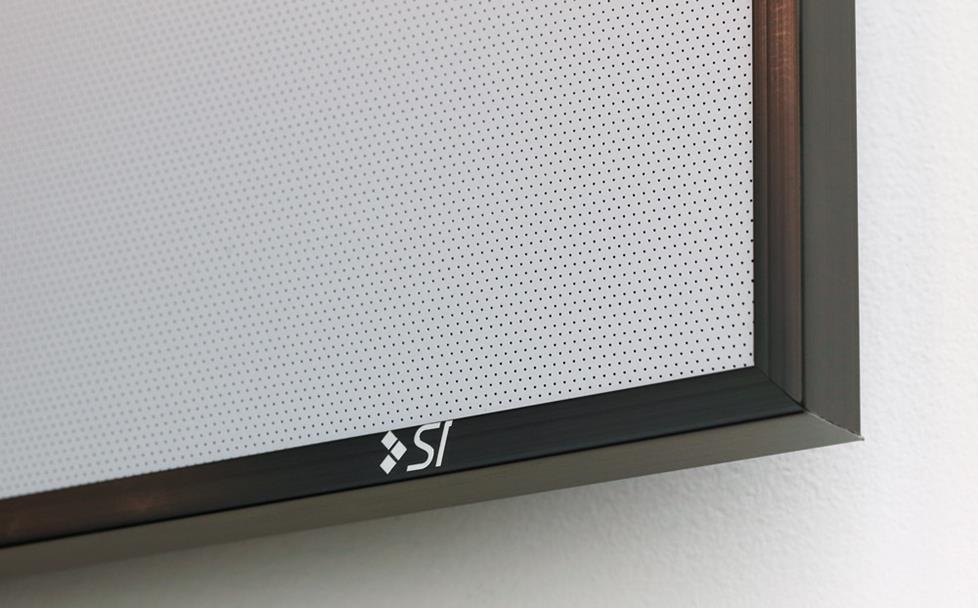 This acoustically transparent perforated screen fabric has tiny holes that let sound pass through, so you can install in-wall speakers behind the screen.
We carry a small selection of acoustically transparent screens, some perforated and some woven. The special screen material lets you install in-wall or on-wall speakers behind the screen and still enjoy excellent sound quality.
Besides avoiding the clutter of three free-standing speakers in the front of your room, having speakers installed behind your screen ties the sound to the picture seamlessly — just like in a movie theater.
outdoor screens
In response to the recent trend of outdoor movie nights, we've added some portable outdoor screens that are easy to set up and deliver sharp, vivid images.
Want more information or advice?
With so many different projection screen options available, it's easier than ever to enjoy the big-screen experience at home. We have recently partnered with Screen Innovations to offer the ability to custom-design a screen to match your specific needs. We have access to over 8,000 screens! If you'd like more information or some help picking out the right screen for your setup, give one of our advisors a call at 1-888-955-6000.