A quick review of the Escort Passport iQ
Radar detector and navigator all in one
Heads up!
Welcome to this article from the Crutchfield archives. Have fun reading it, but be aware that the information may be outdated and links may be broken.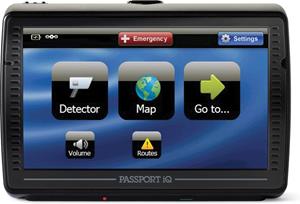 The Escort Passport iQ radar detector
I don't have a lot of first-hand experience with radar detectors, but I recently went on a trip out of state and thought I'd try the Escort Passport iQ where radar detectors are legal (which is most places that aren't Virginia or Washington, DC).
The Passport iQ is a bit bulkier than most current portable navigation devices, but you're getting a built-in radar detector (or are you getting a portable navigator built in to your detector?), so it's to be expected. However, the windshield mount was up to the task of keeping it secure, and the power cord was plenty long enough.
Using the navigation features on the Passport iQ was really intuitive from the start, and I was able to enter addresses and search for destinations easily. No issues with lost satellite signals, either. I did a quick search for a local post office and found it, but not after having to reroute after discovering a road was closed en route. The spoken directions were pretty easy to understand as well.
The main thing I noticed that was problematic was that the maps were slightly out of date for newer roads that had been recently built in Delaware and Pennsylvania, and that some of the speed limits that the navigator showed on its screen were lower than the actual posted ones in some areas.
It was quite helpful to know when I was approaching red-light cameras, though, even if one spot it told me was when I was on the interstate. It's very likely that the camera was on the intersection directly below me.
I didn't mess with the filtering capabilities of the radar detector too much, so I was getting a lot of alerts for automatic door openers as I traveled along a corridor heavy with large stores and malls. The detector did tell me which bands were detected, though, which was quite helpful. I didn't see any instances of laser being detected, but I also didn't have the Passport iQ positioned terribly high on my windshield; it was about halfway up, in the middle.
All in all, the Escort Passport iQ seems like a good alternative to buying two separate devices and cluttering up your dash. If you're on the road a lot and want to stay protected, this could be a wise investment.