What to Install in Your Mustang
Heads up!
Welcome to this article from the Crutchfield archives. Have fun reading it, but be aware that the information may be outdated and links may be broken.
You love your Mustang, and now you've decided it's time to do something to pep up the audio performance. You might be thinking about a complete system, or just replacing some of the factory components. Either way, it's good to know something about the specifics of your Mustang as you start your project.
Some sound solutions are simple. If your ride needs better bass, there's no better solution than adding a subwoofer. Subwoofers can be added to factory or aftermarket systems, and will give you the solid low frequency performance that you're missing. Powered subs, like
amplified Bazooka bass tubes
or the
Infinity Basslink
, are easy to install, and give you everything you need — speaker, enclosure, and amplifier — in one complete package. If you're custom designing your system, you'll choose your own subs, boxes, and amps.
If you want to maintain your Mustang's factory appearance, an external amp may be the solution. An amplifier will pump out more power to your speakers, for increased sonic energy and life. You can install an amp in an out-of-sight spot, so your classic car will keep the stock look you want.
"Brand name" receivers and speakers are popular choices when upgrading your car. "Brand name" speakers provide improved imaging, better highs and lows, and sharper detail. For most Mustangs, there are many high-quality models that will fit in your factory speaker locations. Combining your new speakers with the improved power and expanded capabilities of a high-powered aftermarket receiver is a sure recipe for better sound.
Any combination of these options will give you a sound system that you'll enjoy. To help you decide on what you want to do with your Mustang, we'll examine some of the issues you'll face. As you would expect with a car that's been around for almost 40 years, there are lots of installation options for the Mustang. Let's take a look.
The 60s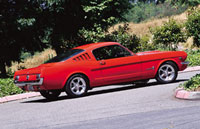 With its fresh new look, the Mustang was a trend setter in automotive design, but this didn't translate over to the audio system. The original pony car featured a basic set-up with a 4"x10" dash speaker, and simple AM radio.
Many Mustang owners will take advantage of special, custom-built equipment like that offered by
Custom Auto Sound
,
Metro Parts Market
, or
Branda Performance
(to name just a few of the vendors available). The factory 4"x10" speaker in the dash can be replaced by a set of dual 3-1/2" speakers to allow stereo playback. The stock receiver can be replaced with one of a number of special models designed to give a factory look in the dash. These often have tape players built-in and the option to allow you to hook up an external CD changer. You
can
have it all.
Some manufacturers build custom "stealth" units that can be hidden away in the trunk and controlled by a special wired remote — allowing the car owner to keep the stock radio in the dash. Sony also offers a wired remote control, the RM-X4S, that will operate a Sony in-dash receiver mounted in a remote location.
The 70s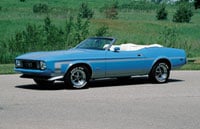 The audio setup of the 1970s Mustang evolved several times, reflecting changes in the style and look of the car. In 1974, Ford stepped the Mustang up from the single 4"x10" in the dash to a pair of 6-1/2" speakers in the doors. In 1979, the Mustang switched to the long-lived combination of 3-1/2" speakers in the dash with 6"x8"s on the rear deck. The improved speaker layouts give owners of 70s-era Mustangs more options to improve the audio performance of the car by simply swapping out the factory speakers. New receivers can be added into the dash, although some trimming of the dash panel is necessary. One key thing — if you're installing a new aftermarket receiver into your 1970s Mustang, you'll have to replace the speaker wiring. Even into the 1980s, Mustangs used "common ground" wiring in the speaker hookups. This worked well with the low-powered radios of the time, but new, high-powered aftermarket receivers need either new wiring or a special "step down" adapter that drops the receiver's power to a level the wiring can handle — about 5 watts per channel! If you're looking for the best performance, take the time and pull the wire.
The 80s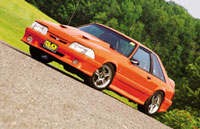 Starting in 1984, select Mustangs used an amp, separate from the in-dash receiver's amp, to power the back speakers. If you install a new receiver in these models, you'll need to either bypass the amp, or purchase a special adapter that allows you to continue to use it. If you want the best performance, bypassing is the best way to go. Aftermarket receivers have considerably better internal amplifiers than the external one installed in the Ford; your sound will be much better when you bypass the stock amp.
If you're confused about whether or not your particular Mustang has an amp, Crutchfield can help. Just give one of our expert Product Advisors a call at
1-888-955-6000
. If you know your Mustang's system layout, go to
Crutchfield.com
and click on the "What Fits My Car?" tab. Plug in the particulars about your car and our on-line Vehicle Selector will sort through the entire lineup of components to show you what receivers and speakers will fit the factory locations.
In 1988, the speaker layout for the Mustang was updated, with some models featuring 3-1/2" dash, 6-1/2" door and 6"x8" rear deck speakers as an upgrade from the 3-1/2" dash and 6"x8" rear deck configuration. Installation of a new receiver in the six speaker models involves bypassing the amplifier. If you purchase the receiver from Crutchfield, we'll provide a bypass harness for free. The models with four-speaker systems have no external amp.
The 90s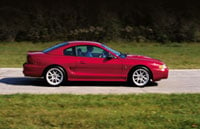 As we saw in the 1980s, some 'Stangs in the 90s were equipped with upgraded factory systems that have external amps. If you want the best possible sound, bypass the amps and use your new receiver's power.
In 1995, Ford introduced the Mach 460 sound system. The system features three separate amplifiers, driving a total of eight speakers. Four 6"x8" woofers located front and rear drive the bass and mid-bass, with four tweeters, also front and rear, handling the highs. Integration of new equipment into a Mach 460 system can be complicated. New receivers can be installed and connected with the use of a special adapter that allows you to continue to use the existing amps and speakers. Speaker replacement is problematic, since aftermarket 6"x8" speakers are usually full-range speakers. If you're thinking about a complete change of the in-dash receiver and speakers, it's best to rewire directly from the new receiver to the new speakers (or from an aftermarket amplifier to the new speakers).
If your Mustang doesn't have the Mach 460 system, installation is much less complicated. These cars do not have the separate woofer/tweeter speaker set-up that you'll find on the Mach 460-equipped vehicles. You can install 6"x8" speakers front and back, and plenty of aftermarket models are available that offer vastly-improved sound and a direct fit. Some Mustangs without the Mach 460 system (particularly 1996 and up models with cassette) do have amps; your options are similar to what we saw in the 1980s — purchase an adapter or bypass the amp (an easy proposition with a
bypass harness
.
The 21st Century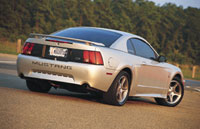 Since 2001, the Mustang sound system has been easy to categorize — you either have a Mach 460 system, or you don't. If you've got a non-Mach car, and want to change the system, you're the lucky one! Aftermarket receivers and speakers are easy installations in these vehicles. The speaker set up is 6"x8" front and rear, and you won't have to contend with any external amps.
One common misconception among Mustang owners concerns the size of their factory receiver. Since 2001, Ford has used a large-faced (4" x 7") receiver in these vehicles — similar in size to the "Double-DIN" aftermarket receivers common in Japanese cars. Because of the way that aftermarket receivers are mounted in the dash of the Mustang, it's best to consult a professional installer before attempting this installation. The standard "DIN" size (2" x 7") aftermarket radio is easily installed with a mounting kit.
2001-and up models with the Mach 460 system are best either left alone or completely replaced, since the speaker setup is the same as in the 1995 and up models. Additionally, there are no adapters available for adding aftermarket receivers. If you don't like what you have, it's best to change the whole thing — amps and all!
Many Mustangs — Lots of audio options
The effort of upgrading the sound system in your Mustang is well worth it. Even with wide variety of audio systems Ford has used in this car, there are many different ways to improve the sound, most of which are easy jobs for the driveway mechanic. There's no need for you to hold back — jump in, and soon you'll be enjoying great sound to go with your great car.