RIVA Turbo X review
This rock-solid wireless speaker is no lightweight in the sound department
Heads up!
Welcome to this article from the Crutchfield archives. Have fun reading it, but be aware that the information may be outdated and links may be broken.
I've heard my share of Bluetooth speakers, but the RIVA Turbo X is definitely a cut above most. About the size of a brick and weighing in at a hefty three pounds, the Turbo X is great if you're looking for a portable wireless speaker that can put out lots of sound.
I took the Turbo X home to try out. Out of the box, it was charged up and ready to go. When I powered it on, a friendly British voice emanated from the speaker to tell me that it was in pairing mode. The voice prompts also let you know when your Bluetooth device is wirelessly paired with the speaker – a nice touch.
I used my smartphone to play Spotify playlists through the Turbo X. When we had friends over, it provided background music on our screen porch. I didn't come close to maxing out the volume.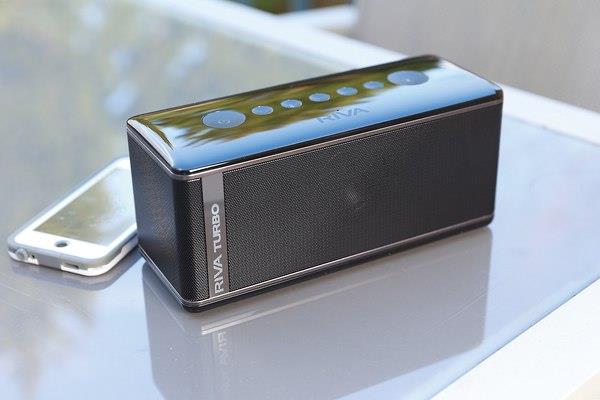 Play music wirelessly from your smartphone with RIVA Turbo X.
Before guests started arriving, I sat and listened for a while. I was impressed by the clarity and dynamic punch this Bluetooth speaker offers. The sound is also rather spacious for such a compact speaker. On "Unknown Legend" by Neil Young, I was surprised by how lush the backing vocals in the chorus sounded. Vocal clarity in general was excellent – the Turbo X has a real knack for putting them front and center.
Later, I brought the Turbo X inside to see just how loudly it can play. Wow. Much of its three-pound weight must be dedicated to amplification for the three built-in drivers. This thing can crank. And if you're at maximum volume and still need more, activate "Turbo" mode, for an EQ boost that takes the volume level even higher. It's probably ideal for a tailgate party at a football game, but way too loud for any room in my house.
This speaker also does bass really well. The latest album from Alabama Shakes, Sound and Color, sounded rich and full in the low end. Placing the speaker on my kitchen counter in the corner accentuated it, but the bass was prominent even sitting out on a table in the middle of my dining room.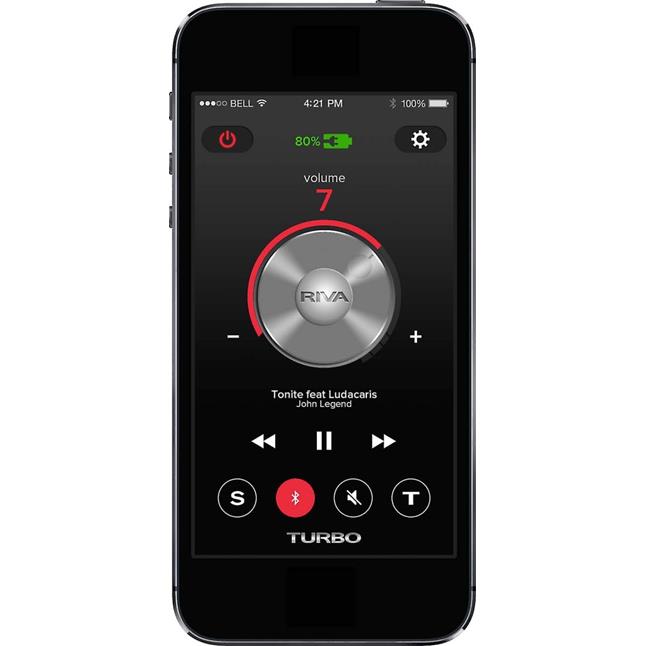 The free RIVA Ground Control app lets you monitor battery life, control the volume, and activate Turbo and Surround modes.
The Turbo X also has a built-in microphone, so you can use it as a speakerphone. I tested it out with my kids by calling their mother who was out of town for the night. The clarity of her voice was far superior to my smartphone, and it was great to all be able to talk at once instead of passing the phone around.
I also loved the long battery life of this rechargeable speaker. It can last up to 26 hours, which is important if you're taking it out of the house and away from power outlets. No reason to fear a stoppage of music with that much battery power.
Another cool feature is the free app for your phone or tablet. It lets you activate Turbo or Surround mode (for more spacious sound) remotely, as well as adjust the volume of the speaker. My favorite feature of the app is that it will tell you exactly how much battery life you have left. No more guesswork as you're getting ready to leave the house and unsure if the battery is almost dead.
If you're looking for a portable wireless speaker that doesn't skimp on sound – in quantity and quality – the RIVA Turbo X is a great choice.