Sennheiser HD 700 headphones review
High-performance sound from a top contender
Heads up!
Welcome to this article from the Crutchfield archives. Have fun reading it, but be aware that the information may be outdated and links may be broken.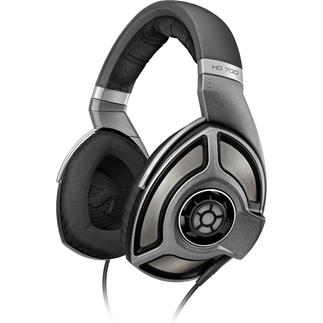 Sennheiser's HD 700 headphones excel at clear detail and wide-open sound.
A welcome assignment
As a new writer for Crutchfield, I anxiously awaited my first opportunity to write a product review. My second day on the job, one of our resident headphone aficionados, Woody Sherman, suddenly appeared with an assignment. He held out a large charcoal-colored box with Sennheiser embossed on it and asked if I was interested.
I could barely contain my excitement as I slowly lifted the lid. Sitting inside, comfortably nestled in soft foam molding, were the Sennheiser HD 700 headphones. I couldn't wait to get these things home and on my ears.
No iPods® allowed?
Pretty packaging aside, these headphones are gorgeous, and they feel great. Very light compared to many over-the-ear headphones, and the cups fit comfortably over my ears. The headband is flexible and kind to my head, not clamping down on my skull like a pair of vice-grips.
Of course, they ought to be comfortable. After all, these are $1,000 headphones. They are certainly not designed to stuff in some bag on your way to the subway, where you will yank them out and plug them into your smartphone.
And by the way they packaged them, Sennheiser sends a clear message: these headphones are finely-tuned instruments of audiophile enlightenment—don't you dare plug them into your puny little iPod. And don't even bother looking in the box for a miniplug adapter because it's not there.
So, naturally, I popped an minplug adapter onto the HD 700's plug and shoved it into my 120GB iPod classic®. But I'm no philistine, so I pulled up some lossless files to put the HD 700 through its paces.
Headphones that sound like speakers
I will admit, the HD 700s were a bit harsh on my ears at first. But that is not uncommon for me with highly detailed headphones. My ears need time to adjust—and once they did, I was able (and very willing) to listen for long periods without fatigue.
My first listening impression was that these are highly transparent headphones. If it's not in the recording, you don't hear it. I also got the feeling that I was listening to speakers rather than headphones. Part of that is due to the neutrality of the headphones' drivers. Headphones tend to sound…well, they sound like headphones. They typically have a more distinct sound signature. These are not only highly neutral (if anything can be "highly neutral") but the drivers are angled toward your ears to mimic the spatial sound quality of good speakers. Their remarkable openness further gives the impression of listening beyond the confines of your head.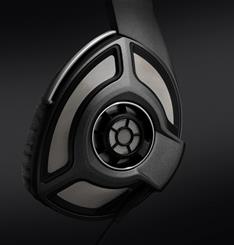 A wide soundstage with amazing detail
The spatial aspect of the HD 700s was incredibly vivid with my lossless digital files. "Rocking Horse Road" by Elvis Costello was beautifully painted across the broad soundstage, each instrument standing out clearly with the vocals untainted by the drums and guitar.
The percussion on Stevie Wonder's "Don't You Worry 'Bout a Thing" was bright and lively with a texture I had never heard before. The detail of these headphones is very impressive, and I found the mid-range to be perfectly balanced, lending just right amount of warmth to the glorious high frequencies.
So what about the bass? I found it extremely tight, without the slightest boominess. But how low could it go? Time to bust out my ultimate low-end litmus test: "Excursions" by A Tribe Called Quest. This song has a very low rumble underneath the drum track. With the HD 700 it was definitely there, but it was not earth-shaking. Playing more rap and hip hop revealed the controlling nature of the HD 700: it will not let the bass run roughshod over the rest of the recording. Perhaps these headphones won't perform well with bass-heavy music, but more on that later.
A powerful headphone amp for a transcendent performance
Of course, the iPod is far from the ideal device with which to drive audiophile headphones like the HD 700s. To really hear what they are capable of, you need a high-quality headphone amplifier. Fortunately, I was able to pair the HD 700s with Musical Fidelity's M1HPA, a robust class-A beast that looks incredibly cool sitting on my desk. I hooked it up to my aging Sony CD carousel to find out just how much difference the M1 makes with these already great-sounding headphones.
As it turns out, quite a bit. The M1 takes the HD 700s' already impressive soundstage and blows it wide open. Instruments that previously sounded more forward are moved further to the sides. On "Our Prayer/Gee" and "Heroes and Villains," the opening tracks from Brian Wilson's Smile (2004), the backing vocals are more spread out, their edges sharpened and percussive, letting Wilson's lead vocal stand out even more. There was a definite sense of moving from hazy to high-definition in comparison to the same track played in lossless format from my iPod.
"Handshake Drugs" from Wilco's Kicking Television: Live in Chicago yielded similar results. After adding the M1 amp, each instrument took shape on the massive soundstange, allowing Jeff Tweedy's vocal to come through with a level of detail I never heard—and this is a track I've listened to dozens and dozens of times. Those previous listens now seem flat, as the HD 700 and M1HPA have elevated my experience to the aural equivalent of 3D.
Low-frequency response may leave bassheads wanting more
As mentioned earlier, my only concern about the performance of this headphone/amplifier dynamic duo involved bass response. I wanted to see what the amp added to the mix. Wilco's live version of "Jesus, Etc.," normally plagued by booming bass echoing through the hall, was transformed. Suddenly the bass was under control yet still powerful, making that performance much more listenable for me.
But as I switched to Q-Tip's Renaissance album, the amp/headphone combo did not deliver the bass impact that I need from those songs. The same result applied to Rage Against the Machine's "Bulls on Parade." I started to think the HD 700 just doesn't work with rap, hip hop or any music dependent on groove you need to feel more than hear.
But Paul's Boutique by the Beastie Boys was a revelation. There is some deep, powerful bass on that album, notably on "Shake Your Rump" and "Eggman," and it really came through with a great deal of punch and heft.
I moved to a recent Lou Reed track, "Paranoia Key of E," which features some strong fuzz-flavored bass. It sounded fantastic, deep and powerful without dominating the other instruments. Both guitars were spread out to the sides, while the bass and drums happily coexisted in the middle, driving the song. Obviously, in the production booth, not all bass is created equal. Headphones as revealing as the HD 700 will reward you for seeking out well-produced recordings.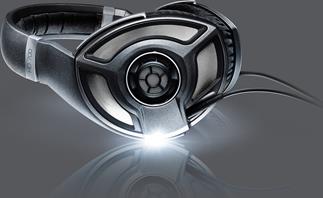 Too much instrument separation?
There were times when I found the ultra-wide soundstage to be less musical. For instance, on "Orbits" from Miles Davis's Miles Smiles album, the opening melody, played note-for-note in tandem by Davis and Wayne Shorter, sounds a bit fractured because of the instrument separation. Typically their tones blend together, but with the HD 700s and M1 their separation detracted a bit from the performance.
Similarly, Prince's doubled slap-back vocal effect on "Pop Life" was separated to the point of distraction. I had noticed this before on my everyday headphones, but it was particularly prominent with the HD 700s.
The bottom line
But those examples aside, I found the HD 700 headphones to be tremendously revealing, transparent and a great deal of fun. I listened for hours both with and without the M1 headphone amp. And while I found them very good directly out of my iPod (even with lossy files), the M1 took them to a new stratosphere of detail and clarity.
If you are a card-carrying basshead, these headphones are probably not going to give you the performance you are looking for. So you have to ask yourself, what's more important: feeling the bass rattle your skull, or clearly hearing every note the bass player plucks, slaps or picks? If you're willing to give up a little rumble for incredible clarity, the Sennheiser HD 700 headphones will open your ears to a new level of listening.