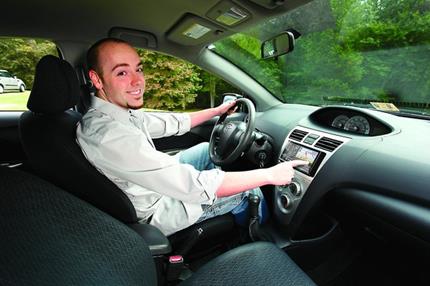 Duke loves his new Sony XAV-701HD receiver, which fits seamlessly in his dash.
Crutchfield advisor, Duke, drives a 2008 Toyota Yaris. While its size and gas efficiency make it great for road trips and long drives, its factory system doesn't do him any audio favors. And when one of his back speakers blew, he figured it was the perfect time to address his sound system. With a friend's help, he installed his new stereo setup himself.
Items installed:
Q&A Section
Why did you decide to upgrade your A/V system?
Though my work commute isn't long, the droll of a CD or two on repeat certainly got old. On a longer drive, the radio is never consistent or decent. With a new system, I'd have plenty of tools to get the audio sounding good, while making sure I wasn't leaving the musical details at home. Whether high-range instruments, electronic bass, or much of the in-between, I've got it all covered now.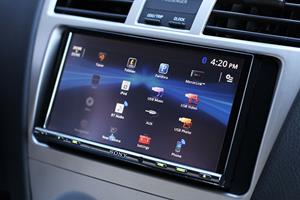 Sony XAV-701HD DVD receiver
What's the first thing you show people about your installation?
I usually show people the radio first. My dash and gauges are pretty unique and the seamless look, feel, and install with the Sony makes it appear as though it was always there. My friends have fun with the background theme playing but are generally amazed at how easy I can get good sound from a CD, hidden iPod/USB, or just straight off my phone.
People notice the tweeters and how integrated they are—like there were meant to be there. While something is still playing (hopefully a pretty heavy track), we step out and survey the trunk. The sub is usually doing what it does best, but the fact that all of the gear is attached to the enclosure and the wires are hidden adds a layer of sophistication. It also helps preserve space in my main storage area.
What do you like about these products in particular?
The Sony XAV-701HD offered everything I needed on a sound platform (Bluetooth connectivity, HD Radio tuning, iPhone input, etc.) while also catering to everything I wanted (7'' display, symmetrical look, custom colors). The 7-band EQ let me tailor the sound just the way I want along with other features (tight alignment, frequency filters, etc.) to dial in the best listening experience for me and the main sound stage.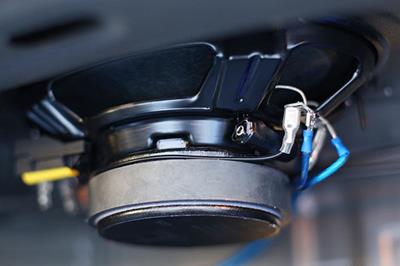 Sony 6x9 mounted in the rear deck
The speakers (component and 6"x9") offer better imaging while hitting all the right notes. When you give them the right tools (that is, plenty of power and good tuning) as well, they really come through no matter if I turn it up loud with the windows down or keep the volume low with the windows up and heater on. Add in a tight, colorful subwoofer and I'm touching all the sound points with just the right amount of authority.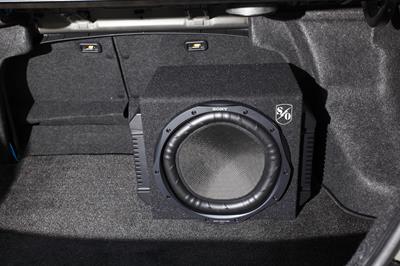 Sony subwoofer with the amps mounted on the sides of the box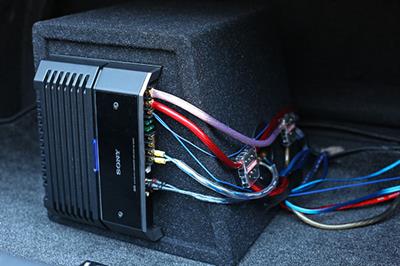 Sony amplifier and wiring
What was the most difficult part of the installation?
For me, running the wires was tedious to get them as discrete as I wanted. It would have been a major headache, though, if I hadn't used our handy-dandy Wire Worm. I wanted the installation to be nice and clean, and that meant no loose wires, visible connections or a jumble of mess in the trunk.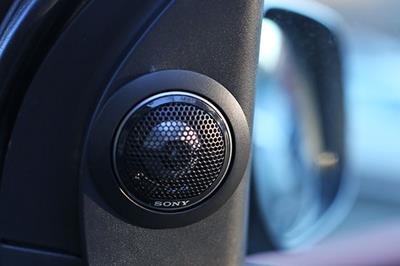 Custom-installed Sony tweeter
Beyond that, the sail-panel installation of the tweeters presented a tough challenge. Since we were cutting holes in the door panel to flush mount the tweeters, we really had only one chance to get it right. Luckily, I had the right tools and a helping hand to make sure it was all sized up before making the cut.
While tuning is ultra important, it does take some real time and effort. Making the curve a "smiley" face or raising the levels all the same doesn't cut it when you're trying to maximize the speakers characteristics while making up for any deficiencies caused by the car's interior.
What plans, if any, do you have for future upgrades?
While it sounds pretty solid right now, I could continue to improve the overall cabin quality with more Dynamat (we used the speaker kits to help firm up the front door speakers and a touch more to prevent rattling on the rear deck). Beyond that, I'm totally ready to take point on our next multi-state road trip (and probably plenty of shorter-destination outings in-between).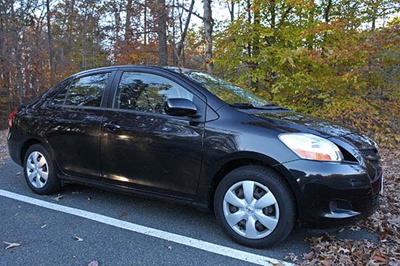 Duke's 2008 Toyota Yaris
---
Vehicles in the Custom Car Showroom are submitted by customers and fans, and edited by Crutchfield writing staff. You can find more of these articles on the Showroom main page.