GPS trackers and activity monitors keep your pet safe and healthy
Track your dog's location and how much it exercises
Heads up!
Welcome to this article from the Crutchfield archives. Have fun reading it, but be aware that the information may be outdated and links may be broken.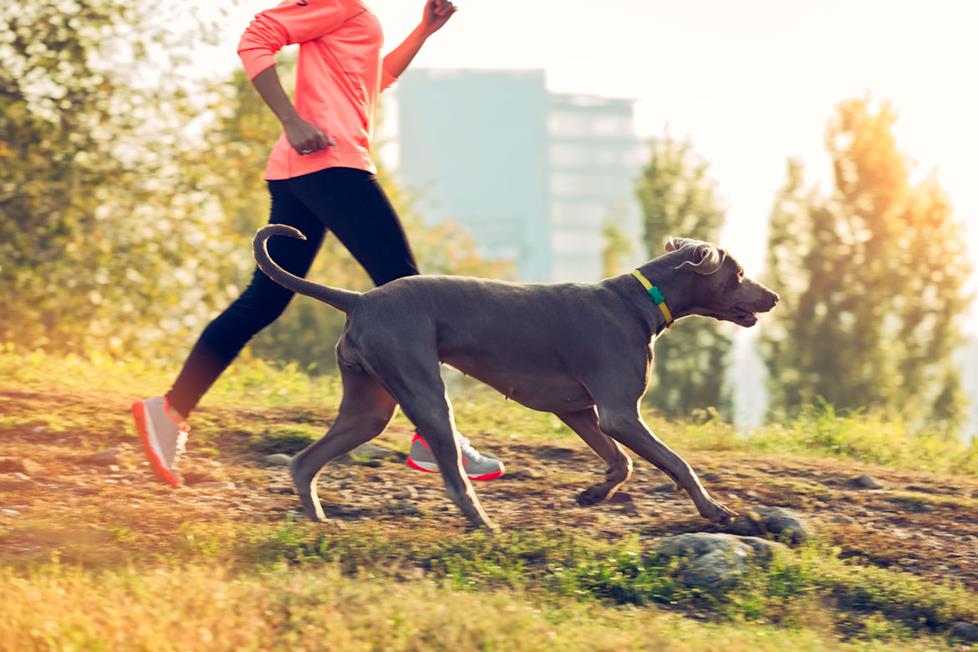 Wearable trackers help you and your pet stay healthy and stay together.
We humans use GPS to find our way, and fitness trackers to optimize our daily health routines. Now, we can do the same for our beloved pets.
I only remove my dog's collar to dry it off after he's taken a spontaneous dip in the lake, or to keep it dry during a planned B-A-T-H. It's the one item of "clothing" he has on him at all times.
If he gets lost, the metal tags clipped to the collar inform anyone who finds him that my dog has been vaccinated, and how to reach me so I can retrieve him.
Wearable technology can transform that durable strip of fabric into an interactive information center that can help plan your pet's mealtimes, when and how often she exercises, and help you reunite if you get separated.
Let's take a look at how these amazing devices work, so you can choose the one that works best for you and your best friend.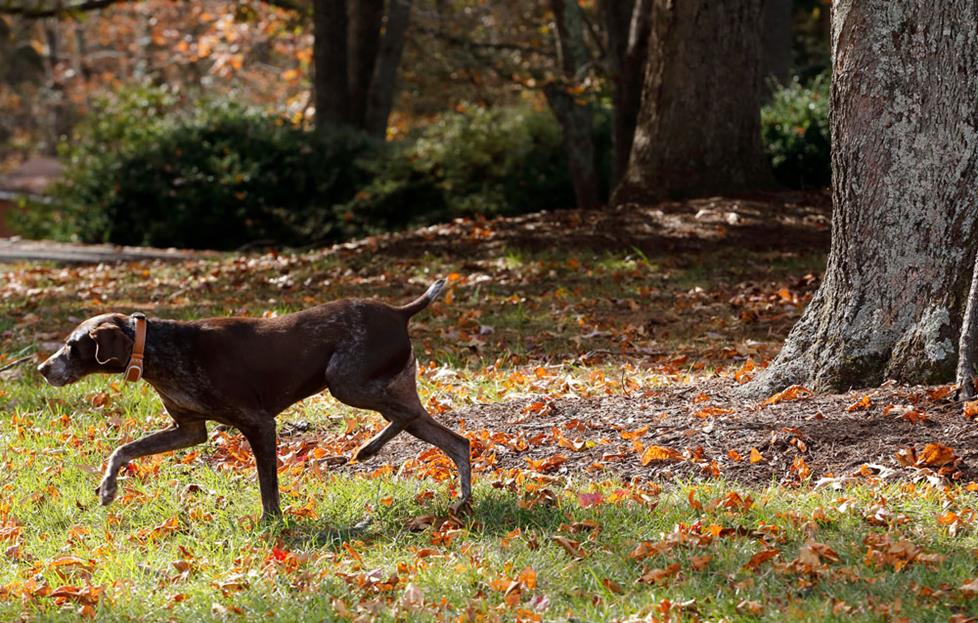 Your pet's tracker should be durable, water-resistent, and comfortable to wear, like this Link AKC smart collar.
What to look for in a dog GPS tracker or dog activity monitor
Before we start, one of the first questions we usually hear is "Is there one product that does both?" The answer is yes. Link AKC is an award-winning smart collar that combines a robust dog activity monitor with a subscription-based GPS tracker that also features an ambient temperature sensor, training tone, and LED light. It's hugely popular.
When choosing a tracker, it's important to remember that the one you choose will become part of your pet's daily life — you'll want it to be comfortable and durable, and heck, maybe even kind of cute.
First, you'll want to know how the device attaches to your pet's collar. A few models actually provide an entire collar, but most clip around the fabric of your pet's existing collar, or attach to the metal rings on the buckle.
Durability is key, of course. We'd be surprised if any on the market today were not waterproof, but it's always worthwhile to make sure.
Also, consider the size and weight of the device. If you have a dog that fits in your handbag, his wearable tech is going to need to suit his diminutive body size. The PetKit Fit P2 is a good example of a lightweight and attractive collar fob that's great for dogs (and cats) of all sizes.
There are certainly some technological considerations you'll want to be aware of ahead of time, too. These are battery-powered electronic devices, so you'll want to have an idea of how long the battery holds a charge. Then, you'll want to know how it re-charges. This is usually a USB connection that plugs into a wall outlet, but there may be variations on the theme.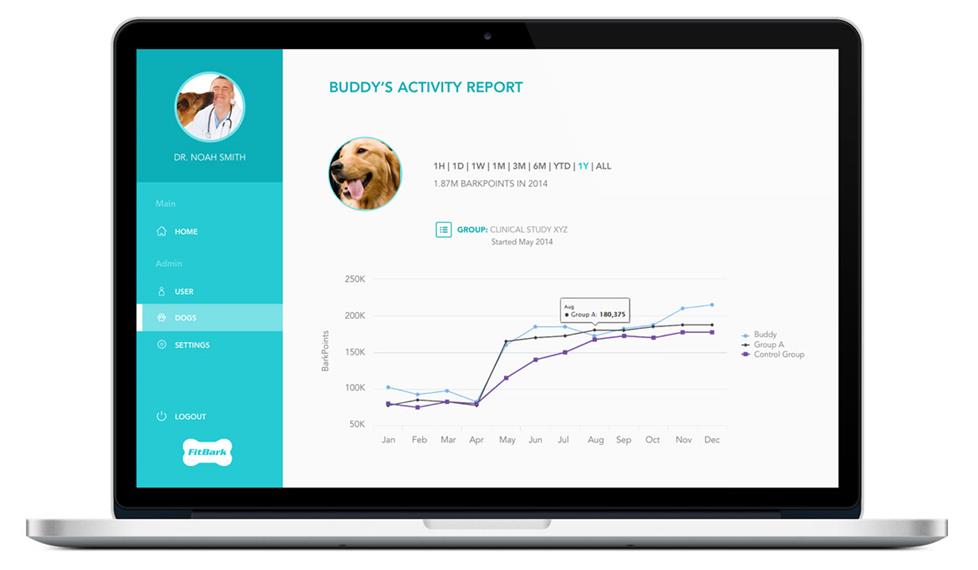 The FitBark app helps you track your dog's fitness goals, and share info with friends, family, pet-sitters, and your veterinarian.
Finally, both GPS and activity monitors transmit data that you can read on your smartphone, computer, or tablet. That means you need to know if it uses Wi-Fi, Bluetooth, radio frequencies, or cellular data (you'll also see this called GSM for Global System for Mobile communication).
GPS usage may require a subscription plan, and in some areas, Wi-Fi may be unavailable. Know your device's requirements so you can choose the one that suits your lifestyle best.
Choosing a dog GPS tracker
My beagle, Bert, is a senior citizen, so he doesn't move quickly, but he can be relentless when he catches an interesting scent. Recently, he disappeared into the underbrush with his nose to the ground, and I wasn't quite sure where he'd gone.
Fortunately, he was wearing a GPS tracker — someone found him and alerted me by pushing the SOS button on the front of the unit. Bert and I were quickly reunited.
Here are a few key features I've considered while researching trackers.
A supplement to microchipping
Your veterinarian may have implanted a microchip under your pet's skin. We heartily endorse chipping as a method for identifying lost pets.
A GPS tracker is not meant to replace that service, but enhance it. Someone has to locate and capture your pet before the chip can be accessed, and even then a special reading device is required.
With a GPS tracker, the finding part gets a whole lot easier, and the added peace of mind is priceless.
Range and fees
You may only need a GPS tracker to help you find your pet when she's lost in your own neighborhood. You also want it to work when you're out in the countryside on a hike.
GPS services usually charge a subscription fee — generally ranging from $5–10 per month — so you might want to compare pricing as part of your decision-making process.
Also, check out the range on your device. Some only work well in proximity to a cell tower, so if you and your dog get off the beaten track often, you'll want to make sure your tracker will do the job.
In addition, you may incur data usage fees when using your smartphone to track down a missing cat or wandering pup. You'll do what it takes to get that family member back home, but it's good to be aware of possible network overages when figuring the total cost of using a tracker.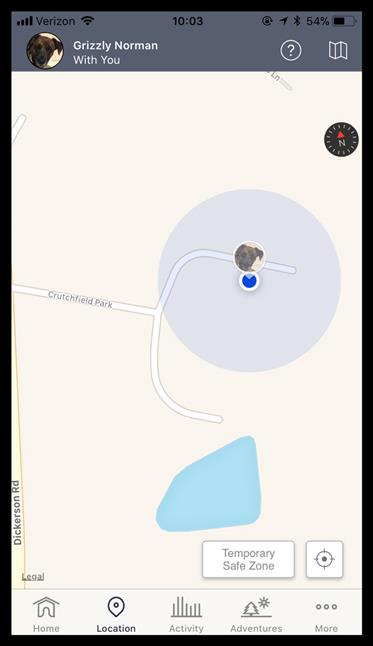 The Link AKC app lets you know exactly where your dog is located, so you can find him if you get separated.
Geofencing and alerts
When I was a kid, I remember my family spending hours driving backroads, shouting our hound dog's name out the open windows. He was a magician who would burrow under the fence, roam for a couple of days, and return when he got hungry. Back then, we had no way to know exactly when he got out; we usually discovered his absence after he'd been gone a while.
With GPS, you can set a virtual border — say, 100 yards from your home — and have an app alert you when your pet leaves that boundary. It's a practice called geofencing, and it can alert you to an escape attempt immediately, so you can nip it in the bud.
Wireless fences
Many dog owners use invisible fences to keep pets in the yard. This involves burying wire around the perimeter. The wire then transmits a corrective pulse to a device on the pet's collar, effectively training them not to leave your chosen perimeter by negative reinforcement. We cover the subject more at length in our article on training and behavior.
Choosing a pet activity monitor
Sometimes it seems like everyone we know is counting steps. Wearable activity monitors help humans set short- and long-term health goals and measure progress, so why not do the same for our pets?
Powerful apps
The app is everything when you're looking for an activity monitor for your pet. Apps are typically free, so you can check them out before you invest in a product. You want one that's easy to navigate, and makes it easy to find the information you need.
A good app will do some or all of these things:
Track activity and rest throughout the day — both are important to your pet's health
Offer breed- and age-appropriate health, activity, and wellness guidelines for your pet
Info sharing so all pet caretakers (family, pet-sitter, vet, etc.) are on the same page
A way to log and display results so you can see progress over time
Track environmental information — your pet should take it easy when it gets hot outside
Social media sharing, just for the fun of it
Activity monitors help solve a problem that has always bedeviled pet owners: our pets can't tell us when something is wrong. Being able to track their daily habits can help us spot changes and share them with the vet right away.
Plus, it's fun and mutually beneficial for you and your pet to get out and get moving together. Imagine all the wonderful times you'll have!
Safety and training
Behavior modification is a big subject, which we cover in Train your dog with smart tech. Some trackers — the Garmin Delta® Smart™, for example — do use a collar device to deliver correction, so there's definitely some crossover.
Part of a tech-savvy pet care system
A pet tracker can make sure your pet stays close to home and gets plenty of exercise. If you want even more ways to make sure your pet is living his or her best life, look into our other Smart Pet offerings.