5 tips to solve Netflix streaming problems
How to build a stronger home Wi-Fi network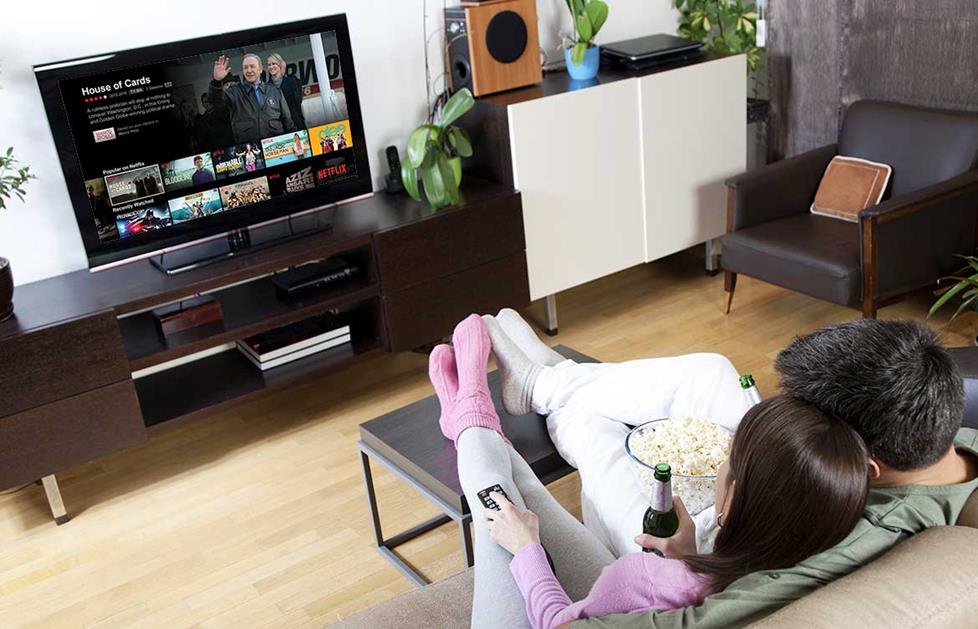 Getting that annoying freeze-frame in the middle of an action sequence? These tips will help you smooth out your movie-streaming experience.
Perhaps you've had this experience: you plug in a beautiful new HD television and settle in for the evening, ready to stream your favorite movies and TV shows via Netflix. You push the start button, and the movie starts loading… and loading… and loading. Then, once it gets going, you may experience glitches in playback or sudden freeze-frames that kill the momentum of a crucial scene. These annoying problems are usually not the fault of your A/V gear (though buying a TV with a quad-core processor is a good idea) — they're common side effects of an inadequate, overloaded internet connection.
Here are five tips to help you solve Netflix streaming problems, with expert advice from Crutchfield IT pro Brent Pye:

Internet download speed recommendations
■ Netflix recommendation for SD quality video
■ Netflix recommendation for HD quality video
■ Brent's recommendation for HD quality video
■ Netflix recommendation for Ultra HD (4K) quality video
1. Get a package with adequate bandwidth from your service provider. Brent recommends at least 10 megabits (Mb) per second for downloading, adding "most cable providers easily exceed this." If you have multiple wireless devices in use at one time, you are more likely to put strain on your wireless network.
Video streaming, especially 4K content, is the biggest bandwidth hog. If your kids are watching different programming on another TV, you're competing with them for the same slice of the pie. You'll want to check with your service provider to find out if you simply need more bandwidth. It'll cost a bit more, but it's probably worth it!
Not sure how fast your current connection is? You can easilty test it from your computer.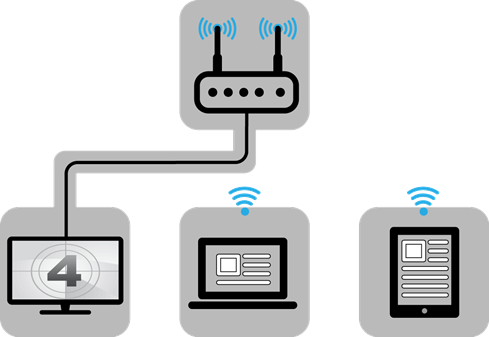 If one of your streaming devices is physically close to the router, use a wired connection to free up more wireless bandwidth.
2. Get wired.
The easiest way to take strain off of your wireless network is to go old-school and plug in when you can. Example: when my son wants to watch YouTube videos on the laptop his school provides, the grown-ups experience significant lag when trying to watch a movie. The solution is to park him next to the router and run an Ethernet cable directly to his computer, so we can all watch what we want to watch at the same time.

Each generation of router gets a bit faster. 802.11ac is the fastest available.
3. Have the latest type of router.
You'll see designations that read like this: "802.11n" or "802.11ac" The letter designation on the end defines current technology standards that aim to speed up wireless networks. The manual for your streaming device should tell you what standard it supports. These standards are being improved constantly.
Some routers let you prioritize one stream over others via a practice known as "traffic shaping" or QOS. They let you put your Netflix streaming first in line for available bandwidth.
[Shop Crutchfield's selection of wireless routers]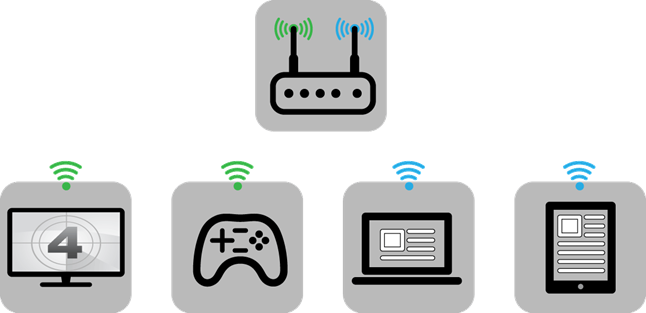 Choose ■ 5GHz for high quality video streaming and faster gaming. Choose ■ 2.4GHz for web browsing and email.
4. Choose a dual-band router.
The initial wave of wireless devices all worked in the 2.4 GHz (gigahertz) band. Many still do, but the 5 GHz band has been made available for many newer applications. A dual-band router lets you avail yourself of both. Brent says: "5 GHz is so much faster. You can certainly do OK with 2.4, but if your CE device supports 5 GHz then get a Wi-Fi router that also supports 5 GHz."
Some routers, like the NETGEAR Orbi, are billed as tri-band routers, because they have one 2.4 GHz band, and two 5 GHz bands. By spreading traffic out over three "lanes", tri-band routers help avoid traffic jams when multiple wireless devices are active at the same time. It's another excellent way to prevent glitching and lag.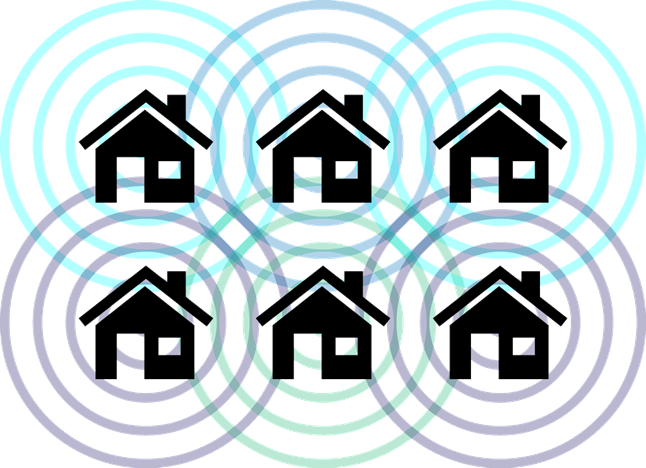 In areas with lots of Wi-Fi networks, choose a channel with the fewest other users.
5. Avoid channel interference.
Each frequency band contains numbered channels, sort of like lanes on a mega-highway, and your router automatically selects a channel when you log on. If other people in your neighborhood or workplace log onto the same channel, it gets congested like rush-hour traffic. "This means that your Wi-Fi network and these other Wi-Fi networks are operating in the same channel slice of the frequency band," Brent says. "It's a bad thing." Use a free online utility to figure out where you'll encounter the least resistance.
Once you've maximized your network's potential to stream content, you'll be better prepared to enjoy high-bandwidth applications like 4K Ultra HD TV to High-Res Audio.
Also, it's always a good idea to check the Netflix Help page directly.