Sony PHA-2 portable headphone amp/DAC review
Get more from high-res and other digital tunes from this compact, versatile device
Heads up!
Welcome to this article from the Crutchfield archives. Have fun reading it, but be aware that the information may be outdated and links may be broken.
If you're serious about music, you might appreciate the convenience of MP3s and iTunes® downloads. But you surely aren't impressed with their lackluster sound quality.
Fortunately, high-resolution audio is taking digital music to new heights, offering far more detail, smoothness, and dynamic range than MP3s — they even eclipse CDs. Sony's PHA-2 portable USB DAC and headphone amplifier offers several ways to enjoy high-res and other digital tunes. I spent some time checking it out.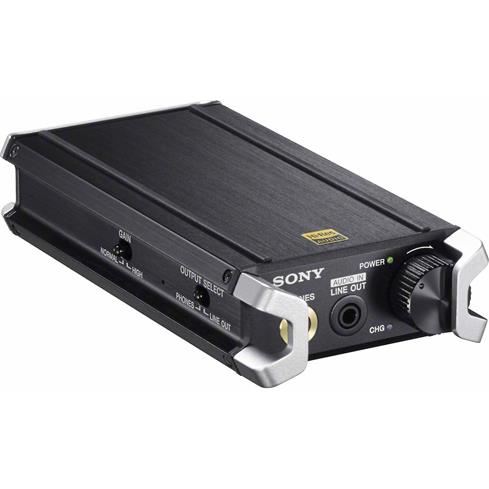 The Sony PHA-2 portable headphone amp/DAC
Build quality and connections
The PHA-2 is compact yet very solidly built — it weighs 9.5 ounces and is roughly the size of an ice cream sandwich. It has a rugged aluminum chassis and durable alloy bumpers protecting the volume knob and headphone connector. It has an impressive amount of connectivity for such a small device. On the input side, it has three different USB connections for the following devices (shown from left to right):
A Sony Walkman digital player (cable included)
An iOS device (iPod, iPhone, iPad)
A computer (Mac or PC — cable included)
The included USB cable also charges the built-in lithium-ion battery when connected to a computer. The battery provides up to 6.5 hours of playback with USB digital source.
The PHA-2 has two miniplug outputs: one for connecting headphones, which lets you take advantage of the this device's robust amplification. The other is a line-level output for connecting to a receiver or amplifier. The line out also doubles as an analog line in for use with other types of smartphones and portable music players, which allows you to use the PHA-2 as a headphone amp.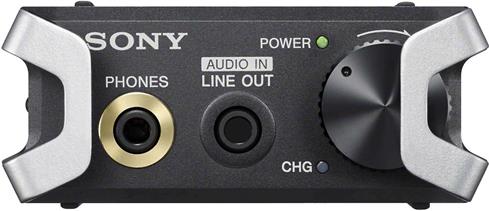 Connect headphones, powered speakers, or a receiver to the PHA-2's outputs.
Great sound starts with accurate digital conversion
The PHA-2 can unlock the potential of your digital music files. The key is the TI PCM1795 32-bit/192kHz digital-to-analog converter. It's a much better DAC than you'll find in your smartphone or computer, so it reveals those hidden details that lesser devices can't bring to the surface. The USB connections offer asynchronous data transfer for precise timing. This is vital to reduce timing errors — known as jitter — so your music is clean and accurate.

The PHA-2's DAC is compatible with high-resolution PCM files up to 24-bit/192kHz as well as up to 5.6MHz DSD files. Read our intro to high-res audio to find out where you can purchase these downloads.
Desktop high-res with a computer
I first tried the PHA-2 with Sony's MDR-Z7 headphones, which offer outstanding detail, luxurious comfort, and impeccable build-quality. (Keep in mind: the better your headphones or speakers, the more you'll hear the benefits of high-resolution music.) But first, I connected the headphones directly to my MacBook's headphone jack, just to give myself a baseline for comparison. Listening to CD-quality files, the PHA-2 made a dramatic improvement — it made my music sound more powerful while revealing more detail. It also smoothed out the tone, so everything sounded more pleasing.
To enjoy high-res music with the PHA-2, Sony recommends you download their free Hi-Res Audio Player. It's a bare-bones application, but I had no trouble using it. I was also able to use the PHA-2 with Audirvana, a third-party music player I use that integrates with iTunes and specializes in high-res playback.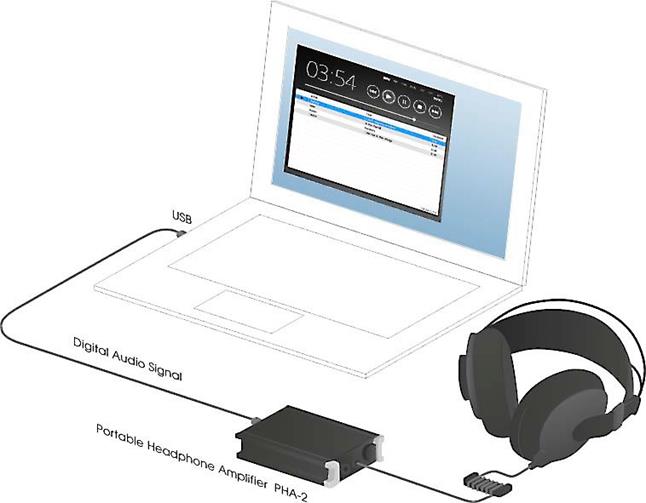 Connect the PHA-2 to your computer, plug in a pair of headphones, and enjoy better sound from your digital music library.
I began my high-res listening with "Life in the Fast Lane" by the Eagles, a song I must have heard hundreds of times. Yet listening to it with the PHA-2 was like hearing it with fresh ears. The layering of guitars in this song is masterful, and I found myself marveling at Joe Walsh's well-placed fills. I even noticed some guitar amplifier hum in the song's intro – something I'd never picked up before.
Powerful headphone amplifier
Getting great sound from your headphones requires proper amplification. The PHA-2 offers plenty of power, so it can drive almost any set of 'phones to peak performance. The Sony MDR-Z7 headphones are pretty efficient, so I tried some Audeze and HiFiMAN planar magnetic headphones, which require a lot more power. The PHA-2 flexed its muscles, pushing these headphones to deliver punchy, dynamic sound at volume levels that were more than loud enough for me.
Connect powered speakers for desktop hi-fi
You can use the PHA-2 with more than just headphones — add some great-sounding powered speakers and you'll have a desktop stereo system that rivals many larger systems. I plugged it into my JBL LSR305 powered studio monitors and played a high-res version of "Long Distance Call" from Muddy Waters' Folk Singer. This is a great recording, with lots of natural reverb that can really put you in the room. That's exactly what happened as the PHA-2 brought this song to life. There are also some big kick drum hits at the end of the track. The first one even startled me a bit, showing that the PHA-2 — like any great DAC — can rustle up the deepest bass in your digital tunes for truly impactful sound.
DSD compatible
DSD is another format for high-resolution music. Sony is well-versed in it – they helped develop the technology behind it. DSD files are known for their smooth sound. I sampled a couple of DSD files with the PHA-2. I had 24-bit/96kHz PCM versions of the same tracks for comparison.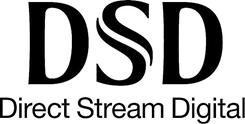 While the PCM versions sounded rich and detailed, the DSD files definitely sounded smoother. I sampled both versions of "All Blues" by Miles Davis from Kind of Blue. The DSD version sounded cleaner with more space between the instruments. With this and other DSD files I tried, I was able to really crank the volume on my headphones without the music sounding harsh.
Improve your iPhone's sound
You can't listen to high-res files with your iPhone, but the PHA-2 can still be a great mate for this and other Lightning-equipped Apple® devices. When you connect it to the PHA-2, your music bypasses the DAC in your device. That allows the PHA-2's superior DAC and headphone amplification to give more detail and power to your music.
I noticed a large improvement with my iPod touch® when listening through the PHA-2. I wasn't the only one — I passed it around to a couple of coworkers, who were also impressed at how the PHA-2 made their iOS® devices sound much better than they do on their own.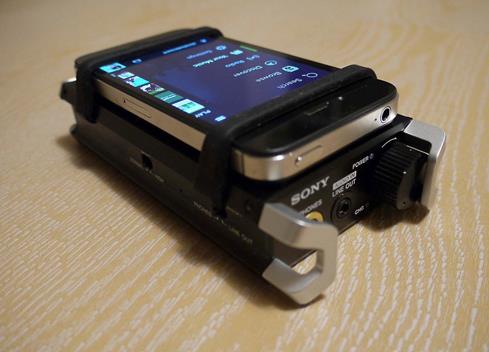 Strap your iPhone to the PHA-2 for an impressive portable rig that's great for long trips.
While the PHA-2 is rather compact, the idea of using it on the go with an iPhone may seem unrealistic. While I wouldn't use it for a commute, I'd definitely carry this portable rig in a backpack for use on a long train ride or plane trip. It even comes with straps for securing it to your iPhone.
The bottom line
The Sony PHA-2 DAC/amp's ability to improve the sound of digital music is its greatest strength – especially high-resolution files. But this device's versatility is what makes it stand out among the current crop of compact DACs. It's equally at home delivering stunningly detailed sound to your home stereo, bringing audiophile performance to your computer, or bolstering the sonic potential of your iPhone, iPod, or iPad. That all adds up to make one impressive DAC that can help get the most out of all your digital tunes.