Studio monitors buying guide
Finding the "voice" of your home recording studio
No home recording studio is complete without a pair of monitors to evaluate the sound of your project. Here are a few basic guidelines and options that can help you narrow down your selection.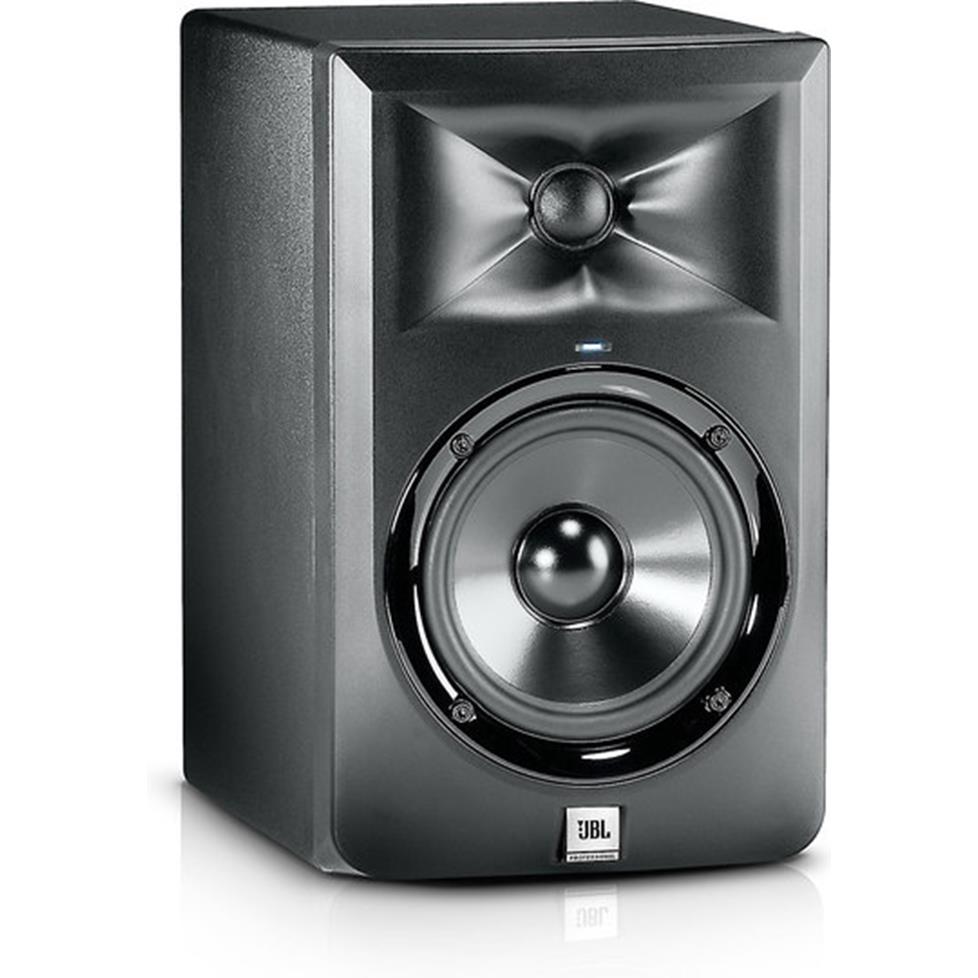 This compact 2-way active monitor delivers accurate, low-distortion sound suitable for smaller studios.
Active monitors
Active monitors come with their own amplification built-in. They're becoming the standard for many studios, and it's easy to understand why.
Because the amp's built in, you have one less piece of gear to deal with — a real benefit if space in your studio is tight. The amplifiers and drivers are factory-matched, so you can count on a seamless response.
Finally, many active monitors offer controls that allow you to fine tune the sound.
Shop Crutchfield's selection of powered studio monitors
Choosing monitors to fit your studio and your style
As a rule, the larger the space, the larger the speakers and the more amplification you need.
Are you mixing in a tiny room at low volume? Then a pair of small, modestly powered monitors with 4" or 5" woofers should work nicely.
On the other hand, if your studio is in a detached garage where you can play as loud as you want to, look at larger, higher-powered models.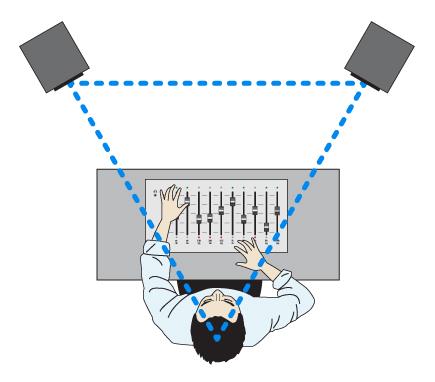 For the most accurate sound possible, place your monitors at ear level facing you so that they form an equilateral triangle with your head.
How close will you be to your monitors?
For most small home recording studios, a pair of monitors designed to work in close proximity to your listening position (usually less than 5 feet) will work best.
The advantage of these "nearfield" monitors comes mainly from their ability to create a highly focused and detailed soundstage within a small area or "sweet spot." This lets you accurately evaluate the sound of your mix while minimizing the effects of room acoustics.
Nearfield monitors are typically compact and feature woofers in the 4" to 8" range. They can be placed on your desk, but you'll get better results if you place them on stands that raise them up to ear level. In fact, putting monitors on stands can improve their accuracy by reducing the amount of sound reflected off of the desktop.
Room placement options
How you position your monitors in the studio makes a critical difference for achieving balanced, accurate sound, and clear stereo imaging.
Position your monitors so that they form an equilateral triangle with your head when you're seated in your listening position. The tweeters should be at the same height as (or at least pointed directly toward) your ears.
Shop Crutchfield's selection of studio monitor stands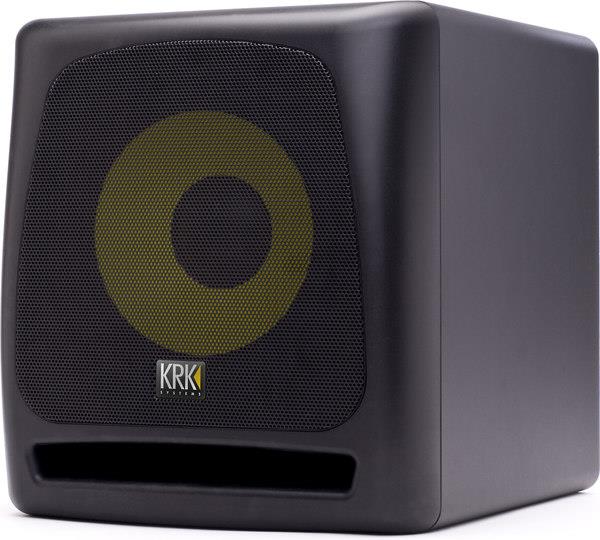 A powered subwoofer will extend the low-frequency performance of your monitor system.
What kind of music are you recording?
Singer/songwriter and other small-scale acoustic recordings put fewer demands on monitors For evaluating lighter fare, a pair of small nearfield monitors with 4", 5", or 6" woofers is usually sufficient. But if you're laying down some heavy house music or hip hop tracks, larger monitors with lots of power are a better choice.
Adding a subwoofer is a great way to better hear what's going on in the low-frequency range of your mix. If your recordings require accurate monitoring of deep bass frequencies, you should consider using a sub.
Shop Crutchfield's selection of powered studio subwoofers
Getting connected
No matter which kind of monitors you choose be sure they offer connections that are compatible with your mixer or other audio sources.
The majority of powered studio monitors feature balanced audio input via XLR and ¼" TRS (Tip/Ring/Shield) phone jacks. These jacks are frequently two separate connectors on the back of the speaker, although on some monitors you may find a single combination jack that can accept both types of plugs. These balanced connections offer excellent low-noise performance with your studio gear.
Many monitors also offer unbalanced input via an RCA jack or ¼" TS (Tip/Sleeve) phone jack. These types of connections are handy for hooking up gear that lacks balanced output, including most consumer-level components.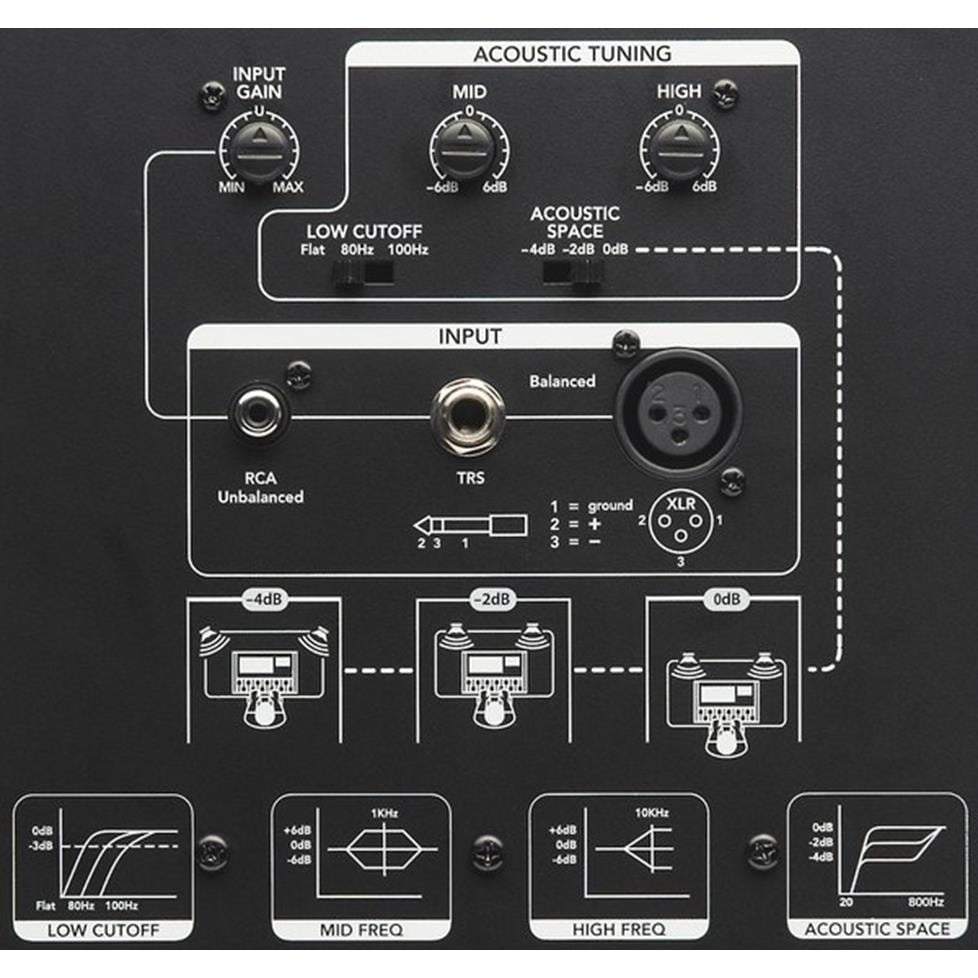 Flexible input options and tone controls allow this powered monitor to work with a wide variety of sources and rooms.
Controls for fine tuning the sound
Many active monitors include tone or equalization controls that help you adapt their sound to your room. For example, the bass cut control on some monitors allows you to reduce the boominess that can result from placing the speaker too near a wall or desktop. Other monitors provide high-frequency adjustments to compensate for room acoustics or to reduce ear fatigue during extended recording sessions.
Home speakers vs. studio monitors
While no rule says you can't use powered or passive home speakers as your studio monitors, there are at least a couple of compelling reasons not to.
Home speakers are designed to reproduce recorded music in its finished form, and often add subtle colorations that flatter the sound for a more pleasant listening experience.
Studio monitors, on the other hand, are made to deliver the sound of raw and unmixed recordings with as little coloration as possible. This allows you to hear your project with greater accuracy. Plus, studio monitors must be able to withstand louder dynamic peaks due to uncompressed input signals that could destroy the more delicate structure of home speakers.