Three Degrees of iPhone® Control in the Car
For many, the iPhone has become an essential part of their lives. It stores music, movies, and a plethora of apps that entertain or help with productivity. Nowadays, it's common knowledge that you can connect an iPhone to your stereo for music, but did you know that some stereos integrate with many of the applications on your iPhone? Some simply let you tap into the music from an app, while others give you full control on screen.
In this article, we'll break down which stereos do what, and the benefits of each. In turn, we'll examine three degrees of iPhone control:
The story starts with something called Advanced App Mode, the pinnacle of iPhone integration.
Next is App Mode, which is a little more common, but offers a lesser degree of control than the advanced version.
Finally, we'll take a look at the standard Music Control capability offered by most stereos.
---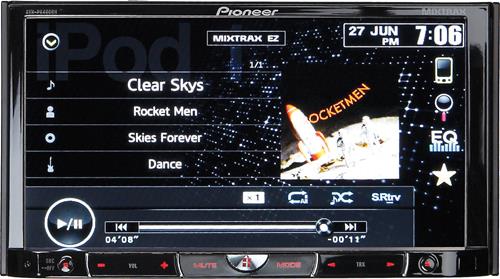 With its 6.95" screen, DVD player, Bluetooth® connectivity, and Advanced App Mode, this Pioneer receiver will cover all of your entertainment needs.
Advanced App Mode
This feature gives you the most control over your iPhone's apps. Pioneer currently leads the way with this functionality, but you'll see more receivers from other manufacturers coming soon.
Receivers with Advanced App Mode give you control over select apps from a custom interface designed for the stereo's touchscreen. Yes, that means the app must be compatible with the stereo's Advanced App Mode.
Currently, there are a good number of apps that work with this mode, and more are being released all the time. You can even access your iPhone's calendar and photos.
Get directions

Pioneer's stereos give you access to your iPhone's map app straight from the stereo. You have full control of its route mapping capabilities at your fingertips, and can see map info on the large touchscreen. You can also set new routes and see what's around you, just like you can on the iPhone.

Stream music

Rdio is one of many music apps that you can use with Pioneer's Advanced App Mode, and the app gives you full control through a graphic interface on the screen. From there you can access your collection and playlists with ease, or even browse new releases to listen to something fresh.
---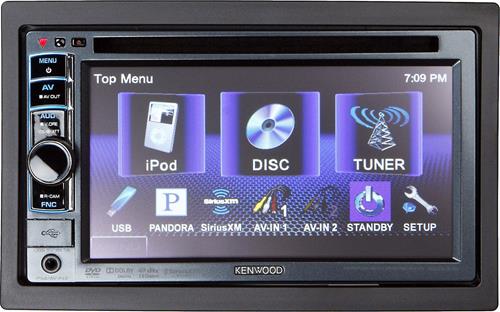 This Kenwood DVD receiver's 6.1" touchscreen offers an easy-to-use and easy-to-read layout. The front USB port provides a convenient connection.
App Control
With App Control, you get basic touchscreen control of an application, generally including track forward, track back, play, and pause. Video apps like YouTube and Netflix are often supported (while your car is parked, of course), while specialty support of apps like Pandora® Internet radio gives you even more control from the touchscreen.
You'll use the iPhone itself to launch these apps, so place it where you can get to it easily, like in a vehicle-specific iPhone mount (see below).
Pandora Internet radio

Receivers that support the Pandora app let you access your custom channels from the touchscreen, and give thumbs up and thumbs down ratings for songs. Album, artist, and song information will show on your screen, along with album art in many cases.

Other music apps

When you start most music apps from your phone (like Spotify or Mog), you'll see artist, album, and song info on the screen. You'll also typically see album art on many receivers with touchscreens, and get basic control over app features like track forward/back and play/pause.
---

It may not have a CD player, but the JVC KD-X80BT digital media receiver's 3-line display and easy controls make it a trusty road companion for your iPhone or iPod.
Music Control
The most common form of iPhone® and iPod® connectivity allows you to connect your device to your stereo and access your music. You're able to read the artist, album, and song info on the screen, and load up any playlists you have. You can control your music similarly to the way you do on your iPhone or iPod, without having to have the device in sight. Some people even stash their device in a glove compartment or center console to keep it out of view.
Easy music search
Most receivers offer some specialized way to help you navigate your music library quickly. Take a look at how JVC's KD-X80BT search function works, for example, and how easily it helps you wade through a huge music collection.
See which iPhone controlling receivers work in your ride
When you're ready to add a new receiver to your car, use our vehicle selector to find out what fits your car. Or just jump right into our full selection of car receivers that are compatible with the iPhone. Also, don't hesitate to contact us via phone or email if you have any questions about iPhone compatibility or adding a new receiver to your system.
---
| | |
| --- | --- |
| Pro.Fit VSM G3 mount | MiCRADLE 4 for iPhone 4/4S |
Pro.Fit vehicle-specific mounts
Our discussion about using your iPhone in the car isn't complete without touching on Pro.Fit mounts. These mounts are incredibly useful for stereos equipped with advanced or basic app control. Many of the apps need to be launched from the iPhone. These mounts hold your iPhone steady so you or your passenger have easy access.
And since Pro.Fit custom-builds the mounts for your specific vehicle make and model, they'll look right at home on your dash.
You'll need a bracket that mounts to your dash, and an iPhone cradle that attaches to that bracket. (Of course, cradles are available that work for other devices too, but we're talking about iPhones here.)
Visit our vehicle selector to see what fits, or call us at 1-888-955-6000 to find the mount that works in your vehicle.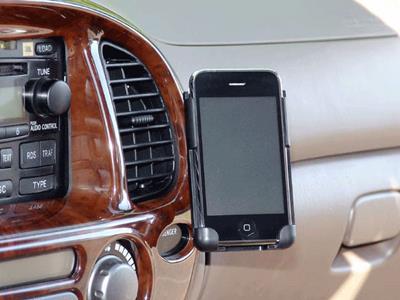 A Pro.Fit bracket and device cradle lets you create a dock for you phone