What is Apple CarPlay®?
iPhone® app control through your car stereo
Apple CarPlay technology is a convenient way to access your iPhone® through your car stereo. You can use certain phone functions as you drive, but in a manner that'll let you stay focused on the road.
In the news: Apple recently added Waze and Google Maps to CarPlay to give users even more options for getting around.
A CarPlay stereo gives you access to your iPhone's calling, music, mapping, and message applications with a simple one-cord connection to your iPhone using the phone's Lightning-to-USB cable, or – in some cases – wirelessly.
Watch this video demonstration for a real-world glimpse at an Apple CarPlay stereo in action:
How does Apple CarPlay work?
When you connect your iPhone to car stereo that's compatible with Apple CarPlay, large, familiar iOS app icons appear on the stereo's touchscreen, along with the time and a "home" button you can press to activiate Siri® voice control. You'll be able to operate some apps with fingertip touches, while many functions can be initiated with Siri. You won't even have to take your hands off the wheel once you've started.
iOS apps that work with CarPlay include:
Phone — Make calls, return calls you missed, and check your voicemail, all with Siri's help. You'll be able to see your caller information right on the receiver's screen.
Music — Pull up your iPhone's artists, songs, playlists, and more through your stereo's controls, or tell Siri what you want to hear. The display will mirror your iPhone's Music screen, so you'll be able to see what's playing and choose tracks easily, whether you're streaming from your Apple Music account or playing downloaded files from iTunes.
Maps — View your Apple Maps screen on the receiver's display, complete with turn-by-turn directions, traffic conditions, and estimated travel time. Use Siri and your voice to enter a destination or search for nearby points of interest.
Messages — You already know that texting and driving is a bad idea. With Apple CarPlay, you can have Siri send, read, and reply to your text messages for you, so you won't have to look at or touch your phone while you're behind the wheel.
Podcasts — Pull up your favorite podcast to help pass the time…
Audiobooks — …or listen to a story without touching your phone.
Now Playing — One touch will show you instantly what's providing the soundtrack to your travels.
Navigation apps that work with CarPlay
CarPlay already includes Apple Maps. But users like to have options, so Apple listened and added two other popular navigation apps during the latest update.
Waze — The popular navigation app is now available on Apple CarPlay as of 2018. Not only does Waze provide turn-by-turn directions, but its users count on crowd-sourced info for up-to-the minute details about congestion, accidents, speed traps, and more.
Google Maps — Also a 2018 debut for CarPlay. Apple listened to their customers who wanted more navigation options and joined forces with their smartphone competitors to bring Google Maps to the CarPlay platform. You can use your voice to enter a destination or search for a nearby stopping point.
Audio apps that work in CarPlay
Naturally, since we're talking about a car stereo, there are plenty of listening options for music, podcasts, and audiobooks. Here is a sampling of the most popular apps that are available in CarPlay – but these aren't all of them!
Spotify
Tidal
Pandora
Amazon Music
Google Play Music
iHeartRadio
Stitcher
SiriusXM Radio (subscription required)
Audible
Slacker Radio
Most other non-audio and non-navigation apps will not be accessible through Apple CarPlay. Non-audio apps that do work include WhatsApp for messaging. Apple may approve more apps for CarPlay in the future, but they'll likely only be apps that can be used safely while driving and with Siri.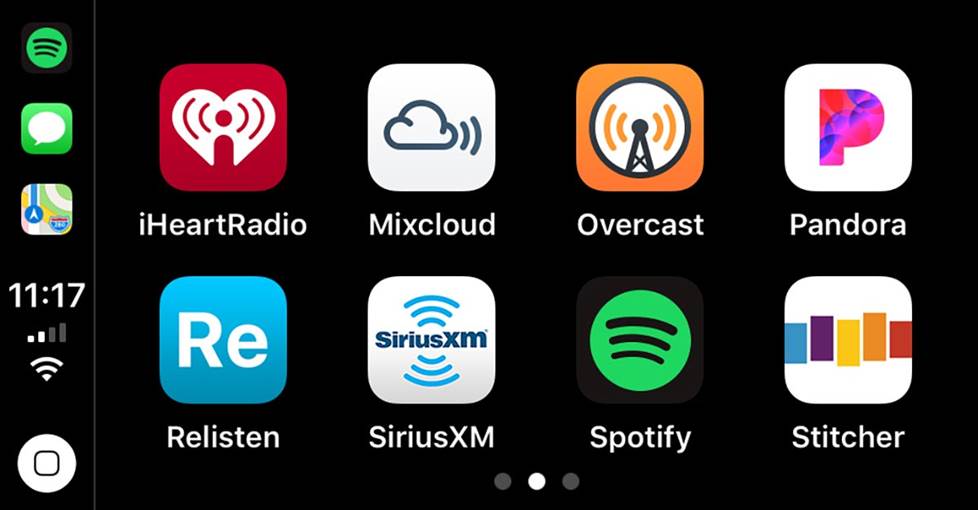 What about wireless Apple CarPlay?
Wireless Apple CarPlay first made it into the dashes of some high-end factory stereos but now it has moved into the aftermarket realm. Compatible stereos employ a built-in Wi-Fi network in combination with Bluetooth to communicate with your iPhone. After the initial setup and pairing with your phone, you'll be able to launch CarPlay on the stereo without touching your phone as soon as you get into your vehicle.

Not only does wireless CarPlay save you the hassle of having to plug in your phone whenever you get into the vehicle, it also works great for fans of wireless charging in the vehicle, as they can set their phone down and leave it alone to charge as they travel.
Where can I find Apple CarPlay?
You can find Apple CarPlay compatiblilty as a factory option in select 2014 and newer vehicles, especially Honda, Toyota, and many others, and in many aftermarket stereos from brands like Kenwood, Alpine, Pioneer, and Sony. CarPlay requires a diagonal screen size of at least 6" to work, but it's not just limited to large stereos – there are now receivers with fold-out screens that can fit in most smaller (2") dash openings that will still work with CarPlay.
Check out our full selection of car stereos that are compatible with Apple CarPlay. There are a lot fewer aftermarket stereos with wireless Apple CarPlay, but they're definitely worth a look and their numbers are growing. Some of the stereos we offer are also compatible with Android Auto™, making them ideal for shared vehicles driven by owners of different types of phones.
Watch our CarPlay video for more details
Do you have questions about Apple CarPlay?
If you want to add CarPlay to your vehicle, we can help. Check in with a knowledgeable Crutchfield Advisor at 1-888-955-6000 or contact us via email or chat. There's likely a solution that fits your ride and we'll help you get on the road with CarPlay bringing your favorite phone functionality within reach.