Wireless router buying guide
How to find the best Wi-Fi solution for gaming, movies and music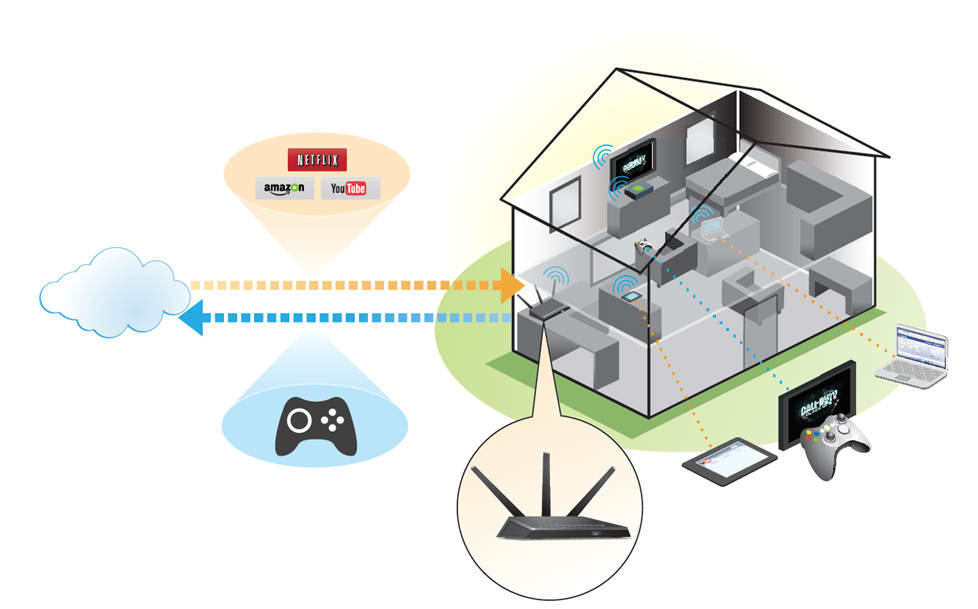 When you're streaming movies, playing games and browsing the internet, you need a router that can direct traffic and keep the information flowing.
Want to stream 4K TV? While your son plays online video games? And your wife has a video chat with her mother?
You may find that your old Wi-Fi® router doesn't cut it.
Are you using a router provided by your cable or phone company? Nothing is stopping you from upgrading to a faster, smarter router. You'll prevent those annoying glitches and dropouts. And you'll save money in the long run.
Speed – Make sure you're getting all the bandwidth you pay for
A high-speed Internet connection is a must these days. So is a router that can meet the demands of a multi-device household. Here's what to look for when you shop for a new one.
When looking at router specs, you'll see a number/letter designation like "802.11ac." The letters at the end identify the Wi-Fi standard.
The newest standard is called Wi-Fi 6, but ac (also known as Wi-Fi 5) is still far more prevalent in the marketplace. The newest standards are compatible with earlier standards, so a phone or other device that operates on an earlier version of Wi-Fi will still work.

Internet speed standards get faster with each generation. The current "ac" classification is dramatically faster than the older "n" standard.
Many newer TV sets are ac compatible, so they're ready for 4K TV streaming — just check the "details" tab on Crutchfield product presentations. Even if you don't plan to stream 4K content right now, it might make sense to future-proof your system by choosing the ac router now.
Next-Gen (or ac Wave 2) routers feature a technology called MU-MIMO (which stands for Multi-User, Multiple-Input, Multiple-Output). As the name implies, this feature is designed to improve Wi-Fi performance in households with multiple users.
A dual band router broadcasts on the original 2.4Ghz spectrum, as well as the newer 5GHz band. This will effectively let you have a fast lane and slow lane, both capable of handling traffic simultaneously. A tri-band router adds a second fast lane.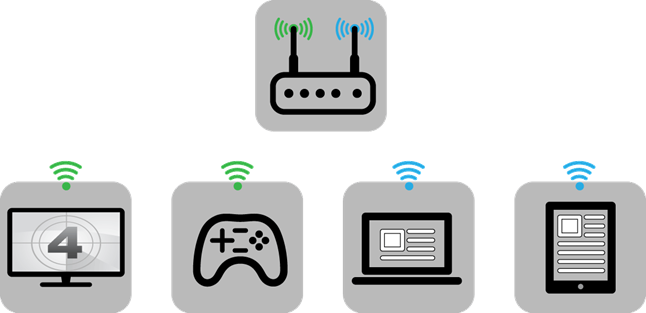 Use the 5GHz band (green) for high quality video streaming and online gaming. Us the slower 2.4GHz band (blue) for web browsing and email.
A router with a dual-core or quad-core processor can "think" faster, processing millions of instructions per second. This helps the router swiftly manage traffic to multiple devices.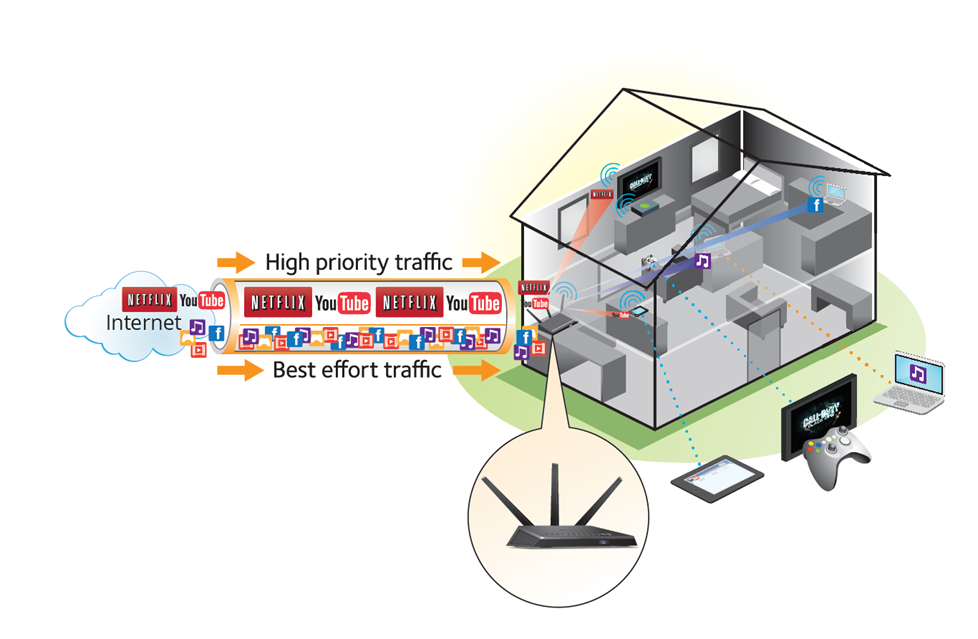 Choose QoS settings that prioritize smooth video streaming. Other devices will get the router's "best effort" with the remaining bandwidth.
Many routers also let you do something called traffic shaping, using QoS (Quality of Service) settings that allow you to make choices about how you want available bandwidth to be parceled out – for instance, make movie streaming a priority on movie night.
[Learn more: 5 tips to solve Netflix streaming problems]
Range – Reach out with rock-solid signal
Most modern Wi-Fi routers have two or more high-performance antennas that broadcast signal from your modem into the air. More antennae produce wider coverage, and they can be aimed toward areas of need in a practice known as Beamforming – essentially creating a directional signal that funnels more signal where you need it.
Maybe you have an odd corner of your home where wireless is patchy, no matter which router you use. If so, a range extender can pick up weak Wi-Fi signal and amplify it, bringing strong wireless to what was previously an annoying dead zone.
[Shop for Wi-Fi range extenders]
Multi-node systems let you expand coverage where you need it
Standalone routers use multiple, powerful antennas to create a larger bubble of wireless coverage. Some newer products are taking a different approach, using stylish-looking router/repeater nodes to create a flexible wireless "mesh" that can conform to your home's unique layout.
NETGEAR introduced a product in 2016 called Orbi. Orbi isn't technically a mesh, it's a hub-and-spoke system that features a fast, powerful router that plugs in wherever your modem is located, plus add-on satellites that repeat and boost the original signal. Linksys uses a true mesh — in which each module can function as a router — in their popular Velop system.
A key feature of either system is that the whole network uses a single Wi-Fi name (SSID) so you experience seamless connectivity as you roam throughout the house. This feature is important if you want to stream multi-room audio, manage a large home automation system, or even keep your smartphone receiving strong signal in a large house. This technology has become very popular, showing up in multi-node router systems like eero.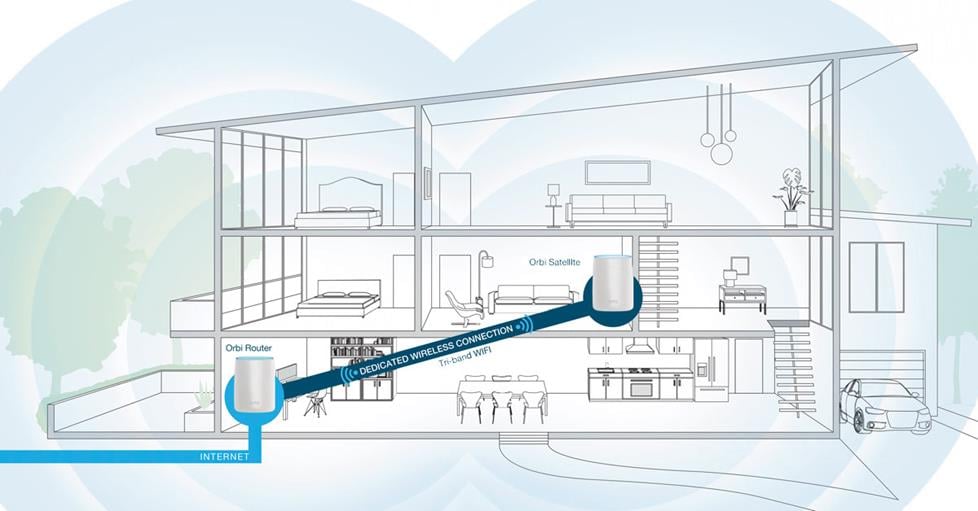 The NETGEAR Orbi uses a powerful tri-band router and a dedicated satellite to cover up to 4,000 square feet with strong wi-fi signal.
I tested one of these systems by connecting Orbi to my existing NETGEAR AC1600 router. I placed the satellite at a Wi-Fi pain point in my home — near the PlayStation 4. When I did a speed test afterward, the Mbps had nearly quadrupled. The proof was in the pudding, so to speak: my teenaged son spent his next online gaming session laughing with friends instead of complaining about lag. Score!
Convenience – Make your router work smarter
Once you've found a router that can fill your home or office with fast, reliable Wi-Fi, look at some of the extra features. Some examples:
Parental controls allow you to choose what type of content your child can see.
Cloud access lets you plug a flash drive into the router. Then you can access the info on that flash drive anywhere you travel.
Automatic backup can save your information and settings according to a schedule, so you don't lose important data during power failures or computer crashes.
NETGEAR's genie® app helps you connect, monitor, and control your wireless router, so you can customize your experience and troubleshoot when problems arise. It's an intuitive on-screen menu that guides you through the device's settings.
These are some typical advanced functions offered by newer routers, but you may find even more if you take some time to look at the details.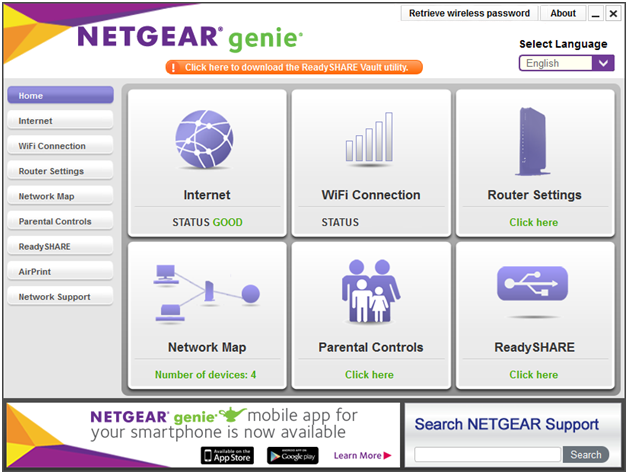 NETGEAR's genie® app helps you connect, monitor and troubleshoot your modem.
Advanced modern routers also offer airtime fairness, a feature that steers more bandwidth to ac-compatible devices. That way, your ac-ready TV will be served first, and get a larger slice of the wireless pie, so older devices like smartphones get what's left, and won't slow down streaming of high-res content.
Security – Stay safe online
It's only natural to be concerned about privacy when you start beaming personal information through the air. Advanced routers offer several layers of protection that should ease your mind.
WPA (Wi-Fi Protected Access) is the current protocol for securing wireless networks. Look for ultra-secure WPA2 capability in a new router. Most routers also offer customizable firewall protection, which allows you to set rules for what information is allowed into your network, which helps keep out spyware, malware and viruses. A denial-of-service (DoS) attack can slow or even terminate your network connection. Many newer routers offer additional protection from this kind of malicious hack.
If you have frequent parties or houseguests, look for a router that lets you set up separate guest access, so you don't have to share your personal password with anyone. For those of us who work on business trips or from a home office, it's also a good idea to look for a router with a secure virtual private network (VPN) connection that can help keep confidential work communications safe.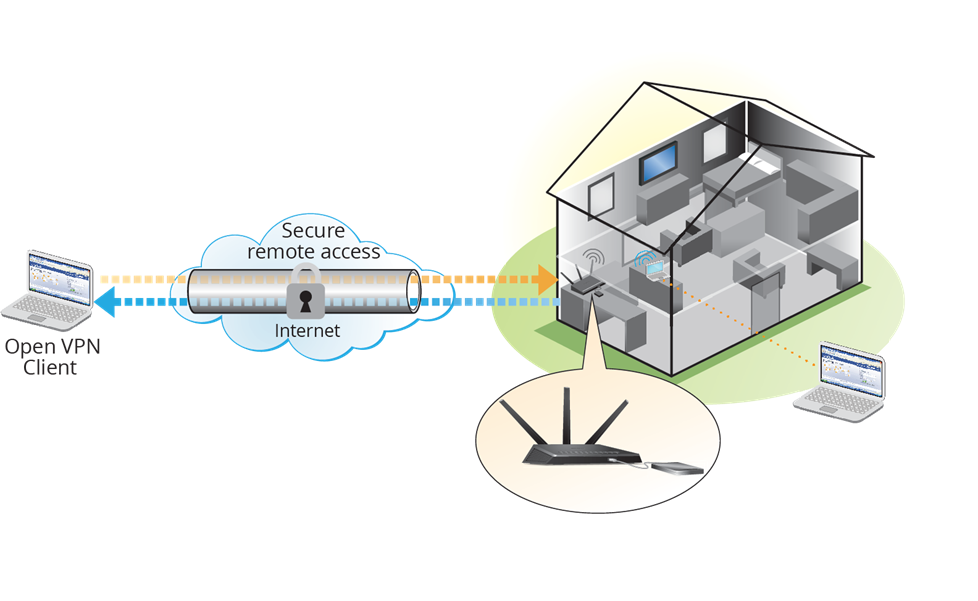 Telecommuters can rest easy when connecting to a remote work server via secure VPN connection.
The terminology associated with wireless Internet can seem like mind-numbing alphabet soup to the uninitiated. We hope this guide gives you the tools you need to make an informed decision.
[Shop for wireless routers]
Last updated 9/24/2019