Best wireless surround sound systems
Top ways to get home theatre without all the wires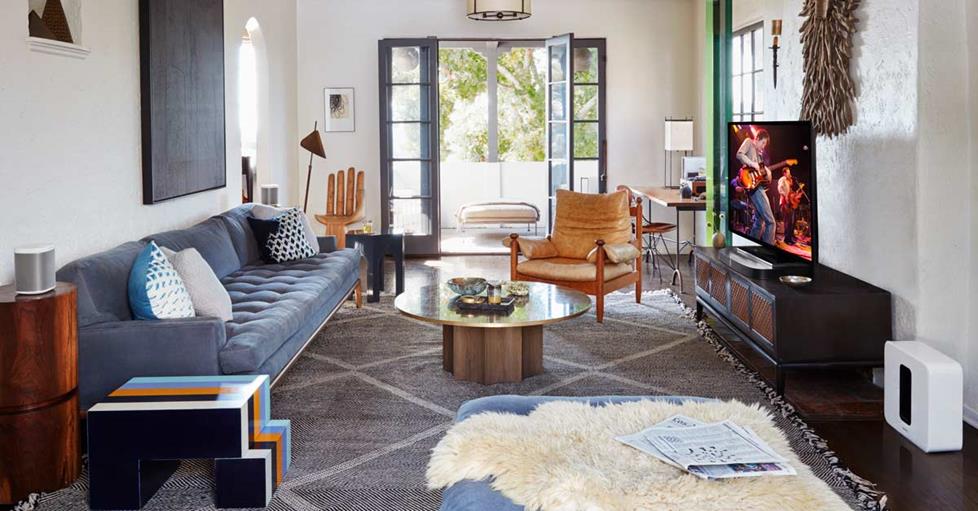 Enjoy room-filling surround sound without wires running all over the floor.
In a Nutshell
Want the home theater experience without the hassle of running and hiding wires? Consider these system options:
Go for a complete 5.1-channel wireless surround sound system from Sonos.
Choose a sound bar that can be expanded to 5.1 with wireless surround speakers.
Use a home theater receiver that supports wireless surround speakers.
Full Story
Hearing a movie's soundtrack the way the director intended is a powerful part of the home theater experience. But that hasn't always been easy. Surround sound has traditionally involved a slew of wires and cables running all over the room.
Thankfully, new technology has made wireless surround sound a reality! And there are some really cool options available.
Easy 5.1-channel surround sound with Sonos
Sonos wireless music speakers have been customer favorites for years. Now, Sonos has taken their wireless expertise and applied it to their 5.1-channel surround sound system.
Check out this short video from Sonos to see how their system works.
The centerpiece of the system is the PLAYBAR. It acts as your left-, right-, and center-channel speakers. It also handles all of the system's audio processing. Simply feed your TV's audio output into the PLAYBAR, and it takes care of signal decoding and wireless audio distribution.
Each Sonos speaker has a built-in amplifier, so the only wires are the AC power cords. The intuitive control app turns your phone or tablet into the remote control.
The PLAYBAR 5.1 system is available as a complete package, which includes the PLAYBAR, two PLAY:1 surround speakers, and the wireless SUB. This is a great fit for most spaces.
However, if you have a large room, or really want to crank your system to "11", I recommend buying the system à la carte. Pair the PLAYBAR with two PLAY:5 wireless speakers for next-level home theater performance.
Set your TV on Sonos' amplified speaker platform
The newest addition to the Sonos family is the PLAYBASE. It works just like the PLAYBAR, but acts as an amplified speaker platform upon which your TV sits. It's a great option for keeping your system clean and neat if you aren't wall-mounting your television.
Build your PLAYBASE system using the wireless Sonos speakers mentioned above, or purchase it as a complete package. You can also use two Sonos ONE speakers as your surround speakers as well.
Sonos also offers surround sound systems featuring their latest sound bar, the Sonos Beam. Ready to shop? See all Sonos wireless surround sound systems.
Start with a sound bar and expand to 5.1-channel wireless surround sound
Sound bars have long been a popular way of improving a TV's front soundstage. Now, there are lots of sound bars that can be expanded into a 5.1 system with optional wireless rear surround speakers.
Some sound bars, like the JBL Bar 5.1 and the Polk Audio MagniFi MAX SR, even come with wireless surround speakers in the box! See all of them.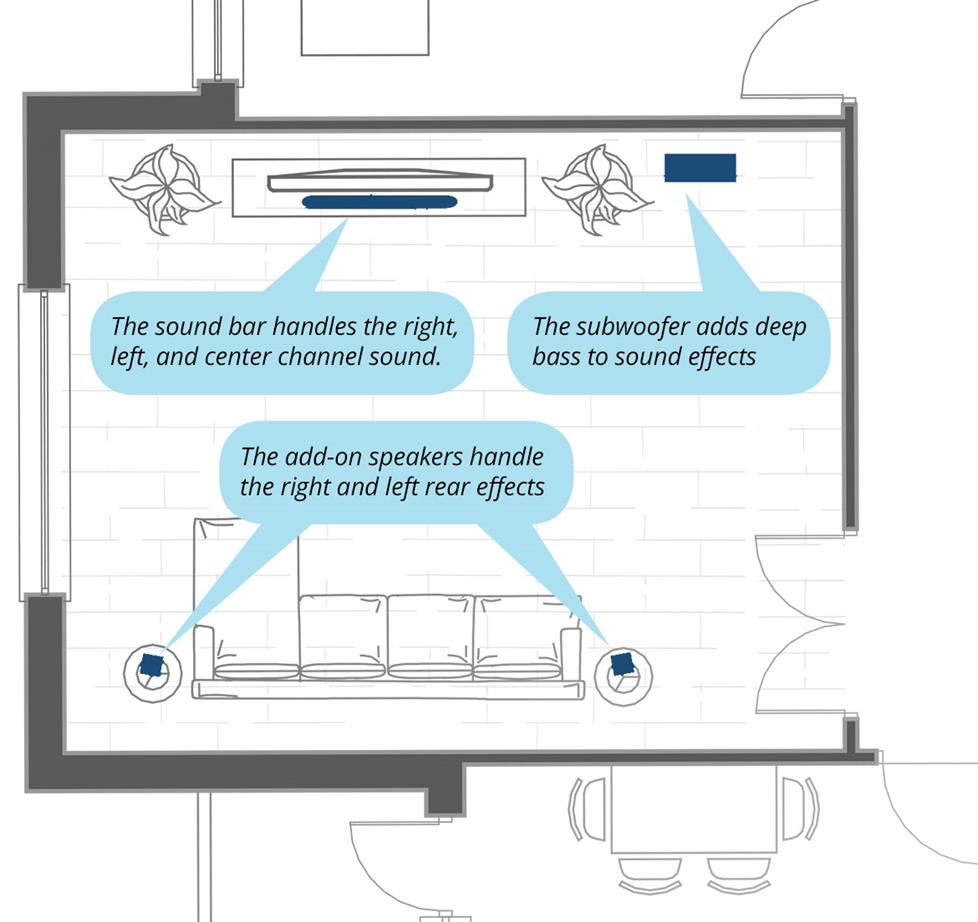 Enjoy an awesome home theater experience without running or hiding any speaker wires or subwoofer cables.
Going the sound bar route gives you some budget and space flexibility. Start your system with a sound bar and wireless sub for improved dialogue, volume range, and bass response. Then when you're ready to expand your system, add a pair of matching wireless surrounds. They add those crucial special effects that make movies so much fun to watch at home.
Some sound bar systems like SONOS and Denon HEOS let you use the wireless surround speakers as standalone music players when you're not watching TV. Take one into the kitchen while you're cooking. Or set one up on your porch and stream music from your phone or the internet while you hang out with friends. When you're ready to fire up a movie or watch a football game, bring the speakers back into the living room and your surround system is ready to rock again.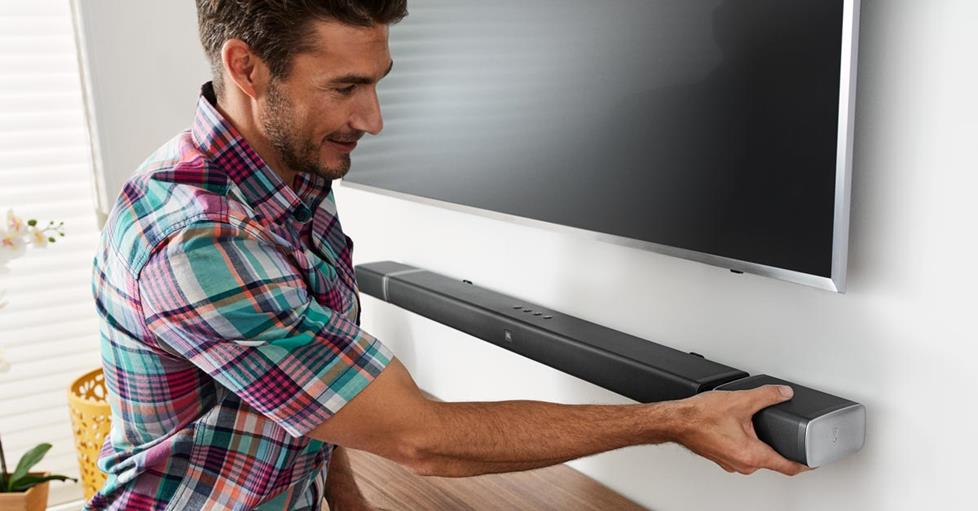 The innovative JBL Bar 5.1 surround system comes with detachable, rechargeable surround sound speakers. Set them up near your couch when you're ready to watch a movie, and plug them back into the sound bar to charge when you're done.
Our sound bars buying guide will help you choose the best sound bar for your system.
You should know that the term "wireless" refers to signal transmission only (with rare exceptions like the JBL Bar 5.1 system). We can broadcast an audio signal to powered speakers without speaker wire. But, a constant power supply for the equipment is still required. You'll need to plug your "wireless" speakers into an AC power outlet (or a power protection device).
Home theater receivers that support wireless surround sound
For years home theater receivers have required hard-wired connections for surround speakers. Denon has changed this with the HEOS AVR — a 5.1-channel receiver that can broadcast surround information to compatible wireless speakers in the back of your room. Check out our in-depth staff review for a breakdown of all of its features.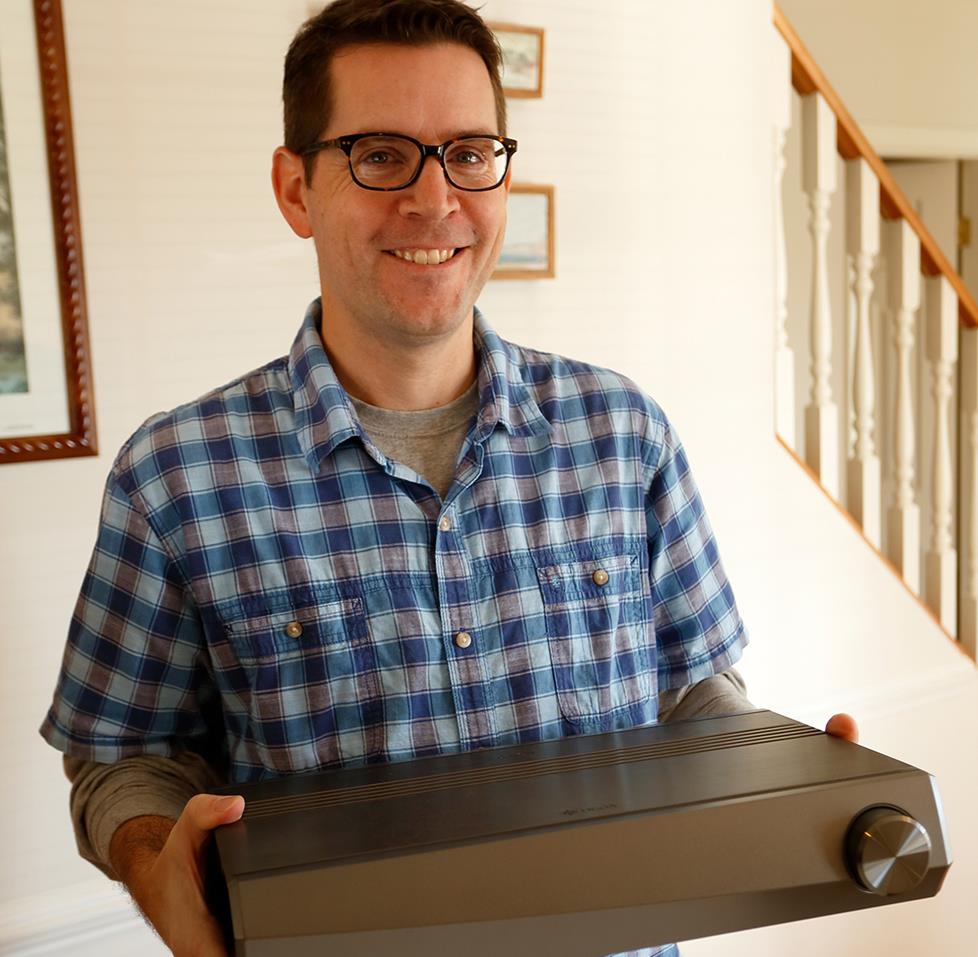 Dave Brown, Crutchfield writer and editor, took the Denon HEOS AVR home for an in-depth, hands-on review.
All Wi-Fi equipped Yamaha home theater receivers from 2018 on support wireless surround sound when you add the optional MusicCast 20 or MusicCast 50 speakers.
Don't have room for surround speakers? Build a strong front soundstage
Sometimes our rooms can't accommodate surround speakers at all. And that's okay – you can still get great TV sound without wires getting in the way. Here's where a traditional wired system makes sense. Since all of the equipment is in one area, the wires are easily hidden.
A 2.1 system combines a pair of bookshelf or floor-standing speakers with a powered subwoofer. This makes for a strong front soundstage for TV and movies, and also a rockin' stereo music system.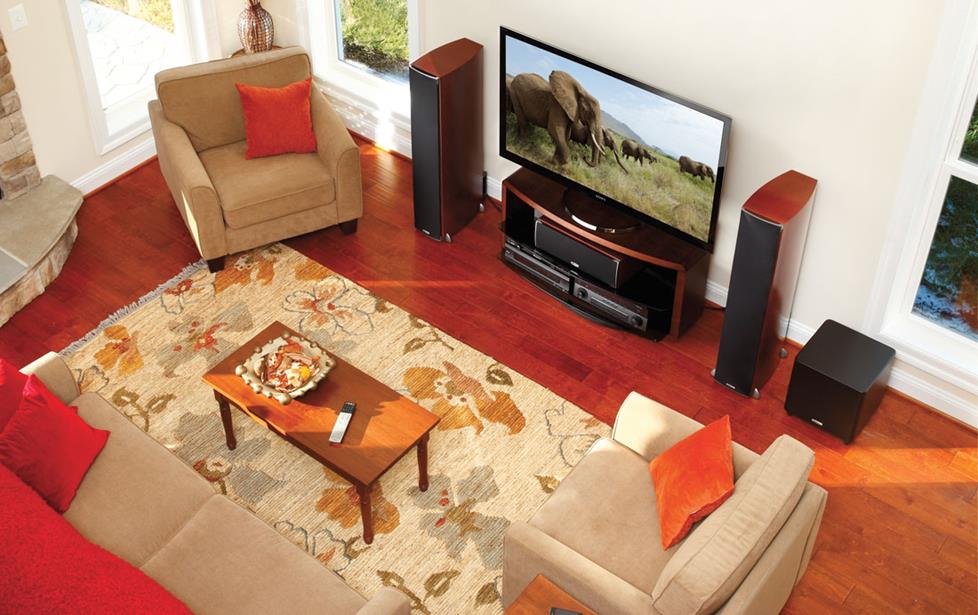 Love watching movies? Go with a 3.1 system. This adds a center channel speaker to a 2.1 system for improved dialogue and a wider front soundstage.
If you're going the front soundstage route, I recommend powering your system with a home theater receiver. It handles the audio/video processing and provides amplification for the speakers. And it gives you expansion flexibility should you decide to add surround speakers down the road.
Check out our intro to home theater speakers to learn more about choosing speakers. Read our guide to choosing speaker wire to find the right wire for these two systems.
Connect with a Crutchfield advisor for a personalized recommendation
Have questions about choosing the right equipment for your surround system? For one-on-one shopping advice, call, email, or chat with us today. Free lifetime tech support is included with your order.
Last updated 10/28/2019