About the Bose® QuietComfort® 45
A fresh update to an all-time classic
The Bose QuietComfort 45 Bluetooth headphones hardly need introduction. They're the latest in Bose's legendary line of noise-cancelling headphones — a longtime staple in airports, offices, and home offices.
The Bose QuietComfort 45 headphones sport a familiar design, but deliver better noise cancellation than ever.
A fresh update to an all-time classic
The Bose QuietComfort 45 Bluetooth headphones hardly need introduction. They're the latest in Bose's legendary line of noise-cancelling headphones — a longtime staple in airports, offices, and home offices.
What's new?
Bose didn't stray too far from the signature design of their predecessors, but they have introduced some key improvements. These headphones offer stronger Bluetooth, longer battery life, USB-C charging, an "Aware" mode button, and somehow — somehow — better noise cancellation.
I was able to test them out for a few weeks before their launch. They deliver precisely what I've come to expect from this iconic headphone line. Out of the box, they look sharp and clean, but they feel familiar and broken-in when worn — like throwing on a favorite jacket. And I found their sonic and noise-cancelling performance nicely complemented my new hybrid work reality.
Better Bluetooth for a stronger connection
Music plays wirelessly via Bluetooth 5.1, a newer version of Bluetooth that offers a strong, reliable connection. Pairing with my phone was quick and easy. And at Crutchfield HQ, I could keep the phone on my desk and trek down our long top-floor hallway without the audio dropping out.
Press the button on the left earcup to toggle from "Quiet" to "Aware" mode so you can hear nearby sounds.
Pair multiple devices
The QC 45s also offer a multi-point Bluetooth connection, so I could pair my work laptop and my phone at the same time. That really came in handy when I was working from home. It was easy to toggle back and forth between music, podcasts, and videos, grabbing an incoming phone call, or hopping on a meeting. I didn't have to stop and re-pair the headphones each time I started a new task on a different screen.
Lightweight, relaxed fit
These headphones look almost identical to the previous-generation Bose QC 35 II, one of our best-selling, best-reviewed headphones ever. But on closer examination, I realized the QC 45 'phones felt even lighter in my hand and on my head. That's saying a lot, because the QC 35s made our top 5 most comfortable headphones — and earned high marks on our in-house tests for feeling "ultra-light."
This newer model managed to feel softer and more relaxed, and stayed in place as I moved around. I could wear them for entire work shifts without fatigue or strain on my head or ears. And of course, work and travel are even more bearable when you have world-class noise-cancelling circuitry hushing loud distractions.
Even better noise cancellation from Bose
Bose seems to make a leap in noise cancellation every time they release a set of QuietComfort headphones. I shouldn't be surprised at this point — after all, I've spoken to their legendary engineer, Dan Gauger, who showed me how much research and effort goes into this. But the bar has been set so high, it still shocks me when they are able to clear it.
In terms of absolute "quiet," the QC 45s are arguably the best ever — regardless of brand. If you're looking for a fresh blanket of silence, they're hard to beat. Let me give you an example.
My hands-on impressions: next-level noise cancellation
Here's the scene: I'm in my home office plugging away on this very review, wearing the QC 45s, and I'm transported back to a smoky jazz club. I'm listening to a 1940s recording of Art Tatum's "Soft Wind," his swift fingers dancing across the piano keys right in front of me. The recording is of its time — muffled, a little distorted — which adds to the ambience, and I'm completely immersed, lapping up the whole vibe.
As I read over notes, I'm oblivious to the world around me — the breezy, yet intricate instrumentals keep my attention locked-in. I only snap out of it when our foster cat, Jane, darts across the room. I lift an earcup to see what's up.
WHOA! My washing machine has started its spin cycle, and this is the first time I've noticed. But here's the thing: the bearings have gone bad, and it is only a slight exaggeration to say that it sounds like a helicopter is landing in my basement.
The whipping and gnashing sounds of the spinning metal washer drum is so intense, that I've had to leave Zoom meetings because I couldn't hear. But the QC 45s delivered a personal bubble of peace and quiet, while I sat only one room over. Since they performed so well during this "torture test," I'm confident they would easily cancel out the drone of a jet engine during air travel.
Classic Bose sound
It isn't just the "Quiet" and the "Comfort" that make the QC 45 a pleasure to wear. The sound is relaxed, too. These headphones deliver a large, layered, and laid-back presentation.
Dorothy Ashby's 1969 album, Dorothy's harp, has the right mix of instruments to showcase these headphone's strengths. The biting percussion sat centered, and slightly in the background to keep the track grounded. Meanwhile in the forefront, the harp, flute, and string instruments grooved and frolicked around my head. The Bose headphones helped ease me into the vibe, like I was gently wading into the waves instead of diving head first.
It speaks to the inviting, accessible nature of the QC 45s. The sound is as comfortable as the headphones themselves — like sinking into a cozy, well-worn couch.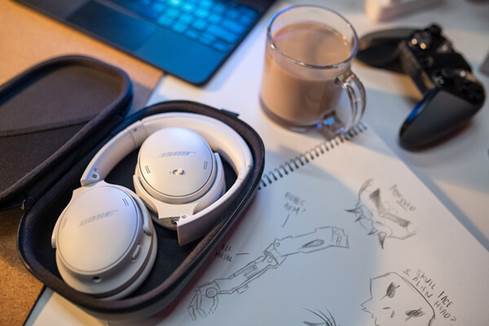 The Bose QC 45 headphones fold up neatly to fit into their included case.
24 hours of wireless use with noise cancellation
The QC 45 headphones have a built-in rechargeable battery and include a charging cable. On a full charge, you can get up to 24 hours of wireless listening with noise cancellation on. I used them consistently for about two weeks, and only had to recharge twice. A voice prompt tells you how much battery life you have left every time you power them on.
Plus, their quick charge feature gives you up to three hours of use on just 15 minutes of charging. And even when the battery is fully drained, you can still listen to music without noise cancellation using the included listening cable. It connects to a standard 3.5mm headphone jack.
Hands-free phone calls and "Aware" mode
There are tactile buttons on the right earcup for controlling music, calls, and volume. When someone calls, press the "Answer" button and talk hands-free through the built-in mics. I took a few calls from my wife while I was outside with these 'phones. Even on a breezy, busy street, the conversation was clear.
Speaking of traffic — the left earcup button lets you toggle between noise cancellation and "Aware" mode. That mode uses the internal mics to pick up external sounds and voices, so you can hear your surroundings without removing the headphones.
READ LESS
Product highlights:
lightweight, over-the-ear design
Bluetooth® 5.1 for wireless music listening and phone calls

NFC-compatible for one-touch pairing with compatible devices
multi-point connection for pairing to two devices at once

active noise cancellation uses internal circuitry to block out external distractions

six built-in mics monitor external sound and adjust noise cancellation
Bose's "full-spectrum" noise reduction cancels noise across a wide-frequency range

dedicated button on left earcup toggles between noise cancellation and "Aware" mode

turns off noise-cancelling and uses built-in mics to pick up external sounds

durable, lightweight glass-filled nylon frame and cast-metal hinges
plush synthetic leather headband lining and ear pads for a relaxed, yet secure fit
free, optional Bose® Music app available for Apple® and Android™
rechargeable battery provides up to 24 hours of wireless use

15 minutes of recharging provides up to 3 hours of listening

voice prompts provide information on battery life, device connection, and caller ID
right earcup buttons offer easy controls for music, calls, and volume

center button can summon the voice assistant on your smart phone

built-in microphone for taking calls with an iPhone® or Android phone
USB-A to USB-C charging cable included
48" audio cable with 3.5mm plug for wired use

passive mode allows continued listening when the battery runs out (noise cancellation requires battery power)

earcups rotate and fold for compact storage
carrying case included
warranty: 1 year
MFR # 866724-0100
Fit FactorsSM
Ultra-light
Relaxed fit
Good for flight/travel
What's in the box:
Bose® QuietComfort® 45 owner's manual
Over-ear noise-cancelling headphones (Black)
42" Audio cable (straight 2.5mm plug on one end and straight 3.5mm plug on other end)
12" USB charging cable (Type A USB on one end and USB-C on other end)
Zippered carrying case
Quick Start Guide
Important Safety Instructions
Bose® QuietComfort® 45 reviews
Average review:
Customer photos
More details on the Bose® QuietComfort® 45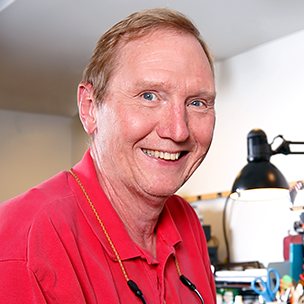 Researched by Crutchfield's

Mark G.
Features & specs
General
Fit Style
Over-the-ear
Earcup Type
Closed
Earcup Width x Height
3.006" x 3.863"
Noise-canceling
Yes
Bluetooth
Yes
Bluetooth Version
5.1
Single-earbud Operation
---
Mic For Taking Calls
Yes
Voice Assistant Access
Amazon Alexa
No
Google Assistant
Yes
Siri
Yes
Connectors
3.5mm
Yes
1/4"
No
Lightning
No
4.4mm balanced
No
XLR4 balanced
No
2.5mm
No
Other
None
Specs
Frequency Response
Not Given
Sensitivity
Not Given
Impedance
Not Given
Weight
8.5 ounces
Cord Length
42"
Parts Warranty
1 Year
Labor Warranty
1 Year
The Bose® QuietComfort® 45 replaces these items:
Product Research
Features
Overview: The Bose QuietComfort® 45 headphones are the latest version of the iconic QC-series of wireless noise-cancelling headphones. The QC45 features Bose's best noise-cancelling technology which lets you enjoy your music without distrations from the outside world. The Aware Mode allows you to hear what's going on around you, when you want to hear it. The lightweight headphones (8.5 ounces) are made with premium materials to ensure maximum comfort and durability. The QuietComfort 45s come with an audio cable and a USB-C charging cable, and a zippered storage case.
Active Noise Cancelling: The QuietComfort 45 achieves its iconic noise-cancelling through a combination of passive and active noise cancelling. The combination of the over-ear headphone design and clamping force of the headband produces a natural reduction of external noise inside the earcups. Microphones located inside and outside of each ear cup continually measure, compare, and react to outside noise. The proprietary noise cancellation circuitry then sends an equal and opposite signal to the ear cup's speakers to cancel out the noise. The circuitry also goes the extra mile to eliminate the soft hiss that occurs with most electronics. Pressing the Action button on the left earcup switches between the following modes: Quiet Mode for full noise cancelling, or Aware Mode to let in some of your surroundings while you still enjoy your audio content.
Bluetooth 5.1: The QuietComfort 45 features Bluetooth 5.1 wireless technology that lets you listen to your favorite music and make phone calls free from wires. Multi-point technology lets you connect to two mobile devices simultaneously. This allows you to watch a movie on your tablet while maintaining a connection to your phone. Bose software lets you seamlessly transition between the two devices when a call comes in. The QuietComfort 45 also access the native Voice Assistant (ex. Siri, Google) on your device.
Bose Music App: The Bose Music app makes it easy to connect to your Bluetooth devices, and switch between them whenever you desire. It improves your wireless experience by helping you pair your headphones to multiple devices by a simple swipe. You can also get software updates, choose your Voice Prompts language, product tips, and personalized settings from the app. The free Bose Music app is available for download from the App store for devices running iOS 12.0 or later, and from Google Play for Android devices (version varies with device).
On-board Controls: The QC45 wireless headphones feature a 3-button control panel on the bottom of the right ear cup. The outer buttons control volume up and volume down, while the center button is a multi-function button. When listening to music, the multi-function button controls play/pause, skip forward/backward, and fast forward/rewind. The button also lets you answer, end, or reject a call, and access the native voice assistant to your device. The Action button (left earcup) is for switching between Quiet Mode and Aware Mode. The controls work with both iOS and Android devices.
Voice Prompts: Voice Prompts in the headphones guide you through the Bluetooth pairing process, powering on and off, and for battery status updates. You can choose the language for the voice prompts in the Bose Music app.
Battery Powered: The headphones have a built-in Lithium-ion rechargeable battery, which powers both Bluetooth, Quiet Mode, and Aware Mode. The battery charges in about 2.5 hours via the supplied Micro USB cable. A fully charged battery will power the headphones for up to 24 hours when connected wirelessly (Bluetooth and ANC). A 15-minute Quick Charge will give you up to 3 hours playback time. When the battery is depleted, you can still listen to music by plugging in the supplied audio cable.
High Quality Materials: The Bose QC45 wireless headphones are crafted with premium materials for lightweight comfort and durability. The ear cups are molded with glass-filled nylon instead of plastic for a lightweight feel and for strength. The stainless steel headband springs and pivots are built to last for years. The ear cushions are made of synthetic protein leather with a silicone bead to passively block external noise.
Folding Ear Cups: The QC45s feature hinged ear cups that fold and rotate for compact storage in the supplied carrying case.
The Bose® QuietComfort® 45 replaces these items

Adding...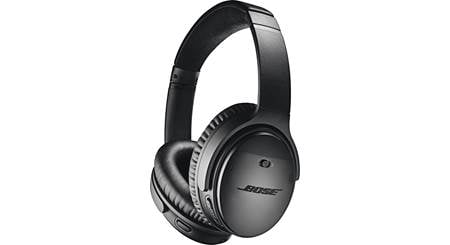 adjustable active noise cancellation to block out external distractions
built-in Bluetooth® for wireless music listening and phone calls
dedicated earcup button summons Google Assistant or Amazon Alexa on your smartphone or tablet