About the Bose SoundLink Flex Bluetooth® speaker
Iconic Bose® sound anywhere
Few surfaces are level in the great outdoors. That's no problem for the Bose® Soundlink Flex Bluetooth® portable speaker. Whether it's upright against a rock, hanging from a tree branch, or flat on its back by your pool, the speaker's PositionIQ™ technology optimizes the sound. You'll hear rich, balanced music, whatever the speaker's position.
Iconic Bose® sound anywhere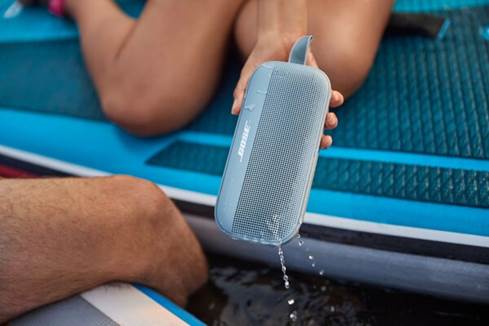 Totally dust-proof and waterproof — it even floats.
Few surfaces are level in the great outdoors. That's no problem for the Bose® Soundlink Flex Bluetooth® portable speaker. Whether it's upright against a rock, hanging from a tree branch, or flat on its back by your pool, the speaker's PositionIQ™ technology optimizes the sound. You'll hear rich, balanced music, whatever the speaker's position.
Built to travel
The SoundLink Flex features a durable powder-coated steel grille. Its silicone body seals out moisture and helps cushion it from shocks and dings. And this speaker is both waterproof and dust-proof. It even floats.
A built-in utility loop lets you add a clip or a carabiner for extra convenience. Hang it from your belt or backpack, and you're ready to go. And with a 12-hour battery life, the SoundLink Flex is sure to keep your tunes playing during your adventures.
Bose Connect app
The free Bose Connect app lets you do even more. It gives you greater control over your SoundLink Flex and access to more settings. You can also see battery readings and set an automatic off timer.
The app lets you pair two SoundLink Flex speakers together wirelessly. Set them to Stereo Mode to separate the sound into left and right channels for better stereo separation, or use Party Mode for double the volume. .
READ LESS
Product highlights:
Bluetooth wireless operation
IP67-rated waterproof and dust-proof
soft-touch silicone exterior
PositionIQ™ technology detects speaker orientation and optimizes sound
Bose® Connect app:
free download from Apple® App store and Google Play
volume control
customize settings and features
pair two SoundLink Flex speakers in Stereo Mode or Party Mode
group SoundLink Flex with compatible Bose smart speakers for multi-room audio
General features:
easy-to-use control buttons
multifunction button lets you access your smartphone's Siri or Google Assistant voice input
built-in microphone for hands-free calling
voice prompts simplify Bluetooth pairing process
remembers up to 8 of the most recently paired devices
built-in lithium-ion rechargeable battery lasts up to 12 hours
USB-C charging cable
7-15/16"W x 3-5/8"H x 2-1/8"D
weight: 1.3 lbs.
warranty: 1 year
MFR # 865983-0100
Bose SoundLink Flex Bluetooth® speaker reviews
Average review:
Customer photos
More details on the Bose SoundLink Flex Bluetooth® speaker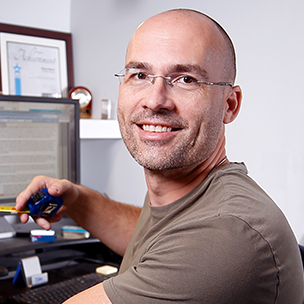 Researched by Crutchfield's

Stacey B.
Features & specs
Physical Design
Width
7.9375
Height
3.5625
Depth
2.0625
Weight
1.3
Weather Resistance
Dust-proof/Waterproof (IP67)
Color
Black
Power and Battery Info
Built-in Battery
Y (12 hours)
Charges External Device Via USB
No
Runs On AC Power
No
Connections
USB
No
Aux Inputs
0
Headphone Jack
No
Bluetooth Version And Supported Audio Formats
Bluetooth Version
Built-in
aptX
No
aptX-HD
No
AAC
No
LDAC
No
SBC
Yes
Other Wireless Features
Hands-free Calling
Yes
Wi-Fi
No
Apple AirPlay
No
Stereo Pairing
Yes
Unison Pairing (Party Mode)
Yes
Driver Details
Tweeter Size
0
Tweeter Type
N/A
Midrange Size
2
Midrange Type
Cone
Woofer Size
0
Woofer Type
N/A
Audio Specs
Frequency Response
Not given
Amplification (Watts RMS)
Not given
Warranty
Parts Warranty
1 Year
Labor Warranty
1 Year
The Bose SoundLink Flex Bluetooth® speaker replaces these items:
Product Research
Features
Water & Dust Proof (IP67-Rated): The Bose SoundLink Flex portable Bluetooth speaker has been rigorously tested to meet an IP67 rating, making it water and dust proof. The SoundLink Flex is completely dust-tight and can withstand water splashes (including rain & snow), as well as the pressure of being immersed in water up to 3.3' (1m) deep - for up to 30 minutes. The SoundLink Flex speaker is the perfect outdoor music companion with its rugged design that is able to withstand water, dust, and a few bumps and bruises along the way. It even floats, so it won't sink to the ocean floor if it falls off your paddleboard. The speaker is also protected against dust, so you don't need to worry if it gets sandy at the beach.
Rugged Exterior: With its powder-coated steel grille and silicone exterior, the SoundLink Flex was purpose-built with durable materials to withstand the outdoor elements. Its tough exterior can also withstand almost any mishap, like a fall to the floor. The grille's thick coat of powder gives the speaker a rugged texture that can withstand whatever your day throws at it. The powder coat won't peel or flake, and it's resistant to rust corrosion and UV light.
Waterproof Speaker Material: To ensure further protection from water, dust, and debris, the Bose SoundLink Flex Bluetooth speaker's transducer and passive radiators underneath the steel grille are built with rugged, waterproof materials and sealed tightly to the speaker's housing.
Note: If the speaker is exposed to salt or chlorinated water, gently rinse with fresh water following the exposure to remove residue. Make sure the USB-C port is fully dried out before charging.
Bose Sound Technologies: The SoundLink Flex is packed with state-of-the-art engineering and exclusive Bose technologies. The speaker's custom drivers, digital signal processing (DSP) technologies, and proprietary algorithms all work together to ensure optimal sound quality wherever you are. Together, these technologies enable the SoundLink Flex to deliver an exceptional music experience with sound that is crisp, clear, and free of distortions.
Custom-Designed Drivers: The SoundLink Flex's innovative transducer and passive radiators are custom designed specifically for the portable Bluetooth speaker. There is one 2" transducer and two small passive radiators (one front and one rear facing) that deliver the clearest possible sound and well-balanced midbass for a speaker system of its size.
PositionIQ Technology: The SoundLink Flex also features PositionIQ technology, which automatically detects its orientation and optimizes the EQ to ensure natural, lifelike sound no matter the orientation. Using a built in sensor, the SoundLink Flex detects its orientation and automatically adjusts its EQ to deliver an uncompromised, high-fidelity audio experience whether it's vertical, lying flat, or horizontal.
Bluetooth 4.2: The Bose SoundLink Flex features built-in Bluetooth 4.2 with support for wireless audio streaming (A2DP) and control (AVRCP), as well as hands-free communication (HFP) with a built-in microphone. It provides multi-device pairing and two phone connection. The SoundLink Flex's Bluetooth connection is capable of stable wireless operation at up to 30' (9m). Performance can be affected by obstacles such as walls or metal, interference from WiFi or other wireless devices and device manufacturers' Bluetooth implementations.
Note: The SoundLink Flex does not feature an Aux input and does not support WiFi.
Voice Guided Multi-Device Pairing: Voice prompts talk you through Bluetooth Secure Simple Pairing (SSP), making it easy to wirelessly connect your Bluetooth-enabled source device to the Bose SoundLink Flex speaker. The SoundLink Flex keeps track of the last 8 devices to have paired and connected with it, dropping the least recently used when a new one is paired. When in Bluetooth mode, the SoundLink Flex searches for and connects to the two most recently connected active Bluetooth-enabled devices. The speaker will only receive audio from one device at a time. When the first device stops playing, the other can start.
Wireless Audio Streaming: Thanks to the support for Bluetooth A2DP & AVRCP, you can stream stored music, music apps and other audio content from your Bluetooth source device to the Bose SoundLink Flex speaker. You also get basic playback controls such as Play/Pause, Volume Up/Down, and Previous/Next Track from the SoundLink Flex's top-panel buttons. You'll still use your Bluetooth source device for advanced music browsing and song/artist/album information.
Supported Codecs: The SoundLink Flex supports Bluetooth's standard SBC codec. It does not support AAC, aptX, aptX-HD, or other Bluetooth codec.
Incoming Call: When a call comes in, the audio on the SoundLink Flex will pause, and the call will ring through the speaker. If you wish to answer the call through the SoundLink Flex, simply press the multi-function button to answer the call. You can now talk into the speaker itself to conduct your phone call. Once you end your call, music playback will resume. Some details of this experience will vary depending on the implementation by the phone manufacturer.
Built-in Microphone: The SoundLink Flex's built-in microphone acts as an extension of the microphone in your Apple iPhone or Android smartphone. It's activated when you make or take a call, and when you use the Multi-Function button to access the Siri or Google Assistant voice control features of your iPhone or Android smartphone.
Hands-Free Speakerphone: The built-in mic will be used to carry on your side of the conversation, while the other party is heard through the Bose SoundLink Flex speaker. You can use the SoundLink Flex's top-panel controls to answer, end, and reject calls. The SoundLink Flex can even access the voice dialing functions of your smartphone and audibly identify incoming callers (when applicable).
Digital Voice Assistance: You can press-and-hold the SoundLink Flex's Multi-Function button and then speak into the built-in microphone to access Siri on your Apple iPhone or Google Assistant on your Android smartphone You'll be able to ask Siri or Google Assistant to play music, tell you the weather forecast, give you the score of a game, hear news updates, and other common tasks and more.
Multi-Function Button: When in audio playback mode, the Multi-Function button on top of the speaker allows for play (single press), pause (single press), track forward (double press), and track backwards (triple press). Pressing and holding the Multi-Function button will activate the voice control capabilities of your device. Pressing the Multi-Function again will exit the voice control mode. When there is an incoming call, pressing the Multi-Function button will answer the call and pressing and holding it will reject the call. During an active call, pressing the Multi-Function button will end the call. Other control buttons found on the top-panel of the speaker include Power On/Off, Volume Up/Down, and Bluetooth Pairing.
Bose Connect App: The Bose Connect app (for Apple iOS 11.0+ and Android OS 5.0+) lets you setup and control the SoundLink Flex speaker from your compatible smartphone or tablet device. Using the app you can manage all of your connected Bluetooth source devices with an intuitive graphic interface that lets you switch between devices whenever you want. Withing the Bose Connect app, you can also personalize your settings, pair multiple speakers, unlock product features, keep your software up to date, and more.
Stereo & Party Modes: The SoundLink Flex offers a Stereo Mode and Party mode which allows you to wirelessly sync two Bose Bluetooth speakers together. Party Mode lets you connect two Bose Bluetooth speakers to play the same audio in perfect sync, while Stereo Mode, enables a stereo audio experience via two Bose Bluetooth speakers. Both modes requires any two Bose Bluetooth speakers from the following list - SoundLink Flex, SoundLink Micro, SoundLink Color II, SoundLink Mini II, SoundLink Revolve (series I & II) and SoundLink Revolve+ (series I & II). The primary method of entering this mode is through the Bose Connect app.
If you did not yet download the Bose Connect app, you can still enable Party Mode by pressing and holding the Bluetooth and volume up buttons until you hear "Press the Bluetooth and volume down buttons simultaneously on a second Bose device".
On the other speaker, press and hold the Bluetooth button and volume down simultaneously and release the buttons when the speaker emits a tone.
After 10 seconds, you hear "Party Mode" from both speakers simultaneously. Party Mode is enabled.
You can then toggle to Stereo Mode by pressing and holding the Bluetooth button and volume up until you hear "Stereo Mode".
Pressing Bluetooth and volume up again will toggle back to Party Mode.
Bose SimpleSync: Bose SimpleSync allows you to pair a member of the Bose Home Speaker family (sold separately) with the SoundLink Flex speaker for playback of the same audio signal. Use the Bose Music app on your Apple iOS or Android device to setup and enable SimpleSync. SimpleSync then provides a one-to-one connection for a maximum of two Bose products (the SoundLink speaker and a Bose Home Speaker). The two products must remain within typical Bluetooth wireless range (30') of each other to stay connected. You'll be able to listen to the same audio signal from the Bose Home Speaker on the connected SoundLink speaker (you cannot listen to different sources). You can choose to listen on both the Bose Home Speaker and the SoundLink speaker at the same time with independent volume control; or just one speaker. Compatible Bose Home Speakers include -
Soundbar 300, 500, 700, and 900
Home Speaker 300 and 500
Portable Home Speaker
Notes:

You cannot wirelessly stream Bluetooth audio to a Bose Home Speaker and use SimpleSync at the same time.
You can only sync audio from a Bose Home Speaker to the SoundLink speaker; not from the SoundLink speaker to the Bose Home Speaker.
Rechargeable Battery: The Bose SoundLink Flex portable Bluetooth speaker features a built-in rechargeable lithium-ion battery. In typical usage, the built-in rechargeable battery lasts up to 12 hours. Battery performance varies with the content played and volume at which it is played. An auto-off timer conserves the battery when the speaker is operating only on battery power. The speaker switches off when audio has stopped and buttons have not been pressed for about 20 minutes. When the speaker is unplugged and unused for more than three days with a remaining charge of less than 10%, it enters battery protection mode to preserve battery power.
Because SoundLink Flex employs a USB-C charging port, it can receive power from nearly any USB power source. For best results, use the included USB-C to USB-A cable with a USB power source rated for at least 1.5A (not included and sold separately - see Accessories Tab). Please note that some power sources with less than 1A of current may charge SoundLink Flex more slowly than the recommended power sources, and may not be able to keep up with the power consumed while the speaker is operating.
While not playing music, much of the SoundLink Flex's battery charge can be recovered in approximately 4 hours when using a 1A USB power source. With a stronger 1.5A power source, charging time may be closer to 3 hours. Charging from alternate USB power sources or when playing music may take longer.
Notes:

There is no AC power adapter included in the box. You will need a USB/AC power adapter (sold separately) to charge the SoundLink Flex speaker's built-in battery.
Never attempt to charge the speaker while it is wet. Doing so may cause damage to the speaker.
Finger Strap: You can use the integrated strap as a finger loop to easily carry the speaker. You can also attach it to a carabiner (not included).
Placement Options: For optimal performance, place the back of the Bluetooth speaker near, but not directly against a wall. Bass response decreases as you move your speaker away from a wall. You should keep other wireless equipment at least 3'away from the speaker to prevent interference.
The Bose SoundLink Flex Bluetooth® speaker replaces these items

Adding...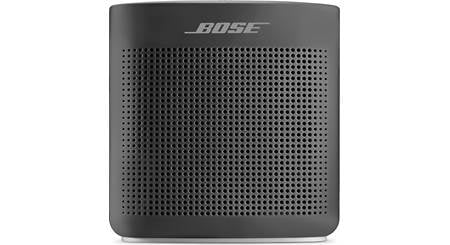 water-resistant
voice prompts simplify Bluetooth pairing process
built-in lithium-ion rechargeable battery with up to 8 hours of battery life