Bose® noise-masking sleepbuds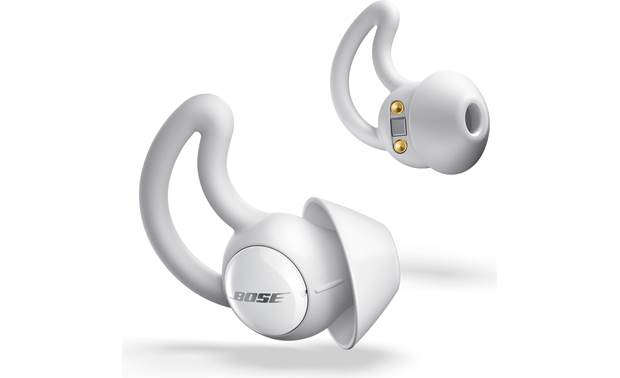 Bose® noise-masking sleepbuds - Front

Bose® noise-masking sleepbuds - Fits securely and discreetly in your ear

Bose® noise-masking sleepbuds - Control your sounds on your phone with the free Bose Sleep app
From Bose: Noise Masking Sleepbuds

Bose® noise-masking sleepbuds - Exploded view shows all the tiny, high-tech parts at work

Bose® noise-masking sleepbuds - Inside charging case

Bose® noise-masking sleepbuds - Included charging case banks power for one full recharge on the go

Bose® noise-masking sleepbuds - Super-compact in-ear design

Bose® noise-masking sleepbuds - Designed to mask the sound of snoring, traffic, and other sleep disturbances

Bose® noise-masking sleepbuds - Included accessories

Bose® noise-masking sleepbuds - Cloth carrying pouch

Bose® noise-masking sleepbuds - 3 pairs of StayHear+ ear tips for comfortable, secure fit

Bose® noise-masking sleepbuds - Travel-size charging case

Bose® noise-masking sleepbuds - Designed to deliver a good night's sleep

Bose® noise-masking sleepbuds - Sleepbuds recharge inside the included charging case
Item # 018SLPBUDS | MFR # 785593-0010
In Stock
Buy now

Our North American experts can help.
Overview
Our take on the Bose® noise-masking sleepbuds by Crutchfield's Jeff Miller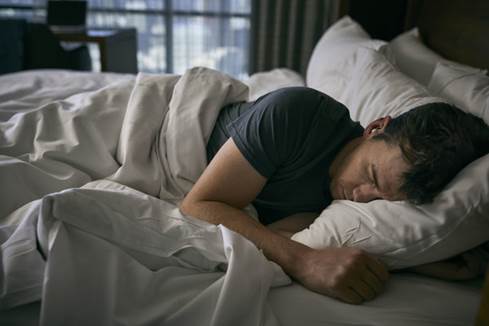 The Bose® noise-masking sleepbuds drown out loud disruptions with peaceful sounds that help you sleep.
A new approach to better sleep, from Bose®
When I'm traveling, I can never get a good night's sleep. No matter how nice the hotel is — or how thick the walls are — I'm startled awake by loud, annoying noises at all hours. Guests stomping down the hall, traffic outside, someone moving a piano in the room above me (or whatever they are doing up there)...it all keeps me up at night. Judging by the buzz around the Bose noise-masking sleepbuds, I am not alone.
Bose developed these comfortable, truly wireless in-ears specifically to deliver soothing, noise-neutralizing sounds while you rest or sleep. And for the first time ever, the company crowd-funded their research — to much fanfare. Bose wanted this product tested by as many people as possible, to ensure they had a successful and state-of-the-art sleep aid.
Bose knows you need your ZZZ's
We all know the importance of sleep, so I won't rehash everything here. But basically, lack of sleep doesn't just adversely affect your focus and performance the next day — there are also long-term health implications. Yet despite everything that we read and hear, most of us still don't get our recommended 7-8 hours.
To help solve this important problem, Bose developed a plan to attack sleep's arch-nemesis — noise. Bose's noise-cancelling headphones are legendary, so it's a topic their experts were well-equipped to tackle. The sleepbuds can counteract disturbances like car horns, barking dogs, or snoring family members — all notorious for keeping you up at night.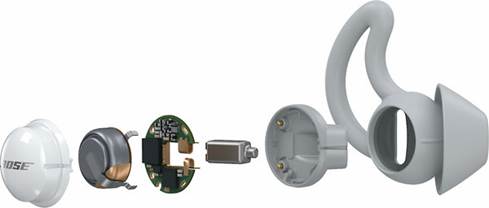 This exploded view shows the tiny parts at work — including a micro-sized battery, special noise-filter, and memory chip filled with noise-masking sounds.
How the sleepbuds work
If you're keeping something in your ear overnight, you want it to be as small and unobtrusive as possible. The Bose engineers were extremely conscious of this — and created the smallest product they've ever made. They only selected miniscule parts that were necessary and effective for the task at hand.
Tiny, specially designed noise filters are the first line of defense against nighttime racket. Next, a built-in memory chip delivers a preloaded selection of sounds that are engineered to drown out the remaining noise. These gentle sounds are designed to fade from your attention as you doze off.
Full control with an app on your phone
You can pick which soothing sound you'd like to hear by downloading the Bose Sleep app to your Apple® or Android™ device. There are two categories to choose from: the sounds designed for noise-masking and a list of other sounds for relaxation.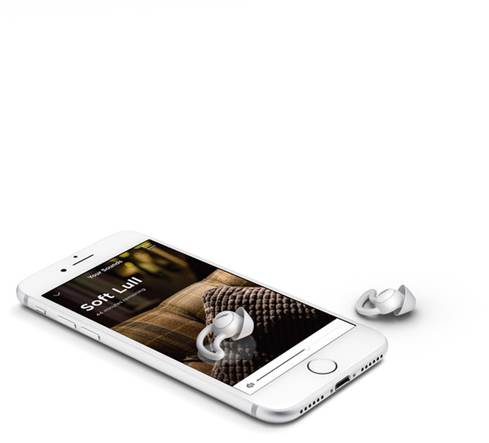 Choose and control everything from your phone with the free Bose Sleep app.
The app also lets you control the volume, and how much external sound you want to allow through. Bose claims that most bedroom noise can be rendered completely inaudible depending on what you select. You can also control how long you want the sound to play, and even set a wake-up alarm — all through the app.
StayHear®+ ear tips and charging case
It takes a special type of ear tip to stay put — and stay comfy — while you rest your head on a pillow all night. So Bose included three sizes of their StayHear+ ear tips. They feel extra soft and avoid unpleasant pressure points, plus they have stability wings to keep them in place if you move around in your sleep.
Included charging case
Inside each sleepbud, there's a tiny rechargeable silver-zinc micro-battery like the ones used in hearing aids. They offer about 16 hours of use on a single charge — or about two good nights of sleep. When they need more juice, just snap the earbuds into the included charging case.
This small case itself packs enough power to fully recharge the sleepbuds when you're on the go.
Product Highlights:
100% wire-free earbuds that aid sleep

no connecting cord between left and right
extra-compact, lightweight design

passive noise-isolating filters help reduce loud sleep disturbances
built-in memory chip plays soothing, noise-masking sounds
built-in Bluetooth for connecting to your phone or mobile device

will not stream music or other audio from your device
Mobile App and Sound Details:
free Bose® Sleep app for Apple and Android lets you choose and control your sounds

app is required to use the sleepbuds

choose from sounds designed to relax or sounds designed to mask external noise

noise-masking sounds have matching frequencies that cover up sleep-disturbing noises
noise-masking sounds include Waterfall, Ocean Waves, Soft Lull, and more

control volume of noise-masking sound and level of audible external noise
set sleep timer on sound so it will stop automatically
set wake-up alarm and choose from a selection of wake-up sounds
Charging Case, Accessories, and General Info:
three sizes of soft silicone StayHear®+ tips provide a comfortable fit

flexible wings keep earbuds secure during sleep or rest

built-in rechargeable battery offers up to 16 hours of use
included carrying case banks up to 16 hours of power to wirelessly recharge headphones

USB cable included for charging case

protective cloth carrying pouch
warranty: 1 year
What's in the Box:
Bose® noise-masking sleepbuds Owner's manual
Pair of Noise-masking in-ear sleep buds (white)
3 Pairs of white StayHear+Sleep ear tips (1 pair installed)
Portable charging case
39" USB charging cable (Type A USB on one end and Micro-B USB on other end)
AC adapter with Micro USB port (DC output: 5V 1.6A)
Storage pouch
Quick Start Guide
Important Safety Instructions
Really works for my. A little uncomfortable at the beginning but when you use to it no problem at all

Anibal, Adjuntas, PR
Why Shop
With Us?
10 Reasons.
---
Reviews
Bose® noise-masking sleepbuds Reviews
Average Customer Review(s):
Bose® noise-masking sleepbuds
Guest from Austell, GA on 11/21/2018
Can't wait to try these!

Pros:

Cons:
Bose® noise-masking sleepbuds
Crutchfield customer from Riverhead, NY on 11/18/2018
Crutchfield Customer Review
(
What's this?
)
Ear buds fit incredibly well and are very comfortable!! But sleeping with white noise takes some getting used to. First night was tough Will see how it goes

Pros:

Cons:
Bose® noise-masking sleepbuds
Anibal from Adjuntas, PR on 9/17/2018
Crutchfield Customer Review
(
What's this?
)
Really works for my. A little uncomfortable at the beginning but when you use to it no problem at all

Pros: mask all unpleasant sounds

Cons: little uncomfortable first time you use it
Bose® noise-masking sleepbuds
Crutchfield customer from New York, NY on 9/16/2018
Crutchfield Customer Review
(
What's this?
)
Returned - Were not comfortable and didn't help sleeping. Glad they worked for others.

Pros:

Cons:
Bose® noise-masking sleepbuds
Crutchfield customer from Boynton Beach, FL on 9/13/2018
Crutchfield Customer Review
(
What's this?
)
Bose® noise-masking sleepbuds
Crutchfield customer from Branford, CT on 8/29/2018
Crutchfield Customer Review
(
What's this?
)
Work great really help me sleep

Pros:

Cons:
Ryan from Long Beach, NY on 8/20/2018
Crutchfield Customer Review
(
What's this?
)
Great little devices that do exactly what they say on the tin! Love the case and the app. The alarm feature is my favorite feature - it allows me to get up without waking my wife. Can't wait for Bose to make proper headphones this size!

Pros: Super comfortable and barely notice them in your ears.

Cons: None!
Bose® noise-masking sleepbuds
D. from Mattawan, MI on 8/17/2018
Crutchfield Customer Review
(
What's this?
)
Sleepbuds aren't perfect, but they work pretty well for me (in conjunction with a box fan) drowning out a chain saw snorer.

Pros: Paired with a box fan they drown out heavy snoring.

Cons: Sometimes become a little uncomfortable after laying on them for a long time (side sleeper), but the silence is worth it.
Tony from Huntsville, AL on 8/12/2018
Crutchfield Customer Review
(
What's this?
)
Very comfortable and effective. These may be the solution to night noise I've been waiting for.

Pros:

Cons:
Bose® noise-masking sleepbuds
Crutchfield customer from New York, NY on 7/31/2018
Crutchfield Customer Review
(
What's this?
)
Very good product...but be aware that this is not a Bose noise cancelling product! They "mask" sound....Big Difference!!! As long as you understand that they are a quality product that work as advertised. Will not "cancel out" ambient sounds. I really like them but would have preferred to be able to cancel out sounds (snoring) rather than muffle the sounds. Really looking forward to more sounds.

Pros: Really well made, up to Bose standards!

Cons: Does not offer notice cancelling technology
Michael from Westville, IN on 7/31/2018
Crutchfield Customer Review
(
What's this?
)
The quality I've come to expect from Bose is delivered once again with these sleepbuds. These buds block all the external noise while providing sound masking noises. The only knock I have against them is the limited options from the sounds available from the app and the in ability to use sounds I already have on my phone.

Pros:

Cons:
Bose® noise-masking sleepbuds
Crutchfield customer from Seattle, WA on 7/26/2018
Crutchfield Customer Review
(
What's this?
)
The Bose sleepbuds are really nice. Comfortable, high quality and helpful when you sleep with somebody that snores. My wife loves them!

Pros:

Cons:
Best Product For Getting Rest
David from Fair Lawn, NJ on 7/18/2018
Bose launched a new product to help me with one of my biggest challenges, sleep. I suffer from tinnitus and lack of sleep. I was thrilled to find out that there is a holistic solution without medication. This is a superior product for the following reasons 1. Overall Sleep Weekly Average improved 2. Helps me relax which promotes sleep 3. Sounds are gentle and inviting 4. Better productivity at work 5. An app to program the sleepbuds 6. The charging case has functions above and beyond charging the ear pieces I was excited to find out and experience these ear pieces. While they do not play music, they calm nerves and promote a healthy lifestyle. I am able to program an alarm that has relaxing sounds. The max level is 70db which isnt taxing on the ears. The choice of alarm sounds are very appealing. Bose promises more sounds as time goes on. I am excited about the possibility of future sounds. Music cannot be streamed with this product.

Pros: Easy to wear, variety of sounds

Cons:
Bose® noise-masking sleepbuds
Crutchfield customer from San Juan, PR on 7/16/2018
Crutchfield Customer Review
(
What's this?
)
Greatest marriage savior!

Pros:

Cons:
Crutchfield customer from PA on 7/15/2018
Crutchfield Customer Review
(
What's this?
)
I will start out by saying they are expensive, and the price point is high. I agree with the comments about not being able to stream music, and how that should be an option considering how much they cost. However, i used them for the first time last night and had a great night sleep. We'll see how things pan out over time, but i am very happy with the purchase. They paired right away and each time i took them out unlike the other review here. They are comfortable enough to wear all night long and still had plenty of battery power after an 8.5 hour sleep.

Pros: Comfortable, do the job as advertised

Cons: Price, inability to stream anything else through them
Bose® noise-masking sleepbuds
Ross from Carmel, IN on 7/8/2018
Crutchfield Customer Review
(
What's this?
)
So after a very long wait I finally received these. My initial impression was WOW these are so small and should be very comfortable to sleep with. At first I unboxed then and then downloaded the app. The pairing process failed using an IPhone 7. I tried repeatedly to pair with no luck. Finally after searching I was able to locate a CS number for BOSE. Apparently you have to shut down the phone every time for these to get recognized. This is a major fail to start with. Then upon sleeping with them they are not comfortable all night long. They also do not block or mask all the sounds that keep me awake at night and or that cause me to wake up. The noises and or music that Bose has preprogrammed to play all night is disturbing at best. They almost are worse for sleeping then the noises these are supposed to mask. On the positive side the Bose tech support for this product is awesome and they seem to be truly concerned. I'm now waiting on them to send a replacement pair that may or may not fix some of these issues. The right bud cuts out as it seems to be losing it's BT connection frequently. I have tried all the different tips and not one of them seems to fit perfectly to even passively cut out ambient noise in my sleeping environment. I still own a pair of the wired in ear noise cancelling Bose headphones and they are just as comfortable and I can play whatever I want or just cancel the noise in my room. The only issues with these are the cord at this point. As of now I'd be betting I will return these for a refund to Crutchfield unless the new pair can miraculously solve these issues. I have tried some in ear noise isolating totally wireless earphones that work better than these. I feel this is a product that may solve the problems for some but for this price it should be perfect.

Pros:

Cons:
Details
Product Research
Features
Overview: The Bose noise-masking sleepbuds are unique in-ear headphones that are designed to emit soothing sounds that help you go to sleep. The sleepbuds are truly wireless. There are no connecting wires whatsoever, just two independent ear buds that stay comfortably in place. The sleepbuds are smaller than other wireless earbuds, making them comfortable even for side-sleepers. Each lightweight sleepbud weighs only 0.081 ounces. Using the exclusive Bose Sleep app on your smartphone or tablet, you can choose which soothing sounds you want to hear, control the volume, and set a wake-up alarm. The Bose noise-masking sleepbuds include 3 pairs of StayHear+ Sport eartips, a metal charging case, and a USB charging cable.
Charging Case: The tiny sleepbuds contain rechargeable silver-zinc batteries, which give you approximately 16 hours of battery life on a full charge. When you're not using the sleepbuds, they should be returned to the included charging case. The charging case has its own built-in 80 mAh rechargeable battery that will charge the sleepbuds when they are placed in the case. When you place the ear buds in the case, the charging pins are aligned and charging begins. Strong magnets hold the ear buds in place on the contacts. The sleepbuds take up to 8 hours to reach a full charge. The case, without the sleepbuds, charges in approximately 3 hours. Fully charged, the case provides one additional full charge to the sleepbuds. You can view the battery level of the sleepbuds on the Bose Sleep app while in use, or on the charging case. A 5-segment LED charge level meter for the case can be found behind the sliding lid.
StayHear+: The Bose noise-masking sleepbuds come with three pairs (Small, Medium, Large) of StayHear+ ear tips. The ear tips are designed to spread contact evenly within your ear canal to create a good seal, and to help hold them in place. The fin conforms naturally to the shape of the upper ridge of your ear to hold them into place so they don't fall out.
Bluetooth: The truly wireless sleepbuds connect to your smartphone or tablet via Bluetooth. There are no connecting cords to snag or get in your way as you move throughout the night. The sleepbuds turn themselves on when you open the charging case. You can easily pair them (and disconnect them) with your smartphone or tablet using the Bose Sleep app. The Bluetooth wireless range is approximately 30 feet.
Bose Sleep App: The Bose Sleep app is essential to the proper use of the noise-masking sleepbuds. There are no user controls on the sleepbuds, so all of the controls are contained in the app. The app lets you choose from 10 pre-loaded sounds, some designed to mask ambient noise (traffic, barking dogs, snoring partner), while others help you relax and fall asleep. The Bose sleepbuds will not stream music, and you cannot add your own sounds. The app lets you customize your personal sleep settings for the best experience, including volume levels, usage timers, and wake-up alarms that only you can hear, so you won't disturb your partner. The app helps keep your sleepbuds up to date with software updates when they become available. The Bose Sleep app is compatible with iPhone, iPad, and iPod touch with iOS (10.0 or later) and Android devices (5.0 and up).
Our Product Research Team
At Crutchfield, you'll get detailed, accurate information that's hard to find elsewhere. That's because we have our own in-house Product Research team. They verify what's in the box, check the owner's manual, and record dimensions, features and specs. We stay on top of new products and technologies to help people make informed choices.