About the Bose TV Speaker
A quick and easy way to improve TV audio
Tinny sound from your TV's built-in speakers got you down? The Bose TV Speaker can help in a hurry with a simple one-cable connection to your TV. And its compact size means it won't dominate your living room real estate or dwarf a smaller TV. It can fit easily on most media stands, but if you prefer a more streamlined look, you can wall-mount it with the optional
Bose Soundbar Bracket
(sold separately).
A quick and easy way to improve TV audio
Tinny sound from your TV's built-in speakers got you down? The Bose TV Speaker can help in a hurry with a simple one-cable connection to your TV. And its compact size means it won't dominate your living room real estate or dwarf a smaller TV. It can fit easily on most media stands, but if you prefer a more streamlined look, you can wall-mount it with the optional Bose Soundbar Bracket (sold separately).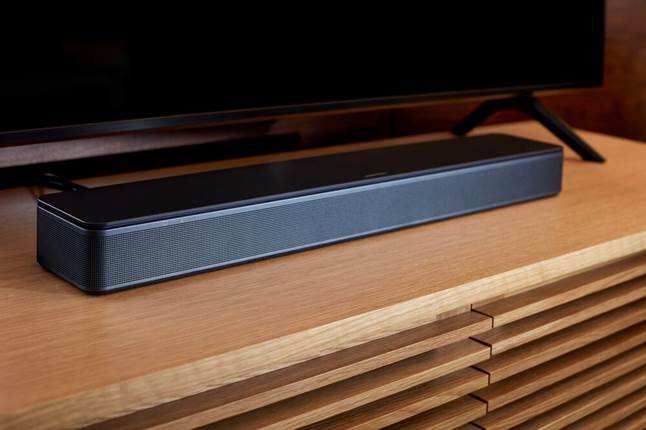 The Bose TV Speaker has a compact, unobtrusive design.
Hear what you want
If you've been cranking your TV volume up in order to follow the plot, the Bose TV Speaker is a great solution. It has a dedicated center channel that clarifies the dialogue in your shows and movies. And if you still need a bit more, you can engage the bar's "Dialogue mode" which brings speech to the forefront so that the actors are easier to hear and understand.
Want a bass boost? Dial in just the right amount of low-frequency impact with the remote's bass control button. The bar is also compatible with Bose's Bass Module 500 and 700 if you are looking for even more rumble.
Stream your tunes with Bluetooth
The Bose TV speaker has built-in Bluetooth, so it's easy to wirelessly stream audio right from your phone. That makes it a great space-saving solution for movies, shows, and music.
READ LESS
Product highlights:
slim three-channel sound bar fits easily into your TV setup
enclosure has black matte finish and sturdy metal grille
dialogue mode makes speech easier to hear
optional Bose Bass Module 500 or Bass Module 700 sold separately

must make a wired connection between bar and sub
Bose Bass Module Connection Cable or standard 3.5mm cable sold separately

Bluetooth connectivity allows you to stream audio from compatible devices
Connections and general info:
1 HDMI ARC connection
1 optical digital input (cable included)
includes basic remote
wall-mountable (bracket sold separately)
23-7/16"W x 2-1/4"H x 4-9/16"D
weight: 4.3 lbs.
warranty: 1 year
MFR # 838309-1100
What's in the box:
Bose TV Speaker owner's manual
Active soundbar speaker
5' AC power cord
Remote control (CR2032 battery pre-installed)
5' Optical digital cable
Quick Start Guide
Important Safety Instructions
We don't have any reviews, yet.
Be the first to review this product
Customer photos
More details on the Bose TV Speaker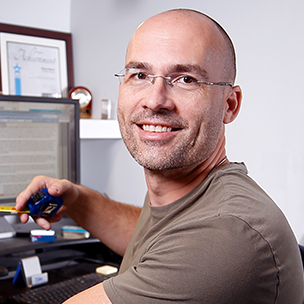 Researched by Crutchfield's

Stacey B.
Product Research
Features
Bose TV Speaker: The Bose TV Speaker is a one-piece active soundbar speaker that brings noticeably better sound to your flat-panel television. It's engineered to help clearly reproduce everything from dialog, music, to sound effects. The Bose TV Speaker is small and compact, but powerful - delivering a clear, balanced, and natural-sounding audio experience to your TV shows, movies, and music.
3 Driver Array: The Bose TV Speaker utilizes a 3 driver array with two full-range drivers handling the left and right audio channels and a tweeter handling the center channel audio. The two left and right full-range drivers are angled to deliver wide, spatial sound; while the center channel tweeter clarifies speech for clear dialog.
Dialog Mode: You can also place the Bose TV Speaker in Dialog mode to further enhance the clarity of speech, conversations, and news programs. In Dialogue mode, the Bose TV Speaker analyzes what you're watching to further elevate vocals so you can hear and understand every word more clearly. Simply press the "Dialog mode" button on the remote to enable.
Note: When Dialogue mode is enabled, the light for the current source glows green. When you enable Dialogue mode, it stays enabled for your current source even if you switch to another source or turn off the speaker.
Bass Level: The Bose TV Speaker delivers surprisingly rich and deep sound for a speaker of its size. You can further enhance the speaker's bass response by pressing the "Bass" button on the included remote control and using the volume buttons to adjust the bass level (-2 to +2). The speaker saves the current bass setting even if you switch to another source or turn off the speaker.
Optional Powered Sub: If you're looking for even more bass, you can add a wired powered subwoofer to experience deeper and bigger bass response from your movie and music soundtracks. The Bose TV Speaker features a 3.5mm subwoofer output and is compatible with the Bose Bass Module 500 and Bose Bass Module 700 (both sold separately). The wired connection requires a standard 3.5mm audio cable.
Notes:

Make sure you connect the optional powered sub to the 3.5mm jack labeled "Bass". Do not connect the powered sub to the 3.5mm jack labeled "Aux In".
Bose does not recommend using another brand of powered subwoofer.
The Bose TV Speaker does not support a wireless connection to a powered subwoofer.
Dolby Digital Compatible: The Bose TV Speaker supports 2ch PCM and Dolby Digital (up to 5.1ch). The soundbar will down-mix a 5.1ch Dolby Digital audio signal since it only has a 3 driver array.
Note: The Bose TV Speaker is not compatible with DTS, DTS:X, Dolby Atmos, Dolby Digital Plus, or Dolby TrueHD.
HDMI-ARC: The Bose TV Speaker features one HDMI-ARC output to connect the soundbar to your TV's HDMI-ARC input. The Bose TV Speaker's HDMI-ARC output allows audio from your TV to be sent through the soundbar. The HDMI-ARC output supports 5.1ch Dolby Digital and 2ch PCM.
Some televisions will only pass 2ch PCM through the ARC-enabled HDMI input from devices connected to the TV via HDMI or analog, and will only pass Dolby Digital via the TV's built-in tuner, network apps, or USB.
The HDMI-ARC output only supports audio transmission and does not support any type of video signals.
Note: The Bose TV Speaker does not support the latest HDMI-eARC protocol.
Analog & Digital Inputs: In addition to HDMI-ARC connectivity, the Bose TV Speaker offers a stereo minijack (3.5mm) analog input and a optical (toslink) digital input to connect your television and other source components. The optical digital input supports 2ch PCM and Dolby Digital (up to 5.1ch). To enjoy the full benefit of hearing audio through the Bose TV Speaker makes sure the internal speakers of your TV are off.
Notes: The digital optical output terminals of most newer flat-panel TVs only send an audio signal in 5.1ch when receiving Dolby Digital surround sound from the TV's built-in tuner, network connection, or connected USB device; and will output only 2ch stereo from sources connected to the TV via HDMI or RCA (like your Blu-ray/DVD player or satellite/cable box).
Built-in Bluetooth: The Bose TV Speaker is equipped with built-in Bluetooth 4.2 with support for wireless music streaming (A2DP), as well as support for SimpleSync with Bose Home Speaker products. The Bose TV Speaker has a Bluetooth wireless range of approximately 30'.
Bluetooth Music Streaming: With built-in Bluetooth, the Bose TV speaker can wirelessly play back stored music, music apps, and other audio content from your Bluetooth-enabled smartphone, tablet, laptop, or desktop computer. Control functions and song/artist information will still be done from your Bluetooth device. You can pair up to eight devices and keep two devices connected for easy switching between devices. However, only one Bluetooth-enabled source device can playback audio at a time.
Bose SimpleSync: Bose SimpleSync allows you to pair a member of the Bose Home Speaker family (sold separately) with the Bose TV Speaker for playback of the same audio signal. Use the Bose Music app (for Apple iOS 12.0+ and Android OS 6.0+) on your compatible mobile device to setup and enable SimpleSync. SimpleSync then provides a one-to-one connection for a maximum of two Bose products (the Bose TV Speaker and a Bose Home Speaker). The two products must remain within typical Bluetooth wireless range of each other to stay connected. You'll be able to listen to the same audio signal from the Bose Home Speaker on the connected Bose TV Speaker (you cannot listen to different sources). You can choose to listen on both the Bose Home Speaker and the Bose TV Speaker at the same time with independent volume control; or just the Bose TV Speaker or the Bose Home Speaker. Compatible Bose Home Speakers include Bose Home Speaker 300, Bose Home Speaker 500, Bose Portable Home Speaker, Bose Soundbar 500, and Bose Soundbar 700.
Notes:

You cannot wirelessly stream Bluetooth audio to a Bose Home Speaker and use SimpleSync at the same time.
You can only sync audio from a Bose Home Speaker to the Bose TV Speaker; not from the Bose TV Speaker to the Bose Home Speaker.
The Bose TV Speaker does not support Bose headphones with Bluetooth.
The Bose TV Speaker does not supports Bluetooth hands-free communication (HFP) for making and answering phone calls.
Remote Control: The Bose TV Speaker includes an IR remote control, supports HDMI-CEC (Consumer Electronics Control), and offers 3rd party remote programming.
IR Remote: The Bose TV Speaker comes with a simple IR remote control to operate the active soundbar speaker. The remote offers Power, Source, Volume, Mute, Dialog, Bass, and Bluetooth Pairing functions.
HDMI-CEC: Thanks to support for HDMI-CEC, you can use your current TV remote to control the volume of the Bose TV Speaker. HDMI-CEC also allows the soundbar to detect a signal from your TV when turned on and automatically turns on too.
Remote Programming: The Bose TV Speaker can receive IR commands from a universal remote control (such as Harmony, sold separately). This is useful if you have a universal remote that you want to program to control multiple devices in your home, including the Bose TV Speaker.
Note: The Bose TV Speaker does not support TV remote programming or learning.
Mounting Options: The Bose TV Speaker is small and compact; measuring only 23.4375" (w) x 2.25" (h) x 4.0625" (d). It can simply be placed on a tabletop or shelf; or it can be hung on a wall using the Bose Soundbar Wall Bracket (sold separately). The Bose TV Speaker should be centered above or below your TV.
If placing the speaker on a shelf or TV stand, position the front of the speaker as close as possible to the front edge of the shelf or stand for optimal sound quality.
Keep the back side of the speaker at least 0.4375" from any other surface. Blocking the ports on this side affects sound quality.
For best sound quality, don't place the speaker in an enclosed cabinet or diagonally in a corner.
Don't place any objects on top of the speaker.
AC Power Cord: The Bose TV Speaker comes with a detachable 5' AC power cord that will need to be plugged into the back of the active soundbar speaker and into an AC wall outlet, surge protector, or line conditioner.
Auto-Wake: You can set the Bose TV Speaker to power on whenever an audio signal is received from HDMI, Optical, Aux, or Bluetooth. To enable this function press and hold the Power button on the remote until you hear a tone and the TV and Bluetooth lights on the speaker blink amber 3 times to switch between auto-wake and default power settings.